2004 Golden Piton Awards – Speed Climbing
Heading out the door? Read this article on the new Outside+ app available now on iOS devices for members! Download the app.
Wirtz and Schulte-Pelkum blowing away the Nose record.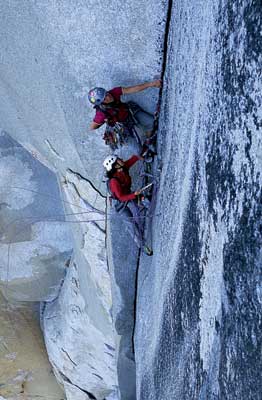 Alexander and Thomas Huber, Zodiac Heidi Wirtz and Vera Shulte-Pelkum, Yosemite Trifecta
At Climbing, we have received so many reports on the countless new El Cap speed records — Flash! 15:59 on Son of Fart, 18:24 on New Yawn— that to be honest, we're over it. So when Thomas and Alexander Huber flew up Zodiac this past summer, we cheered, because we knew, finally, that we would never again have to report another El Cap speed record. But let's give the Bavarians some deserved credit. When the brothers succeeded in free climbing Zodiac in October 2003, it occurred to them that they were in a perfect position to shatter the no-holds-barred El Cap speed record. The freeable Nose route is much longer than the steep nailups, but the traditional speed climbing strategy for aid lines — short fixing and mad aid dashes up ladders — is hampered by the simple mechanics of getting in and out of etriers hundreds of times. The Hubers realized they could blitz the "short and steep" section of El Cap Nose style, mostly free. By their fourth speed trial, the pair already held the overall record, but realized they could do the route in sub-two hours. On their final bid, on June 17, they split the route into two looong simul-climbing pitches, free climbing at top speed with huge runouts on 5.11 and 5.12 rock. They yarded past 5.13 cruxes, but freed most of the route. Thomas completed his eight-pitch block in 50:50; when Alex dragged his brother over the lip on pitch 16, the stopwatch read: 1:51. "This time we really had the feeling that it was fast enough," says Alex. We agree.While crowds gathered in El Cap Meadow to cheer on the longhaired Germans in leather pants, two women were on their own off-the-radar speed-climbing binge. During a single week in mid-June, Heidi Wirtz and Vera Schulte-Pelkum smashed the women's-team speed records on the big three speed objectives, the West Face of Leaning Tower (5:15), Half Dome's Regular Route (5:19), and The Nose (12:45). There was no known women's record for Leaning Tower, and the previous records for Half Dome and El Capitan are thought to be 9:45 and 16:30, respectively, both set by Abby Watkins and Vera Wong in 1996.So just when we thought that Yosemite speed climbing was dead, Wirtz and Schulte-Pelkum have reminded us that all-female speed climbing has barely begun. Not that we promise to cover it …
Kings of El Cap — the Hubers.