2006 Houndears Recap – Triple Crown Bouldering Series – Event 1 – October 7, 2006
Heading out the door? Read this article on the new Outside+ app available now on iOS devices for members! Download the app.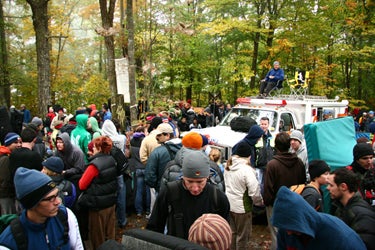 The day began in typical Boone fashion: foggy, that is, with dense, dark clouds roiling overhead, threatening to punish the cheery energy of the Friday night pre-comp barbecue. The buses rolled upward through the immaculate neighborhood of Hound Ears, each disgorging its contents, all a bit dazed from the ride and individual prayers to Lord Caffeine. 400+ optimists shuffled up the final hill, huffing, hoping, and casting furtive glances at the sky above, as if to say "just give us a chance …" The Hound Ears Bouldering Competition is staged annually in Boone, NC, deep in Blue Ridge Mountains. This outdoor event, the first in the Triple Crown Bouldering Series (www.triplecrownbouldering.org) has the unique quality of being held in a boulderfield at the top of a gated community, accessible only on this one day every year. On the morning of the comp, competitors and spectators from age 4 to 40 load themselves and their accoutrements onto buses for a tour past multi-million dollar homes on their way to some of the oldest boulders — a metamorphosed granite — in North America. Hound Ears also has the distinction of being located in one of the wettest parts of the country, with enough annual rainfall to be categorized as a temperate rain forest.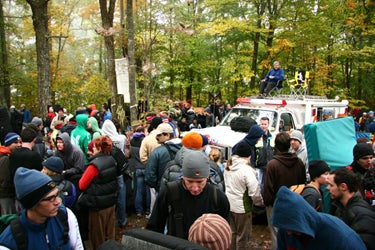 On this day, however, the rain held off, the fog blew out, and the people responded. The competitors at the 13th annual Hound Ears Bouldering Competition all took complete advantage of this one-day opportunity to climb on these gorgeous, privately owned blocs by tugging with frantic glee. This vibe of barely-contained enthusiasm produced some astounding performances, including the first and second female ascents of the area testpiece Fuc-Yo (V9) by Jessa Goble and Women's Open Triple Crown Defending Champ (and eventual comp winner) Kate Reese. This steep, blunt prow received constant attention from numerous aspirants, and these ascents further obliterated the outmoded concept of "girl problems." The Men's Open was decided by 1 PM. Paul Robinson, fresh off an outstanding summer in RMNP, crushed the division, beating his nearest competitor by nearly 4000 points. The alarm of the morning gave way to a gentle desperation as judges reminded competitors of each passing hour. Rivals shared beta and pointed out "easy" ticks, and shouts of congratulation and collective sorrow rang through the Tolkienesque Fall-colored forest with eerie regularity.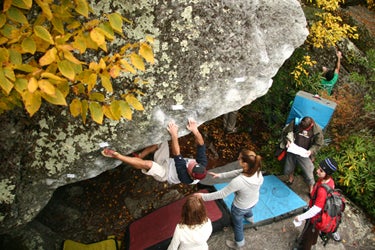 The awards ceremony afterwards, smoothly and smartly orchestrated by organizers Chad Wyckle and Jim Horton, delivered exactly what the crowd wanted: schwag and props. And just as the last check was written and thoughts began to turn to the next comp at HorsePens, the luck of number 13 dissolved into a soft, soporific sheet of rain.
Check Out The 2006 Triple Crown Houndears Gallery
Triple Crown Bouldering Series 2006 – HoundEars ResultsCourtesy of www.seclimbers.org Junior 1. Jordan Earle 3349 2. Carlo Nasisse 2937 3. Asya Grechka 2757 4. Alexis Vanover 864 5. Allie Borden 761 Beginner Women 1. Allison Williams 1926 2. Jennifer Lee Hall 1902 3. Magalie Laniel 1816 4. Bobbie Rae Erickson 1746 5. Stacy Duncan 1685 Beginner Men 1. Andrew Dow 2003 2. Simon Bishop 1973 3. C.P. Santos 1616 4. Chris Carver 1612 5. Mike Nahouraii 1607 Intermediate Women 1. Caitlyn Jensen 2895 2. Kati Hetrick 2882 3. Ashley Hamilton 2736 4. Danielle Berger 2723 5. Maggie Sibley 2513 Intermediate Men 1. Thomas Cunningham 3882 2. Travis Vaughn 3725 3. R. Scott Johnson 3690 4. Joey Staebell 3643 5. Ryan Patterson 3610 Advanced Women 1. Kim Fuelling 4777 2. Julia Smith 3584 3. Michele Conn 3083 4. Nancy Jackson 2799 5. Christina Austin 2267 Advanced Men 1. Nick Vosbein 7803 2. Ian Gleason 7291 3. Dave Fulton 7266 4. Brian Antheunisse 6648 5. Matthew Behrens 6466 Ancient 1. Jason Young 6253 2. Dave Wood 4961 3. Dave McLaurin 4516 4. Jeff Leads 4340 5. Joe Rosewall 3635 Open Women 1. Kate Reese 7817 2. Claire Bell 6860 3. Sasha DiGiulian 6235 4. Jill Church 5746 5. Kasia Pietras 4563 Open Men 1. Paul Robinson 12,495 2. Max Zolotukhin 8,930 3. Ben Gerhardstein 8,417 4. Chris Sierzant 7,939 5. John Reger 7,731 Note: Special thanks to Kurt Smith for drumming support for the SCC. $1,500 was raised in donations from competitors for Boat Rock!