Heading out the door? Read this article on the new Outside+ app available now on iOS devices for members! Download the app.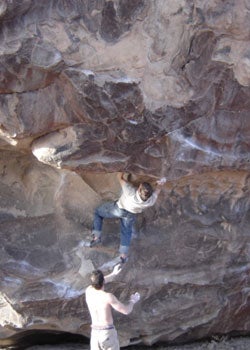 The Hueco Rock Rodeo, Februrary 25, is the by far the loudest, sickest, and most raging outdoor bouldering competition in the nation. It's the one day a year where large groups are allowed to roam almost unchecked in the best boulder fields of North America: Hueco Tanks State Historical Site, Texas.
After pleading for the opportunity to cover this year's event for Climbing, I set about preparing. How else can you attend this raging event other than in a sick off-road vehicle? Luckily, Hummer lent us a brand-spanking-new H3. I was mainly concerned with testing its off-road capacities.However, I was amazed to find that it got 20mpg interstate and was quite a plush, smooth ride. As daily 4-wheeling excursions became the norm, I realized that the H3, although diminutive compared to the H1, did not lack performance. Even with my miniscule salary, I might have a chance to own one of these amazing vehicles, with a sticker price of just $30,000.
Moving away from the pimp ride, the event was a blast. The staff of guides working at the Hueco Rock Ranch has this event dialed. With so many boulder problems in the park, specific problems have to be pre-selected each year to force the competitors to contend head-to-head. Beginner and Intermediate competitors threw themselves at North Mountain, while Advanced and Mutant battled half a day in the backcountry to finish on North Mountain.
For pictures of the 2006 Hueco Rock Rodeo visit Photopost and Devaki Murch's Gallery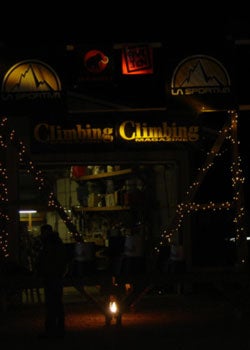 You probably know that at Hueco Tanks one mountain is free-range, while the others require guided access. The Rock Rodeo is the one day a year when competitors are led into the backcountry in groups of 10 but are allowed to congregate at the boulders in groups of more than 10 at a time. This rare occasion leads to sick sending as two repeats of Jason Kehl's Eternal Darkness, a highball V10/11, went down before 10 a.m. Matt Wilder won the Men's Mutant division with sends of the Butterpumper (V12), Eternal Darkness (V10/11 onsight), Power of Silence (V10), Anal Intruder #10 (V11), Dark Age (V11). Ana Burgos won the Women's Mutant division with proud sends of Man Gum (V9), Squid Pro Row (V9), Big Nosed Milley (V9), Something Different (V8), McBain (V8), and Rudy (V7). Jody Hansen placed second in Women's Mutant with sends of Eckstein (V10), Squid Pro Roe (V9), Man Gum (V9) and McBain (V8). Overall, there was a huge turnout of big names, and lots of international climbers (especially for the women: Isabella Ritsch from Austria placed 3rd in Women's Mutant; Tomoko Ogawa from Japan placed 5th in Women's Mutant; and Reidun Bolso from Norway won Women's Advanced). See huecorockranch.com for full results.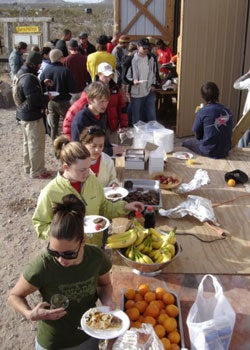 Enough spray: the sending was off the hook, and a good time was had by all. Score cards were in by 5:30 and the six kegs were tapped by 8 p.m. leading to the second part of the competition, as mastered by the Hueco Rock Ranch staff: the afterparty. An opening DJ, chile cheeseburgers and fixings, flowing beer, and the Red Bull liquor bar stocked with flavored vodka, opened the stage for a raging bonfire and live band, which carried on into the wee hours of the morning.
Unfortunately, I had to awake at 6:30 a.m. to prepare pancakes for 250 hung-over competitors the next morning, even in my post-party haze. The PrAna crew helped out a ton as we fed half-dead climbers their fill of chocolate chip, banana, and strawberry pancakes. Breakfast seemed to help us all, and I watched a few posses shouldering pads and heading for the Tanks for yet another day of skin-thrashing fun. Be assured that I will be vying for the privilege to cover next year's Rock Rodeo — hopefully with a fleet of H3's for everyone to test drive!
For pictures of the 2006 Hueco Rock Rodeo visit Photopost and Devaki Murch's Gallery
— Greg Loomis
Highlights of the Hueco Rock Rodeo by Devaki Murch.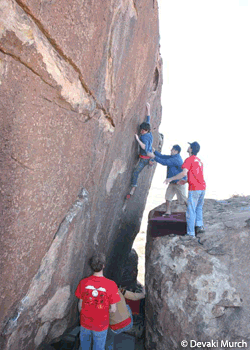 There are two faces to great climbing days: the daytime sport, and the evening obliteration. But however wild the evening festivities become, I can still remember the previous day of climbing due to either the soreness of my muscles, the disappearance of skin on my fingertips, or the vague memory of sitting atop a recently sent boulder problem.
The 2006 Rock Rodeo began on another lucid blue-sky day ripe for t-shirtless bouldering in Hueco Tanks State Park. Climbers jumped into impromptu cargo vehicles carrying passengers and their crashpads- reminiscent to that of the Beverly Hillbillies.
After a brief registration hold up, competitors and spectators hiked out of the parking lots and began their day of climbing. Some areas on North Mountain were as crowded as a Boston subway station without the seriousness and impatience-though climbers could be seen showing frustration. But many areas were quieter with smaller groups of climbers looking only as serious as climbers can: lying on a crashpads, shoes halfway on, moving slowly in the late afternoon sun. Nonetheless, the day was full of consistent failures, successes, cuss words, excuses, and screaming.
The Rock Rodeo offers a unique competition environment. The schedule is not very rigid; the judges are not in your face with clipboards and fountain pens, but with crumpled sheets of paper and pens they stole from a gas station or library. Climbers have the freedom to choose from a variety of established bouldering problems to send for the competition. Unlike sterile indoor competitions, the spectator can choose to climb the boulder problems as well.
The after party at Rob's Rock Ranch proved to be a forgettable event (which of course suggests great atmosphere and plenty of alcoholic drinks). The faces of all the climbers reflected in the light of the massive bonfire were satiated and happy: the green chili burgers roasted our mouths pleasantly, the New Belgium beers and Red Bull Vodkas could have filled an arroyo, and the music continued as the stars hurdled the Texas desert.
— Morgan Williams