5 Ways You Can Protect Climbing Access on Public Lands
Heading out the door? Read this article on the new Outside+ app available now on iOS devices for members! Download the app.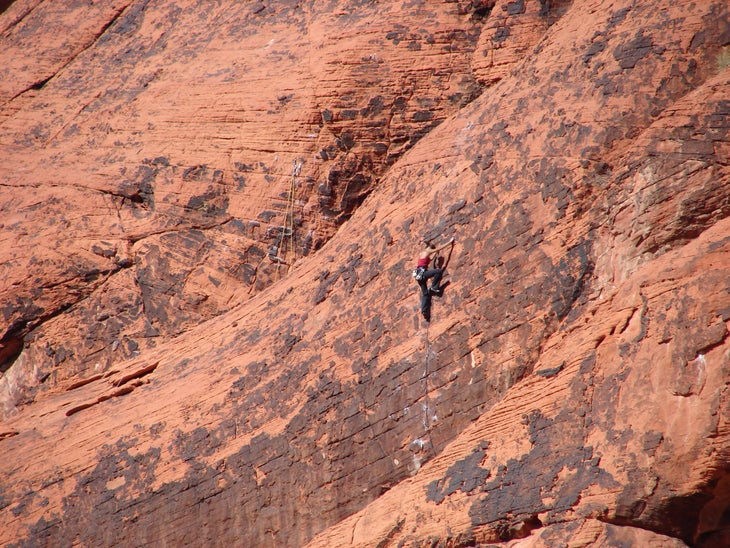 In the past 18 months, over 50 bills attacking federal management of our public lands have been introduced to Congress. This year, overshadowed by the hoopla of President Trump's inauguration, the House changed its rules to streamline the transfer of federal public lands to states. And those are only a few of the threats. Our public lands are under great attack than ever before, and climbers rely on those lands for our sport. But why shouldn't states control all of their own land?
The fundamental issue lies in the authority the public has between state and federal control of public land. Federal management prioritizes recreation. When land remains in federal control, the American public retains influence over its use through elected officials. When states gain control of public land, they aren't required to consult the people before making access decisions—even those living in the state. They're also required by law to balance their budget, and maintenance of public land is prohibitively expensive.
"If they can't pay their bills, they're going to sell off that land," says Maria Millard Povec, Policy & Advocacy Director at the American Alpine Club. "And they don't need public approval to do it."
History shows that states are likely to do just that: of the over 64 million acres transferred to 11 Western states, almost 40 percent have been sold to private interests or closed to the public. This is bad news for the 71% of climbing that falls on public lands. Luckily, every climber can take the following steps to join the fight to protect our land, and our access to America's crags.
1. Stay informed
It sounds easy, but staying on top of public land issues requires more than following the big legislation. Threats to public land access are more like "death by a thousand cuts" than a bludgeon, according to Travis Herbert, Education Director at the Access Fund. "There's legislation, there are rule changes, there's repeal of environmental regulations, all happening at the same time," Herbert says.
Climbers can stay informed on public land battles through signing petitions from campaigns like Protect Our Public Land, run by the Outdoor Alliance, a nonprofit coalition that includes the Access Fund, the American Alpine Club, and other outdoor enthusiast advocacy groups. By signing up with a zip code, Outdoor Alliance keeps climbers informed of decisions or bills they can influence, even if they don't live in Western states, says Tania Lown-Hecht, Communications Director at Outdoor Alliance.
"Say you're in Chicago, and one of your members of Congress is on an important committee that's about to review a public lands bill. We'd write and ask you to contact your committee member because they're reviewing an important bill," says Lown-Hecht.
2. Be a steward
Don't just climb and leave; take care of your crags and support the local communities and climbing organizations (like my own Illinois Climbers Association), so that these areas remain in great shape and open for climbing. And don't forget to talk with your climbing partners and friends about these issues.
"Whether that's attending an adopt-a-crag event in my local area, or committing to learning about Leave No Trace, knowing who your local climbing organization is and staying connected with them," says Herbert. "How do you reduce your impact every time you go to the crag, and spread that across your network?"
Climbing is a tight-knit group, and person-to-person discussion of the issues affecting access is critical for building understanding among climbers and the communities they move around in.
3. Join member organizations
Want to know why the National Rifle Association has so much influence in D.C.? They have over five million members—only about 4% of gun ownership rates in the US, according to the Pew Research Center. Rock climbing's equivalent advocacy group, the Access Fund, had 13,523 members in 2015. With over 11 million people who climbed in 2015, according to the Outdoor Industry Association, climbers have an opportunity to grow the strength of organizations like the Access Fund and American Alpine Club, which represent their interests.
When it comes to political influence, it's the membership count that matters for advocacy groups. "Member organizations like the Access Fund go to legislators, and their power is directly proportionate to how many members they have," says Lown-Hecht. If climbers joined the Access Fund at the rate that gun owners join the NRA, the Access Fund's membership would grow almost 3,000%.
4. Make noise
The nationwide public outcry after Utah Rep. Jason Chaffetz introduced HR 621 eventually led him to withdraw that bill, offering proof that the public's voice still matters—but only while public land remains owned by all Americans at the federal level. Climbers have recently shown up to protest—unsuccessfully — a controversial housing development at Red Rock, but despite that particular loss, Arizona Rep. Raúl M. Grijalva says, "that kind of protest—which has already succeeded in this new Congress—may be the most potent legislative tool the American people possess."
Outside of showing up at town halls and calling representatives, letters to local editors remain an effective tool for getting the attention of legislators. And despite the growing vitriol of social media, it's often the best way to reach local representatives. "Social media is denigrated, but local lawmakers all control or at least check their own Twitter accounts. You basically have a direct line to them," says Lown-Hecht.
5. Vote, always
Climbers have always been stereotyped as anti-establishment, but that's never been an excuse not to vote. It's critical to vote in all elections, including midterms. Congress is as important—if not more—to land issues as the President.
"If you don't vote, you don't matter," says Lown-Hecht. "If you call your congressperson, they can look you up and see that you didn't vote. And so they won't care what you think."
The silver lining to the public lands assault is that climbers and outdoor enthusiasts are getting involved in record numbers, but aren't necessarily acting out of pain or personal economic interest, says Lown-Hecht. "I think our passion and excitement and love for public lands makes our issue something that can go really far."