50 Awesome Things About Climbing and America
Heading out the door? Read this article on the new Outside+ app available now on iOS devices for members! Download the app.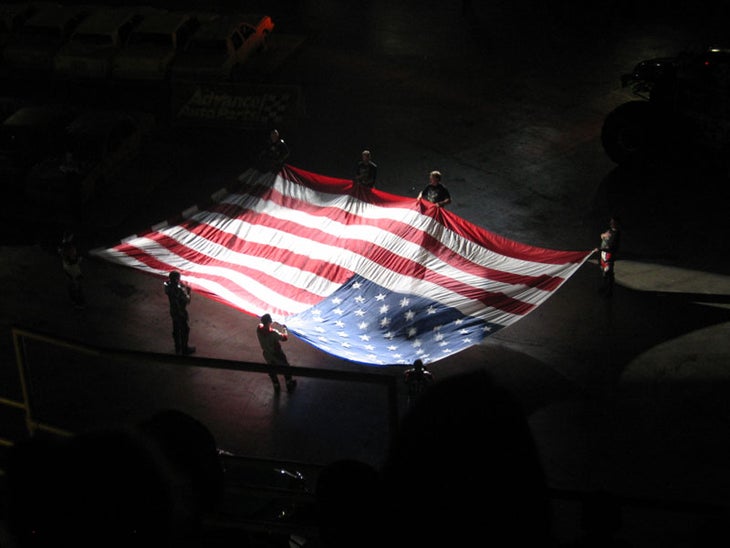 You know it. I know it. American climbing. It's awesome. Well… I haven't exactly climbed out the country yet so I'm not sure if I'm an expert on that, but since ignorance occasionally seems to be another tenant of 'Murkan culture I'm gonna run with it. In honor of Independence Day I've decided that we need some good old fashioned Americana in this post. So crack open a freedom bomb, read up, and enjoy the rest of the holiday by getting blasted and shooting something with fireworks. Anyway I decided to make a list. Since we have 50 states I'm writing/compiling the 50 (because 50 is obviously the most patriotic number) things that are good about climbing in the Land Bruce Springsteen (literally the boss…) sings about.
1. Girls in Verve shorts. 2. Fixed Draws 3. COMMUNITY! Never separate climbing and community! Reach out to other climbers! (LifeAndClimbs via Twitter) 4. Avery beer challenges! (Colette McInerney) 5. Mexican food in yo FACE!!! Technology that is IMPERIAL!!! We bang Three 6 Mafia at the CLIFF!!! BAWSE! (Joe Kinder) 6. You can make fun of little teenagers that say allez when they climb. 7. Wal-mart Super Centers on climbing trips (Emily Harrington) 8. Climbing with wristbands, tank tops, jeans and an iPod boombox at the base. (Sam Elias) 9. Lauren Lee. 10. BBQ's on top of things like Castleton11. Whiskey Wednesdays at the DOWNER! 12. The interesting non-climbers who own the climber campgrounds: Mike Shultz/HP40, Miguel/Red River Gorge, Roger/New River Gorge etc. (lacquement via twitter) 13. Our dude did 5.15a and b FIRST. JUST LIKE THE MOON BITCH! WE FIRST! 14. Cliffhanger, Eiger Sanction, Vertical Limit… 15. John Long's Anchors. 16. We are naturally good at rodeo clips because we actually have… rodeos. 17. ads like THIS. 18. Amercia's Next Top Model used CLIMBING as a photo shoot. BECAUSE IT'S BAWLER. 19. Options. Sandstone, splitters, towers, granite, bouldering, big walls, buildings, roadside craggin, limestone, all without need for a passport. (Jer Collins) 20. Can I text you an answer? I have to go get some bourbon (Wade David) 21. Utah 22. Rocky Mountain National Park (Spot Gym via facebook) 23. El Pasito burritos in Hueco (Sarah Orens) 24. Watching redneck wanna-be's unknowingly almost kill each other on bumbly routes (Misty Murphy) 25. Our climbing videos are unparalleled.
Check out pimpinandcrimpin.com for 25 more reasons that America is awesome.