A 1,000-Foot 5.14: Whit Magro and Wyoming's Longest, Hardest Route
It took Magro, from Bozeman, Montana, two years to tick his most demanding route to date—the FA of the 10-pitch Yellow Wolf.
Heading out the door? Read this article on the new Outside+ app available now on iOS devices for members! Download the app.
In the northwest corner of Wyoming, and a quick four-hour drive from Bozeman, Montana, is a 1,000-foot tall granite river wall that's being developed by a (mostly) tight-lipped crew. One of these members is 39-year-old Whit Magro, an all-around crusher with a history of freeing cutting-edge big wall and alpine routes, and soloing long, hard waterfall ice. His latest line—a rock climb which took years to complete—is Yellow Wolf (5.14-), at the Clarks Fork tributary of the Yellowstone River. For the past 18 years, Magro and his friends have put up close to 20 rock routes (and one mixed route) on the wall. Yellow Wolf is their newest and hardest. To date, Magro is the only one to send it.
"It didn't take much cleaning, but it took many trips over two years of working out the beta to free climb it," Magro says.
Though Yellow Wolf (1,000') is not as lengthy, it is more difficult than Wyoming's tallest route, the 1,800-foot Sendero Luminoso (5.13d; FFA: Mason Earle, David Allfrey, Nick Berry, 2014), on Mount Hooker.
Magro redpointed Yellow Wolf on October 21, 2017, a line he'd toiled on with his brother Sam, along with Brady Johnston, Greg Collins, and Jason Thompson. Though Magro had the vision and started work on the project, "Johnston and Collins put in more time and effort to establish the route than I did. I just got lucky with the redpoint," Magro says.
The plan for that cool October day was for Magro and Johnston to swap leads up the route, but part way up the crux, near the start of the route, Johnston badly sliced his finger open on a hold; it was so cold that he couldn't feel the rock cutting into his digit.
"Then I was suddenly on point," Magro says. "A storm was rolling in, and I thought about the people I was doing it for; it was time to put it down." He remembered the close people in his life that had died, including his father who passed in the summer, and friend Hayden Kennedy who perished that fall. "I channeled that emotional energy and sent the crux pitch first go."
Clarky Climbs, the guide/journal kept by the group of the area, opens with:
"Property of: all those who cherish and enjoy the wildness and splendor of the amazing place. Let us unite in keeping it mysterious, unique, and a place of great power and intrigue."
The Clarks Fork flows southeast from Montana into Wyoming, where it runs through the Beartooth Mountains. For 23 miles "in places, sheer granite walls 1,200-feet high rise dramatically from the tumbling Class V waters," says American White Water. Over the millennia, water from snow runoff from Montana's tallest mountain, Granite Peak (12,807'), has polished the rock to a near-featureless texture.
Adding to the challenge of climbing the grade IV route, much of the year the river is so high and loud that the pounding whitewater drowns out almost all communication. "If you were up there during spring runoff," Magro says, "you wouldn't be able to hear yourselves even if you were using a radio to communicate. That's if it was booming 10,000 CFS (cubic feet per second)."
Magro and his friends discovered the wall in the winter of 2000, while scouting for ice climbs. There they walked in crampons over the frozen river, looking up and taking note of the most impressive rock lines.
"People had done the two main ice routes down there but no one had tapped into the rock," Magro says. "Yellow Wolf is the latest route in the evolution of Clarks Fork's golden era."
If Magro's name is familiar, that's because it's appeared in the media over the years for his impressive ascents. In 2006, he free soloed the 2,300-foot WI5 Losar, in Nepal's Khumbu. In 2007, he and Kris Erickson freed Hyalite Canyon, Montana's four-pitch Winter Dance (WI7 M8; FA: Alex Lowe and Jim Earl, 1998). In 2011, on a final four-day push with Nate Opp and Josh Wharton—and after two seasons of work—he freed the 6,233-foot Wave Effect (5.12+), a link-up of Aguja Desmochada and Aguja de la Silla and Cerro Fitz Roy in Argentine Patagonia. (Yes, that route is more than a mile long.)
To support his wife, daughter (7), son (9), and climbing habit, Magro is co-owner of Stronghold Fabrication (the other owner is climber Pat Wolfe). The company performs blacksmithing and other custom work, including designing artificial climbing boulders for city parks and residences. The men "have steel in their blood," states their business website, "and Whit's family [before him] builds the indestructible [stainless steel] Veeders mailboxes."
It was Collins who chose the name Yellow Wolf, in honor of a Native American warrior of the same name, from the Nez Perce Tribe, who escaped the cavalry through Clarks Fork during the Trail of Tears.
The climb was established in a mix of styles, sometimes ground up and other times on rappel; whatever it took to work through the enormous wall. Since the area is off the radar (and many Bozeman locals would like to keep it that way), the route has remained unreported until now. Magro shared the route with Climbing because he wants people to climb it—after all, he's poured tons of legwork into it, it's the hardest route he's done, and it's a first ascent. Before leading every pitch of Yellow Wolf in October, Magro's hardest redpoints were both 5.13d (Occam's Razor, and his FA The Magro Thrasher). "I want people to do Yellow Wolf for confirmation. But I feel confident in the rating," he says, adding, "there are so many routes down there that should be celebrated."
The 1,000-foot mixed sport and trad line has one pitch of 5.14-, three pitches of 5.13, one of 5.12, and one of 5.11+ (the remaining are between 5.4 to 5.7). The route begins with a few approach pitches up easy circuitous terrain that traverses right to access the wall above. The first three pitches climb right above where the Clarks Fork smashes against the wall below. Magro made a topo specifically for Pitch 4, the route's crux, to help him stay on-sequence through the cryptic, mega-thin face climbing.
The 40-meter 5.14- pitch "Up Against the Wall" is vertical to just under vertical with really small edges. "It's all in the feet and you're standing on nuthin'" he says, comparing the compact stone to something found on the smooth, southwest face of El Capitan in Yosemite. "I could only do it with my sharpest, fresh shoes." Magro worked that pitch for two years before linking it to the chains.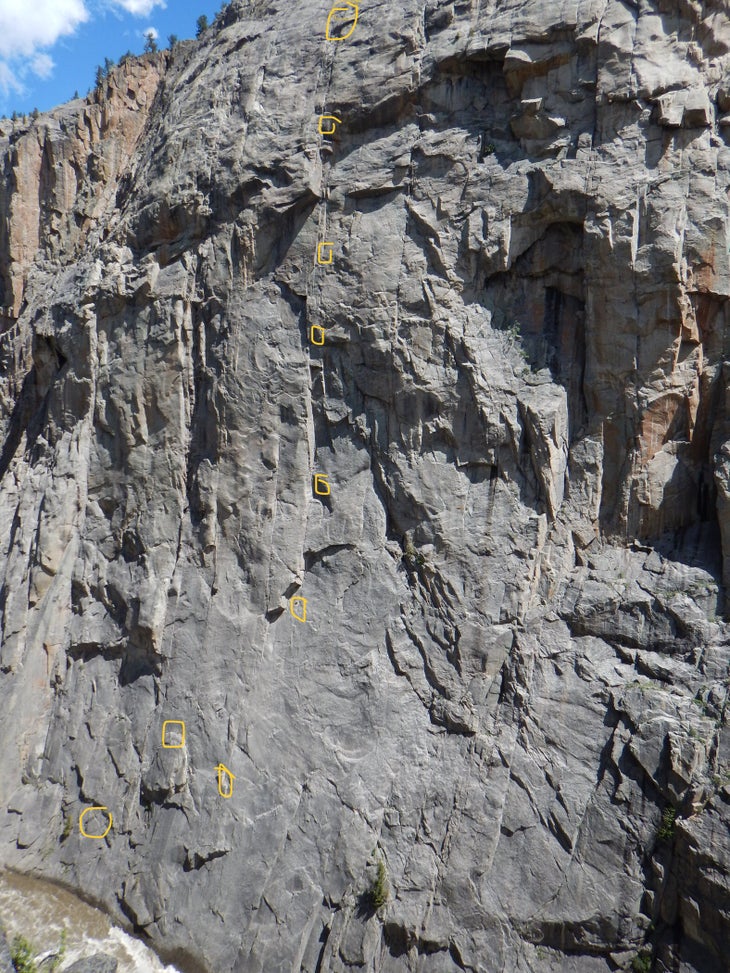 Pitch 5, called "Batwing" pulls a three-foot roof in a right-facing corner, "to nails-hard bouldering, to a lunge, then a hard mantle to reach a no-hands rest," he says. From there it's 12d/13a power laybacking for 50 feet. Pitch 6, the 35-meter "Bonzai," is mostly 5.11 until toward the top where "it's very boulder problem-esque. You have to unleash to do the 5.13- move." The next pitch, "Black Paw" is shorter, 20 meters, but starts with a reachy 5.13b in an "insane stem corner with tiny feet." Then it's 5.12. The next pitch is a 35-meter 5.11+ called the "Exfoliator." The final hard pitch, "Splitter to the End," P9, is 5.13b and ascends opposing edges and smeary feet.
Due to the complexity of establishing the long route, the final two rope lengths didn't come together the way Magro and the team would have liked. Magro thinks this section would be improved if the P8 anchor were higher—it would flow better. He explains: "Because the anchor is low you do 5.12a to reach the no hands rest and then stick clip up from there, then come back to the no hands rest to fire it." The final pitch is 30-meters of 5.7 (or slightly harder) to the top of the wall. As for the snafu, "that's the nature of new routing on a big wall," he says.
Magro plans to return to the Clarks Fork in the coming weeks to help Johnston on his redpoint attempt. "I'm ready to run support when he's ready," Magro says.