A Strange Partnership: Mark Hudon and Jordan Cannon Send Moonlight Buttress (5.12d)
The unlikely climbing partners have a 39 year difference in age, but the same unwavering drive to climb hard, climb a lot, push, and learn from one another.
Heading out the door? Read this article on the new Outside+ app available now on iOS devices for members! Download the app.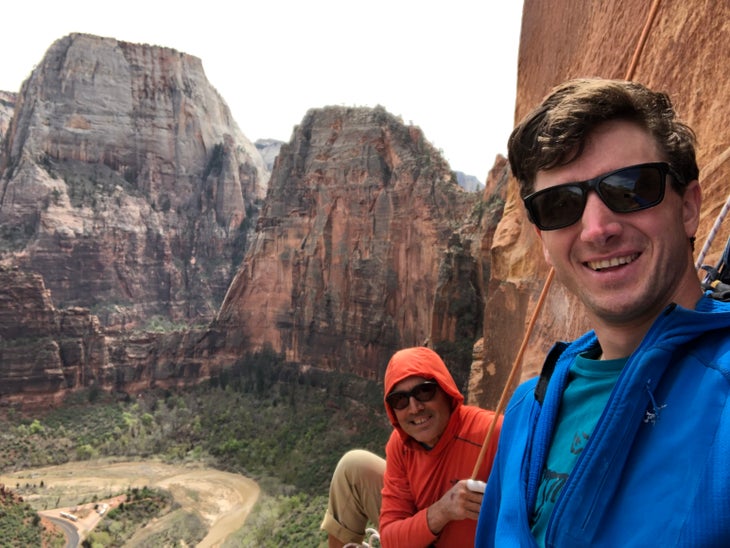 Right now, somewhere in the American Southwest, Mark Hudon, 63, and Jordan Cannon, 24, sit in the back of Hudon's van. The unlikely climbing partners are taking some much needed rest days since commencing their odyssey a month ago, while mapping out an assault on rock climbs to come over the next two months of their road trip. The 39 year age gap between the pair may seem curious at first, but as Hudon and Cannon have shown, age is a much less relevant factor in a climbing partnership than stoke—a factor that these two have in spades. They're both stoked to climb hard and climb a lot, which they have done. Most notably, on April 9, Hudon and Cannon climbed Moonlight Buttress (5.12d) in Zion, the 10-pitch sandstone test piece for hard desert crack climbs—which Hudon flashed.
"Mark Hudon" may not be a household name like Jim Bridwell or John Bachar. But Hudon, along with his climbing partner Max Jones, were just as influential in the late-'70s Yosemite scene as the rest. Hudon and Jones were among the first climbers to make serious free attempts at big walls in Yosemite. They coined the mantra "as free as can be," meaning you free climb all the moves on a route that you can, and aid what you can't. In 1979—the days before cams, leg loops, and sticky rubber—Hudon and Jones freed all but 300 feet of the Salathé Wall on El Capitan, 100 feet of that being unclimbable because it was wet. Hudon and Jones were true pioneers of the free climbing revolution, paving the way for successive generations of climbers. "Climbing is a progression," says Hudon. "The stuff that I did, I was standing on the shoulders of other people. It makes me happy to no end to hear people say they've been standing on my shoulders to progress the sport."
Among those successive generations is Jordan Cannon, a young and thirsty seasonal Yosemite resident, who has climbed hard Yosemite free lines like Astroman (5.11c), The Crucifix (5.12b), and Freerider (5.13a)—lines that Hudon attempted 40 years ago. Hudon and Cannon first met at a climbing event at Donner Summit. Someone at the event had a two-inch swami belt and some EBs, which Cannon donned to climb Monkey Paws (5.12a).
"I offered to give him a hip belay but he declined," jokes Hudon.
"He's pretty little, I didn't think he could hold me," retaliates Cannon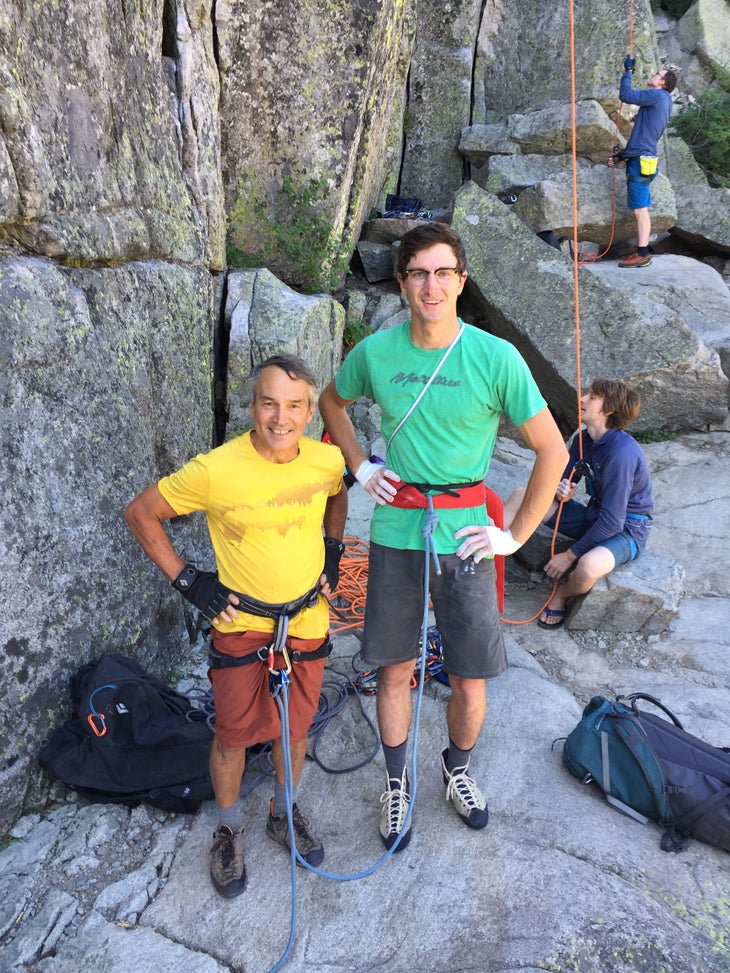 From the get-go the duo hit it off and found that they had similar climbing goals. They began climbing together a few days a week, eventually embarking on this three-month road trip, which most recently took them to Zion National Park. Hudon and Cannon had three objectives in Zion: Monkeyfinger (5.12, nine pitches), Shune's Buttress (5.11+, 8 pitches), and Moonlight Buttress (5.12d, 10 pitches).
"Jordan was telling people we were going to do those three routes in three days and I was silently fearing for my life," says Hudon.
Some bad weather windows forced them to shift their plans, forcing a linkup of Monkeyfinger and Shune's Buttress in a day. Cannon, in reference to his partner's "advanced age," bargained climbing days for rest days, telling Hudon that if they climbed the linkup in a day, they could take two rest days, then try Moonlight Buttress. "I told him if we climbed Moonlight we could take a week off if he wanted to."
Because of more bad weather, after the 19 serious pitches of their linkup, they were forced to take just one rest day before hopping on Moonlight Buttress. "After Monkeyfinger and Shune's I was totally wrecked," says Hudon. "Moonlight could easily be one of the more difficult routes of my life. And I was just going, 'OK, this is going to be a full on debacle.'"
No one was on the route when they arrived at the base. The weather was good and Hudon felt surprisingly good. "I just thought, I'm going to climb the next move as well as I can. That's what I'm going to do all day. I'm going to technique the shit out of this. That's my mantra these days," says Hudon.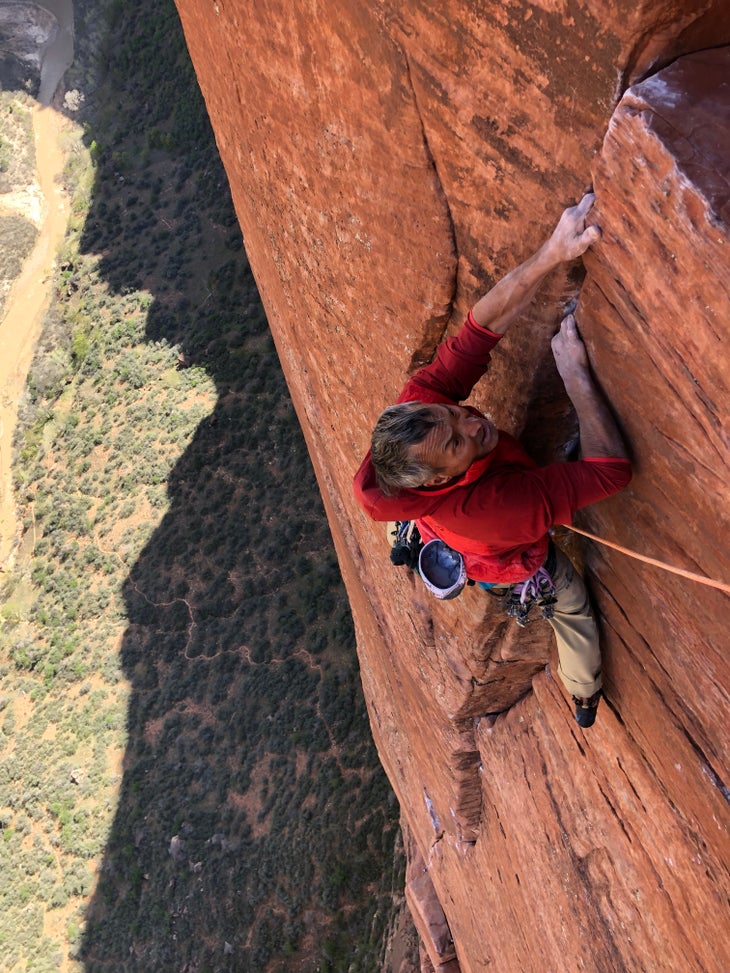 "I noticed from the very beginning, watching him follow the first few pitches that I linked, that he was getting in the zone and climbing really well," says Cannon. "Sometimes it takes him a few pitches to get there."
It was Hudon's first time on the route, but Cannon had climbed it two seasons prior and onsighted everything but the crux. Going for a serious redpoint attempt, Cannon climbed through the first half of the crux pitch move by move, sussing out the beta, and lowered back down off a set of aid anchors 50 feet up. Hudon was going to go up on toprope move by move and work out the beta, but to both of their surprise he punched right through the crux section without so much as a take. Cannon told Hudon to pull the rack up and finish the pitch, selflessly giving up his lead on the crux pitch.
"I would have felt bad if I had him lower and then I led and he wasn't able to follow that section clean again. That could have potentially smoked him," says Cannon. His intuition was right, because Hudon pulled up the rack and blasted through the second half of the crux. "I knew right then when he got the rest of that pitch clean—unless he totally blew it—he could free Moonlight."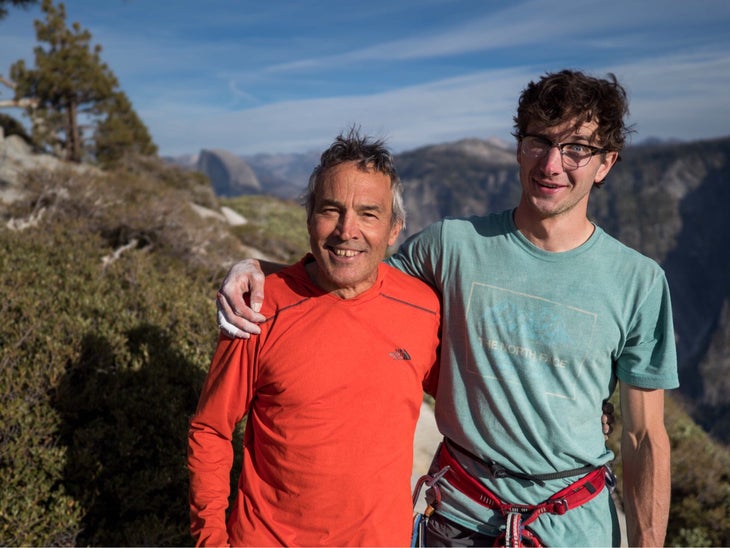 After the crux pitch, the team had four moderate 5.12 pitches ahead of them. Hudon and Cannon both climbed them clean, with Hudon, at age 63, nailing a flash of the classic route.
"We do have a really good and unique partnership," says Cannon. "It seems unlikely the fact that I'm a third his age. But regardless of his age he has a very youthful energy and attitude … One of the greatest gifts of my life is to be able to hangout with Mark and climb with him and learn from him."
"Me, at 63-years-old, I've had some 'best climbing years' of my life," says Hudon. "But here I am on this trip with Jordan and I'm having one of the best years of my life."