Alaska Vets Climb Superb New Routes
Heading out the door? Read this article on the new Outside+ app available now on iOS devices for members! Download the app.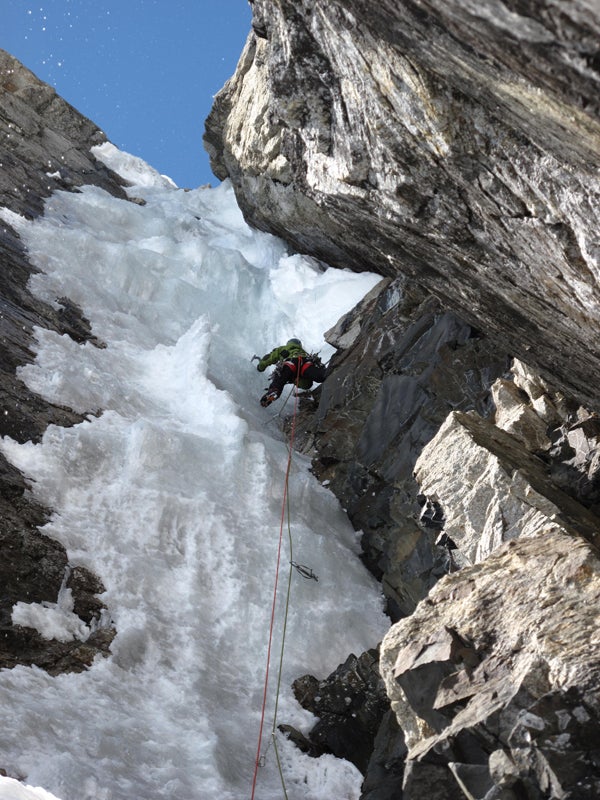 Jay Smith and Jack Tackle, longtime veterans of Alaskan climbing, enjoyed a remarkable two and a half weeks in the Alaska Range in May, climbing four new routes. Tackle, who has done 28 climbing trips to the 49th state, called it "maybe my best trip ever to Alaska since I started going in 1976."
On May 9, the two men flew to a small glacial basin at 8,300 feet, south of Mt. Huntington, that Tackle called his "Private Idaho," and where pilot Paul Roderick had never landed before. The pair had hoped to attempt a new route on Huntington but quickly determined it was out of shape. Instead, two days after flying in, they warmed up with a rapid (16-hour) round trip on the Rooster Comb, a seldom-climbed 10,180-foot peak.
Next, in rapid succession, they climbed three new routes on the southeast side of the Huntington massif. The first was the biggest: Prizefight (V 5.9R, WI4+/5 M6, 18 pitches), which slashes across a big south-facing rock wall and then up to the 10,300-foot south peak of Huntington. They climbed the route in a 39-hour round trip with a three-hour bivy and brew stop.
Nearby, the pair found two new routes on the east-facing formation they called the Scottish Wall: Lagavulin (III- 5.10 WI4+, pitches) and The Black Pearl (V WI5+ M6, 8 pitches). Both routes were climbed to the skyline ridge, with rappel descents, in a single day.
After flying out of the range, the two returned several days later and flew to the north side of Thunder Mountain, where they snagged a beautiful new route on the north face of this peak. Thunder Mountain lies across an arm of the Kahiltna Glacier from the southwest ridge of Mt. Hunter, and Tackle had spotted the line from Hunter 13 years earlier. It is believed to have been attempted at least once before.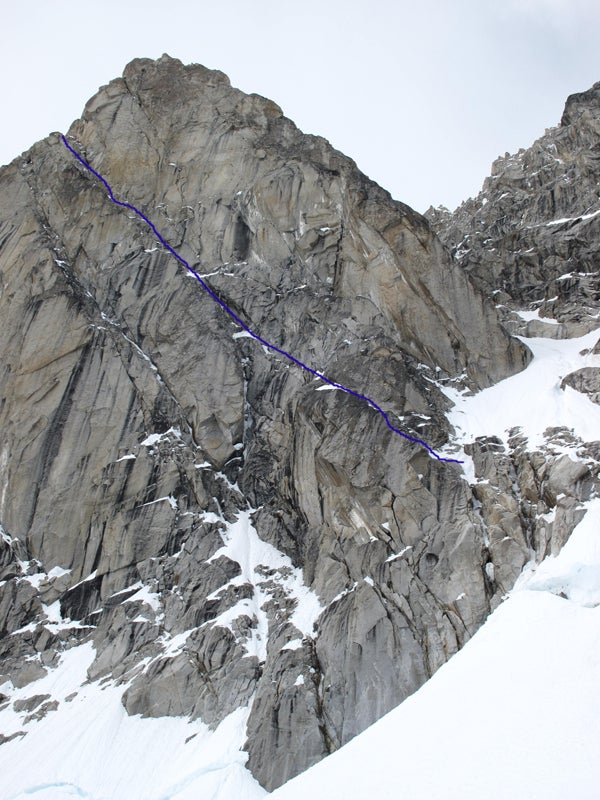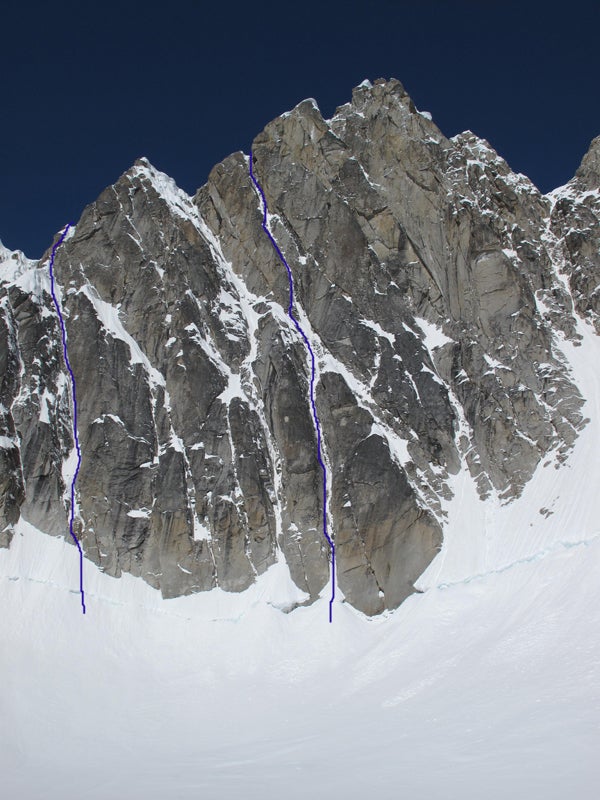 Smith and Tackled completed the ascent in two long days. On May 23, they climbed for 20 hours to reach a bivy site in a crevasse. During this day, Smith led the crux block, including "three really hard and impressive pitches—hard to rate, but all I know is that Jay said these were as hard as any pitches he has ever lead in the mountains." On the second day, they climbed 14 hours to reach the summit, with a two-hour brew stop. After a long descent, including eight miles of "heinous" travel through breakable crust and snow up to waist deep, they were back at the tent 67 hours after leaving. They had carried only one gas cartridge, a day and a half of food, and light sleeping bags (but no tent), and they slept only about nine hours during the ascent and descent.
The new route is called Tangled Up in Blue (VI- WI6? M6/7?), with 20 pitches using a 70-meter rope, plus another 275 meters of simul-climbing. "Five routes, four of them new, in 18 days total—not bad for two old guys," Tackle said.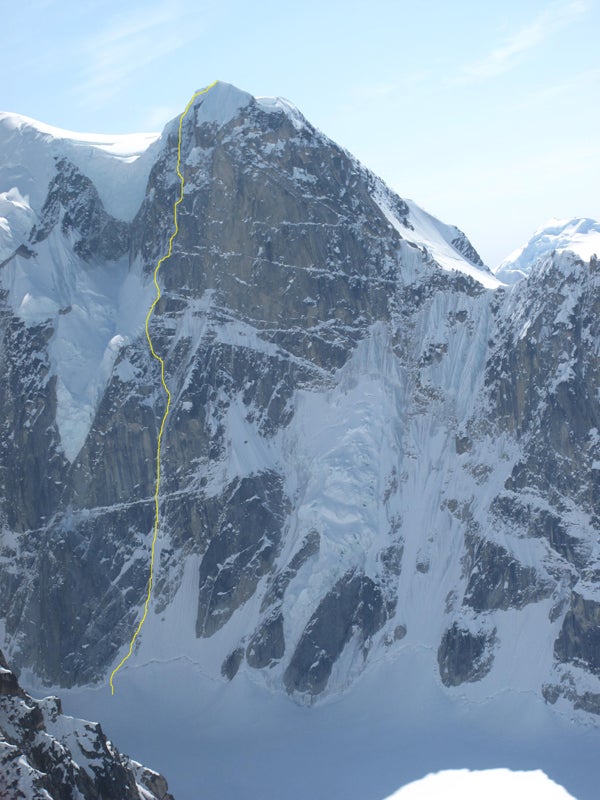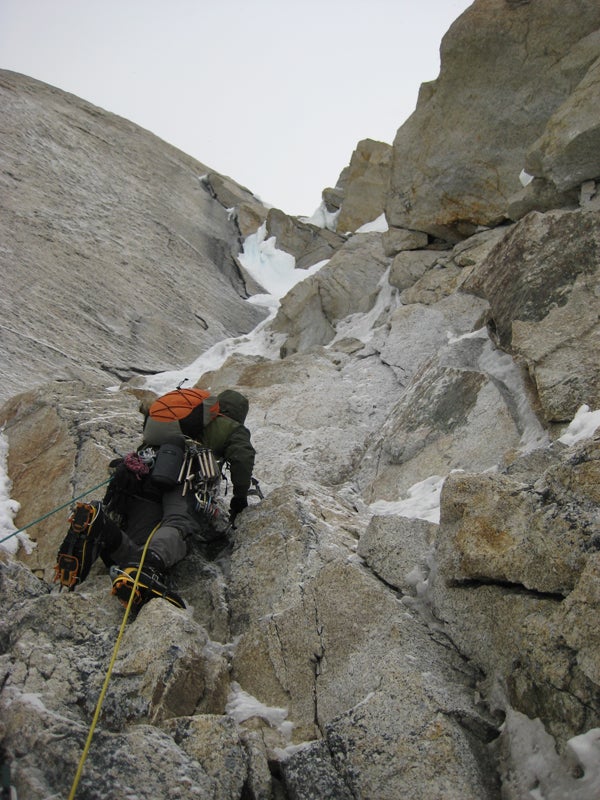 Meanwhile, back on Mt. Huntington, Chris Thomas and Rick Vance made a rapid, nearly complete ascent of the Harvard Route, stopping just below the summit. They climbed and descended the route in 27 hours, 'schrund to 'schrund. Afterward, they discovered a new line on the west face of Huntington, slicing across the wall to the right of the popular West Face Couloir (Nettle-Quirk). Community College Couloir starts the same as the West Face Couloir but then branches right for 1,000 feet of climbing up to WI5 M7+, ending at the Nose pitch on the Harvard Route, from which the two descended.
It was super-fun climbing: always technical, but never desperate," Thomas said. "Like the Puryear-Westman variation, this provides a great, speedy alternative to the more popular start to the Harvard Route. We reached the Nose in less than six hours. There are four or five more ice ramps/couloirs similar to the one that Rick and I climbed on this face—except for the Puryear-Westman, they all are unclimbed and very aesthetically pleasing."
Dates of Ascents: May 2009
Sources: Jack Tackle, Chris Thomas
MORE NEWS: