Too Young To Drive—Meet America's Leading New Mixed Climbers, Aged 10 And 12
At an age when most kids are playing Qwirkle, these two have their Mixed Game on and are leading the way.
Heading out the door? Read this article on the new Outside+ app available now on iOS devices for members! Download the app.
Conner Bailey (age 10) and Landers Gaydosh (age 12) are some of the youngest competitors on the dry-tooling competition stage, and are among its rising stars, climbers to keep an eye on as they progress through the ranks. Both train at The Scratch Pad in Orem, Utah. Climbing chatted with each of them after the USA Ice Climbing World Cup Tryouts at Peabody Ice Climbing in Fenton, Michigan.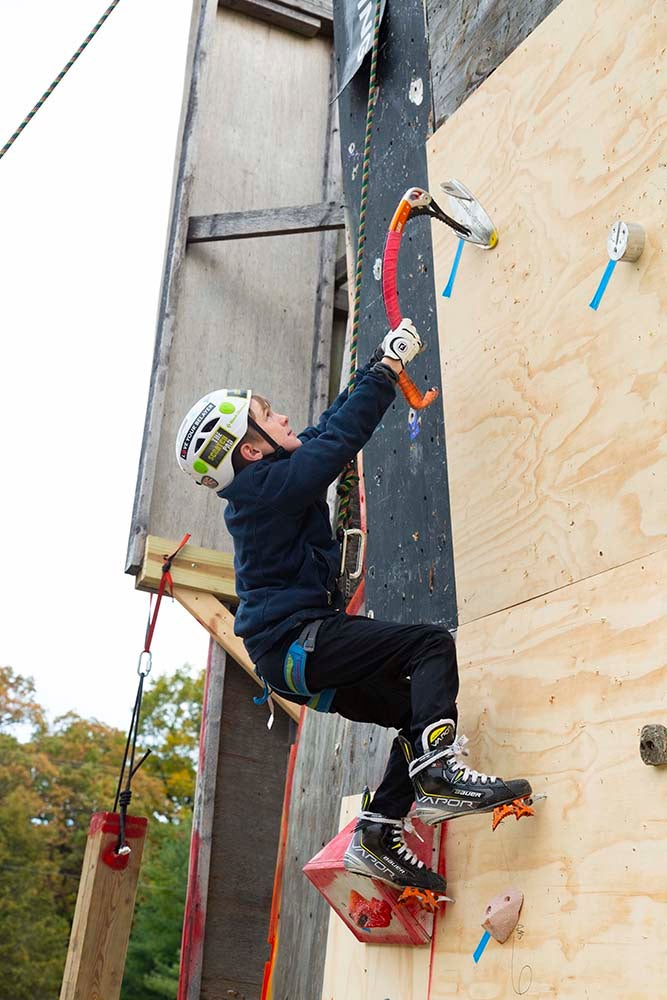 Conner Bailey Top Tick List
Silver UIAA North American Youth Ice Climbing U16 Speed and Lead/TR
Montana Youth D Bouldering Champion (2020 & 2021)
Montana Bouldering Championship Male Intermediate 1st Place
First Place USA Climbing Bouldering Youth Regional Championships
-Youth D (2021 & 2022) – First Place USA Climbing Sport Youth Regional Championships
Outdoor 5.12a sport, W1 5 ice and M8 drytooling
Conner Bailey (with his mom Tessie Bailey)
Conner, with his petite size and polite demeanor, looks like many 10-year-old kids running around the playground. But packed inside his small frame is the strength and determination of an elite climber on his way to the top.
LC: How did you start dry-tooling?
Conner: Well, my mom ice climbs so I kinda of wanted to try it out. I went to The Scratch Pad, which is my ice climbing gym. Since it wasn't ice season we were doing dry-tooling and that's how I got into it.
Tessie: Before The Scratched Pad existed, one of the coaches from there [The Scratch Pad] contacted Conner's rock-climbing team coach. I think originally they were looking for older kids, but I emailed them and said "He is really interested, but I know he's probably not the age you're looking for, and I understand that, but if you have room he would really love to come.
Conner has his own ice tools, but his feet are so small that he can't find mountaineering boots in his size. In order to dry-tool, he had to find a way to retrofit crampons onto hockey skates so he could compete.
LC: How did you end up ice climbing in hockey skates?
Conner: [For dry-tooling] We had to have a nice-fitting crampon boot…we started looking for all sorts of ways we could try [to fit] it. Then we went to the hockey store to see if they had a boot that fit me and they did so we got that and got the crampons and put [the crampons] on the [hockey] boot. That's how the makeshift ones came to be.
Tessie: We looked at bike shoes, climbing shoes, roller skates, and even the hockey boots were the tiniest they had available.
LC: What is your favorite thing about dry-tooling verses rock climbing?
Conner: I can have a bigger ape index so I can reach further and my hands don't get as tired. If I try to go for a small hold it's easer.
LC: What are your future goals for dry tooling?
Conner: Get bronze, silver, or gold in the Olympics. [If mixed climbing becomes an Olympic sport]
LC: What is your favorite and least favorite part about training?
Conner: My favorite part about training is it can help me with future competitions and makes me better. What I don't like about training is if I want to do something it takes up a lot of time. Sometimes I don't want to do it because I'm too lazy and want to play LEGO.
Landers Gaydosh- USA Youth Ice Climbing Team Member, U16 World Cup Champion
Gaydosh Top Tick List
 5.13d sport in Wild Iris
Onsighted 5.12a trad at City of Rocks
-Multiple podiums at USA Youth Climbing Nationals
This year is Landers' first season on the USA Youth Ice Climbing team, and he took gold in the U16 category of his first World Cup competition in Switzerland.
LC: How did you get into dry-tooling?
Landers: I got into dry-tooling by climbing on my [rock] climbing team and the [ice climbing] World Cup coach Marcus [Garcia] sent an email to my coach Palmer saying "if anyone is interested in ice climbing or dry-tooling go to The Scratch Pad."
LC: Between dry-tooling and rock climbing, how many days a week are you training?
Landers: Three days a week rock climbing, maybe four. Then ice climbing maybe two times a week, maybe one. I either have an extra day to climb and I can pick ice climbing or I can go to boulder or sport climb.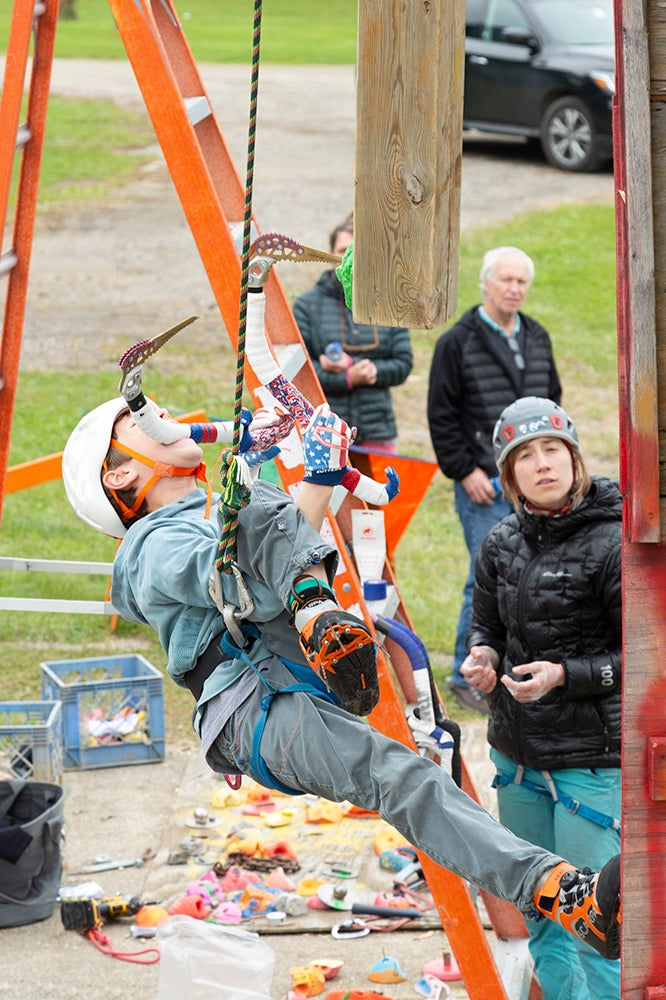 LC: What is your favorite thing about dry-tooling verses rock climbing?
Landers: What I really like about it is with dry-tooling you see a lot of different holds but in rock climbing…you can see what the holds are from the ground, but when you're dry-tooling there's just so many other holds that are just so different.
LC: How did you feel the World Cup Team tryouts went for you?
Landers: I thought I did really good [with the climbing part, but what I realized I did bad was speed [efficiency of climbing]. So I have been working on that a lot.
LC: How did you feel when you found out you made the USA Youth Ice Climbing Team?
Landers: I was excited and I was a little nervous because it was so new and making a big jump into dry-tooling. Now I feel fine because I've done it so much more.
LC: When is your first dry-tooling competition?
Landers: The next one is the World Cup in late January in Saas-Fee, Switzerland. [Ed note: Landers placed first at the UIAA World Youth Championships in Saas-Fee.]
LC: When you travel to Switzerland, what are you most excited for other than competing?
Landers: I'm excited to be overseas because I've never been to another country besides the US. Tyler [Kemp, an adult dry-tooling athlete and mentor] said we were going to go down this really big sledding hill so I'm kind of excited for that.
LC: How do you balance school and climbing?
Landers: I don't have too much homework right now, but in middle school I think I'm going to take it and finish it in the car on the way to climbing. And in middle school I'll get out of school earlier so I can do it at home.
LC: What are your current goals for dry-tooling and what do you want to do in the future?
Landers: My current goal is to go to the World Cup and just not get last place and do decent in the competition. Long-term I would like to use this knowledge to be an alpinist. To do big mountain things.