Anna Hazelnutt Ticks Once Upon a Time in the Southwest (5.13 R) For First Serious Trad Lead
The American worked the route with U.K. climber Tom Randall, who sent on the same day.
Heading out the door? Read this article on the new Outside+ app available now on iOS devices for members! Download the app.
U.S. climber Anna Hazelnutt has made an impressive repeat of Once Upon a Time in the Southwest (E9 6c/ 5.13b/c R) at Dyer's Lookout in Devon, U.K. The 24-year-old ticked the 160-foot pitch after ten sessions, using traditional headpointing techniques.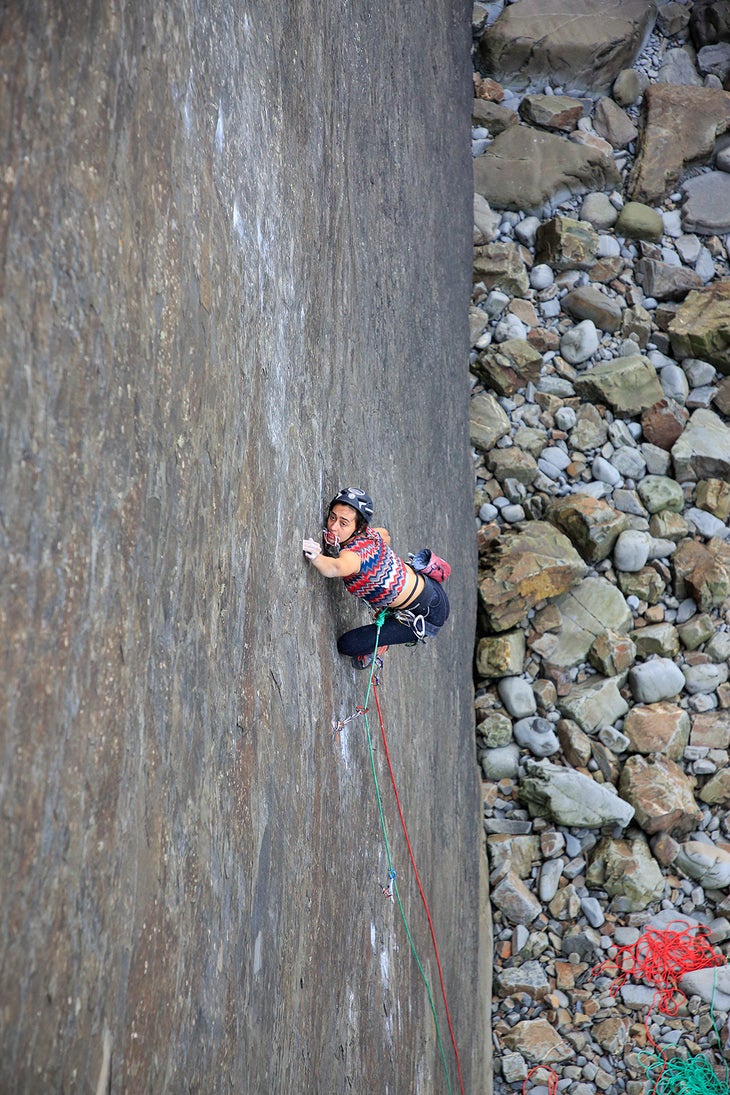 Hazelnutt, who has sport climbed up to 5.14a and bouldered V8 R over her eight-year career, began trad climbing in January 2021 and leading in April. She arrived in the U.K. in September to climb with her friend Tom Randall, hoping to sneak in a few pitches before a sport climbing trip to Spain, but became enamored with Once Upon a Time. The route is an arching, ocean-side slab, and Hazelnutt said she quickly found her flow on the thoughtful and precise holds. "The rock is crumbly, which takes it down a little bit, but everything else was five stars," she said.
Initially, Hazelnutt viewed the route as Randall's project and contented herself with trying the pitch on top rope and learning from a veteran trad climber. And with other established greats including Hazel Findlay and Angus Kille sessioning the route, Hazelnutt couldn't help but feel out of place. "I was just playing on this route with [these] legends," she said. "And I thought, 'That's not for me. I'm not supposed to be here.'" But Hazelnutt returned to the route several more times over the next month, interested in the movement and enjoying the ocean-side position. She eventually sent the pitch on toprope, but a lead attempt seemed far off, even then. 
Leading Once Upon a Time is a far cry from the Yosemite and Indian Creek splitters on which Hazelnutt had learned to trad climb; it requires twin ropes, tiny RPs, and micro cams, all things she had never encountered before, and certainly not on lead. Hazelnutt felt the weight of her inexperience; she had to scavenge friends' racks for the requisite gear, as she didn't own any of the crux pieces herself, and relied on others to talk her through finnicky gear placements. Hazelnutt wished she had the autonomy to work the climb without so much external support, but at this stage in her career, "It wasn't really my choice," she said. 
Thankfully, Hazelnutt had a strong support system, namely Randall and Ian Cooper, who encouraged her to suss out the gear placements and begin preparing for a legitimate lead attempt. "I [soon] realized it might not be so daunting," she said. "But before that… I was just so overwhelmed."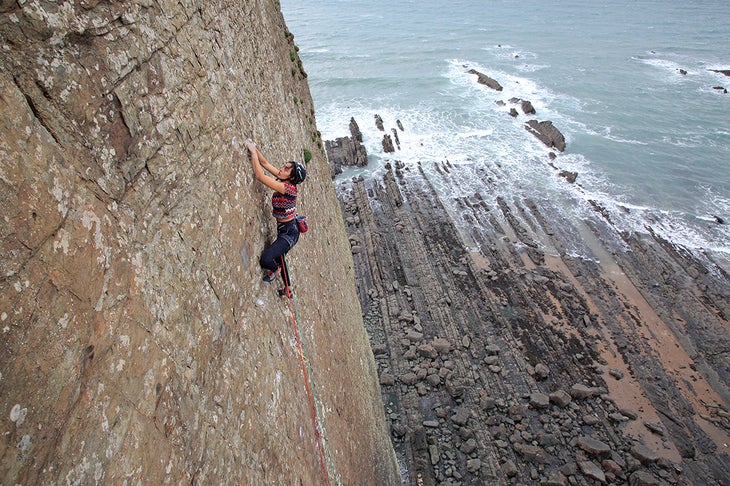 With the personal belief in place, the real work began. Hazelnutt spent hours dangling on a fixed rope learning the intricacies of micro-gear placements, including the specific angles with which to slot each piece into the not-so-splitter rock. It certainly wasn't the easiest environment to string together a full pitch of tricky protection. Hazelnutt believes it lead to an even larger pump factor, since she tended to lock off longer than more experienced climbers to ensure her gear was solid. As a last step in the projecting stage, Randall went up to check all her sample placements, "[They were] vital critiques when you're about to embark on such an intense line," she said. "I really valued that."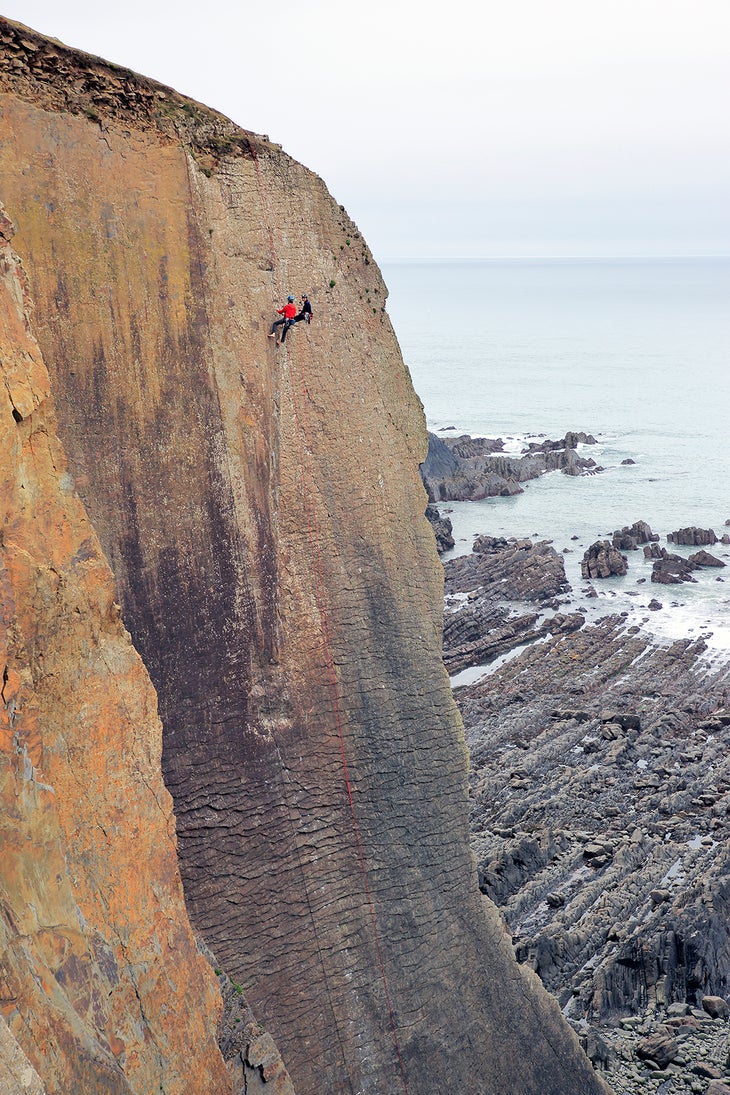 Hazelnutt's final step in the headpointing process was quieting her mind. The main runout comes halfway through the pitch, up an indistinct runnel, spanning several body lengths above two solid pieces. "I think the route was actually relatively safe. Sure, you'll take a huge whipper [and] fall half of the wall, but you'll get caught by good gear where you need to," she said. "You're not risking your life here—you're risking a scary fall. And that puts it into perspective."
Looking forward, Hazelnutt recognized she has a lot of learning to do in the trad climbing world, despite having ticked a life list climb so early in her career. "I'm [still] scared of lower grades because I think working harder things, like the way we did it on a [top rope], was so much more like sport climbing," she said. 
Apprehension aside, Hazelnutt's physical ability and motivation to simply try make her a name to watch for in the trad climbing world.
---
This article is free. Sign up with a Climbing membership, now just $2 a month for a limited time, and you get unlimited access to thousands of stories and articles by world-class authors on climbing.com plus a print subscription to Climbing and our annual coffee-table edition of Ascent. Please join the Climbing team today.