Award-Winning Novel Asks: Do Climbers Destroy the Places We Love?
Climbing caught up with Chris Kalman, whose latest novel charts the grey zone between conservation, tourism, and extractive industry, while exploring the way that the climbing community's passion for wild new zones and first ascents can end up taming the places we love.
Heading out the door? Read this article on the new Outside+ app available now on iOS devices for members! Download the app.
Can our love for a place be the source of its undoing? This question sits at the heart of Chris Kalman's second novel, Dammed If You Don't, which recently won the Mountain Fiction & Poetry Award at the 2021 Banff Mountain Film and Book Festival.
Largely set in Lahuenco, a fictionalized version of Cochamó in Chilean Patagonia, Dammed If You Don't tells the story of an American climber and photographer, John Mercer, whose attempts to save the valley from a hydroelectric dam instead incite another (and very human) kind of flood.
A climber of 20+ years, board member of Friends of Cochamó, and longtime contributor to Rock and Ice and Climbing, Kalman deftly explores the troubling dilemma of tourism-based conservation: That popularization doesn't always lead to the kind of salvation that most conservationists (and climbers) have in mind. Yet the book is also about our sport—about the often-fraught relationships that exist between expedition climbers and their families, older climbers and younger climbers, and climbing partners with each other.
The story begins during Lahuenco's golden age, in 2011, when John and his friend, Gary, are the valley's sole climbing visitors. They drink straight from the streams, build personal relationships with local residents, and make daring first ascents on the canyon's untouched big walls. But when John learns that Lahuenco is threatened by an energy mogul's hydroelectric plans, he begins pouring his energy into popularizing the place, assuming that when everyone sees how beautiful Lahuenco is, they'll fight to protect it. Yet in his obsessive attempt to save Lahuenco—and the new species of salamander he discovers there—John forfeits his relationships with his family and friends while simultaneously undermining the wildness that originally drew him to the place.
Climbing caught up with Kalman to talk about his book, about conservation, about Cochamó, about the power of fiction, and even about free soloing.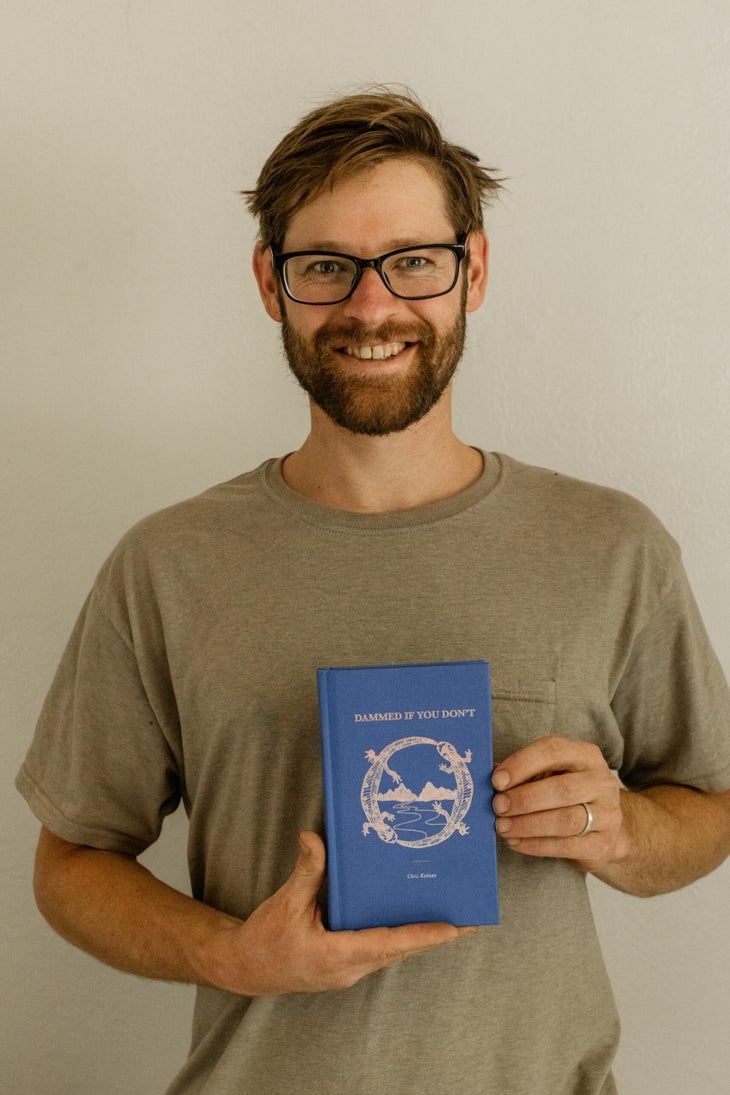 Climbing: Can you talk a bit about Cochamó?
Kalman: Cochamó is one of the most beautiful places in the world. It's coastal rainforest in Chilean Patagonia—you go from fjord to snowcapped alpine summits in only 12 or so miles, so you get a lot of different ecosystems and biomes along the way. There are many species of endangered and endemic flora and fauna there; the water is so clean you can drink straight from the source, even in streams in the middle of the forest.
When I first visited—back in 2010, I think—it was a pretty quiet place, still well off the beaten path. There were only two campgrounds in La Junta, and during that first season, I felt like I met everyone at the campground where I stayed. There were people from all over the world, but not many of them. All the climbers and trekkers shared a single small shack for storing their food and trying to dry clothes by a constantly smokey fire as it poured outside for days on end.
Since then, a lot has changed. There are five campgrounds in La Junta now, and they are all packed all season long. Tens of thousands of visitors are up there from December till March. Most aren't climbers, but the number of climbers has exploded, too. And whereas gringos used to be only a small slice of the pie when it came to climbers, now they seem to account for at least half of climbers down there. It sort of feels like Cochamó has become another stop on the North American dirtbag vanlife circuit, along with places like J tree, the Creek, and Yosemite.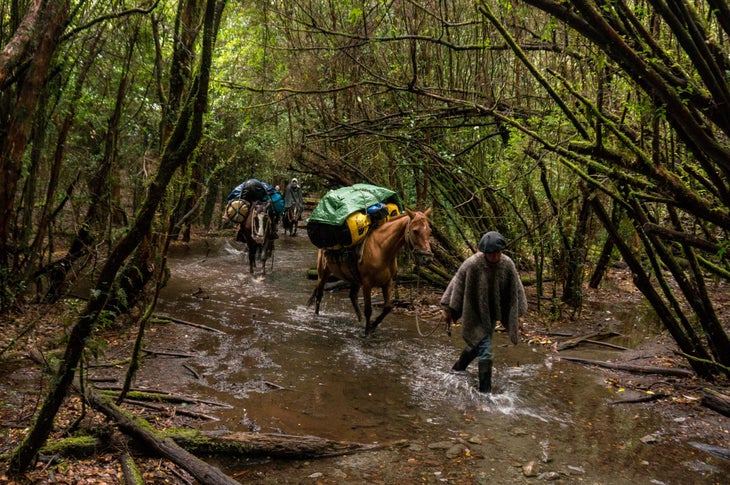 Climbing: How does Lahuenco differ from Cochamó?
Kalman: The portrayal in the book is pretty true to form, but it's more of a cautionary tale for what Cochamó could become than a representation of what it is now. Lahuenco, in the book, is far more ravaged by overtourism [whereas] Cochamó is sort of on the brink of becoming something like that… but it hasn't happened yet. I've been trying for years—both in my writing and in advocacy work—to influence the way tourism (and even more importantly, extractive industries) will be managed in Cochamó. But you can only achieve so much with articles, social media posts, and small trailwork campaigns. I wanted to write this worst-case-scenario story in hopes that it might spur those who read it to think proactively about the future of Cochamó and places like it.
Read this: An excerpt from Chris Kalman's Dammed If You Don't
Climbing: The idea that conservation and tourism, though they might fray against one another, are essentially compatible is one of the major assumptions of the outdoor industry—it's the line toed by organizations like the Access Fund. Your book, however, feels somewhat less optimistic about that compatibility. Can you talk a bit about some problems you see with that model as outdoor tourism grows more and more popular? Do you see any alternatives?
Kalman: So, first off, let me be clear that I don't see the answers to these questions as binary. It's not black or white. Tourism is a lot better than extractive industries, in my opinion, but that doesn't mean it is free of impact. National Parks are better than strip malls, but that doesn't mean there's not a better conservation model than National Parks. It's a spectrum. We are at a certain point on the spectrum right now with conservation and climbing and tourism and protecting wild places. We need to continue moving along that spectrum toward something more sustainable than we have now. That is what I'm trying to do here. I could write a book about how drilling for oil in the ANWR is a bad idea, and we would all hoot and holler and agree about all that—but that doesn't really shift the needle, you know? It doesn't change how we act or think in any significant way. So I'm not as interested in slam dunk stories like that. I'm interested in stories that force us to turn the focus inwards and see how our own actions and dogmas and preconceptions are problematic… how we can change ourselves to make the world a better place.
The Access Fund has a place, and a very important one. But even if you asked them, I'm sure they'd tell you that who they are and what they do is continually changing. Climbing has exploded over the past ten years or so. We all have to incorporate that into our focus. So this isn't a slam on Access Fund, it's more of a nudge. The point of this book is to say "look, let's be honest, this is the direction things are heading if we don't get very serious about the problems of industrial tourism." It's not to suggest that everything is screwed and there's no hope and we might as well just stop trying. And by the way, I'm a proud member of the Access Fund. Every climber from the United States should be.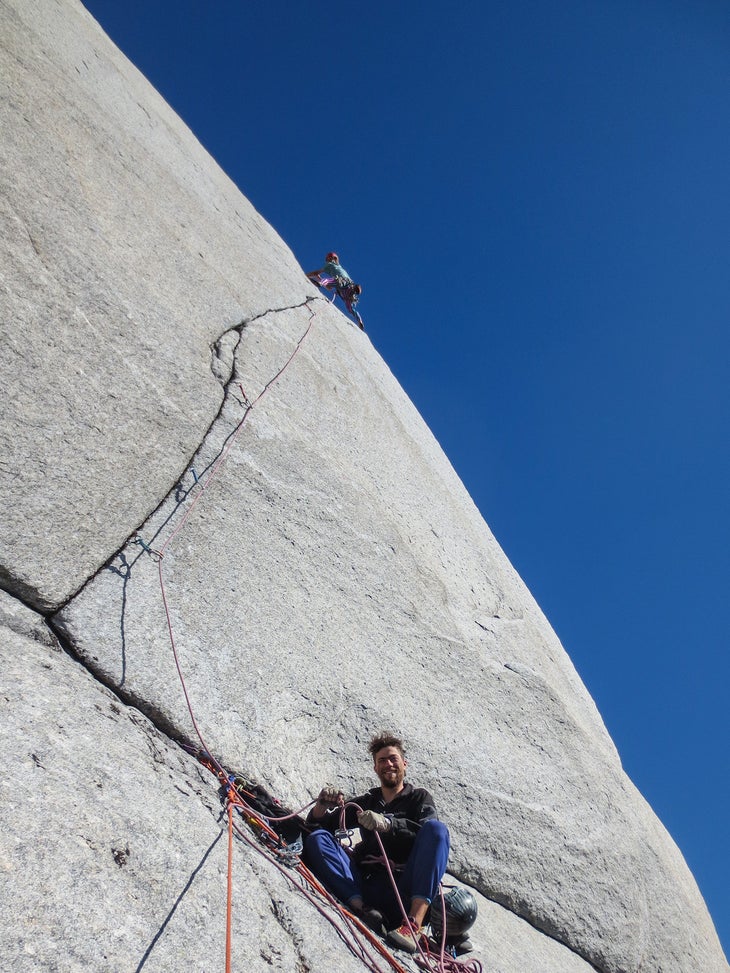 Climbing: In an essay originally published in Rock and Ice in 2018, you write, of Cochamó: "If I had it my way, I'd freeze Cochamó in approximately 2011, or 2012, and I'd leave it there in the middle of the Golden Age of MY travels to the place." It's a funny and self-aware moment in the essay in which you, as author, acknowledge that change is a constant and that our images of "golden ages" are arbitrary figments of our own limited imagination: we mistake our golden age with the golden age. But at the same time, you acknowledge that change is painful and often involves the undoing of things we love. In John Mercer's case, this pain is further complicated by the fact that his attempt to save the place he loves might actually serve as the vehicle of its undoing. Is this just the bind of adventure climbers in the 20th and 21st centuries? Does the act of doing a first ascent or opening a climbing area necessarily involve abolishing the quality of the unknown that those first ascensionists were looking for?
Kalman: You know, in many ways, climbing is very much an extractive industry. We commodify the notion of wilderness, sell it, and that in turn inextricably changes it. The first article I ever wrote for Climbing Magazine was about this idea. You ever notice how all the pictures in the mags never have a bunch of other climbers in the background? We sell the idea of solitude, but that idea doesn't really exist anymore because of how climbing has grown. Meanwhile, first ascents are a nonrenewable resource. People will scoff at that idea on a global scale (look at the Karakoram), but it's pretty real in a place like Joshua Tree, for example. Once you do a new route, name it, add fixed hardware or tat or chalk or other traces, and spray about your route on the internet, the experience you had of putting up that route is gone. Nobody else can have that experience again. So that's like mining. We mine experiences, remove them from their native habitat, and then sell the idea of mining as this super amazing experience to anyone who will listen.
What John Mercer is dealing with is definitely an allegory for this concept. He kind of takes a climbing area from beginning (golden age) to end (overplayed, overhyped, overcrowded Instagram cliche) in sped-up time. I don't believe things have to be this way. I just think they often are. And I suppose I probably feel degree of guilt in all this. I wrote a climbing guidebook that some people hate me for, because they feel it ruined a special place. I don't think that's the whole truth, but it's part of the truth. And even this interview, writing about Cochamó in this way, every time we talk about special places and put them on a global radar, that has an effect. Again, I don't think that developing and talking about climbing areas has to be a way of adulterating or otherwise corrupting what makes those areas so special. But in today's world, especially once brands get involved, I think it generally does. If you've been climbing anywhere for the past 15-20 years, you know what I'm talking about. Indian Creek has changed, Yosemite has changed, El Chalten has changed, Cochamó has changed. Nobody gets off scot free there. We're all complicit. We've all contributed. And now, we all have to work together to figure out how much of those changes are reversible, or acceptable, or how we can do better next time around with other places we hold dear.
Climbing: What's your attraction to fiction as a form and why did you decide that fiction was the right vehicle for this particular story?
Kalman: Here's the truth: fiction lets you tell the truth a lot more honestly than nonfiction. Lahuenco, John Mercer, Ernesto Ackermann [the Chilean mogul]—none of these people or places are real. So we don't have to take offense or say "it didn't happen that way" or troll people on the internet. We are free to engage with the ideas. But when you tell the truth using real people and places, suddenly everything is an ad hominem argument, and emotions and tempers flare. I tried writing the truth (or at least my own opinionated version of it) as nonfiction for a long time. What that did for me was it made me a divisive figure in this community. Some people loved me; some people hated me. It depended whether my world view matched their own or not. I don't have the constitution for that, to be frank. When people are calling me names on the internet, I lose sleep.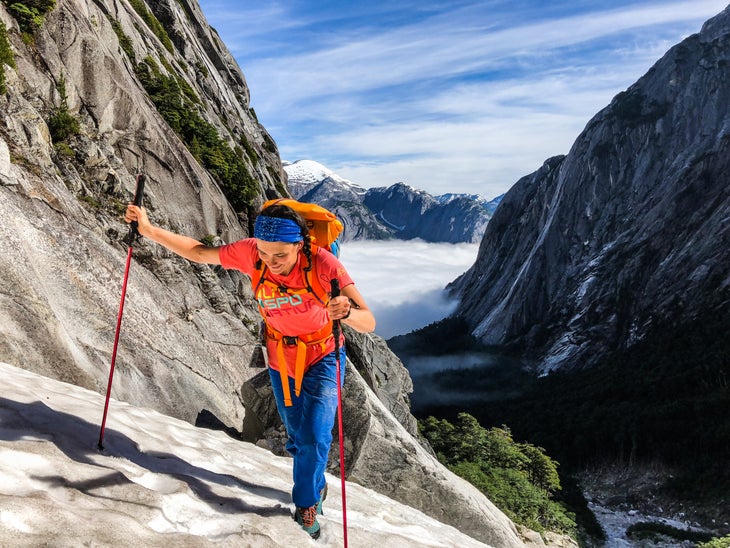 Climbing: Did you have any authors or books in mind while writing this?
Kalman: Jim Harrison's Legends of The Fall. I was going for that. Period. Harrison gets away with an absurd amount of exposition in his writing because he is an insanely gifted generational talent. I'm not! So it was sort of an overly ambitious project, and I didn't even realize that until I was about 75% of the way through. But I wanted to create a story that felt timeless, and yet, simultaneously, poignant to the time we find ourselves in today. I wanted to create something like a modern legend for the climbing world. That's what I was going for.
Climbing: Can you talk about Gary briefly? He's a professional climber of Native American descent who turns away from the sport over the course of the book. What are some of the challenges that you, as an author, encountered when writing characters like Gary and Nahuel [a Lahuenco local] whose backgrounds and experiences in the world are so different from your own?
Kalman: Making Gary Native American, and trying to talk about his experience, was the scariest thing I did in this book, or in the past 15 years of my writing career. It's a bold move for a white guy to try to write a Native American character. At the same time, I think it's problematic if, as a cis white male author, all the characters you ever write are other cis white males. It's not an accurate representation of reality, and it also reinforces harmful stereotypes and prejudices. So it sometimes feels like a double bind. I took a leap of faith and hoped that people would see Gary for what I hoped he would be—just one lens through which to see the human experience, and maybe a little bit of the outdoor industry.
In his 1982 essay, "Imaginary Homelands," Salman Rushdie wrote "Imagination works best when it is most free… Western visual artists have, in this century, been happily raiding the visual storehouses of Africa, Asia, the Philippines. I am sure that we [as writers] must grant ourselves an equal freedom." That was 1982. Today, we call that cultural appropriation, and I don't think most folks would agree with Rushdie. Frankly, if he had written that as a white author today, he probably would be cancelled. And perhaps with good reason. The world has changed (for the better, I would argue) and we must change with it. If nothing else, I would say that if you are going to write a character outside of your experience (like Gary or Nahuel) you better be damn sure to give that character due diligence. For Nahuel, I have spent close to a decade cultivating a friendship with the Chilean arriero upon whom the character is loosely based. Gary in turn was very loosely based on a friend of mine, a Navajo climber, who I paid for the time he spent helping to bring a cultural lens to any of the writing in the story that pertained to Indigenous people. His feedback was invaluable.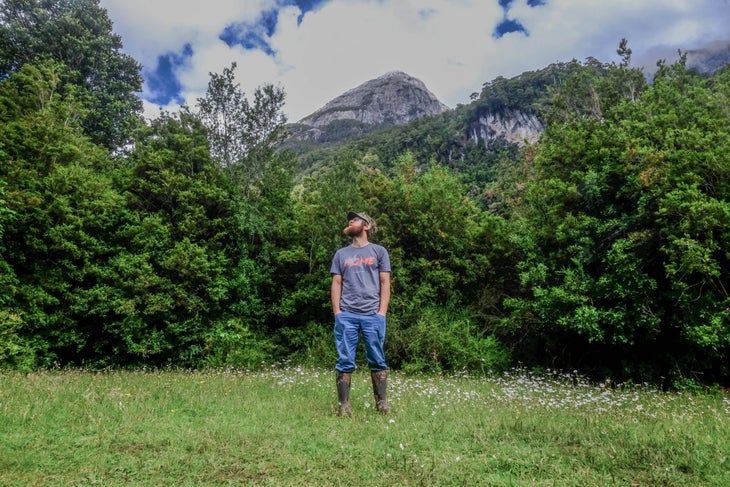 Climbing: Your novel, though quite short, captures the often-fraught dynamic between expedition climbers and their families. Faced with the choice between climbing and his family, John Mercer opts for the former and comes to regret it. Gary, however, who serves as a foil for John in this respect, tries to find a way to go on expeditions while still prioritizing life at home; but eventually he finds the balance impossible and quits climbing to spend time with his wife and child—a decision that, ironically, serves as fuel for his son Braden's eventual rejection of those values. Can you dive into that dynamic in the climbing community? Why was it important for you to write about that here?
Kalman: You know, I think climbers tend to be inherently selfish. Expedition climbing—risking your life for this thing you love—that's the personification of that. I think some climbers have spouses, parents, etc. that are aware of and accept that about the people they love. But for some climbers, the decision to pursue high-risk expedition climbing happens at the expense of their loved ones, including children who perhaps were never consulted about their opinion in the matter… who were born into it. So that's something I wanted to portray. John's tragic flaws are many, but one of them is his selfishness. He shuts people out. Makes all his own decisions. Personally, my gut opinion is that that, ultimately, won't lead to a very happy or fulfilling life. That happiness and lasting satisfaction comes from putting others before yourself, not vice versa. But that's just me, and my dogma. I'm not saying that's right or applies to everyone. In that sense, this is just one storyline, one idea, that I wanted to play with.
I used to be on a path kind of like Mercer, I suppose. In my own small way, I did lots of expeditions, and I put climbing before my girlfriend (now wife). I could feel the selfishness of how I lived gnawing at me. It was out of line with my values and life philosophy. So I needed to change to better align with my own beliefs. I think I'm not the only person who experienced or experiences this dilemma. I wanted to capture it in writing so other people like me might feel less alone.
Climbing: What role does idealism play in your characterizations? Characters like Braden, especially, seem almost maniacally obsessed with purity, climbing not just without ropes but without chalk. Can you talk about this idealism, this desire for a pure outdoor experience, and your decision to give that to this character?
Kalman: Well, I was hoping to kind of poke fun at all that a little bit. You know, there have been times when I was free soloing or super runout when I didn't grab a bolt or something because of my values. There's that story about Peter Croft putting his hand through a sling while soloing The Rostrum, then going back and doing it again without the hand in the sling because he felt so bad about it. Ultimately, I think that sort of stuff is pretty silly. Can you imagine dying for an obsession with purity? It's the stuff of youth, the folly that comes from not having a damn clue how sad, how final, how real death actually is. Braden is a little punk. He doesn't know much about life. Reminds me of someone else I knew when he was young (points at self)… When I go back and think about some of the many times I could have died because I was adhering to some idealized vision of pure climbing, it makes me sick. What a total waste of a life that would have been. For me, anyway. But again, that's just one point of view along a spectrum. The point is not for the reader to agree with me, to come to all the same conclusions I have. The point is to help the reader become a little more conscious of both sides of the coin, to better see their own blind spots, dogmas, preconceptions. That's what I'm trying to do with this book.
You can buy Kalman's novel (and his other books) through his website.