Behind the Scenes With Mammut's Incredible 360° Photos of Eiger North Face
Heading out the door? Read this article on the new Outside+ app available now on iOS devices for members! Download the app.
8/12/14 – Using custom-made 360° camera technology, Mammut has produced a remarkable documentation of the original 1938 Route on the north face of the Eiger. Swiss alpinists Dani Arnold and Stephan Siegrist climbed the route over two days in April, each carrying a 17.5-pound system combining their pack, an extendable boom, and a cluster of six high-end GoPro cameras. Computer users can pan around the resulting digitally stitched image to get an unprecedented view of the classic north face.
Click to launch the Project 360 site.
We asked Christian Gisi, Mammut's head of marketing communications, to explain how this groundbreaking project was accomplished and what's coming next. (Stephan Siegrist and Mammut's Harald Schreiber also added their input to the responses below.)
Climbing: How did the Eiger project come about?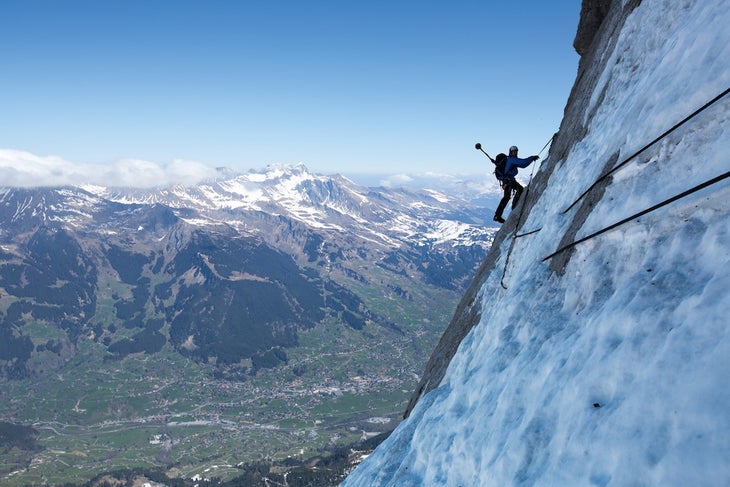 Gisi: The idea developed at Mammut together with our media agency Heye Grid and Matthias Taugwalder from Concept360, a small company specializing in panoramic photography. We have worked together in the past on "regular" 360° panoramic shots. We've been watching development in mountain photography and filming very closely, and we all felt it was time for a new dimension.
Climbing: When did you do the climb?
Gisi: April 16 and 17. With the very best conditions imaginable.
Climbing: How many people were climbing with Arnold and Siegrist during the filming?
Gisi: In addition to Dani and Stef, we had Denis Burdet, with the backup 360° camera; Daniel Bartsch, who was documenting the process with photos and video; and Mänel Schönthal, a mountain guide from Grindelwald. In addition we had a drone shooting aerials from the face and a film team on the west ridge.
Climbing: Who was filming with the 360° camera when Dani or Stef were not filming? For example, sometimes you can see a close-up of a climber who has no camera.
Gisi: We didn't use any panoramic shots from cameras other than the ones on the backpacks of Stef or Dani! The six cameras on the boom are each pointing in a different direction. When these images are put together on a computer, parts of each image are overlapping. By arranging those overlaps with special 360° software you can make the camera arm disappear from the picture without losing the climber himself.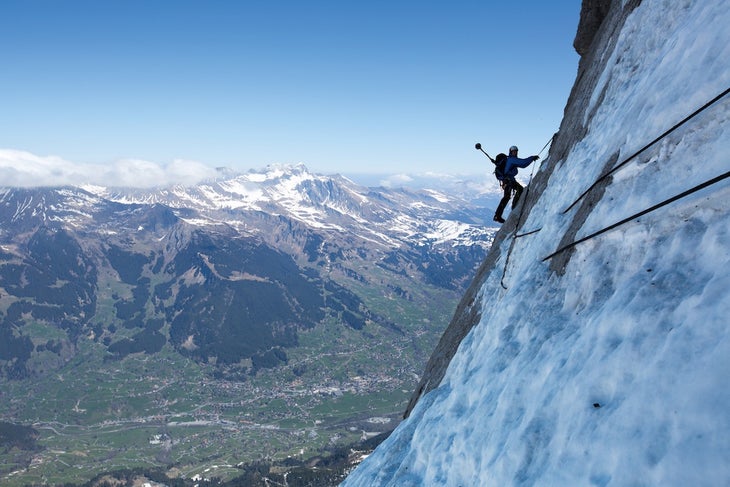 Climbing: Was it difficult for them to climb with the camera rig?
Gisi: The camera with battery and backpack is only about 8 kilograms. It was pretty comfortable and less annoying than expected. Climbing even chimneys was quite easily possible. But for sure we had two of the strongest alpinists in the world to do the job, both with a lot of experience on the Eiger north face.
Climbing: Is Mammut planning any similar climbs using this technology? You should come to the USA and film El Capitan!
Gisi: Absolutely. We already did the famous Hörnli Ridge on the Matterhorn, and this should be released by the end of August. We are currently shooting other famous peaks. If you know two strong big wallers ready to work with us, bring 'em on and we go for El Cap!