Big Canadian Climbs on Baffin Island
Heading out the door? Read this article on the new Outside+ app available now on iOS devices for members! Download the app.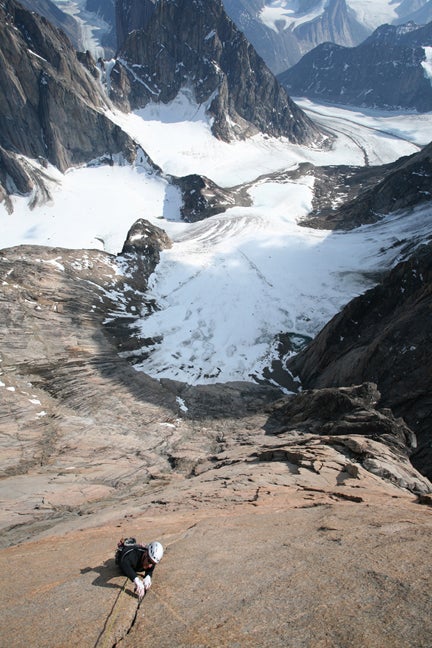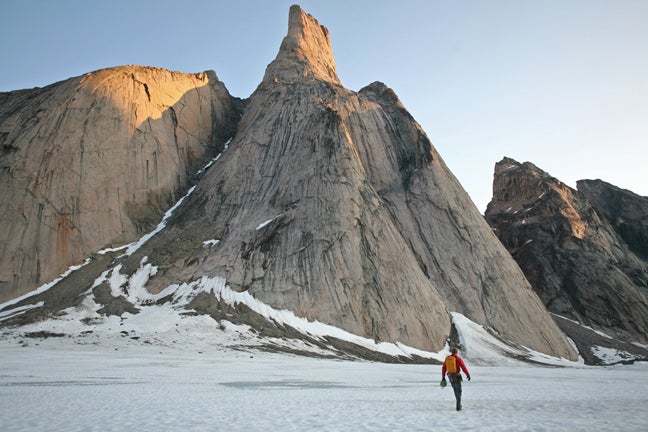 Canadians Chris Brazeau and Jon Walsh enjoyed a productive summer trip to Auyuittuq National Park on Baffin Island, completing seven climbs or attempts in ultra-light style, including a couple of possible new routes or first free ascents.
Below is Walsh's account of the climbs, with some minor editing and annotation:
Chris Brazeau and I spent four weeks this summer in Auyuittuq National Park, climbing the granite walls and ridges of the Weasel Valley. We left home with some inspiring photos, vague beta, and a lot of excitement. In the small fishing village of Pangnirtung, we met our Belgian friends Nicolas Favresse, Sean Villanueva, Olivier Favresse, and Stéphane Hanssens, as well as Silvia Vidal of Catalonia, and together we hired a boat to take us to the trailhead at the end of the fjord.
The main goal of our trip was to climb Mt. Asgard, Baffin's most famous and arguably most beautiful peak, which requires a 42-kilometer approach up the valley, following decent but rugged trails for the first 32 kilometers and moraines and glaciers for the final 10. This would involve ferrying many loads of gear and food, as well as climbing whatever other peaks inspired us along the way. As the Weasel Valley is stacked with amazing mountains, the objectives were plentiful and the views always mind-blowing.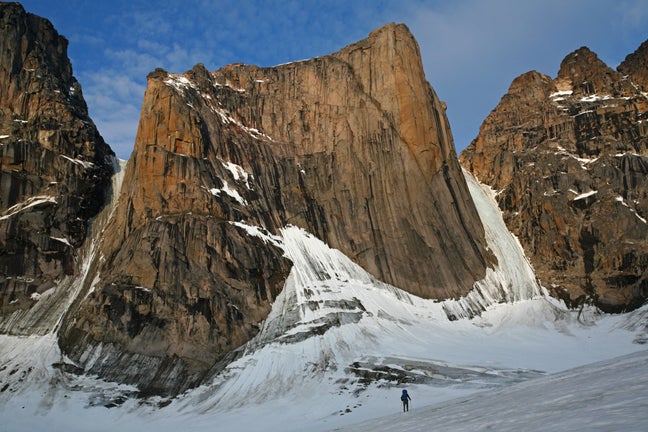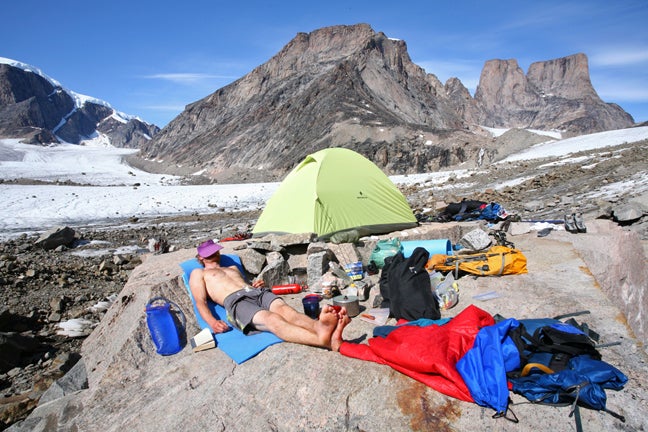 To sum up our 28 days in the park, 7 were spent climbing, 11 schlepping loads, and 10 were spent resting. We did all our routes in light and clean style, always trying to find challenging, aesthetic lines. Our two most significant climbing achievements were:
Asgard's South Tower, south face (5.12-, 600m). We thought we were on an entirely new route until we found a bolt at the route's crux, on the second to last pitch. It's hard to say for sure, but we probably climbed 50 percent new terrain and 50 percent the "Italian Route" (Defrancesco-Leoni-Luca-Manica, 1988) on the south face. Our route went in nine amazing, 60-meter pitches of mainly 5.10, with the second to last going at 5.12-. It was probably the first free ascent of the South Tower, and it took about 16 hours round-trip from a camp on the side of the Caribou Glacier.

Asgard's North Tower, east face (5.11+ C1, 800m). Hard to say whether the first half had been climbed or not, but we climbed about 10 nice pitches up to 5.11- to reach the headwall. We then followed an obvious crack system to the right of Line of Credit (Condon-Easton-Prohaska, 1998) that provided the highlight of the trip. Eight 60-meter pitches, six of which were 5.11, and often involving run-out, delicate face climbing that linked the cracks, on some of the best quality stone we've ever touched! Some wet rock forced us right near the top, and only one body length didn't go free due to some wetness. Probably 5.12- free. Wet 5.11 moves constantly made us dig deep, but we onsighted the rest of the headwall. The Favresse brothers repeated the first two-thirds of our headwall route, and drier conditions permitted them to do a more direct finish (Whiskey Gonzales, 2009). Our camp-to-camp time was 22.5 hours, with the approach being at least two hours.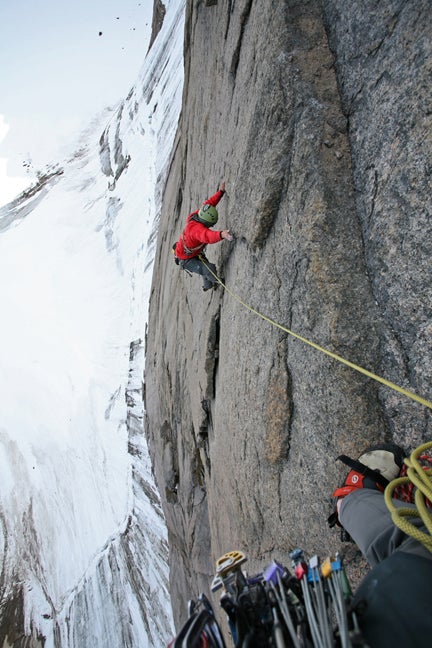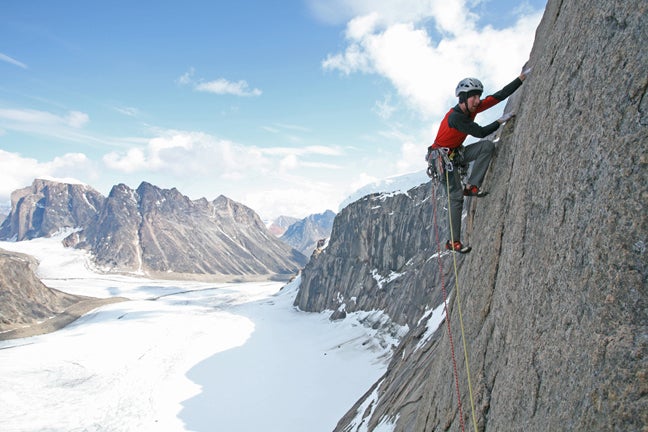 Other climbs we did included:
The "Scott Route" (5.11-) on Asgard's North Tower. Very classic! Great positions on the southwest buttress. Asgard is one of those peaks you can just keep climbing on!

Stories in Stone (5.12- A0, 600m), Mt. Walle. This sustained, 16-pitch Italian route with bolted belays is up there as one of the best routes either of us has ever climbed. Unfortunately, we couldn't remove the A0 part of the grade, but the hardest climbing is 5.12-. A physical route with some chimney and offwidth climbing up an amazing red pillar. This one required the most effort and was our longest camp-to-camp time at 25 hours.

Mt. Thor, south ridge (5.8). A true classic to a wild summit.

Mt, Menhir, south ridge (5.10, 600m). We did a few pitches of 5.10 variation to Salvaterra's route (Bonapace-Giarolli-Salvaterra, 1988) before some weather forced us back to the line of least resistance. If it weren't for the three-hour slog up a couloir to the base, this route would be popular. The rock is perfect, and the route similar in character to the northeast ridge of Bugaboo Spire.

Mt. Tirokwa, west face. This was actually just an attempt on a new route. We climbed about 400 meters out of 700 to the left of Chocolate Boomerang (Hanssens-Villanueva, 2009), before run-out face climbing shut us down. This could be a great route, but a couple of bolts seemed necessary to pass an obvious white rock scar. The holds and climbing seemed to be all there, but natural protection looked impossible for about 40 meters of 5.11 climbing. With under a day to get down, pack camp, and hike out 15 kilometers to catch our ferry back to Pangnirtung, we rappelled and called it a trip.
All said and done, we had a great time, great weather, and the entire expedition unfolded smoothly. We climbed more than we anticipated we would, and the adventure was everything and more than we could have hoped it would be. A huge thank-you to our Arc'teryx, Moutain Equipment Coop, Scarpa, and Sequel Naturels for the support.
Dates of Ascents: Summer 2009
Sources: Jon Walsh, American Alpine Journal
MORE NEWS: