BOB GAINES – 500 first ascents and counting…
Heading out the door? Read this article on the new Outside+ app available now on iOS devices for members! Download the app.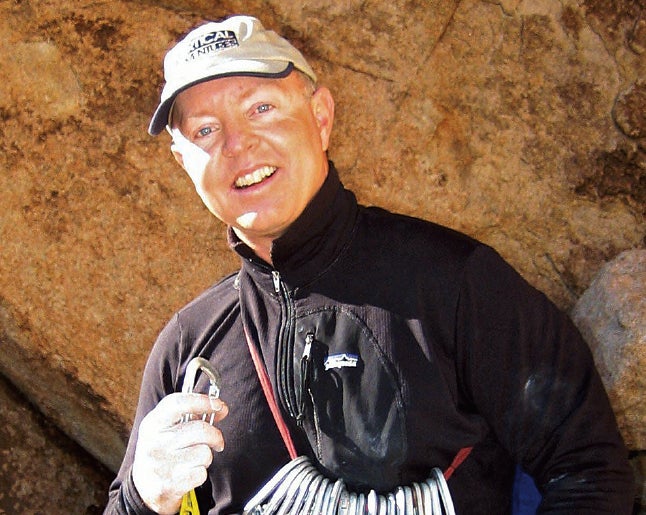 BOB GAINES, 49 AND A LIFER at Joshua Tree, has authored 500- plus Cali climbs. Raised with the state's minimalist ethic, Gaines knows well the challenges of bolting — and, running his guide service (verticaladventures.com), is also keenly aware of the need for safe crags. "Usually, when I go out with fellow guides or instructors, we're shocked" by the old hardware, says Gaines. "[We have] a higher safety standard, and we just don't see it . . . among the general climber population." Since 2003, Gaines et al. have worked with the Anchor Replacement Initiative and American Safe Climbing Association at J-Tree, Idyllwild, and Yosemite, helping climbers keep the ground out of California's "ground-up" equation.
Have you replaced any of your original bolts? My career spans back to the '70s, so a lot of routes that I put up, like, in Yosemite and Idyllwild, were little quarter-inch bolts on lead. So I've gone back and replaced bolts on my routes, yes. Now the standard is 3/8", and that's the big change.
How have the older bolts held up? In J-Tree, it's a dry climate and most of the bolts have held up for 20 or 25 years. In Yosemite, with more of a cold, winter climate, you see a little more corrosion. But the only problems I've seen with 1980s bolts [when climbers started using mostly 3/8"] are the bad SMC hangers. One model was about as thin as a dime, and another as thick as a quarter. The thinner one we'd call the SMC Death Hanger — it actually caused an accident in Yosemite, where it failed under body weight. Now I use all stainless steel (which could last 50 to 100 years). But even these bolts aren't going to last forever. . . .
What should J-Tree visitors look out for? No. 1: a quarter-inch bolt should be suspect — J-Tree's not very dense granite. Also, beware rusty hangers and cracks around the bolt.
Where are the worst J-Tree anchors you've replaced? Harlequin (5.10d R), a 1974 Tobin Sorenson runout classic on Saddle Rock. The quarter-inch bolts came out as easily as nails from wood.
MORE ARI: