Rogue Climber Attempts to Aid Solo Trump Tower With Suction Cups
Heading out the door? Read this article on the new Outside+ app available now on iOS devices for members! Download the app.
An unknown climber attempted to (illegally) make what would likely have been the first ropeless aid ascent of Trump Tower in New York City. Using a method that is typically associated with fictional espionage, the man was ascending via five high-grade suction cups and two makeshift etriers. Starting at 2:45 PM EST, he climbed over 10 stories in just under two hours, setting a strong pace. If he had been able to keep it up and avoid law enforcement, he would have topped out by 2:00 AM. 
While it was smooth climbing early on, the technical crux presented itself approaching the 20th floor. These urban alpine routes host several unique obstacles, including descending scaffolding rigs occupied by angry police officers and window-pane removal efforts from the inside. Law enforcement did provide a large inflatable air bag below the route.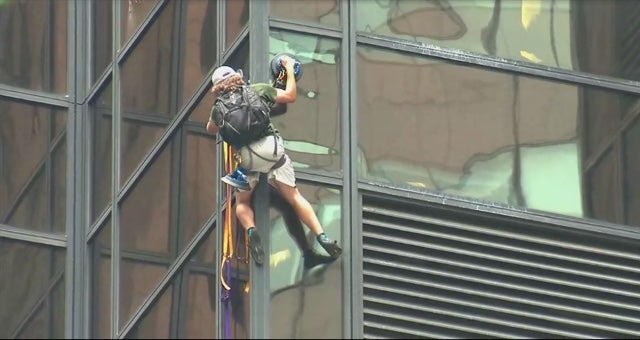 Ultimately the NYPD thwarted the first ascent attempt. After removing a number of large window panes on the 20th floor, the climber was forced to traverse to narrower windows on the building's arete. When he attempted to move up and past the missing windows, NYPD officers were able to reach out, grab the man, and forcefully pull him into the building.
The NY Daily News reported that the climber's name is Stephen Rogata, and that he's from Virginia. He was said to be carrying banners or leaflets that he did not have the opportunity to unveil. A Youtube video posted yesterday features a man explaining that he planned to climb Trump Tower to obtain a private meeting with Trump.
As expected, the route has already been added to Mountain Project.
A Trump executive released the following statement regarding the climb:
"This man performed a ridiculous and dangerous stunt. There's damage to the building and he caused the unnecessary deployment of New York's finest to protect his safety and the safety of everyone in the building. He's caused the shutdown of traffic on Fifth Avenue. I'm 100 percent certain the NYPD had better things to do."