Tom Randall and Peter Whittaker FA Two 5.14 Roof Cracks and Continue Work on 5.15 Mega-Proj
Finding—much less sending—the hardest crack in the world isn't easy. Then add in the hazards of spiders, scorpions, and snakes.
Heading out the door? Read this article on the new Outside+ app available now on iOS devices for members! Download the app.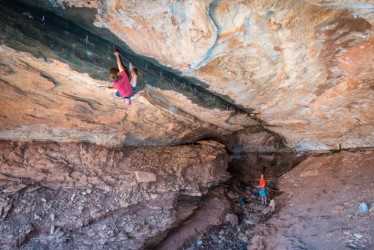 "This is minimum 5.15. If it was 5.14 we would have done it [already]," said Tom Randall, who sat next to Pete Whittaker, the other half of their Wide Boyz duo. The pair is renowned for their brutal training and success on the hardest cracks in the world; they appeared in REEL ROCK 7, where the film Wide Boyz featured them sending the 5.14 Century Crack. During a video chat on September 25, Randall described their still-unsent undertaking dubbed the Crucifix, in the White Rim area of Canyonlands, Utah.
The 527-square-mile Canyonlands National Park is 30 miles southwest of Moab.
"Minimum 5.15." Those are tall words, but these two have the track record to back it up. Back in 2011, they authored the 120-foot Century Crack, the world's first 5.14b offwidth and, in 2016, the 300-foot Millennium Arch (5.14). Both roof cracks are on the White Rim. But these guys climb more than just the wide—in 2013 they made back-to-back ascents of the thin, steep Cobra Crack (5.14a/b; FFA Sonnie Trotter, 2006) in the Cirque of the Uncrackables in Squamish, British Columbia.
To prepare for their dizzyingly long roof-crack ascents, they log countless hours in their training cellar in Sheffield, England, which has cracks of all sizes.
"We've been on 5.14d, and this is harder than that for sure," Whittaker added. Going on 10 years now, the two have worked on (and sent) many of the world's hardest fissures as a team, and they firmly believe this project represents a huge leap forward.
Though they left the White Rim without cleaning up the Crucifix project—potentially the most difficult crack in the world—during their month-long stay, they established several other hard roof cracks. On September 10, they fired the 180-foot Cruzifix (5.14-)—Crucifix light—by linking the first half of Crown of Thorns (5.14a) into the end of the Crucifix. The Wide Boyz put up the rope-stretching Crown of Thorns last year, and the climb is a contender for the world's hardest and longest roof offwidth, at 165 feet.
On September 16, near the Crucifix Cave, they put up two 50-foot 5.12+ roof cracks called Bigger Than Your Boyfriend and Raining Scorpions. Raining Scorpions runs up a parallel crack system one cave over from the Crucifix Cave in the Meat Factory, while Bigger Than Your Boyfriend, which climbs like a shorter version of the famous Crack House boulder problem (but as a route) outside Moab, is about 500 feet away.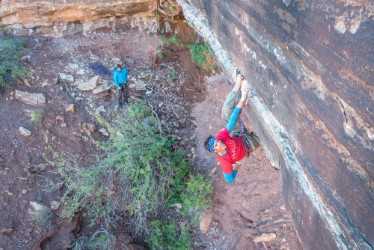 On September 24, Whittaker sent the 80-foot 5.14 Lamb of God located in the Meat Cave. This zone also contains Silence of the Lambs (5.13b) and 8-inch Stun Gun (5.13a), two crack climbs they'd put up during a previous visit.
"Lamb of God climbs like a sporty roof crack," Whittaker said, "[with] a real mixture of everything: face holds, [hand] jams, toe jams, and heel hooks. It's really power-endurance based and keeps on coming at you right until the end."
Randall, unable to tick Lamb of God due to a knee injury, put up the nearby 100-foot 5.13+ All Pump No Funk, a power-endurance lip traverse ending on brittle face holds.
On Monday (September 25), the Wide Boyz talked with Climbing about their visit to the massive roofs in Canyonlands from their friend's house in Moab. During the call, we focused on the Crucifix project, which they plan to return to next autumn.
Starting from the ground, the 180-foot-long Crucifix roof crack comprises three sections: Hands and good finger locks on an offset crack for 50 feet (5.13+), then straight into a 40-foot section of monos and poor fingerlocks that blanks out—the crux—then a mega rest followed by 90 feet of hands on sandy rock and more varied, discontinuous crack climbing (5.13+) where Crucifix/Cruzifix share terrain. For the latter section, they learned that if they protected it with small cams, the rope would run along an edge and get damaged. So their solution was to run it out for about 35 feet (10 meters). A fall from the mid-crux leaves the leader one-third the distance from the ground. "You're 40 meters up with a runout 12 of meters," Randall said.
The two gave Crucifix six burns in spring 2016, and during their recent visit they sessioned the route even more.
They described the complex, monodigt-fingerlocks crux sequence, which they figure is close to V14, in their blog:
"The mono section has been a bit of a mixed bag—probably no surprise—as some moves are getting easier and others have [the] annoying habit of ripping flappers quite quickly. We've now identified that 'The Bolt Move' is the one we [must] have dialed, as there's two of them on the crux. It's similar to a Rose Move, but you're doing it on monos in a roof and you end up looking like Usain Bolt at the end of a 100m final! It's a great move and it's very trainable."
During this visit, they figured out the sequence, so all that remains is linking into it from the ground and then sending the remainder of the climb. However, "We are still a ways off for sure," Whittaker said. "It's definitely a long-term project. It's pure crack, but the crux requires bouldering and sport-climbing ability."
As if it wasn't epic enough whipping out of a section so thin and technical that, says Randall, it "requires multiple moves in [a row] where you're lucky to get second joint deep," the cave is also home to scorpions, snakes, and poisonous spiders. 
It was common for the two to dodge hanging black widows when they walked around the cave. And a brown recluse crawled through their tent one night. "I am not happy about the spider stuff down there," Randall said.
With their eyes set on returning next year, the Wide Boyz plan to change up their strategy. For one, they'll return during late autumn when conditions are cooler. September's heat caused their fingers to slip, and the slippage caused flappers and gobies.
Still, said Randall, "We're pleased that we've figured out working sequences for the crux section."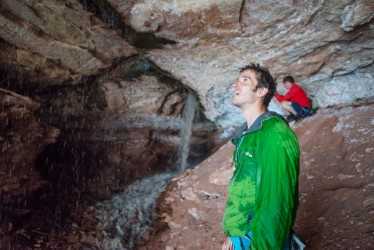 Their other strategy is building a Crucifix replicator in their training basement back in the United Kingdom. With an eye on turning training into a science, before they left the White Rim they extended string along the route to measure the lengths of crux sections so they can replicate the hardest moves to a tee.
Of note, it took Whittaker and Randall a month of searching up and down the 100-mile-long White Rim road to find the Crucifix Cave: they were looking for a singular hard project in an ocean of sandstone, like searching for a needle in a haystack. "It's quite a journey and it's quite hard to find," Whittaker said. The landscape is "esoteric, [and] it's off the beaten path. You're not gonna find completely clean cracks like you find in the Creek. Loose rocks might hit you in the face."
Despite the risk of rockfall and venomous critters, the two have been climbing in the area for six years. After so many years of thrashing around in the desert, and after they complete their project, will the Wide Boyz still come back to this remote location?
"It depends [on] how long it takes," Whittaker said.
Tom Randall is sponsored by RAB, Wild Country, Five Ten, Sterling Rope, and Primal Pantry. Pete Whittaker is sponsored by Patagonia, Wild Country, Five Ten, and Sterling Rope.