Imagine Freeing the Salathé Wall as Your First Big Wall. Brittany Goris Just Did.
Goris, who climbed 5.14 trad earlier this year, sent the legendary 35-pitch route in a mere five days.
Heading out the door? Read this article on the new Outside+ app available now on iOS devices for members! Download the app.
The American climber Brittany Goris completed a rare free ascent of El Capitan's Salathé Wall (VI 5.13b) last Friday, joining an esteemed list of individuals to have freed the line. First freed in 1988 by Todd Skinner and Paul Piana in a nine-day push, the Salathé is one of Yosemite's most iconic long lines. Chuck Pratt, Tom Frost, and Royal Robbins established the original aid-line 60 years ago in 1961. Since Skinner and Piana's first free ascent, it has been freed by the likes of both of the Huber Brothers, Yuji Hirayama (who famously gave the route a very proud flash effort, falling only three times), Tommy Caldwell, Mayan Gobat-Smith, Hazel Findlay, and Alex Honnold. Steph Davis became the first woman to free the Salathé in 2005.
Goris made waves earlier this year as one of the few women to climb a 5.14 trad route with East Coast Fist Bump (5.14a) in Sedona, Arizona. Before that she had made a name for herself with a number of 5.13+ trad routes, like J-Tree's Stingray (5.13d) and City Park (5.13d) in Index, Washington, the latter another Todd Skinner route. 
She's no stranger to hard climbs on gear, but the Salathé was a new horizon for her. The 35-pitch climb, one of the longest routes on El Capitan, wasn't just her first time climbing on El Cap… It was her first time climbing a big wall of any sort! 
Climbing caught up with Goris to ask her a few questions about her ascent.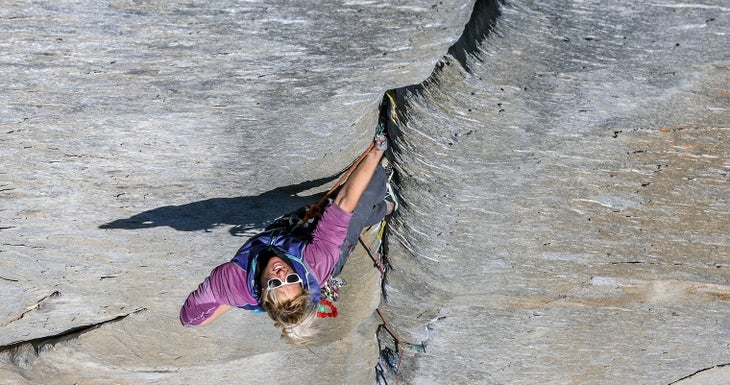 ---
Q&A with Brittany Goris
This is your first big wall. Can you tell us a bit about how the experience was different from what you're usually up to? How does projecting something like the Salathé compare to a hard single-pitch trad route like East Coast Fist Bump (5.14a), for example?
I have never projected a route that required me to send multiple pitches of 5.13 before… I could probably count on one hand the number of times in my life that I've even redpointed more than one 5.13 in a day, and it's probably only three or four. I can only think of two off the top of my head, not including the day I sent both 5.13b crux pitches of the Salathé Headwall back to back! 
I'm used to only having one pitch to worry about, not thirty-five pitches. I'm used to cragging, where you try hard for a few burns, rest as long as you want in between, chill on the ground, and sleep in your own bed at the end of the day. 
Before this, I had only been backpacking twice in my life, both of which were horrible experiences. To project the wall, I had to expand my comfort zone in SO many ways, from sleeping in new places to incredibly long days full of endless physical labor, but most importantly I had to deal with the fact that there wasn't one hard pitch I had to send, but at least two or more each day for almost a week straight (with occasional rest). 
It's a lot of beta to remember, and also a lot of pressure. You also don't have the luxury of planning around the weather, you have to navigate other parties on the wall, you have to hope you get along well with your partner once you start having to shit in front of them, you have to eat weird wall food, and you always have to be thinking a few steps ahead about how if you fuck your skin up on today's crux, you can't send tomorrow's.
Basically, all the stars have to line up as perfectly straight as Starlink itself, which we watched traverse across the night sky whilst climbing the route. There's so much less room to faff around, you have to either fire or fail.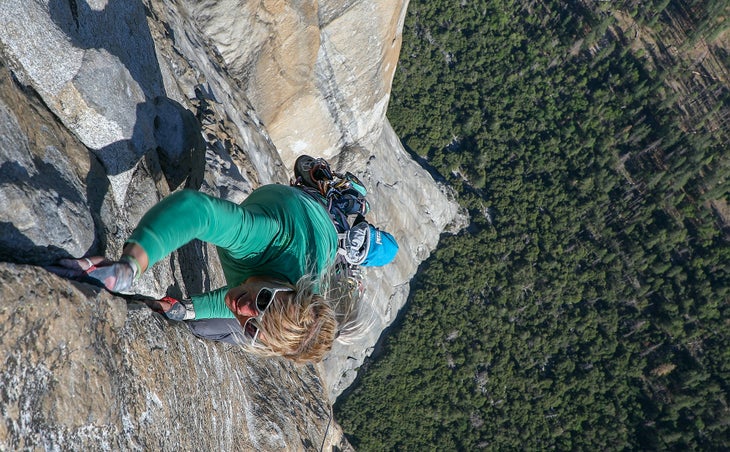 What was the crux of the route for you? Any major roadblocks and if so, how did you get around them?
I took a rest day on the wall, which was on Day 3. It was honestly the only part of the experience that wasn't completely amazing. Sure hauling is a pain, and setting up a portaledge is kind of annoying, but when I was doing all those sorts of things I was able to be present in the moment, knowing that each task that I completed, no matter how arduous, was getting me closer to my goal. 
Resting, on the other hand, just gave my mind time to stress and obsess. It was the day before we tried the Boulder Problem/Teflon Corner, which was what really felt like my sink or swim moment. I had rehearsed the headwall so many times that I knew I could do it with enough time (which I had planned for), but I had only spent two days at the boulder so it was significantly less dialed. It also would cost me a lot of skin if it took a lot of attempts, and I did not have much to spare. 
Basically, it felt like if I couldn't do that crux, all of my hard work for weeks on end and over the past two days would be for nothing. I could not calm down about it all day. I ended up doing the Teflon Corner to save my skin, and while it took me a lot of tries, I just rapid-fired them so it didn't take much overall time. 
Once I was through it, all that anxiety just vanished and I felt a rare confidence take its place. I did not fall again until the second to last pitch, where I chuffed off a 5.10d crux move and had to repeat it. Hah.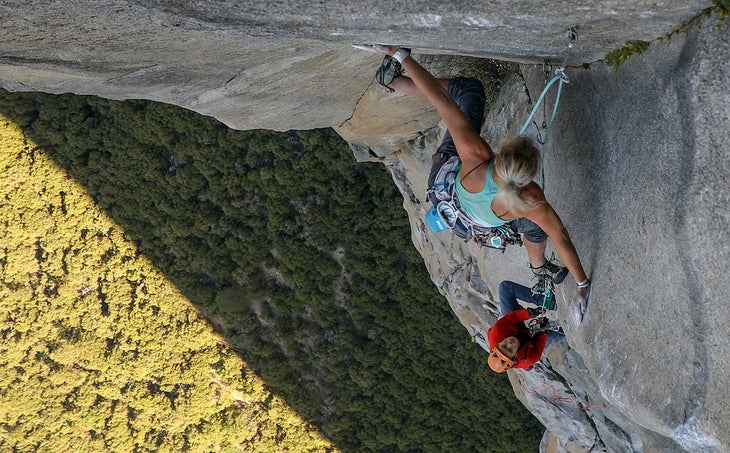 You sent the route in only five days—fairly fast, particularly for your first time on El Cap! Were you expecting to send that quickly and what do you think helped?
I conservatively planned for a maximum of nine days. That was what Skinner and Piana had taken, and that was what Steph Davis took, so I thought surely I would want to have at least that in case I needed additional rest days on the headwall, or entire days devoted to each of the two crux pitches up there. I thought for certain I would take at least seven. I summited on day five (four days of climbing with one rest day in the middle). It meant I had to pour out a lot of water and hike down a lot of extra food! 
I was able to speed things up because after the Teflon Corner I felt so good that I just knocked out a bunch of bonus pitches that day. I also wanted to get ahead to possibly avoid taking another rest day… The plan had been to stop at the Block, a nice bivy ledge 11 pitches from the summit, but once we got there I just kept going and did the Enduro Corners that day too, despite how incredibly slimy they were in the sun. It set me on track to have nothing but the roof pitch (which is very short) left before getting to the base of the Salathé Headwall the next day. 
I sent both headwall pitches first try, with a long rest in between, and was so fired up from that that I just kept climbing until I stood on top a few hours later, having sent the route in about half the time I had expected!
On Instagram, you called climbing the Salathé "the completion of one of the most incredible experiences I've ever had in climbing and in life." Would you say this climb was more impactful to you than another major milestone, like sending East Coast Fist Bump, for example? If so, why?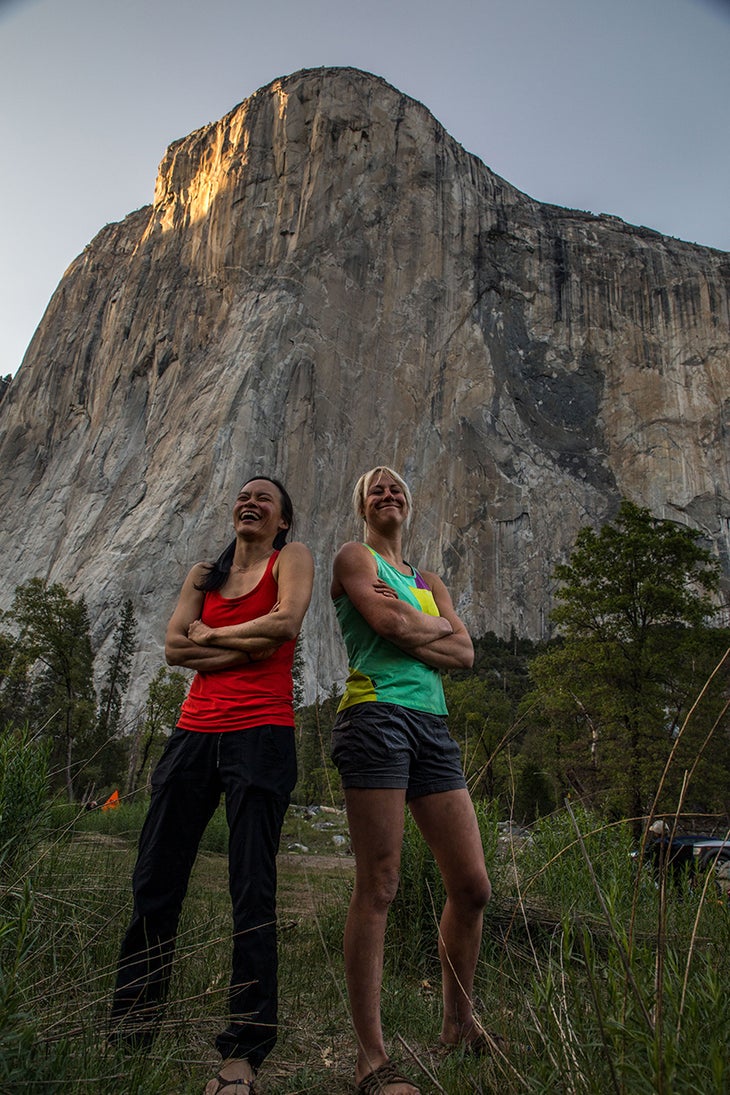 Each of my major accomplishments has been special to me in its own way, having each taken me on unique journeys and taught me lessons that have shaped who I am today. 
For example, City Park (5.13d, trad) gave me a passion for trad climbing, and perhaps more importantly a fascination with climbing history. A big reason I wanted to do the Salathé Wall was because of its incredible history. Stingray (5.13d, trad) brought me together with Prith, the first partner I ever came to Yosemite and went up on El Cap with, who helped me begin to dream bigger than I ever had before. 
All those hard desert cracks I've done (No Way Jose, Tricks Extension, From Switzerland with Love, etc. [all 5.13+ trad lines]) made me passionate about crack climbing, which drew me to the Salathé Headwall. East Coast Fist Bump made me realize I had yet to set my dreams high enough, because I needed to find new ways to expand my horizons and grow as a climber. 
So to answer your question: Is more impactful than my other accomplishments? Only time will tell what doors this will open, but I'm sure it's just another stepping stone that will lead me to something even greater. 
I will say that it was simply a very profound experience for me because it inspired me in a way I don't experience very often, and feel like I spend most of my life searching for. It's rare that I find a dream that really sparks my passion for climbing to burn at its absolute brightest, and this was one that truly did. 
What's on the horizon for you? Did the Salathé ignite any interest in more big wall routes?
I definitely am interested in more big wall climbing, but I've got some other projects on my mind as well. I've never been much of one for planning too far in advance, that takes all the adventure out of things. Who knows where I'll end up next, that's part of the beauty of living on the road! 
A feature documentary following Goris as she completes her first big wall climb—free climbing the Salathé on El Capitan — is currently in production. Goris shares her connection to this historic valley and route, as well as the insights and understandings gained along the way. For updates on the documentary, you can find the director and producer on Instagram @GaretBleir.