Chantel Astorga and Anne Gilbert Chase Complete Denali's 9,000' Slovak Direct
Chantel Astorga and Anne Gilbert Chase's ascent of the Slovak Direct—from June 2 to 5—marks the first female ascent of the 9,000-foot route, and the second time an all-female team has climbed an Alaska Grade VI.
Heading out the door? Read this article on the new Outside+ app available now on iOS devices for members! Download the app.
Denali National Park, Alaska—On day two of their four-day ascent of Denali's Slovak Direct (5.9 X M6 WI6+, 9,000'), and after 18 hours on the move, Chantel Astorga and Anne Gilbert Chase needed to stop and rest. They aimed for a small perch—right before the route's technical crux—where one, maybe two teams had previously spent the night.
When they finally reached the bivy spot at 15,200 feet, they found it was merely a steep ramp that they had to hack out with their ice tools for hours; even then there was barely enough space for them to sit on the slanting bench. They spent the next four hours that night, under continual dusk so bright it blended out the stars, waiting for sunrise. They passed the time sitting upright and sharing a single sleeping bag with a tent wrapped over them as they looked out over the Alaska Range. "We had to stay clipped in as we were sliding downhill," Chase said.
That night winds increased above them on the mountain, swirling up clouds of spindrift. Finally, in the coldest, darkest hour before the sun came up, they started brewing fluids. "Though we didn't sleep, we were able to warm up and wait for the winds to die down," Astorga said.
After breakfast Astorga led the crux pitch, a long finger-width crack on a vertical wall, where she used a combination of free climbing and pulling on cams to ascend a crack. "It would probably go at 5.11 fingers if you were in rock shoes," she says, "but it's very difficult at 15,000 feet with ice tools and crampons."
The route stayed hard even after the crux.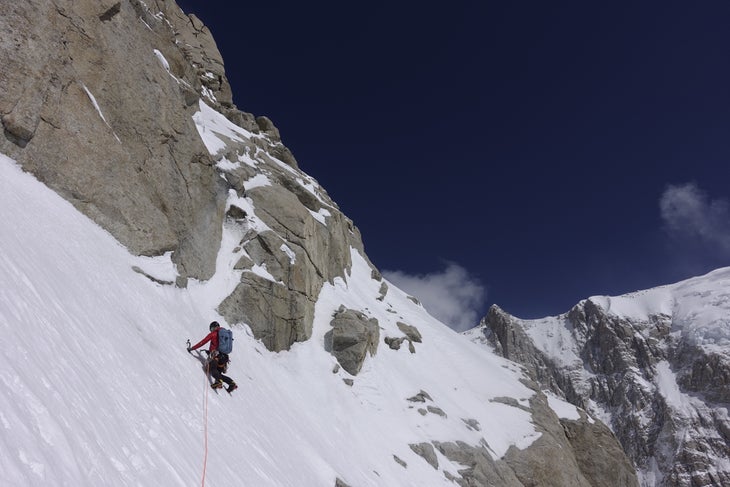 Higher up, continued Astorga, "some of the WI6 pitches were rotten, with thin overhanging ice where it was hard to get good gear placements and you just had to climb through it."
After the technical climbing on the Slovak Direct ended at 16,500 feet, Astorga and Chase un-roped and followed the Cassin Ridge for another 4,000 feet to reach the summit.
In total, the team spent three nights on the route. The first, their only night of sleep, was at 13,400 feet where they took shelter in a bergschrund near a hanging glacier. They didn't sleep on night two, where they were on the sloping bench. They spent the third night at 17,500 feet, on the lower-angle Cassin Ridge; it was there that Astorga put a hole in her sleeping pad, leading to another restless night.
As they neared the summit, their faces were puffy from a combination of exhaustion, dehydration, and climbing at 20,000 feet. During the final 1,000 feet of the route, via steep snow hiking, Chase remembers Astorga nodding off for 30-second "power naps" every few minutes. The duo summited Denali on June 5. From the summit, they descended the West Buttress.
This is the route's ninth ascent and first all-female ascent.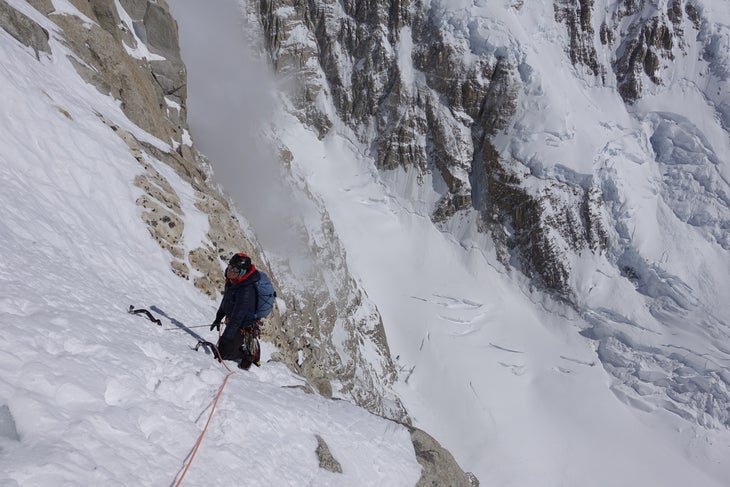 Chase says of the nearly two-mile-long route: "It's extremely steep with a lot of mixed climbing and a bit of everything. There is also a lot of water ice up to WI6 and difficult rock." She says much of the route has M5 and M6 terrain, "Though not extremely hard off on the ground, climbing at 16,000 feet with runouts and with a pack on added to the challenge."
Both women, former Denali guides, had previously summited Denali (20,237'), the highest peak in North America. Astorga had reached the summit nine times, and in 2010 she'd skied from the summit down the West Ridge. Chase had summited the mountain four times.
Astorga guided on Denali from 2008 to 2011 and Chase guided Denali from 2010 to 2012. Though they met on the mountain in 2010, their ascent of the Slovak Direct marks only the third time they'd climbed together.
Today Astorga works as an avalanche forecaster in Lowman, Idaho; Chase is a registered nurse in Bozeman, Montana.
Their first climb together was an attempt on the Slovak Direct in June 2017, where they made it 3,000 feet up before retreating. "The weather was bad, minus 20 [Fahrenheit] at 14,000 feet," Chase said, adding, "the weather fully shut down and we were hit with snow and spindrift."
Because they left so much of their rack bailing down the enormous route, their trip was over; they skied out and caught a plane, vowing to return the following year.
Their next climb was from September 29 to October 2, 2017, when they made the first ascent of Obscured Perception (1,400m, VI WI5 M6 A0 70° snow) on 6,596-meter Nilkanth in India's Central Garhwal Himalaya. For that ascent, they partnered with Chase's husband Jason Thompson.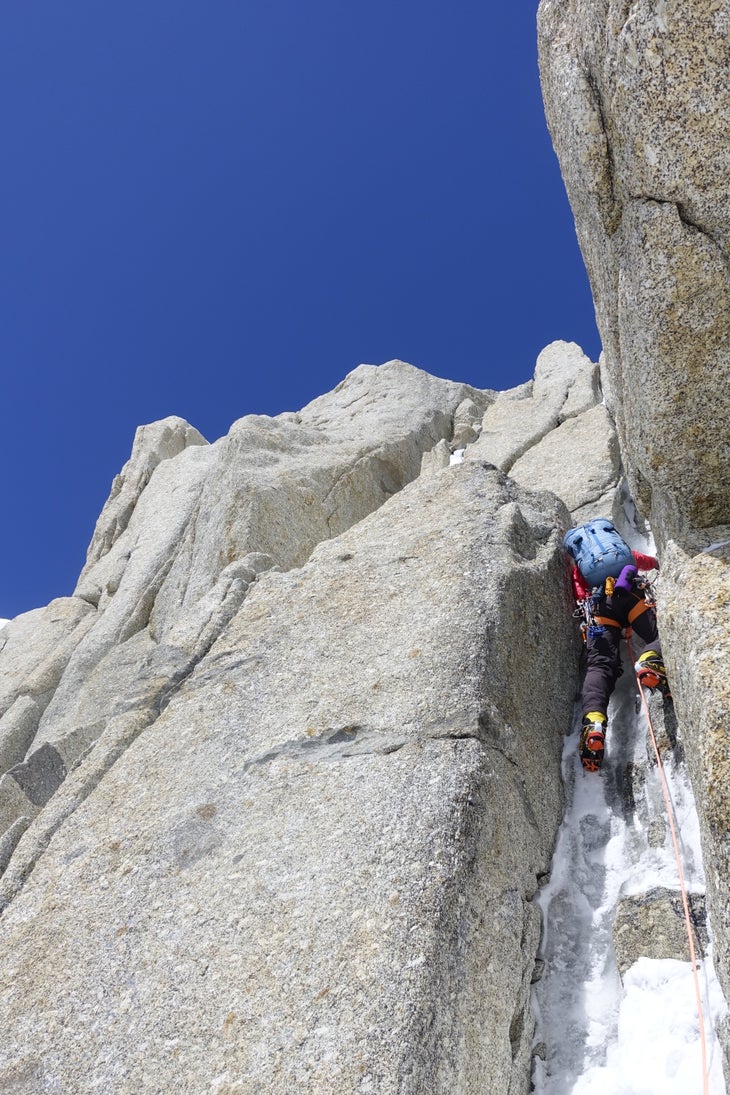 Chase and Astorga's ascent marks the second time an Alaska Grade VI (a high-commitment route with hard, sustained climbing over 14,000 feet) has been climbed by an all-female team. The first female team to attempt an Alaska Grade VI was when Sue Nott and Karen McNeill attempted the Infinite Spur on 5,303-meter Mount Foraker (VI 5.9 M5 AI4; Lowe, Kennedy, 1977). They disappeared on the route in May 2006. Astorga and Jewell Lund became the first women to climb an Alaska Grade VI when, in June 2015, they made a five-day ascent of the Denali Diamond (Alaska Grade 6, 5.9 A3/M6 A1 WI5+, 7,800′) on Denali.
Blažej Adam, Tono Križo, and František Korl made the first ascent of the Slovak Direct over 11 days in 1984, in a climb where, "only on three [of the] nights, 5, 6 and 9, could we pitch our tent; on all other nights we had to hack out bivouac shelves," Blažej Adam wrote in the American Alpine Journal. Authoring the climb required 40 ice pitons and 150 rock pitons. Kevin Mahoney and Ben Gilmore made the second ascent over seven days in 2000. Also in 2000, Scott Backes, Steve House, and Mark Twight climbed the Slovak Direct over 60 hours.