Climber Hurt After Being Dropped—Needs Your Help
Photo: eyJpdiI6IkVzZnpraTlOTmU5MW00YzZpMUJEZXc9PSIsInZhbHVlIjoidlQ0eGxiQ053ekV4UGZzZHF5angyaHI4ODcxXC9IWW1SUlwvQmIxTWNabFlBWEZZSE1FWVpObHd6U2ZRTTJLU0VWIiwibWFjIjoiYzE3ZGM3ZGY4MzA5NzA1NTM0NDk0MTE4ODczMWIyYWFkOTY2OTI4NmI1MzIyODc3M2I3YTBhODJkMWQzYWZlMCJ9
Heading out the door? Read this article on the new Outside+ app available now on iOS devices for members! Download the app.
Donald Bearie, a recording engineer originally from Grand Rapids, Michigan, was lowered off the end of a rope in South Platte, Colorado, last week. Accounts differ as to exactly how far Bearie fell, but it seems to have been somewhere in the 25 to 50 foot range. He fractured his wrist, ankle, scapula, and two vertebrae. Bearie was between health insurances at the time of the accident and now is facing more than $100,000 dollars in medical bills. There's a GoFundMe set up to help him get back on his feet and into the mountains.
The accident
Bearie and his climbing partner, Aaron Sprengeler, were setting up a toprope on Classic Dihedral, a four-star 5.7 at the Bucksnort Slabs in Colorado's South Platte, when the accident happened. Classic Dihedral is a long pitch and Sprengeler, who had done the route "a handful of times," knew that a 70-meter rope wasn't going to reach the ground. Their plan, however, was for Bearie to lead the pitch, lower partway down to a ledge, and then belay a third friend up the route—something that Sprengeler had done before. Positioned on the ledge, Bearie would be able to give this third climber beta when they entered the dihedral.
Bearie finished the pitch and began lowering, but when he was still some distance above the ledge, the rope went through Sprengeler's gri-gri. Bearie hit the ledge, then fell to the start of the climb, incurring multiple serious injuries.
There was no cellular service at the crag, so once Bearie was stabilized, Sprengeler drove down the road to call 911. A volunteer firefighter from the nearby town of Pine was the first to respond. A helicopter evacuation was briefly in the cards, but when Bearie learned that there was another accident in the mountains, he insisted that the helicopter be diverted there. He was eventually driven by ambulance to St. Anthony's Hospital in Lakewood, Colorado.
What went wrong?
"There's a lot that could have been done to prevent this," Sprengeler says. "Mainly verbal safety checks and knots at the end of the rope—all things that we as climbers have been taught to do and continue to do on a regular basis. It only takes one rushed pitch to forget these basics and have tragedy strike."
Both Bearie and Sprengeler are experienced climbers, with a combined decade-and-a-half of experience.
Recovery & how you can help
Bearie's injuries are complicated by the fact that he was between health insurances when the accident took place. Bearie was discharged from the hospital after a week of in-patient care and is now facing about $100,000 in medical debt. With injuries to both feet and arms, he'll be limited to a wheelchair for several months. He also has limited access to the premium follow-up care and physical therapy that would speed his recovery.
Please consider donating on his GoFundMe page.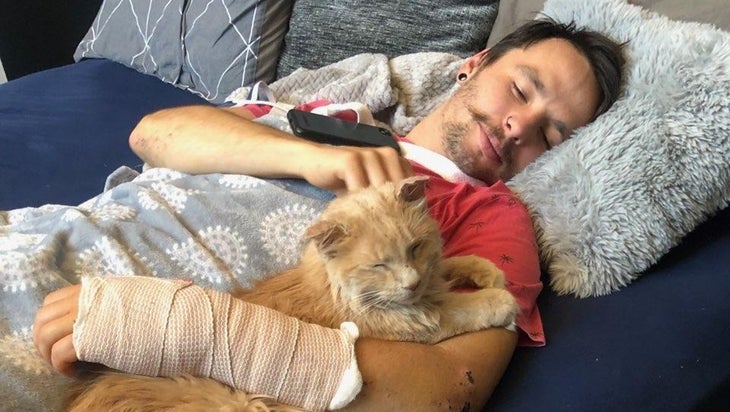 This article is free. Get a $2 a month Climbing membership and you can access all of climbing.com, and receive a print subscription to Climbing, which includes our annual edition of Ascent, the leading climbing journal published since 1967.