Climbers Survive Bear Attack in Canadian Rockies
Heading out the door? Read this article on the new Outside+ app available now on iOS devices for members! Download the app.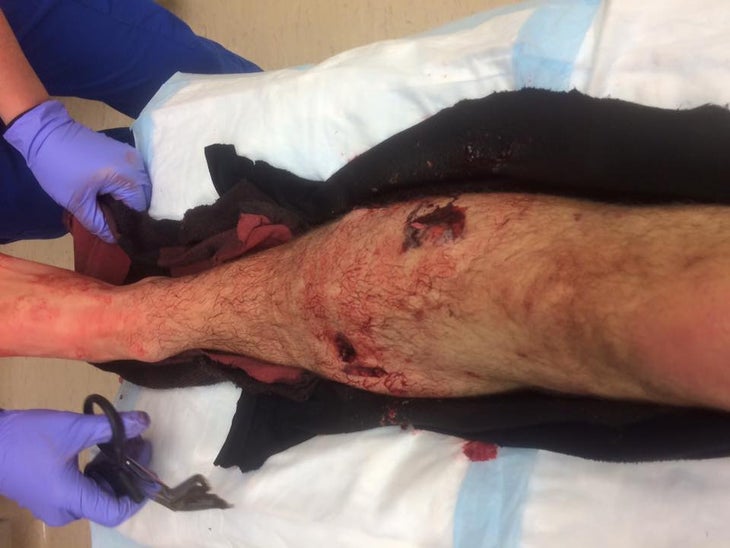 December 1, 2015 – British climbers Greg Boswell and Nick Bullock, visiting the Canadian Rockies to attempt hard ice and mixed climbs, were attacked by a grizzly bear as they descended the flanks of Mt. Wilson, above the Icefields Parkway. Boswell's leg was severely bitten before the two escaped the bear and endured a terrifying nighttime retreat to the road and eventually the hospital.
Boswell and Bullock were on a reconnaissance mission to check out the long approach to Dirty Love, an alpine route put up in 2008 by Raphael Slawinski and Jon Walsh in a 30-plus-hour day. Boswell (Scotland) and Bullock (Wales) are two of the U.K.'s best ice/mixed climbes, and they had climbed together in Canada in 2013. This year they had already completed three high-end routes: The Real Big Drip, Nightmare on Wolf Street, and Dawn of the Dead, all multi-pitch M7+ WI6 and up. Their plan was to put in a boot track to Mt. Wilson and then return a couple of days later for the climb.
After climbing for several hours to reach the foot of the actual route, high on Mt. Wilson, they had turned around and were descending in the dark toward the forest when a bear charged them, chasing Boswell past Bullock and then pouncing on him when he fell in the snow. The bear "bit straight through [Boswell's] brand-new boot as if it were a carpet slipper," Bullock wrote in a blog post, and then bit into his shin and lifted him off the ground. "I'm not sure at this point what other people would do, but Boswell is Boswell and…he grabbed the bear's mouth and prised apart the jaws, pushing, and screaming…'Nick, Nick, help, it's got me.'" All this must have startled the bear enough that he dropped Boswell. The two men ran into the forest and toward the gear they had cached below.
The pair had to locate a series of rappels to descend the approach pitches they'd climbed earlier, but they got lost and soon realized they were following the bear's tracks, not their own. They were forced to retreat back toward the bear before they finally found the rappels and headed for the road and the hospital, which they reached at 2:30 a.m.
At his Facebook page, Boswell wrote after the incident, "The only thing I'm gunna say is that, despite me actually getting bitten, it was both Nick and I that were attacked. It was just as terrifying for him as it was for me. I literally owe my life to Nick. [He] got me out of there and drove me to the hospital! It wasn't a one-man mission to stay alive like the media is portraying, it was a friend doing as much as he could in a crazy situation to keep his friend from dying! I probably would have died of hypothermia or blood loss if he hadn't kept me going."
Bullock, the author of Echoes: One Climber's Hard Road to Freedom, has written a riveting account of the incident, with many photos, at his blog.
What else would I drink tonight. 😉

Posted by Greg Boswell on Monday, November 30, 2015