Climbing Magazine Print Preview: June/July 2019—Epic Survival Tales
Heading out the door? Read this article on the new Outside+ app available now on iOS devices for members! Download the app.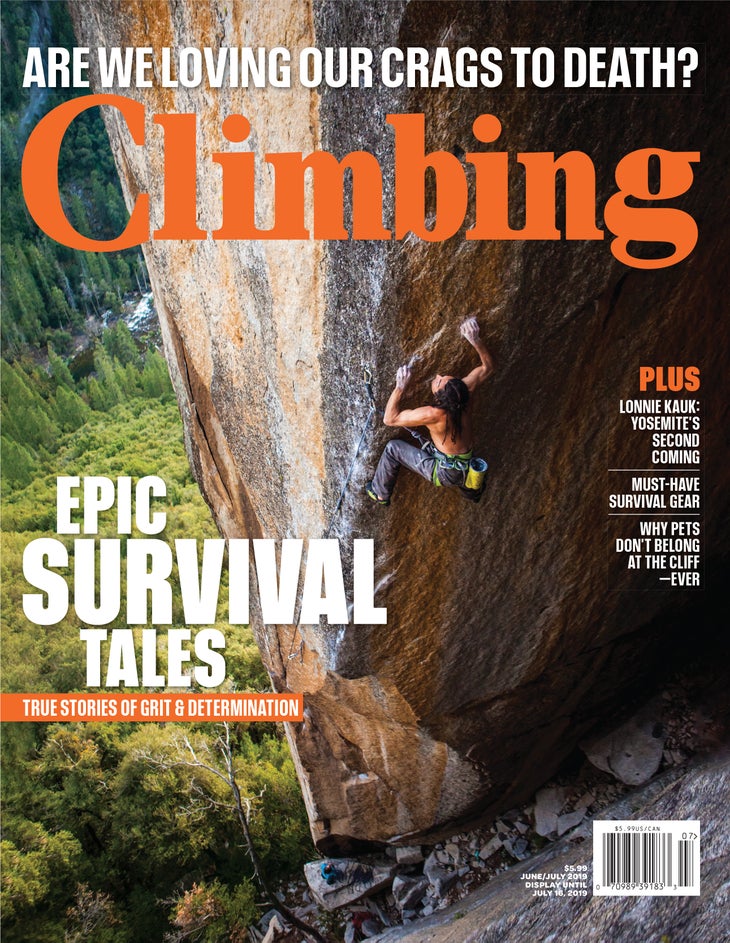 Editor's Note
What makes epics "epic"
My older son was six last year when I first heard him use the word "epic," to describe a Lego spaceship he wanted. He hadn't picked it up from me—I'm too old to use the word as an adjective and not sound like a narc. But he'd picked it up somewhere. It's a good word, it's been around a while, and it isn't going anywhere. In the climbing world, its connotations as a noun run deep and provoke an immediate reaction: "Oh, crap, you had an epic? What happened?"
Luckily, in my 32 years of climbing, I have never been part of or witness to a fatal epic, but like any climber I've had plenty of epic experiences—long days out that quickly went from "Whee!" to "Uh-oh" to "This is bad." Like the time a giant rock clocked me in the shin while my friend Lizzy and I simul-climbed on Spearhead in Rocky Mountain National Park, provoking a long, bloody hobble back to the car. Or the time an old stud bolt snapped at our rap anchor in Eldorado Canyon when my friend Steve tightened down its spinning nut, necessitating a sketchy lead off our now one-bolt belay up moss-covered slabs. Or the time our rap lines hung up on a flake on a remote limestone wall in the French Alps and my friend Gianni and I had to pull off some dubious, semi-belayed shenanigans to retrieve them in the waning light.
In this "Epic Issue," we present a few tales from the edge of the sport. In "Buried Alive," the undercover Alaskan badass Carl Tobin relays his massive fall from the north face of remote Peak 9448 and subsequent Poe-like entrapment in a snowbound tent, alone, amidst an unrelenting blizzard. In "Freedom of the Hills?", Ilana Newman details the struggle of women guides to advance their careers in a male-dominated industry, as well as the many obstacles—including sexual harassment and assault—they've faced along the way. James Lucas takes us on a punishing ride with "Park Daze", his quest to get in 50 days of high-altitude bouldering on the crimp-tacular granite and gneiss blocks of Rocky Mountain National Park last summer, featuring miles of knee-pounding hiking, countless falls into talus pits, and an amazing array of imagery documenting his and friends' sends on the world-class alpine blocs. In her new column, For the Love of Climbing, Kathy Karlo details efforts within the outdoor industry to shift away from tokenism with climbers of color to true inclusivity and improved access. And we get up close with Yosemite climber and pro snowboarder Lonnie Kauk, known to huck big air on his board as well as polish off highballs like Too Big to Flail (V10 X) in Bishop and gear climbs like Magic Line (5.14c redpoint) in the Valley.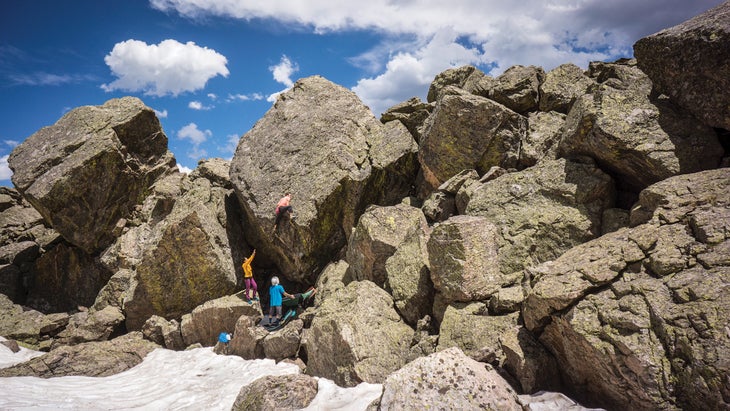 Climbing is dangerous, and there is the reality that our sport takes lives, which somehow feels beyond "epic"—it's tragic, but it happens. An epic, however, is something you survive, whether through skill, grit, luck, or some combination thereof. It makes a great tale to relay back at camp, or to tell your grandkids someday as a cautionary yarn. It's the kind of storytelling our sport is known for, with a literary tradition reaching back to the Golden Age of Alpinism and books like Edward Whymper's The Ascent of the Matterhorn. So here's to hoping you have many epic days out, and that you survive any upcoming epics. Noun, adjective, whatever—just check your knot, back up your pro, and stay safe out there.
—Matt Samet, Editor
Get Climbing Magazine
In this issue…
Features
Buried Alive
The alpinist Carl Tobin's three days of doubt and terror on Peak 9448 in the Hayes Range, Alaska.
Freedom of the Hills?
Women guides' uphill battle to succeed in a male-dominated industry.
Park Daze
Fifty days—in a single season—of hiking, bouldering, and long talus falls on the world-class blocks of Rocky Mountain National Park, Colorado.
Departments 
Basecamp
Letters
Rock Art
Re-Gram: Your epic moves
The Big Question: How do you know when to bail?
Mini Reviews: Three new books
Talk of the Crag
The Trace We Leave: Climbing's impact on crag flora
Double Standards?: Our conflicted notions about chipping—by the numbers
Onsight
Our regular climbing-photo gallery
Essentials
Gear reviews

Evolv Kronos/Kira
Bertucci A2-T Super Classic
Bivystick
Scarpa Arpia

Rack-o-mended
The Place
Green's Cliff: New Hampshire's mega backcountry destination
For the Love of Climbing
A new column by podcast producer and freelance writer Kathy Karlo.
Tokenism in the Outdoor Industry
Topo
Evolution Traverse: 8 miles, 9 summits—high Sierra air
Players
The Tireless Developer: Brett Meyers and the hunt for new NH boulders
Peaches Preaches
Animal Farm: Why pets don't belong at the crag—ever
Skills
Cross-Train with Focus for Better Sending
Prep for Alpine Bouldering
Master Coordination Climbing
Quick Clips: Quick fixes for common climber problems
Faces
The Climbing Q&A: Lonnie Kosuko Kauk
Cragsters