Climbing.com's Guide Zone
Heading out the door? Read this article on the new Outside+ app available now on iOS devices for members! Download the app.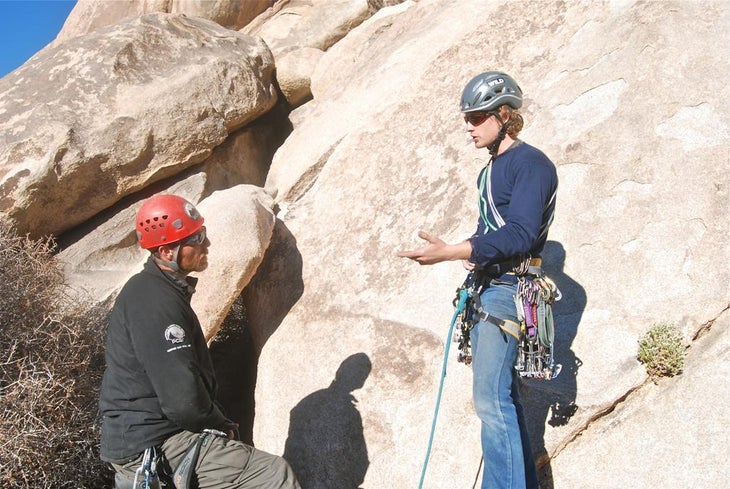 The entire experience would have been worth the course fee even if I were to never guide professionally a day in my life. Through the 4 days of the Lead Guide course I participated in, I gained many new skills. Learning rescue techniques was a very significant component of the course and they are something no climber should be without, regardless of free climbing skills or guiding aspirations. Having worked with various certifying bodies in climbing, aquatics and lifesaving, I know that it bespeaks an underlying commitment to personal excellence as well as technical rubric when I walk away from a course wanting to retain not only the information presented but also modeling the character of my mentor. I am thankful for the mentors and friends who have put the time and energy into my education, giving me the tools necessary to progress toward whatever end I choose in the long run. Committed guides and climbing educators who approach their role as more than just a job, investing themselves in the outcome of their students is no small thing. Anyone interested in getting more information should visit the PCGI website – www.climbingguidesinstitute.org – you may be surprised but you won't be disappointed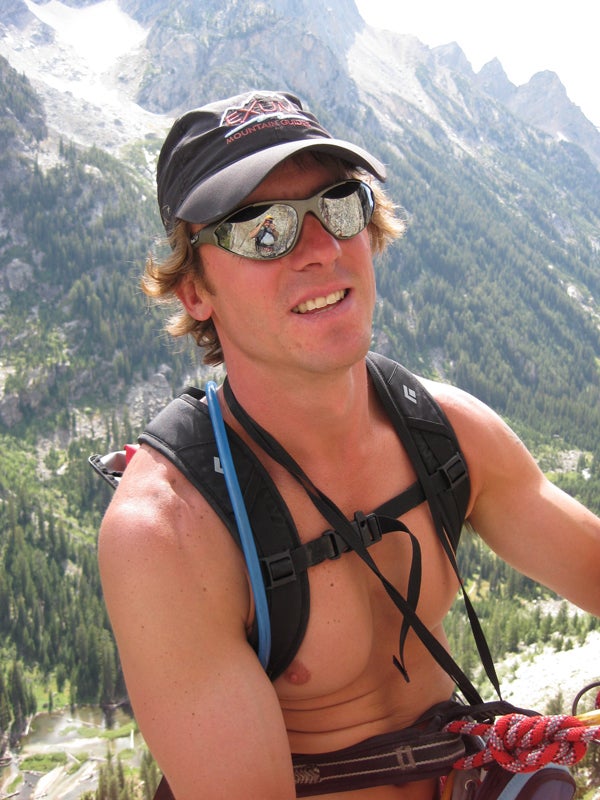 Guide Profile: Gary Falk of Exum Mountain Guides
Age?35 years young, my friend. Prime!!Where did you grow up/Where do you live now?I live in Jackson, Wyoming: Gateway to Grand Teton and Yellowstone National Parks.What do you love about mountaineering?I love covering a lot of terrain in style. The skill set required for safely completing a challenging objective takes years to acquire, and the art of moving efficiently through the mountains is very rewarding.What was it (specifically or generally) that first peaked your interest in outdoor sports? The realness of it all. Life outside the mountains rarely has moments where a poor decision can prove disastrous in an irreversible way. For example, a poor financial choice will rarely cause a loss of life or limb.What does it mean that you "[help your] clients build confidence through progressive challenge."? How do you achieve this in both short-term and long-term endeavors?The key to building confidence is education. I feel that if I am doing my job, there will be a day when my client will be able to venture on his or her own and move safely through the mountains. This is achieved gradually through front-loading information specific to the objective at hand, and this builds experience. I like to compare experience to a toolbox. The more tools one owns, the greater the things they can build.How do your experience guiding skiing, mountaineering and rock climbing lend themselves to one another, and where is the most beneficial crossover? All three disciplines come together during those moments when I have to predict how a person is going to react to a given challenge. I have to make sure that the objective is correct for my clients skill set.Do you prefer guiding rock climbing, skiing, or mountaineering?It depends on what clothing I feel like wearing that day. Seriously, I have no preference. Any day guiding someone out in the mountains is highly rewarding for me.What do you think are the three most crucial elements of a guide-client relationship? Trust. Respect. Humor.What is your primary motivation when you get out on the mountain, and how does that translate into the way you guide? The order of my priorities is as follows: We are going to come back safely, we are going to have fun, and we will try to complete our objective.How can someone looking for a guide know which one is right for them and their perspective trip? Have a conversation with the guide and see if you will enjoy spending time with that person. Any AMGA certified guide would have the technical skills to complete the objective safely, so look for that as well.What is your most memorable guiding experience?Taking a father and his three grown children up the Grand Teton on the 60th anniversary of the father's first ascent of the mountain. He could still out climb his kids.Do you prefer trips in the States, or trips abroad?It doesn't matter. Any trip with motivated individuals is great.What opportunities are unique to local excursions as opposed to long treks to remote destinations? Beer, hot food and a comfortable bed at the end of the day.What inspires you to keep returning to the outdoors, as an individual, as a group participant, and as a guide? The outdoors is where I feel at home. Spending time with like-minded people and sharing a memorable experience is how I prefer to spend my time.
For more information contact Exum Mountain Guides / www.exumguides.com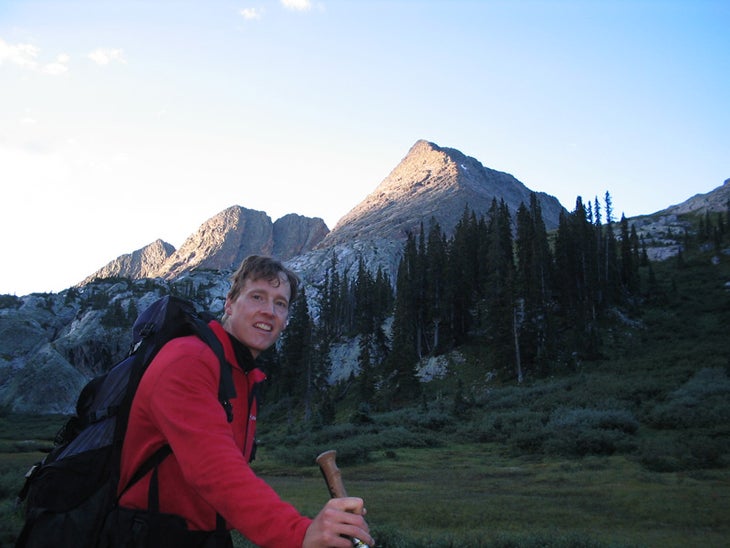 Guide Profile: Andrew Klotz of Southwest Adventure Guides
Age? 37
Where did you grow up? Kansas
Where do you live now? Durango, CO
What do you love about skiing? To me, skiing is the ultimate mountain sport. It has the best elements of climbing and mountaineering, and once you get to the top, it eliminates the walking down-hill part and turns that half of the climb into the best part of the day. I think people climb and mountaineer for challenge, difficulty, and trial – but people ski because it's fun.
What was it (specifically or generally) that first peaked your interest in outdoor sports? Hiking around Rocky Mountain National Park when I was 6 or 7 I had one of those moments. We call it getting the bug, but it is more like finding something. Also, I spent a fair amount of time at my grandparents cabin in Colorado, and I grew up constantly hunting and fishing in Kansas so I was always predisposed to outdoor activities.
How have your individual pursuits prepared you for a guiding career? Outside of guiding, I am very much interested in starting, owning, and running businesses. I own a firm that does economic and fiscal consulting, and also recently started a solar power company (CarbonZero). Probably 90% of my ideas go in the toilet – entrepreneurial adventures are high risk and constantly challenging, they require the ability to quickly adapt and a mental toughness to accept and deal with possibly catastrophic failure. Working in this world of professionals has taught me about being a "professional" – and that is something I try to bring into guiding as well.
Have you ever considered an alternate career? Any long-standing childhood dreams? Fortunately or unfortunately, I already have other careers. I guess my dream was to be the full, real deal IFMGA mountain guide (mountain, ski, rock), but when I was younger I didn't have the gumption or money to go for it, and now, at 37, with a family, I am coming to grips with the fact that it probably just isn't going to happen. But I am really happy with my ski niche, and I fancy that I might be able to use my other professional skills to work for the guiding industry in some other capacity – perhaps for the AMGA someday.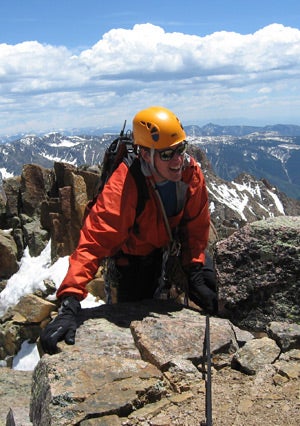 In what ways have you grown as an outdoorsman because of your time spent as a guide? The AMGA process is difficult and it is possible to learn a lot there, from the process, the environments, the other students, and the instructors. But I think one of the more important qualities of being an outdoorsman working with people, and one that cannot really be taught, is the ability to properly apply humor, patience, and kindness. These are the qualities that I see in the best guides and that I try to emulate.
How do you integrate education, safety, and recreation in a way that keeps your clients engaged and motivated? Almost all of our guests or clients and I share something in common – a passion for the mountains – so that makes it easy. The only thing separating us is that I generally have more experience, training, or knowledge about what we are about to do. My goal is to be the ideal partner to whomever I am out with, and I have a lot of natural curiosity and am fond of people, so I really want to get to know whomever I am out there with. That rapport usually allows us to make the day successful.
Have you ever had an experience that made you say: "I'll never guide again."?Absolutely, we all have bad days in and out of the mountains – and sometimes when nothing is going your way it is impossible to not ask yourself whether or not there is something else you would rather be doing.
How would you initially prepare/caution someone trying to make the jump from resort to backcountry, with or without a guide?Every avid resort skier should make the jump to backcountry skiing. It is mandatory. Resort skiing is super fun and I will never become one of the purists who forsake it, but real wild mountain skiing is where it's at. It is serious though, and like other mountain sports, you really do need some initial guidance and basic skills – getting up in the mountains skiing for the first time without some initial instruction is exactly as foolish as climbing up a multi-pitch rock climb tied in at the waist to your moms clothesline.
Do you think that it's a guide's primary job to provide the How or the Where for their clientele? In other words, would you prefer to be a teacher or a leader? All guests are different. Some just want to "go" have an experience and be lead and not mess with the details, while others are really interested in advancing their personal skill sets. I think my forte is teaching, so I probably tend toward emphasizing that.
What, in your opinion, makes a trip successful? Really, unlike lawyers, physicians, hairdressers, or just about any career, we have it easy with regard to delivering a quality product. All we are doing is facilitating access to the mountains – which sell themselves. So unless we really screw up badly, people generally leave satisfied that their money and time was well spent, with good memories, feeling physically worked and wanting more.
Ever had any famous clients? No, but I had some cool delta force maximum security prison guard types. One was also a semi-pro ultimate fighter, and they all brought guns with them on their trip. I was joking around with the ultimate fighter guy, telling him I wanted to fight him, that he was a girly man, all in (what I thought) good fun, and although he was a super nice guy, he was hardwired for confrontation. He just tensed up, and I think was about to kill or hurt me very badly. Fortunately, his wife calmed him down, we finished our freeze dried macaroni, and I am still alive.
If given the choice between two trips, one as a guide and one as the client of a guide that is more familiar with your location, which would you choose? Why? Guides, myself included, generally like the challenge of exploration: to figure out what is around the next corner, to problem solve, to overcome difficulties and challenges etc.. Guides also generally have personalities that prefer to be in charge and may have some difficulty with following. Having said that though, about ten years ago my wife and I went skiing with a guide in Canada and it was great. Sometimes, it is just perfect to sort of shut your mind off, let someone else solve the problems and just simply ski.
For more information visit: www.mtnguide.net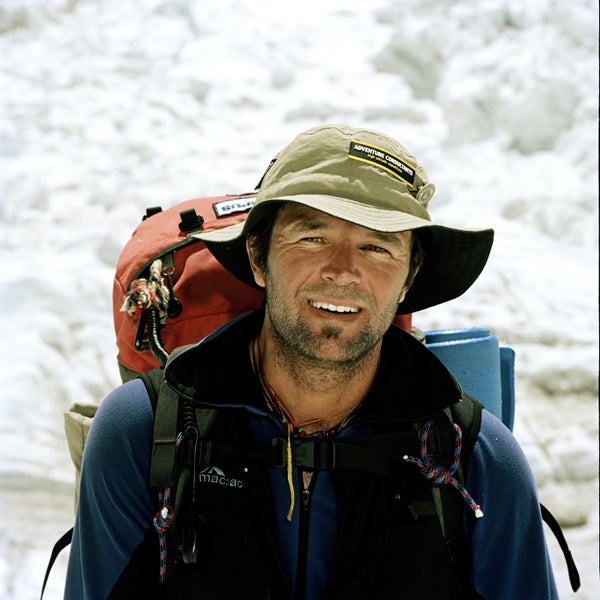 Guide Profile: Mark Sedon of Adventure Consultants
Age? 39.Where did you grow up?Christchurch, Auckland, Ohakune, Wanaka, still in the process…Where do you live now?Wanaka.What is your rock climbing experience?From new routes in New Zealand to the big walls of Yosemite, never that technically difficult, but I don't mind a bit of loose rock, or run outs, and I love exposure. What is your training background?Ski Patrol for many years, avalanche instruction, Search and Rescue, which all led to my IFMGA Mountain and Ski Guide qualification.Where do you guide?New Zealand, 7 summits, 8k Peaks in Nepal/Tibet.What is your favorite part about this job?Getting the opportunity to guide in places I have never been. Exploring and going on life adventures with enthusiastic people.Most gripping or scary time on a climb?Watching a Sherpa from another expedition with an oversized pack flip upside-down on the vertical Yellow Tower of Ama Dablam. He was screaming for help while his pack was choking him and his harness was coming off. I rapped down and got to him as his harness was down to his knees with about 30 seconds to spare before a 1000m fall…What success are you most proud of?Sailing to Antarctica and guiding some first ascents without maps or any knowledge of the area. Just climbing what you can see, following your nose.What makes you a good guide?Having my own summit ambitions subdued below the two most important things on an expedition/climb. Safety first, followed by the client's enjoyment, the summit comes third.What is the most important part about being a guide?Being completely comfortable on the terrain and working well within your own personal ability. Never extending yourself too far and always having a big reserve to help your clients if things happen to go wrong. You see and end up helping a lot of unqualified guides working on the 7 summits trail who are at their limits and then something goes wrong and they either are out of juice, or just don't know what to do because something un-expected happens. What type of climbing is your favorite? Why?I love exposure so enjoy climbing and guiding technical ridges with rock and ice steps in them where you can move fast over small difficulties.Where is your favorite climbing destination? Why?Antarctica, because I can gaze and dream about so many unclimbed lines. It is clean and pristine, 24hr sunlight and just SO spectacular. Picture this, skiing down perfect corn, sun sitting low in the sky with hours of alpenglow, icebergs floating in the bay with whales swimming by and an 80ft yacht waiting for us with a bottle of Malbec and an Argentinean roast beef…..Why should a climber hire a guide?Some of my clients' wives insists on them hiring a guide. It increases the safety margins. Our classic line on summit day on Mt Everest is that "we are working for your families, not you". Also, many of our clients are busy with their careers so have limited time to organize an expedition. What advice do you have for climbers who hire guides?Try to always go with an IFMGA Mountain & Ski Guide. If not, then be very careful. You get what you pay for. Go for a respected company and ask around. How can customers prepare for a guided expedition?It can be tough and depends on the spare time they have. Personally, I find long hill walks the best, or mountain bike riding. But it depends where you live. Exercising an hour or two a day, then going for something long on the weekends, like an overnight hike, or a 6 hour walk. Get used to living in a tent. Then resting the week before and ensuring a good diet. Where do you recommend that rock climbers travel with guides?Remote alpine rock routes where you might have to travel over a glacier to get to the route. Long, committing climbs high in the mountains where only a small part of the climb is technical rock. There is still the access and the descent issues that need to be dealt with.
For more information visit: www.adventureconsultants.co.nz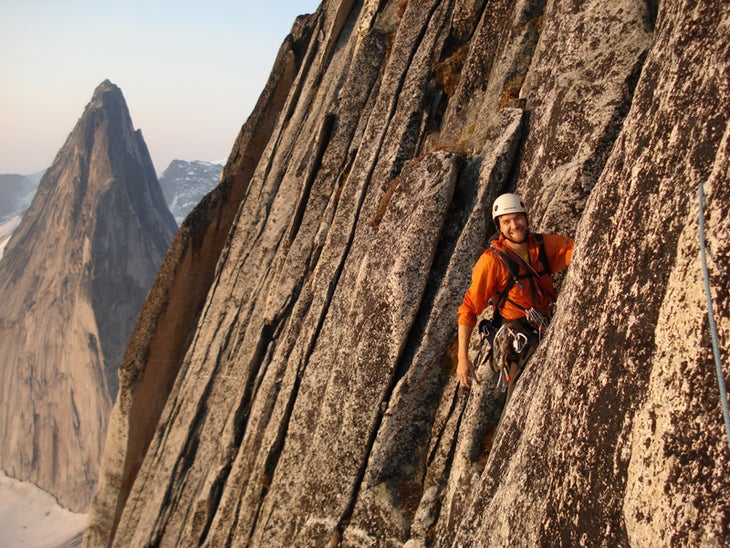 Guide Profile: Marty Molitoris of Alpine Endeavors
Age? 36.
Where did you grow up?Wilkes-Barre, PA.
Where do you live now?Rosendale, NY.
What is your climbing experience?20 years so far – rock, ice, and alpine.
What is your training background?AMGA trained and AMGA certified in the Rock and Alpine disciplines. Member of the AMGA instructor pool for the SPI and RIC programs.
Where do you guide?Home base is New York – Shawangunks, Catskills, and Adirondacks. In addition to this, I offer trips to areas throughout the US and abroad.
What is your favorite part about this job?Meeting, climbing, getting to know our guests, and sharing the experiences of the climbs with them.
Most gripping or scary time on a climb?I'll leave this one blank…
What success are you most proud of?Being fortunate enough to make a living doing a job I love.
What makes you a good guide?You'll have to ask my guests that one – I do list their comments on our website under "references"…
What is the most important part about being a guide?Introducing the sport and teaching vital technical and safety skills to others so they can take that information and experience and head out on their own trips.
What type of climbing is your favorite? Why?Alpine climbing. It puts it all together – the approach, camping, glacier travel, rock and/or ice climbing, not to mention the incredible scenery.
Where is your favorite climbing destination? Why?Can't answer that one – there are so many areas I have not yet been to…
Why should a climber hire a guide?To increase their overall climbing experience – learn a new technique, improve existing skills, climb a route they are not comfortable leading on their own yet, etc.
What advice do you have for climbers who hire guides?Take some time to make some calls and/or emails. Look at their experience/credentials (seek certified if possible); call and talk with them about what you want to do and get a feel for them (and decide if you would like to climb with them or not).
How can customers prepare for a guided expedition?Each trip can be vastly different. I would suggest the best way would be to start with some reading about the area, then do a "training" day or two with your guide (if it is a more involved climb/trip). This will not only give you more experience, but also show how the two of you will work together.
Where do you recommend that climbers travel with guides?Anywhere they feel the need – from crags in their backyard to routes they have been dreaming about. Guides teach vital skills as well as pass on some hard learned experiences.
For more info visit: www.alpineendeavors.com
Read more GUIDE ZONE profiles on the next page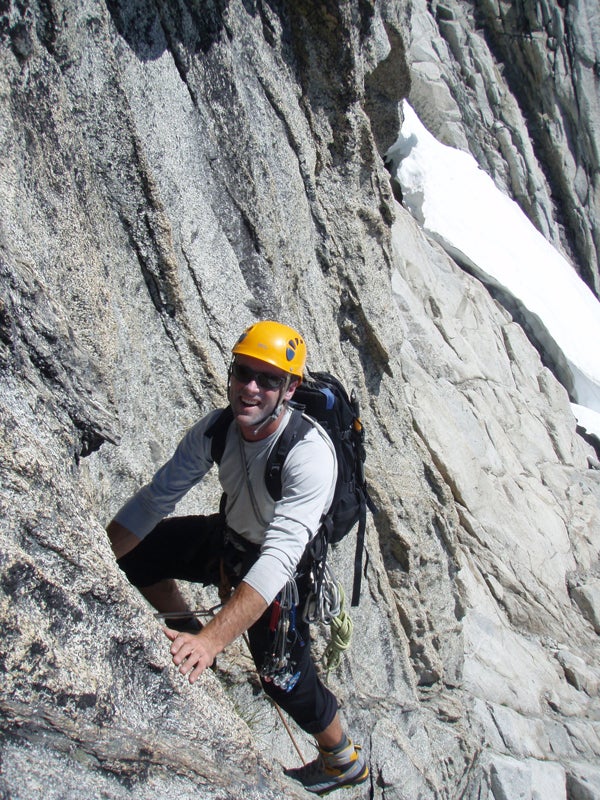 Guide Profile: Ryan Stefiuk of Alpine Endeavors
Age? 30.
Where did you grow up?In central New Jersey, major suburbia.
Where do you live now?Marlborough Mass. I've taken a year off from full-time guiding to find out what it's like to work in a classroom as a science teacher.
What is your rock climbing experience?I started rock climbing while I was in high school. We had a local crag nearby with tons of broken glass and graffiti. As soon as I found a more experience partner I started climbing in the Gunks, and have been climbing there and traveling to climb ever since. I have climbed extensively around the northeast (which I consider my home), the southeast (amazing rock climbing!) and in Yosemite.
What is your training background?I am an AMGA Certified Rock Instructor, a member of the AMGA Single-Pitch Instructor pool, and have taken the AMGA Rock Guide Course and Alpine Guides Course.
Where do you guide?I guide primarily in the northeastern U.S. and occasionally guide throughout the western United States.
What is your favorite part about this job?Inspiring new climbers. There is nothing better than showing others what an amazing pursuit climbing can be and what a warm and engaging community the climbing community is. Being halfway around the world and unexpectedly running into someone you know is awesome, and it happens all the time as a climber.
Most gripping or scary time on a climb?Watching your hands slowly slip off of your ice tools on hard mixed routes when you're totally red-lined. You're about to become a human missile and there's nothing you can do about it except remain calm and try to find good tool placements. It seems like most falls on mixed and ice terrain are upside down, making you a human projectile.
What success are you most proud of?Becoming an accomplished ice and mixed climber. Successes in the world of ice and alpine climbing seems to come very slowly. The learning curve on rock is quite steep for many talented climbers, but on ice and alpine terrain experience and good judgment are the rule. It has taken years to learn how to climb big, long hard ice and mixed routes safely and confidently.
What makes you a good guide?Patience, a friendly demeanor, and an unwavering enthusiasm for all types of climbing no matter how easy or difficult.
What is the most important part about being a guide?Ensuring your safety and the safety of your clients, hands down. Risk management is what guiding and climbing is all about. You see a lot of very risky behavior out there, coming from inexperienced guides and recreational climbers. As a trained and experienced guide I try to mitigate the hazards for me and my clients. Having fun and getting to the top are important, but not if you're dead.
What type of climbing is your favorite? Why?Ice and mixed climbing are my passion. While I enjoy all types of climbing, my intensity and focus is much greater when I am climbing ice. Leading ice climbs seems to be a little bit more serious than rock climbing, but I feel that the rewards are also greater. Ice is so temporary, and climbs are different on a yearly basis, so a climb that you did last year may be way different the following year.
Where is your favorite climbing destination? Why?Newfoundland. Almost no one climbs there. There are 1000 ft. ice and rock routes there, and I can guarantee that you won't see any climbers. The people are so friendly and hospitable and the island is really beautiful. The juxtaposition of the mountains and the ocean nearly everywhere that you climb there is part of the allure. It's a hard spot to get to, but once you're on the island you won't regret it. However, the weather can be totally awful. Very heavy snow, rain, and wind.
Why should a climber hire a guide?Guides have knowledge and experience, two things that beginner climbers don't have access to and recreational climbers may take a long time to gain. When you climb with a guide you can be reasonably certain that you are as safe as you can be, and that you are learning how to do things correctly right away. Big objectives, when climbed with inexperience partners or people you barely know but met in an online forum, are a recipe for an epic.
What advice do you have for climbers who hire guides?Not all guides or guide services are created equal. Look for a guide service that has AMGA/IFMGA trained and certified guides on staff. As a professionally trained guide you are better prepared for many aspects of guiding, especially risk management and client care.
How can customers prepare for a guided expedition?Fitness is a really important part of climbing for me. I am always trying to train for whatever discipline of climbing I'm doing at that moment. As a guide that means climbing a lot at work and on my spare time too. I also like to do quite a bit of running to maintain aerobic fitness as well. Maintaining a base level of aerobic fitness and physical conditioning is essential for climbing well, no matter who you are.
Where do you recommend that rock climbers travel with guides?Anywhere there's rock to be climbed. Bigger or harder objectives are great to do with a guide as it will give you a better chance for success. Longer routes in areas like Red Rocks, NV, the Sierras, or Potrero Chico are ideal, but there are complex climbs at many cliffs in the U.S. that would be great to have a guide along for.
For more info visit: www.alpineendeavors.com
Read more GUIDE ZONE profiles on the next page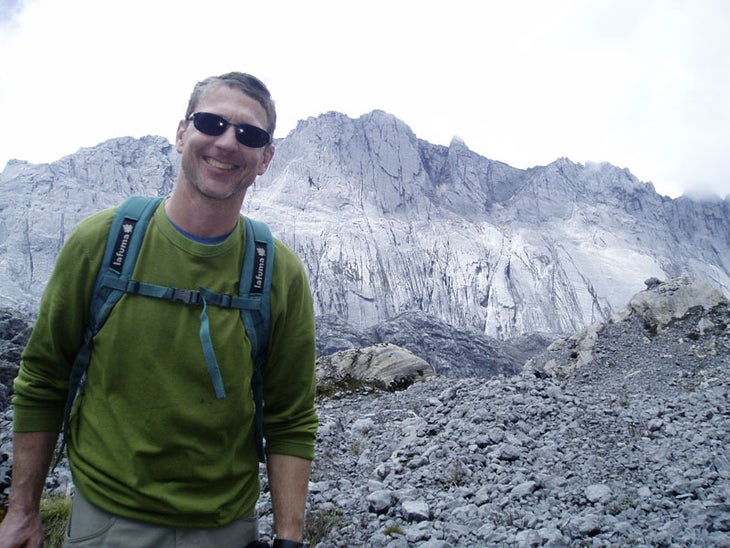 Guide Profile: Joseph Vitti of Alpine Endeavors
Age? 43.
Where did you grow up?Farmington, CT.
Where do you live now?I moved with my family to High Falls, NY five years ago after spending about 12 years living in Boulder and Nederland, CO. Our house is right on the edge of the Mohonk Preserve, just a stone's throw from the Shawanguk Ridge.
What is your rock climbing experience?I started climbing in high school. There are some fine crags in CT and an excellent community with a long history dating back to the 1930's. Fritz Weisner put up a couple of the most difficult climbs in the country for their time and people like Layton Kor and Henry Barber and many others have, over the years, tasted the basalt that the best CT cliffs offer. Climbing has been central to my life since 1983, I've traveled to and lived near cliffs all of my adult life. My favorite areas are The Gunks for the unparalleled rock quality and beautiful lines; Eldo for the light, heights, roar of South Boulder Creek and views of the Indian Peaks; Red Rocks for the warm weather when it's cold everywhere else and the gobs of brilliant pitches one on top of another and another and another; and Yosemite because it is Mecca.
What is your training background? I am an AMGA certified Rock Instructor, a SOLO Wilderness First Responder and NY State EMT.
Where do you guide?Gunks, Adirondacks, Eldorado Canyon and Red Rocks.
What is your favorite part about this job?I love the challenge of creating a positive experience for my clients, of picking lines that push them and all the while managing their safety in a fluid and unobtrusive way. Getting to the end of the day or a trip with big grins all around and the clients certain they've done something that they didn't think they could, that is the best. (I'm also a lead hog!)
Most gripping or scary time on a climb?Watching the circus on the High Exposure buttress on any given sunny October Saturday afternoon would have to rank high.
What success are you most proud of?I am proud that I am able to make a living doing what I most love and still be completely engaged in the lives of my kids.
What makes you a good guide?I'm good at looking out for people and I love getting to know people out of doors and helping them learn the tricks and overcome their fears.
What is the most important part about being a guide?Remembering that it is not about you, that you are in service to your client and their safety and sense of well being is the whole point.
What type of climbing is your favorite? Why?I have a hard time picking a favorite type of climbing, I am jazzed about bouldering and routes on the Diamond and I love steep waterfall ice and mixed climbs on short little cliffs and long alpine snow gullies. It's boring to be too specialized, if it's climbing it's all good!
Where is your favorite climbing destination? Why? There are so many brilliant climbing areas, the New River Gorge, Cathedral Ledge, Hueco Tanks, Wind Rivers, Buttermilks … I guess the Gunks are best though because the rock is incredibly solid and you've got to get your own gear and we've got Rock and Snow!
Why should a climber hire a guide? A good guide makes you efficient in achieving your goals, whether it is tagging a specific summit or route or mastering a set of skills that you can use to climb on your own. Climbing is dangerous and preparation is critical, a guide will teach you what you need to know to manage the risks.
What advice do you have for climbers who hire guides? Do your homework, make certain who you hire has made a commitment to the profession, look for AMGA certification. Once you have made a choice, trust your guide.
How can customers prepare for a guided expedition?Don't be afraid to ask questions and follow the instructions to a tee, do not end up unprepared because you cut corners before you left home.
Where do you recommend that rock climbers travel with guides?Anywhere that captures your imagination.
For more info visit: www.alpineendeavors.com
Read more GUIDE ZONE profiles on the next page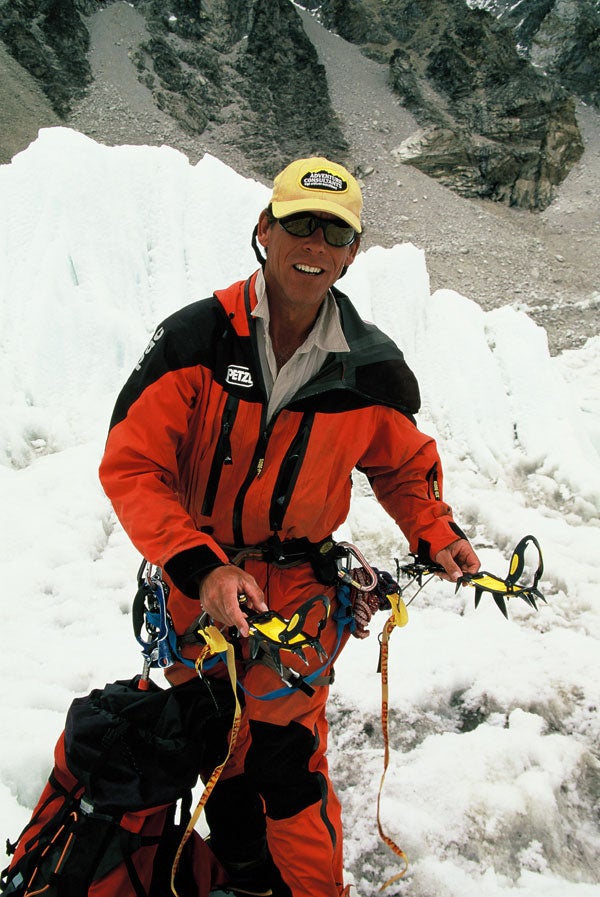 Guide Profile: Guy Cotter of Adventure Consultants
Age? 46 years young.
Where did you grow up?My formulative years were in Christchurch in the south island of New Zealand. It is only an hours drive from the mountains of Arthurs Pass, which was an ideal mountain range in which to develop my skills. The crags around Christchurch provided some great opportunities to gain technical skills that could be applied to the mountains. In those days, cragging was all about preparing oneself for the mountains and it was really only after the arrival of British rock climbing legend John Allen who made us aware of the joys of pushing our own standards on rock that we began to raise our grades.
Where do you live now?I live in Wanaka, New Zealand. It is close to the Mt Aspiring and set on the shores of the beautiful Lake Wanaka. We have several ski resorts, lots of crags, rivers, paragliding, mountain biking galore and everything you could ask for in providing an adventurer's daily fix. Oh yeah, we have great coffee here too!
What is your rock climbing experience?I really only started rock climbing seriously when I traveled to Australia in the early '80's. I spent several months at Mt. Arapilies over a couple of years, which was an exquisite place for a young climber to hang out. Living in a tent and living the 'feral' life of a crag rat was very cool. I then moved to the states for a couple of years living around Lake Tahoe where I worked on a ski resort in winter and as a raft guide in summer. I went to Yosemite and did the Nose on El Cap as my first wall which we climbed in two days. We did it quickly because we didn't have any gear, seriously, we only had two sets of wires and two cams and 25 'biners so we didn't have to stop to put gear in very often. I think my mountaineering background helped me with my commitment and I fell in love with wall climbing. It's just so user- friendly compared to alpine climbing, so I went on to do a few more walls and cragging around the Lake Tahoe region. I enjoyed taking the wall skills into the mountains and in '89 made the third ascent of Uli Biaho in Pakistan's Trango group. Probably like all climbers who get caught up by life, I've always felt like it'd be good to do more alpine walls but I've been committed to another direction for quite some time but I do always dream about getting back. These days I climb rock recreationally and find it a very good way to enjoy the outdoors and maintain skills.
What is your training background?I don't train for the sake of it, I just get out and do things.
Where do you guide?I became a guide in New Zealand starting off as a heli-ski guide for a major NZ operator, a path I was to follow for 12 years. I was initially reluctant to get into mountain guiding as I saw a lot of guides lose their interest in their own climbing once they became guides but I kept doing my own personal climbing trips. When I became a guide there really was not too much of a future in it but the entire industry has changed and guides can now work in a whole myriad of genres. There are so many opportunities open to guides and my own path moved away from strictly guiding in New Zealand to working as a high altitude guide and now I guide all over the globe. I've been lucky enough to guide the Seven Summits and make seven successful ascents of 8000m peaks. A few years ago I chartered a yacht to transport a group to the Antarctic Peninsula where we made a whole bunch of first ascents and skied off peaks whilst whales frolicked in the waters below us. So I consider myself extremely lucky to have become absorbed into a career that keeps me stimulated and motivated.
What is your favorite part about this job?The people; the locals I encounter in far away lands, the guides I share the challenge with, and the clients. I've made great friends of many of my past clients who are people I may not have otherwise met had I not been guiding them.
Most gripping or scary time on a climb?There's probably been a few but I have a special mechanism that wipes them from my memory.
What success are you most proud of?I'm most proud of building up my company Adventure Consultants that I took the reigns of after my predecessors, Rob Hall and Gary Ball, died. Those guys inducted me into high altitude guiding and after they passed on I built the company up from the four expeditions a year that they were running to around 25 expeditions per year now. I think the reason this gives me satisfaction is that I share a passion with my staff to be the best that we can be at what we do and we all get a lot out of seeing our clients have the best experience of their lives.
On a more climbing related perspective I'd have to say my ascent of Makalu stands high in my mind of wonderful successes. It didn't come easy but to put the route through to the summit with no certainty that we would reach the top made arriving there that much sweeter.
What makes you a good guide?Having a passion to be in the mountains, being cautious but motivated to succeed, enjoying the company of people and being physically and emotionally strong.
What is the most important part about being a guide?Being focused on the clients needs and their strengths and weaknesses. You really do have to be a psychologist because we are taking people into an environment that will push them further than they've ever been pushed before and this can raise some issues for them. Keeping your sanity and turning every situation into a positive is your best attribute. Being able to handle long periods away from home, tough assignments, dangerous situations, big loads, rough living conditions and low pay can be of benefit too!
What type of climbing is your favorite? Why?I love expedition climbing because there are so many components involved that require your full focus and commitment, that when done correctly, can lead to successful outcomes. I relish the challenges that get thrown at you all the time and the need to be able to think on your feet yet still focus on the goal in order to succeed. Being a 'big picture' person with the ability to focus on the necessary detail suits my personality.
Where is your favorite climbing destination? Why?My favorite climbing destination is one I haven't been to yet because I love the mystery of a new climbing area and the intrigue of finding out the true 'essence' of a region.
Why should a climber hire a guide?Hey, I accept that being guided may not suit all people and that's fine. But I've frequently seen experienced people come along and complete a climb with a guide that is at a higher standard than what they can achieve with their own peers. This often elicits a response in them they did not expect. Probably a bit like me recently when I reluctantly tried eating olives and realized that I actually really liked them and that I'd missed out on years of gastronomical pleasure!
There's also the safety and efficiency factor. Good guides are able to achieve an objective with the minimum of resources and fuss and help people achieve their goals but also steer people into what goal is appropriate for them.
What advice do you have for climbers who hire guides?Only get good ones! There are a lot of people out there who call themselves guides yet are really just people wanting you to pay for their holiday. Choose a guide who is appropriately qualified and see if someone you know can recommend a guide they have knowledge of or experience with. The type of objective has a lot to do with the type of guide you need; a quick ascent of the Matterhorn is not going to have the same demands as a 3 month expedition to Mt Everest. There is a reason that established guides or guiding companies have the reputation that they have, it's because there is sufficient information out there about their previous track records and modus operandus. Be very aware to not base your decision about a guide or guiding company on price alone, cheap means cheap, and nowhere more than with a guiding service. After all, would you shop around for the cheapest dentist or doctor before having surgery done?
How can customers prepare for a guided expedition?You need to be 'pack fit' for an expedition, which means putting a swag on your back and carrying it for long durations whenever you can. If you turn up unfit and overweight you'll have a bad time of it and it is unfair to the other team members (let alone the poor guide). You don't have to be a superhuman to climb mountains, you've just got to have stamina. Stay active, do as much exercise that is similar to climbing and uses the same muscle groups as often as you can.
Where do you recommend that rock climbers travel with guides?Anywhere you can. Just being out there is what it's all about. Travel different places and see different things along the way. Climbing allows us to connect with the environment wherever we go and the people who live there. Don't hold back, time is running out.
Visit:adventureconsultants.com for more info
Read more GUIDE ZONE profiles on the next page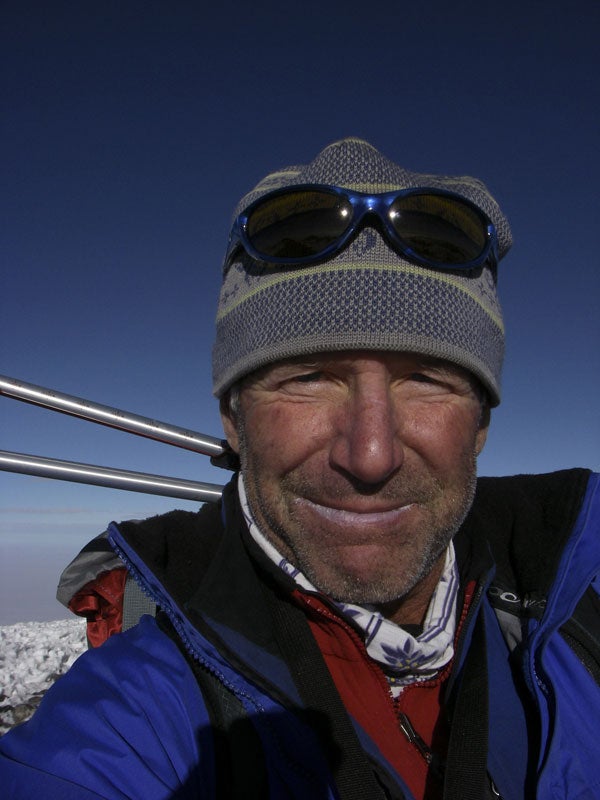 Guide Profile: Dick Jackson of Aspen Expeditions
Age? 58 (and getting younger by the moment)Where did you grow up? I haven't yet, but spent the formative years in New Jersey… Exit # 122.Where do you live now? Basalt, Colorado.What is your rock climbing experience? Extensive, especially considering those 'Early' days before Cams and sticky rubber.What is your training background? I'm dependent on my impressive reputation more than my current ability… but, hey…that works for most clients! I am fully AMGA/IFMGA certified and past President of the AMGA from 2000-2005. I have also attended many IFMGA international mountain guide meetings since 2001, which truly enhances this camaraderie I've referred to. Where do you guide? I own and operate Aspen Expeditions located at the Aspen Highlands in Aspen, Colorado. So that's home base, but I tend to travel with clients all over the world. Ski guiding has been my greater strength in more recent years though.What is your favorite part about this job? For me, the interaction between Mountain Guides, either American or International is really fun and dynamic!Most gripping or scary time on a climb? Passing bolts on the Glacier Point Apron and a certain leader-fall using only the Red 2-inch webbing Swami belt (no leg loops). Many climbers won't know what this refers to, but perhaps that's the point(?).What success are you most proud of? Certainly more in the Alpine Discipline, with several New Routes and hard climbs in the Alps…plus early trips to Nepal, with or without successful summits, but certainly "round-trips" indeed.What makes you a good guide? Knowing and respecting the needs of the client, along with many years of guiding experience. Just a reminder, formal training and certification allows one to be a very 'good' guide. Add many years of experience and that enables one to become a 'great' guide. What is the most important part about being a guide? A mountain guide is both a 'Role Model' and a representative of the international peer group that supports mutual respect and a common life-style. What type of climbing is your favorite? Why? Alpine, because I have learned (and accepted) to suffer! Not that I crave or enjoy suffering, but it is an all-important ingredient in becoming a good Alpine climber. Where is your favorite climbing destination? Why? I'm still looking, but Alaska is hard to beat, eh?Why should a climber hire a guide? Hiring a guide is a wonderful luxury for any climber, regardless of strength or ability…like getting a massage after a day of heli-skiing. It's a time to relax and indulge in the vertical realm with the opportunity to learn a few subtle tricks of the trade. I would never turn down the opportunity…like informal 'continued education'!What advice do you have for climbers who hire guides? Take advantage of this opportunity and 'milk' out every bit of "guiding" skills you can in the time spent together…which, of course, includes sharing a pint or two apres-climbing.How can customers prepare for a guided expedition? The pre-expedition communication often determines the relative likelihood for success, however one measures 'success'. Physical fitness commensurate with the intended goal is mandatory, along with a realistic level of commitment that accounts for some degree of objective danger we all face in the mountain. The relationship and rapport between guide and client is quite unique and not to be taken lightly, either from a professional perspective or a personal one.Where do you recommend that rock climbers travel with guides? Most anywhere, as a qualified guide should be capable of guiding 'on-sight' as well as on routes that are totally wired. Part of the shared 'adventure' side of this relationship is to search out new terrain, cultures and challenges.
Visit:aspenexpeditions.com for more information
Read more GUIDE ZONE profiles on the next page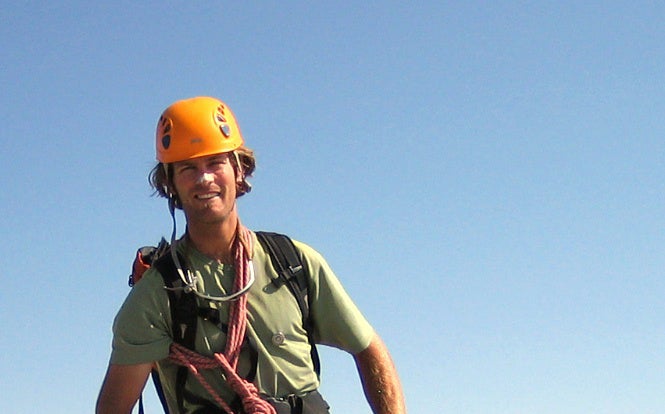 Guide Profile: Amos Mac Whiting of Aspen Expeditions
Age? 32
Where did you grow up? The island of Martha's Vineyard off the coast of Massachusetts.
Where do you live now? Old Snowmass, outside of Aspen Colorado.
What is your rock climbing experience? I have been rock climbing for 18 years at most major areas in the US, including Yosemite, Red Rocks, Moab/Indian Creek, North Conway NH, throughout Arizona, Colorado and many other areas. I have climbed in Italy, France, Switzerland, Mexico, Peru, Thailand, and my recent favorite Mallorca Spain. Some personal highlights are the second and mostly free ascents of Lobo Este Pario grade VI A3 5.11+ Peru. Astro Dog V 5.12- Black Canyon of the Gunnison NP. Fox Trot III 5.11+ Mill Creek UT FA. When in shape I can onsite 5.12- sport or trad and redpoint 5.12+ or V6-V8 bouldering.
What is your training background? The best training for climbing is to climb. During climbing season I try to climb outside around four days per week. I will also do a day or two of alpine climbing or guiding to keep my cardio strong as well. Flexibility has always helped my climbing. I make sure to keep limber through 2-3 yoga or stretching sessions per week. In the winter I have started training for ice and mixed climbing by climbing indoors with mountain boots to improve core strength and foot work.
Where do you guide? My home town is Aspen CO, so much of my guiding is based here. This includes ice and ski guiding, avalanche educations courses, and ski guide training courses. In the summer I spend some of my time rock guiding in perfect temps with no crowds on Independence Pass, or guiding classic alpine routes up the famous Maroon Bells.
When I'm not in Aspen, guiding takes me to many different venues in the US and abroad. Spring ski touring, rock climbing and classic alpine routes in the European Alps normally take a month or two of my year. Rock climbing throughout the US, Moab UT and Boulder CO being regular haunts. Much of my guiding career was in the San Juan Mountains of southern Colorado, home to some of the best ice climbing (like Ouray) in the US. I have guided a number of seasons in Peru in the Cordillera Blanca, as well as Mexico volcanoes. I have new clients interested in climbing the 7 summits, and will probably do some of those with them.
As an IFMGA guide I am able to travel and guide all over the world and I look forward to seeing and experiencing new places.
What is your favorite part about this job? Working with return clients and seeing them grow as climbers, skiers or mountaineers and witnessing how it improves their lives. I have been with some of my clients for 10 + years and we have been through many adventures together. Working with an individual or a family to attain their goals, whether it is to help a teenager train for a bouldering competition or prepare people to climb classic mountains like the Matterhorn.
Most gripping or scary time on a climb?While guiding a long time client along the classic traverse of the Maroon Bells outside of Aspen we had an electrifying experience. After the four thousand foot snow climb of the Y couloir, we arrived on the summit of South Maroon Peak and were running about 45 minutes behind schedule. With a look at the mountains and the sky to the west and a call back to base I made the decision to continue on the traverse to North Maroon Peak. After dropping to the saddle between the peaks and climbing in mixed fifth class terrain we were traversing up onto the ridge when I heard a distinct buzzing sound. With no clouds directly above us I was confused by the source of the sound. Due to the client's pace I was carrying two sets of crampons, two ice axes, four snow pickets, and two ski poles. My client, Bert, looked at me and said, "Amos, look at your hair." At which moment I looked at his to see his wispy, white hair curling under his helmet and pointing straight at the sky. I quickly dumped all the metal from my pack on the ridge and short-roped Bert down onto the west face of North Maroon where we sat on our packs in lighting position, and watched as a number of lightning strikes hit the ridge where we'd just descended from.
What success are you most proud of? Being a good husband to my wife, Jordan and the privilege I have of calling the mountains my office.
What makes you a good guide?The fact that I am a climber and skier first and a guide second makes me a good guide. My personal passion for adventure in the mountains is paramount and while working with clients or students I strive to share that passion while instilling commitment to safety, adventure and fun. My B.A. in Adventure Education from Prescott College, and my experience as an instructor educator supports my technical IFMGA guide certification which allows for a holistic approach to guiding and teaching.
What is the most important part about being a guide?When I teach guide training courses for the American Mountain Guides Association I have a motto: Safety, efficiency and comfort. This should always be a guide's order of priorities, although depending on the client and the situation, comfort and efficiency can be interchangeable.
What type of climbing is your favorite? Why?As a full mountain guide, I enjoy and appreciate all types of mountain movement. One of personal favorites is desert splitters, like those found in Indian Creek UT, for their pure aesthetic beauty and simplicity. My most recent love affair has been with deep water soloing, preferably golden lime stone over the warm Med in Mallocra, Spain.
Why should a climber hire a guide?Good question. I guide families with no experience, who I am introducing to the rewarding world of climbing, and successful professionals who climbs 5.12 and just want someone to pick the best routes for them, lead them to the crags and keep them safe. A guide not only is a expert climber (they are familiar with the latest techniques, rescue and first aid skills), they also have local connections and can organize and are great at onsiting the logistics involved in traveling to new areas.
What advice do you have for climbers who hire guides?I feel like there is a bit of a stigma for climbers hiring guides in the US, and that people feel you are less of a climber if you higher a guide. Whereas in Europe, which has a history of climbing hundreds of years old, climbers have always hired guides, and still do. When hiring a guide, one should be sure the guide is certified by the American Mountain Guide Association (AMGA) and/or the International Federation of Mountain Guide Associations (IFMGA). This insures that the guide has completed the only international standard for mountain guides.
How can customers prepare for a guided expedition?Be realistic about what you want to experience or achieve. Be honest with your guide about your personal abilities, fitness and experience and ask for advice on how to train and prepare for your upcoming trip.
Where do you recommend that rock climbers travel with guides?I think a great time to hire a guide is anytime traveling away from home when you don't know the area. This way you can experience different landscape and culture while you allow the guide to negotiate all the logistical details that can often be a hassle when simply trying to enjoy the mountains. At the same time your guide keeps you safe, comfortable and takes you to the best lines.
Come climb with me and Aspen Expeditions and you will experience amazing featured granite combined with the spectacular views and perfect temps allowing ideal sending conditions. The empty cliffs only fifteen minutes from a world class resort town offer the perfect combination of adventure and luxury.
If you are itching for an international adventure the endless rock spires of the Italian Dolomites will scratch that itch. Enjoy everything from single pitch sport routes to twenty pitch adventure climbs, Via Ferrata routes on rest days and delectable Northern Italian cuisine.
Finally, Spanish limestone is not to be missed. My personal favorite is the island of Mallorca, full of history, warm water and perfect rock.
Visit:aspenexpeditions.com and amoswhitingmtnguide.com for more information.
Read more GUIDE ZONE profiles on the next page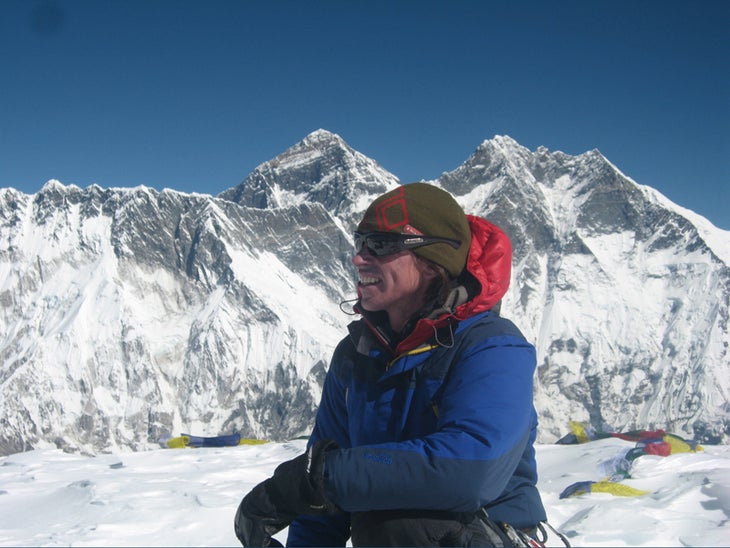 Guide Profile: Adrian Ballinger of Alpenglow Expeditions
Alpenglow Expeditions was founded by Adrian Ballinger in 2004 after he worked for nearly a decade as head guide and director of one of the largest international guide services in the USA. Alpenglow Expeditions was created to combine our guides' passion for climbing big mountains with their desire to teach others.
What is the one thing about a guide's life that most climbers will not know, or that isn't obvious to an outside observer? I do a lot of logistics. Even though I guide almost 8 months out of the year, when I come home, I am shackled to my computer just like everyone else. It is a lot of work.
What is a place you would most like to travel to that you have not been to? Pakistan.
Why did you choose to be a professional climbing guide? When did you make this choice? One thing led to another and I just couldn't stop guiding long enough to start my real job.
Favorite type of climbing? Whatever my next trip demands. Truly.
What is the toughest part of guiding? Leaving my wife.
What is your favorite climbing area? Where ever I am going next. Truly.
What's on your iPod/in your cd player/in your vinyl collection? Latest Playlist: Sia, Cold War Kids, Feist, Kate Nash, Bing Crosby, Jose Gonzalez, Stars, Nizlopi, Wagon Christ, Placebo, Keane, Sufjan Stevens
What is your favorite route to guide, and why? Ama Dablam, SW Ridge (in the Khumbu region of Nepal) because the entire route dances along a technical knife edge ridge combining stellar rock and ice pitches and great exposure. And since we fix the entire route, each climber can be truly independent while climbing this route.
Favorite hobby or hobbies outside of climbing? Skiing, Kitesurfing, and eating.
What was the best decision of your life? Persuading my college sweetheart to marry me.
Visit: alpenglowexpeditions.com for more information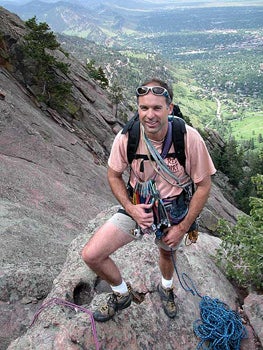 Guide Profile: Pete Keane of Timberline Mountain Guides Inc.
Age? 44
Where did you grow up? On a Farm in New Jersey.
Where do you live now? Bend, Oregon.
What is your rock climbing experience? I started top roping in 1982. I learned to lead in northern New Hampshire at Cathedral and Whitehorse Ledges. This area gives me an appreciation of what we now call "Trad Ethics", although I didn't know it at the time.
What is your training background? I graduated with a BS in Geology from the University of New Hampshire in 1986. I began my guiding career in 1989. Now, I have made it most of the way through the AMGA Guide training program by earning my certifications as Rock and Alpine Guide. Currently, I am going through the ski program.
Where do you guide?I guide all over the Pacific Northwest- what I consider my home turf.
What is your favorite part about this job?I enjoy being in high places and taking folks who need guidance to these places so that they can enjoy themselves.
Most gripping or scary time on a climb?I think it was on the Harvard Route on Mt Huntington in Alaska. I was leading on thin ice with a pack on and the ice collapsed and I whipped big. Luckily, I landed on a big pile of soft snow on a ledge. When I climbed back up, I had broken the eye off the piton I was clipped into. If the snow wasn't there to stop me, who knows what would have happened.
What success are you most proud of?Being a father. I have two young sons who continually amaze me, even when they are driving me nuts!What makes you a good guide? Most of my regular clients would probably say that I am laid back, easy to get along with, and choose great objectives for their trips.
What is the most important part about being a guide?Having patience and enjoying climbing for other people, not for yourself. Good guides must constantly examine why they are in the profession, and must continually question their motivations for doing so.
What type of climbing is your favorite? Why?Alpine climbing is my favorite type of climbing, with my second favorite type of climbing being long rock routes. I love the feeling of doing long routes with only the essential items on my back. The wide range of skills required for adventures of this type gives me a great sense of satisfaction. Being on rock high above a glacier should be experienced by all climbers at some point in their careers if they want to be well rounded.
Where is your favorite climbing destination? Why?The North Cascades National Park (!); one of the only ranges in the US that has true glaciation and spectacular climbing objectives.
Why should a climber hire a guide?Climbers can advance themselves rapidly if they choose to hire guides to learn from. It is possible to learn things all on your own, but it can take a great amount of time.
What advice do you have for climbers who hire guides? If you are already an active climber, choose a specific climbing goal, or a technical skill set and practice, practice, practice. Then, hire a guide to go out with you to fine tune these skills or achieve the goals that you have set for yourself.
How can customers prepare for a guided expedition?People always say "Get in Shape" and the going will be much easier. While this is true, you must also re-adjust your thinking to become more flexible and to realize there are many ways to accomplish the goal at hand. If you are stuck in the mindset that things can only get done one way, you are not as open as you need to be.
Where do you recommend that rock climbers travel with guides?Certainly, Red Rocks in Nevada. Some of the descents can be pretty tricky, and it's more like Desert Mountaineering than anything else. The moment you leave the sport crags there, Red Rocks becomes an awesome, yet serious playground.
Visit: timberlinemtguides.com for more information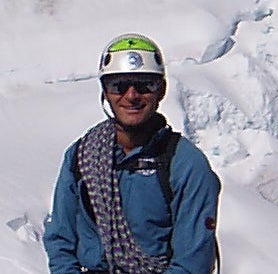 Guide Profile: Markus Beck of Alpine World Ascents
Markus Beck and the team at Alpine World Ascents (alpineworldascents.com; Boulder, Colorado) are dedicated — dedicated to the rock, to nature, and to the hundreds of clients they serve every year. Like many of the guides working with Alpine World Ascents, Beck- head guide and owner- is highly qualified, with both AMGA and IFMGA certifications, as well as numerous climbing, skiing, and snowboarding credentials. Whether he's leading one-day climbs in Eldorado Canyon or 28-day tours of the Khumbu region of Nepal, Beck has a range of mountain knowledge and is fluent in six languages allowing him to customize a unique experience for his clients.
What is the one thing about a guide's life that most climbers won't know? A good guide is a 100 percent dedicated to his/her clients — obviously in regards to safety, but also in regards to quality of experience, comfort, and client interest.
Why did you choose to guide?Born and raised in Switzerland, I was exposed to guides — their way of life, their status — at a young age; it instilled in me a huge respect and admiration. I always loved being outdoors. Formerly a Masters in education, I love working with people, helping them accomplish things. In 1999, at age 31, I made the choice of getting the proper training and certifications and made my passion for the mountains my profession. Joining a greatly respected group of individuals that live a simple, hard worker's life, and calling the outdoors my office, has definitively turned out to be my calling.
What is your favorite type of climbing?It's in the variety: rock, snow, ice, alpine, ski, snowboard, high and low altitudes, difficult or not, demanding or leisurely… just say no to pulling down on plastic or sport climbing (OK, busted: I have been photographed doing that).
What's the toughest part of guiding?Staying healthy (mostly because 200-plus back-to-back work-days in the field take a toll)
What was the worst decision of your life?Forgetting that extra pair of undies on a hard climb
What was the best decision of your life?Other than choosing my chosen profession? To breathe every day.
Home Base: Boulder, Colorado
Offers: Classes and guiding in rock climbing, ice climbing, alpine mountaineering, ski touring and mountaineering, and avalanche education. Guided trips to Europe, Canada, Himalayas, Central & South America, and across the United States including Alaska. Specializing in custom designing their services.
Visit: alpineworldascents.com for more information