Heading out the door? Read this article on the new Outside+ app available now on iOS devices for members! Download the app.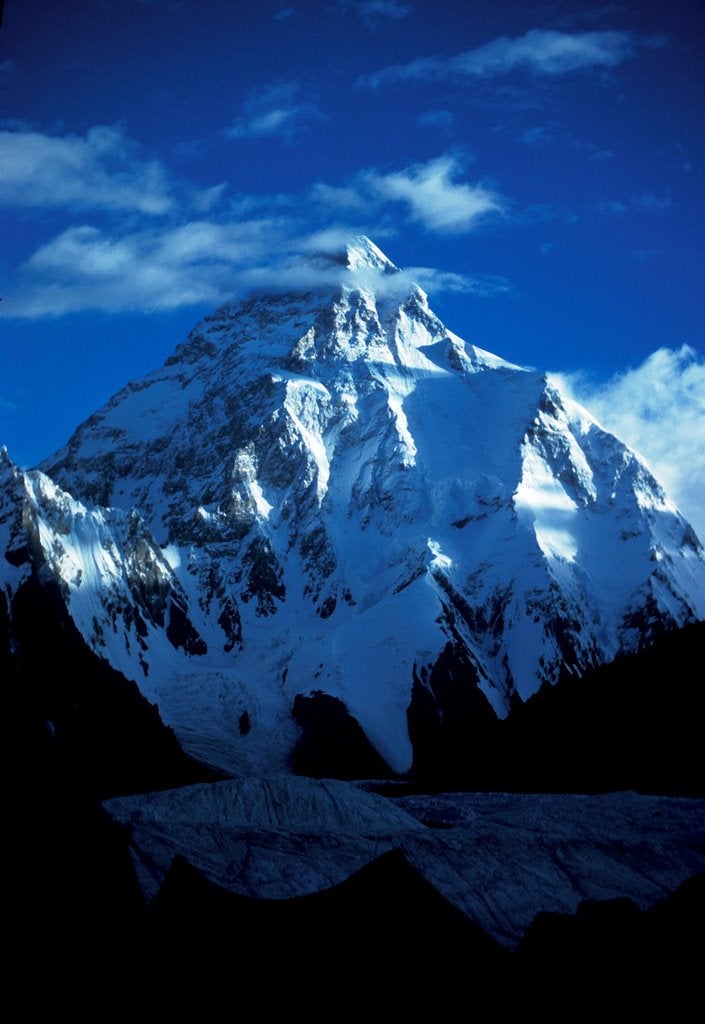 The weekend of September 6-7, 2008 marked the 30th anniversary of the first American ascent of K2, the world's second-highest mountain and widely considered to be the most dangerous. In early August, 11 climbers were killed high on K2 in one of the deadliest episodes in mountaineering history. Nicholas Rice, 23, of Hermosa Beach, survived the ordeal and intends to return to the Karakoram Range in northern Pakistan, perhaps as soon as next year. In a recent interview, another Southern California climber with K2 survival experience reflected on the past but steered clear of passing judgment on the present. Rick Ridgeway of Ojai, now 59, was a member of that first successful American K2 expedition. He summited the Savage Mountain without oxygen 30 years ago on Sept. 7. "Back in '78 we knew the climbing was going to be hard," Ridgeway said, speaking by phone from his home in Ventura County. "But none of us knew it would come to be known as the hardest mountain in the world. "Standing at the bottom, we didn't know if we'd be coming back," Ridgeway said. "It had only been climbed twice at that point." Led by Everest veteran Jim Whittaker, the 1978 team included Lou Reichardt, Jim Wickwire, John Roskelley and Ridgeway. Before them, the only ascents of K2 had been achieved by an Italian team in 1954, and by a siege-style Japanese expedition with 1,500 porters and more than 50 climbers in 1977 – both via the same route, the Abruzzi Spur. The Americans in 1978 intended to try to finish a new route to the summit, the long Northeast Ridge, which features a half-mile traverse of knife-edged, corniced pinnacles. Whether they wanted to or not, the Americans carried a bit of history with them. Previous American attempts on K2 in 1938, 1939 and 1953 were already legendary in mountaineering lore for epic accounts of rescue attempts, deaths, and survival – but not success. Just three years before, Whittaker had led an attempt with Wickwire on the Northwest Ridge that also met with failure. The only other attempt on K2 in 1978 had already ended in tragedy. A British expedition led by Chris Bonington abandoned their attempt on a new route on the West Face when a windslab avalanche killed team member Nick Estcourt and nearly killed Doug Scott. "At that time, the Pakistani government was concerned about having too many people on the mountain," Ridgeway said. A Polish team had nearly completed the Northeast Ridge in 1976, but the upper reaches were unknown territory for the Americans. It had taken a strong team of Poles 10 days to climb the knife-edge traverse. In spite of team bickering and technical difficulties, in late July and early August 1978 the Americans climbed and fixed ropes for the whole traverse in just four days, Ridgeway wrote in his 1980 account of the expedition, The Last Step. But storms and other difficulties slowed their fast start. It was early September before they had any real chance at the summit. Then the weather cleared. "We tried to finish direct," Ridgeway said recently. "But it was too dangerous below the summit. The snow was deep and loose. You had to wade through it. "So we traversed over to the Abruzzi finish," Ridgeway said. "Below the Bottleneck. It wasn't named at that point, of course. Nobody called it the Bottleneck then." The steep, narrow gully Ridgeway referred to passes under a towering wall of unstable ice and snow at roughly 27,000 feet elevation. It was the stage for tragedy last month, when parts of the serac calved off, killed several climbers and swept away fixed lines. Others were stranded above and perished in the cold or fell to their deaths trying to descend. The wall of ice and snow is a wind-sculpted feature that was just as intimidating in 1978, Ridgeway said. "It was an active serac, a few hundred vertical feet high," Ridgeway said. "It was active. A serac is like a mini-glacier. It breaks off from time to time. It was very steep where the serac had recently broken." Reichardt and Wickwire had summited the day before, Sept. 6. Ridgeway and Roskelley, who had taken an extra day trying the direct finish, were approaching the Bottleneck in darkness about 4:30 a.m. Sept. 7. "It was black and moonless," Ridgeway wrote in The Last Step, "but in the rarified atmosphere starlight was sufficient to see above us the major features of the upper mountain: the enormous ice cliffs like ramparts guarding the summit fortress, and below the cliffs, the constricting couloir through the rock band." Ridgeway and Roskelley didn't have fixed lines or any other rope to rely on, Ridgeway said recently. "We'd abandoned our ropes before the traverse," Ridgeway said. "We were exhausted and we didn't want to carry them. But I remember it clearly, what they call the Bottleneck now. It was steep . . . "I just remember focusing intently on each move, with the serac above," Ridgeway said. "In a situation like that, it's like you throw yourself on a roulette wheel and hope your number doesn't come up." Their luck held that day, and so did the serac. Just above the couloir about 7:30 a.m., they encountered Wickwire, who had spent a frozen night in the "death zone" just below the summit. He was stiff and spent, with ice in his beard, but still moving adequately on his own. Ridgeway and Roskelley continued to the summit. "Even more difficult was the traverse above the Bottleneck," Ridgeway said recently. "You could look down and see all the way to the glacier at the base of the mountain, 12,000 feet below." Eight hours later at 28,250 feet elevation, Roskelley balked at approaching the very highest point of K2, fearing a cornice would give way. Ridgeway thought to himself, it may be corniced, but we've come too far not to go to the very top. "I volunteered to belly-crawl up to the highest point," Ridgeway wrote in The Last Step. "John stood back holding my ankles. I eased up to the edge and peered over. "There was solid snow under me, and the south face dropped down so steeply . . . I had a euphoric sense of flying. John crawled up behind me, and together we sat on top, holding each other, too exhausted to speak." Ridgeway told himself to try to remember everything about the moment, but he found he could not appreciate it. "I was only thankful at the moment to rest, to breathe and lessen the dizziness, and if I felt anything akin to elation, it was from the realization I no longer had to go up," Ridgeway wrote. "This was it; there was no higher place to climb." Ten years ago, Ridgeway and other members of his team attended a 20th anniversary gathering hosted by a mountaineering club in Portland, Oregon. Charles Houston and Bob Bates of the American 1938 and 1953 attempts on K2 attended. But there is no gathering planned this year to celebrate the 30th anniversary of American success on K2, Ridgeway said. "We decided that was that,"Ridgeway said. "No plans this time." Addressing the recent deaths on K2, Ridgeway steered away from passing judgment on decisions or tactics that may have contributed to the 11 fatalities last month. "I don't feel like I'm in position to offer any wisdom," Ridgeway said. "It would be presumptuous of me to be critical in any way. Each person makes their own decisions about risk." The title of this post – "Cowboys on K2" – is the nickname Charles Houston gave his account of the 1938 American expedition, Five Miles High. Houston is reportedly still alive and well at age 95, living in Burlington, Vermont. Seventy years after his first attempt on K2, and 55 years after his second, it would be interesting to hear what he thinks about recent events on the Savage Mountain.
Article courtesy of Guy McCarthy / http://watershednews.blogspot.com/2008/09/cowboys-on-k2.html. Originally published Sept. 4, 2008.