Desert Testpiece Century Crack (5.14b) Sees Third Ascent by Danny Parker
Heading out the door? Read this article on the new Outside+ app available now on iOS devices for members! Download the app.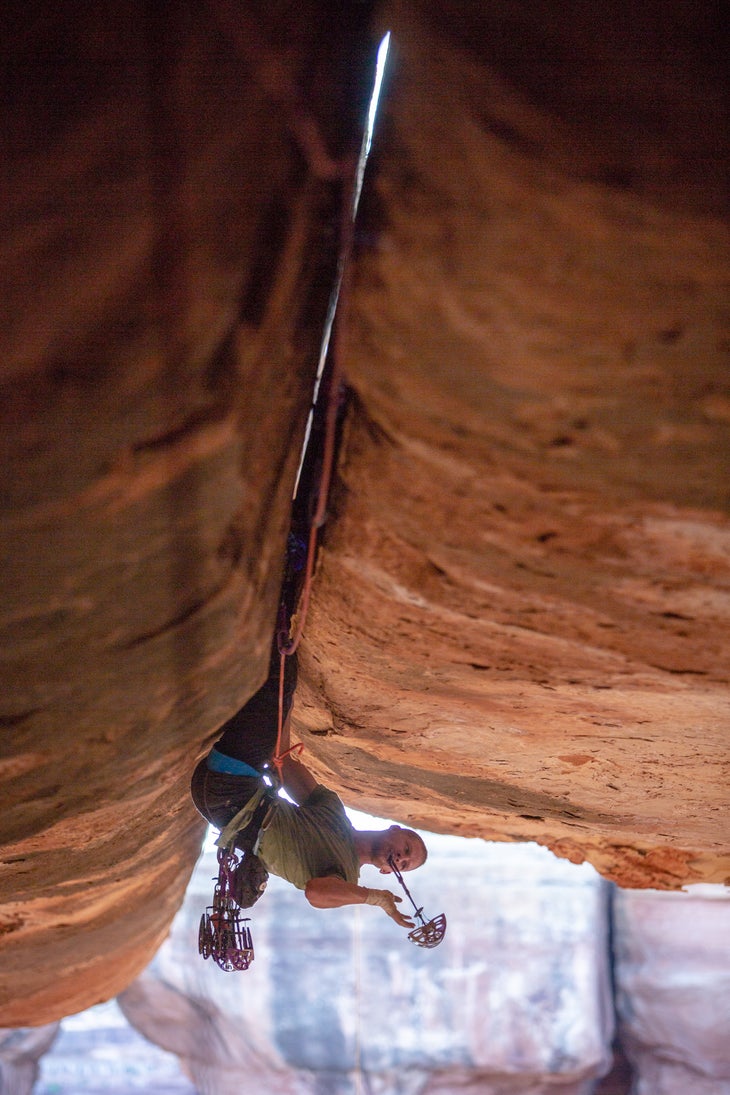 Seven years after its first ascent, the notorious offwidth roof crack Century Crack (5.14b) on the White Rim in Canyonlands, Utah, has seen its third ascent, at the hands of the Salt Lake City, Utah, climber Danny Parker, 27, who led the route on Wednesday, October 24. The 120-foot line was first freed by the "Wide Boyz"—the UK climbers Tom Randall and Pete Whittaker who' in 2011, after two years of grueling offwidth-specific training, each sent the route on their first go of their second day using preplaced gear, then returned two weeks later to redpoint it, placing all of the gear on lead. On his ascent, Parker likewise placed his own protection, climbing with a No. 3 Camalot, a No. 4, nine No. 5s, two No. 6s, and a single red Big Bro, all weighing a total of 13.3 pounds. Parker and his wife, Ashley Cracroft, a fellow offwidth aficionado who's also been trying the crack, both work full-time in the virology department of ARUP Laboratories, allowing them to work seven days on then take seven days off to climb. The route was first climbed, on aid, in 2001 by the desert hardman Steve "Crusher" Bartlett, who named it Chocolate Starfish; it saw subsequent free attempts by Stevie Haston and others, but did not succumb.
Century Crack is extremely difficult, running dead horizontal for 85-plus feet, beginning with 15 feet of hands to a section of big No. 4s then segueing into flared No. 6s, the technical crux. Says Parker, "From there, it's essentially all No. 5s to the top," with the fissure relenting to a mere 45 degrees overhanging for the sandy finishing stretch. The climb, as with most offwidth roofs, requires a mix of stacks, armbars, bat hangs, and so on, with relentless shuffling along its length and no true rests until you're topped out, safely back on the sunny side of the White Rim. Parker's redpoint burn took him 37 minutes, 25 of which he spent hanging by his feet to recover. "At that length of time, blood is having a hard time defying gravity and creates a ton of pressure in your head right behind your eyes, and your feet fill up with lactic acid and start to feel like little pressure cookers," he says. "The key is to stop and hang off a fist stack and pull each leg out independently of the crack to force blood back into your feet and to relieve the pressure in your head. It doesn't sound enjoyable, but maybe it's the blood in your head that makes it so exhilarating!"
As Parker noted in an Instagram post after the send, "My first offwidth experience happened simultaneously with the Wideboyz' free ascent of Century Crack. Their story spoke to me, and although I had just projected a 40' 5.9, the dream of climbing Century Crack was alive." As Parker improved at offwidth climbing, he set out to "chip away at their tick list" on the road to Century Crack, repeating other Western US wide-crack testpieces like Gabriel (5.13c), Forever War (5.13), and Wapiti Crack (5.13-), as well as establishing his own like Flavor Blasted (5.13-) and Jaws (5.12+). He also built several roof cracks in his garage to mimic Century Crack, and would train in there several times a week for over an hour at a stretch doing crack laps and other workouts. Parker also did a "zillion" sit-ups to strengthen his core.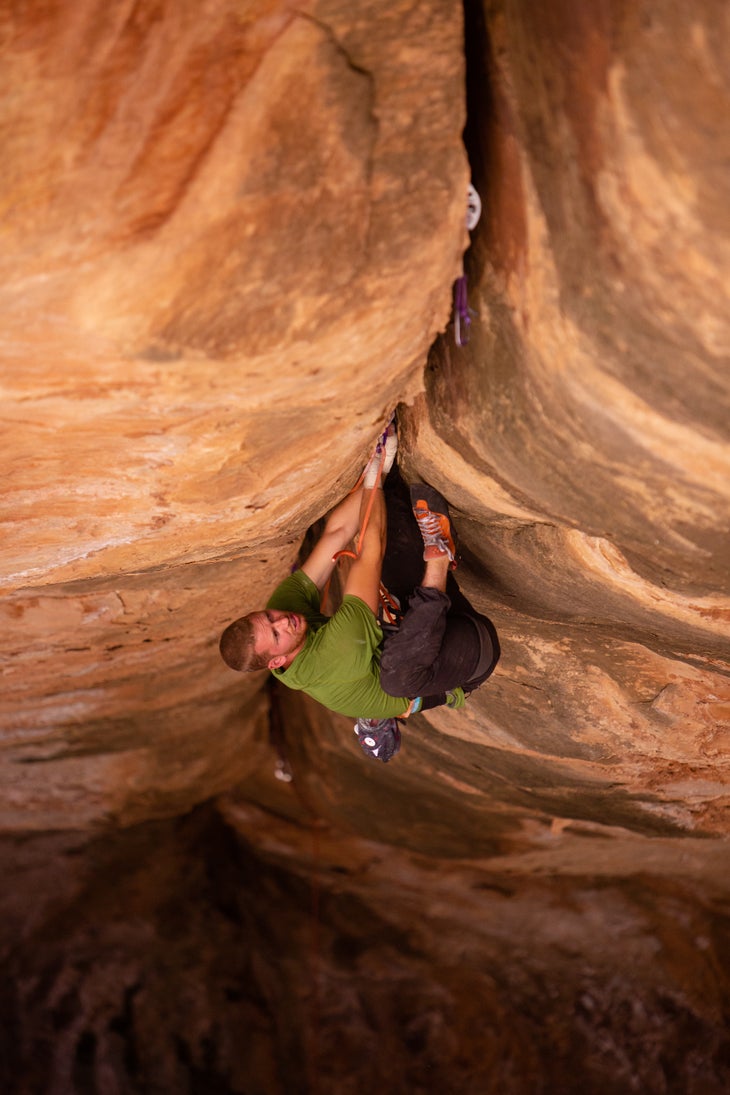 "Three years ago I trained fairly consistently for Century, and after about a year of training went and tried the route. I failed early on the roof and wasn't even in the ballpark of making meaningful attempts," Parker says. At that point, he wrote the route off as not within his capabilities. However, when he met the Wide Boyz a year ago, they graciously shared the same training program they'd used for Century. "After a full year of their clever training sessions, I returned to Century, first climbing it in 15-foot sections then [attempting] the roof itself pinkpoint. I returned a few weeks later and sent on my first redpoint attempt (of the year)," says Parker. He also, to prepare himself for the mega-rack he'd need to carry, trained with 12-pound sandbags hanging from his harness in his home gym. However, on the redpoint itself he got so focused on the climbing in the first 45 feet that he ended up running it out 30 feet until his wife reminded him to place another piece. Above there, he jokes, he then had plenty of gear to avoid any further massive runouts.
As Parker concluded on Instagram, "I am filled with gratitude for Tom and Pete. They not only inspired me, but they came full circle and gave me the training plan they used for Century (turns out it's effective)." Parker also gave a shout out to Cracroft for her support with training and on the climb; Cracroft has been working Century Crack, and hopes to return to it next spring.
Here, Jonathan Vickers, who documented Parker's and Cracroft's efforts, caught up with Parker for a brief Q & A.
Jonathan Vickers: How long have you climbed?
Danny Parker: Eight years, roughly.
How long have you climbed offwidth?
Seven years.
How long have you wanted to do Century Crack?
Since it was established, fall 2011.
How long did you train? How often? Total hours trained (approximately)?
I did a one-year training program, involving at least one hour of workout per day. However, three years ago I had done another full year of training for Century and failed to climb it back then.
How many burns on Century?
I sent on my first redpoint attempt; however, previously I had worked the route in sections as well as made a pinkpoint attempt.
What were your tactics?
Climbing Century is all about recovering while on route. On my garage crack, I had trained to climb 24-foot sections then stop and shake out my feet as well as rest my hands. Breathing abnormally heavily seems to boost your blood pressure and force blood into your feet, keeping them from draining too quickly and becoming little pressure bombs.
Did Tom Randall recommend those techniques?
Tom helped prepare me physically for the climb. However, after my first trip this year, I had to rethink the tactics—coming up with a routine to prevent pumping out was a method I came up with two weeks before sending.
Tell me about the Tom's training.
Tom wrote out a training plan that mirrored what he and Pete had done to prepare for Century. Simple routines gradually increased to massive, hours'-long sessions. Some evenings, I never finished my sets; however, the improvement was obvious and motivated me to try harder the next time.
Who else helped?
My wife, Ashley, trained with me, pushing me through sets when I would have normally stopped. I couldn't have done it without her.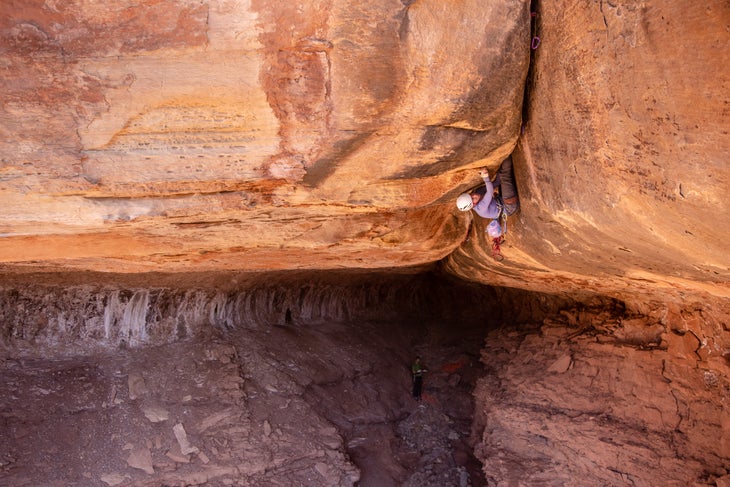 How do you feel to be the first American to send the route?
Ha-ha! Though I may be an American, I did succumb to a very British training routine. I even had the bad weather at home to keep me plugging away on the artificial cracks.
What were the main challenges?
There were a lot of obstacles along the way. As spring turned into summer, my home crack gym became hot and humid. I was convinced that I was getting worse. I would have to jam extra-hard to stay in the cracks, which resulted in bruised feet and hands.
Were you prepared, ultimately, for your ascent?
Yes. Once I realized that the route is a marathon and not a sprint, I adapted my training to conform to the style. A week prior to sending, I had a nonstop session on my home crack that was 34 minutes long and covered 196 feet of constant shuffling. I had mentally climbed the route at home long before actually doing so on the route.
Tell me about your breakthrough between this trip and last.
So it's all about getting blood into your feet and resting your hands. The key is to move using a specific hand-fist stack, and then rest using a different stack. When you rest, you need to pull each foot out individually and drop it directly downward, then breathe heavily and shake the foot. Gravity and blood pressure should shoot just enough blood back into your foot in time for you to shove it back into the crack and repeat for the other foot.
What's the grade?
The grade is 5.14b, and though there aren't very many other routes to compare it to, I'm confident it's well within that ballpark.
What's next? More offwidth?
I'm excited to get back to more first ascents, as well as a few finger cracks I've been working on. As for the world of offwidthing, Century may be the current hardest route. However, I can easily imagine a crack half its size being potentially harder if it has more of a flare or trickier sizes. Now I just need to go find it.