For Safety's Sake Don't Do This: Get High and Climb
Looking for a partner on Facebook, one climber ends up with "Bob" who proceeds to hit the hippie lettuce before climbing.
Heading out the door? Read this article on the new Outside+ app available now on iOS devices for members! Download the app.
See something unsafe at the crag? We'd like to hear about it so we can share the safety less with the climbing community. Please send your story of unsafe behavior to [email protected]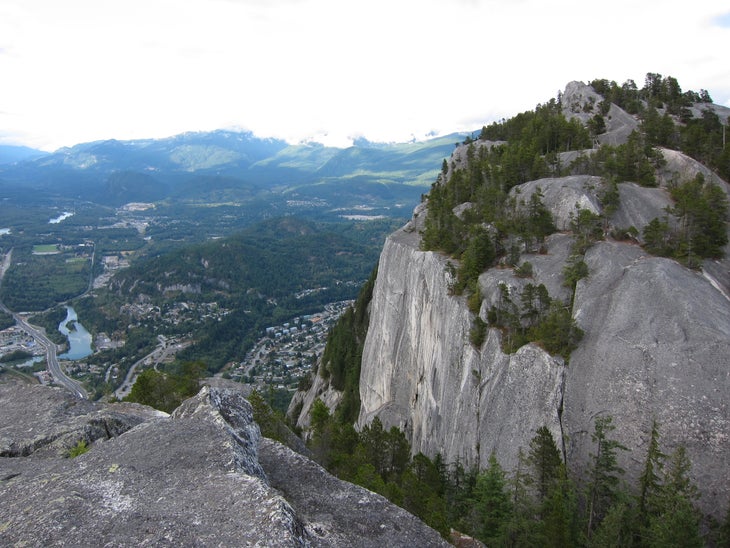 I visited British Columbia to climb in Squamish, but I didn't have a partner. Once there, I posted on the local FB community page looking for partners and found "Bob."
Bob had been climbing for only two years, but he was sending 5.11s on sport and trying easy 5.12s. He was car camping like me, and we were going to the crag every day. Full of energy, making a lot of noise, and always laughing hard, Bob was a good partner and very supportive, until…
One day we met at 1 p.m. at the parking lot for Smoke Bluffs. I arrived, parked next to Bob's truck, and was getting out my gear and looking at the guidebook to decide what we would climb that day. I was supposed to show Bob how to jam as he hadn't yet honed his crack technique. However, something was off—Bob seemed unenergetic and not very responsive, even when I cracked a couple of jokes. After a few minutes, as we prepped to hike up to the crag, I looked at his bloodshot eyes and figured it out.
"Bob, you're high, aren't you?" I asked. Bob just shrugged in response.
"You just smoked a lot of cannabis, didn't you? I'm not climbing with you today, man—not a good idea." I continued. Bob's eyes wandered around, as if nothing was going on. Then I added, "You should have told me you were high!"
Finally, Bob spoke: "Sorry, man," he drawled.
I was pissed, but proud of myself for noticing the red flags and making the choice to call off our day's plans. Bob messaged me the next morning to meet at the crag. Being twice his age, I gave him a parental scolding, and told him that the trust was broken and that we wouldn't be climbing together again.
"Have fun!" Bob texted back, and that was the last I heard from him. I'm sad to have lost a partner, but happy no accidents happened. Lesson learned.
—Cristiano, via email
Lesson:
Thanks, Cristiano, for reaching out with your "Tale of Two Bobs"—the one funny, friendly, and easy to climb with, the other stoned, silent, out of it, and not a reliable partner. Unfortunately for you, trying to find a climbing partner at Squamish, they were one and the same person, but so it goes maybe a little too often in the climbing community.
I will confess, I used to smoke weed—and climb. I haven't taken a toke in 17 years now and I can't say I miss it (the panic attacks and paranoia ended up not being so much fun), but like many freewheeling young climbers, I had my phase with hippy lettuce. And since I was stoned all the time, I also ended up climbing stoned often too. I never saw this as a problem out bouldering, where any slowed reaction time or weed-addled "decision-making" was unlikely to put others at risk. But roped climbing was another matter, and I can certainly think of times in my hazy, THC-infused past where I was neither on my A game as a climber nor as a partner. Often, my head would go bad, I'd be shaky and confused on the rock—especially if trad climbing or climbing onsight—and I took way longer to place gear, build anchors, etc.
If my climbing partners were also stoned (which was also often the case—d'oh), then nobody really noticed because we were all in it together, just a gaggle of stoned, idiot monkeys. But if my partners weren't smoking, I'm sure they were aware of my mental state. And it speaks volumes to their enduring friendship that they were willing to trust me to belay, lead-climb, etc. Consider a few things my stoned partners and I did while out at the rock: Keeping too much slack in the belay (me) on toprope so that when my friend fell he landed on his tailbone on a ledge; rapping right past obvious rappel anchors on the Astro Slog rappel descent into the Black Canyon of the Gunnison at 6:30 a.m., 2,000 feet off the deck (my buddy); making the first ascent of a 5.11+ X onsight, ground-up, because we were too confused to read the guidebook properly and do a well-protected 5.10+ next to it instead (me). While none of these incidents ended badly, they certainly could have, and I do consider marijuana intoxication to have been a complicating factor or to have at least fueled the poor decision-making.
So hats off to you for recognizing what was up with Bob, speaking your mind, and moving on. I'm certain that among our community—with climbers being climbers—there will always be climbers who smoke pot and/or drink at the cliffs. But there are also plenty of us who don't. Climbing is a serious and potentially lethal sport. If you don't feel comfortable with your partner, for any reason, then listen to your gut and walk away while you still can.