Early Victory Against Red Rock Development, Final Vote Still to Come
Heading out the door? Read this article on the new Outside+ app available now on iOS devices for members! Download the app.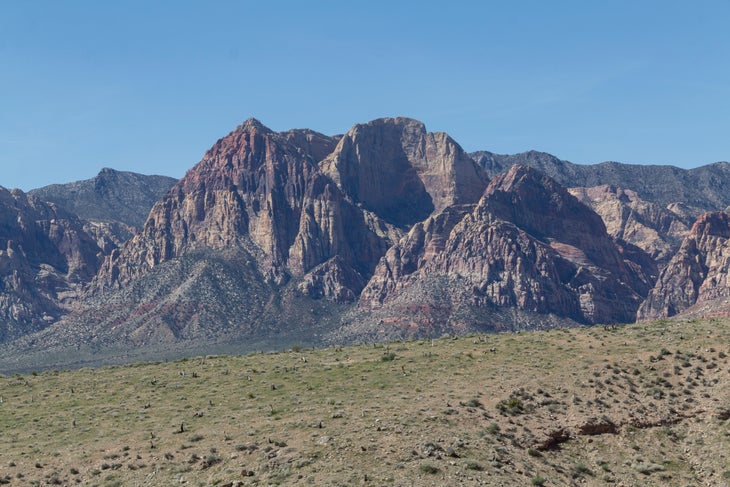 On October 18, the Clark County Planning Commissioners voted unanimously to recommend against the re-zoning of Blue Diamond Hill, which would allow the development of up to 5,000 homes adjacent to Red Rock National Conservation Area. While this is an important step on the path to preserve Red Rock, the final deciding vote by the Clark County Commissioners will take place on Dec. 7.
At the October 18 meeting, over 100 community members attended, and many voiced their opposition to re-zoning, including Heather Fisher, president of Save Red Rock. Fisher presented an online petition against the development with over 20,000 signatures, which saw wide support from the climbing and broader outdoor communities.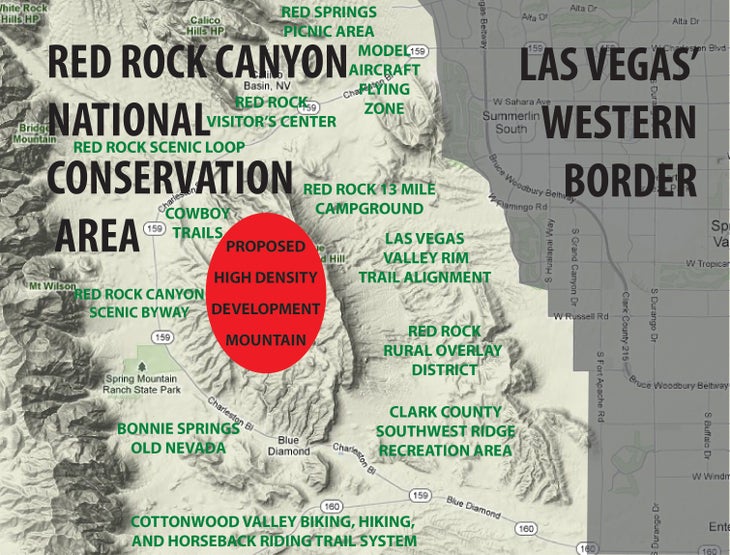 "It has been very important for us to show the commissioners that the international outdoor community is watching this issue," said Stephanie Forte, a spokeswoman for Save Red Rock.
Separately, a representative for the Mountain's Edge Home Owners Association, a community that would be heavily affected by the re-zoning, presented a poll in which 91% of their residents opposed the re-zoning of Blue Diamond Hill. Concerns from the community ranged from increased traffic, pollution, water rights, and the failures of similar projects in the past.
The Planning Commission's unanimous vote is a step forward for Save Red Rock, but the final vote will be completed at the Commissioners' meeting on December 7 at 9 a.m. Visit Save Red Rock for information on how to contact the Clark County Commissioners to voice your opinion, and sign the online petition here.
For more information, see the official press release from Save Red Rock below:
LAS VEGAS (Oct. 19, 2016) – Last night, after nearly two hours of public testimony, the Clark County Planning Commission voted unanimously to recommend denial of developer Jim Rhodes' Gypsum Resources, LLC (Gypsum) proposed high-density development in Red Rock Canyon. The Planning Commission also rescheduled a hearing on the Gypsum application by the Clark County Board of County Commission (BCC) to December 7, 2016 at 9:00 a.m.
Gypsum asked the Planning Commission to approve a concept plan that would rezone more than 2,000 acres surrounded by the Red Rock Canyon National Conservation Area from rural to high-density. The proposed development would include more than 5,000 homes, as well as commercial and other uses. Gypsum had attempted to fast-track approval of the sprawling project at a September 20, 2016 Planning Commission meeting; however, the Planning Commission delayed consideration for one month and required Gypsum to hold public meetings.
More than 100 community members attended the Planning Commission meeting, and dozens spoke out against the Rhodes development, including a geologist, an economist, and a gaming technology executive. Among other issues, speakers warned the Planning Commission that the proposed Gypsum Concept Plan violated the Clark County Master Plan, would create serious problems for first responders, and would result in homes sinking as underlying gypsum dissolves.
Save Red Rock (SRR) President Heather Fisher reported to the Planning Commission that in just the past month, more than 20,000 people from Nevada and across the world signed a petition in support of preserving Red Rock's rural zoning. Mountain's Edge HOA President Mark Leon advised the Planning Commission that 91 percent of Mountain's Edge residents surveyed opposed the project due to serious traffic concerns.
After the vote, Fisher stated: "We are so grateful to the Planning Commissioners for hearing our concerns. Their vote to preserve the character of Red Rock Canyon and recommend denial of Jim Rhodes' sprawling development next to our national treasure was truly courageous. We will now take the fight to the Clark County Commission, where we hope that they will show the same courage in standing up for the people and for Red Rock Canyon that the Planning Commission showed last night."
Fisher and her husband own Las Vegas Cyclery and Escape Adventures. Her group says the impact of this development extends to all Vegas Valley residents, by increasing pollution, driving up the cost of water and posing a threat to one of most majestic features of Las Vegas and its draw for tourism. It has characteristics similar to other abandoned master-planned projects, such as the failed Coyote Springs development, 55 miles northeast of Las Vegas.
The Gypsum project proposes a road engineered to accommodate over 44,000 car trips per day from the development to Blue Diamond Highway (SR160). There are no plans, however, to improve traffic access to the 215 Beltway via Blue Diamond Highway, Fort Apache Road, Durango and Buffalo Drives, and Rainbow Boulevard, with the heaviest impact affecting the Mountain's Edge community and Pahrump commuters. Those in opposition to the proposed rezoning can email their County Commissioners and sign Save Red Rock's petition.