April Fools: Earthquake Near Moab Changes Crack Climb
The race is now on to see who will get the first ascent of the changed crack.
Heading out the door? Read this article on the new Outside+ app available now on iOS devices for members! Download the app.
An earthquake Monday near Moab reported at a significant 5.5 magnitude has changed the aspect of at least one renowned offwidth in the region. The Price of Evil (5.13), considered to be Indian Creek's hardest offwidth when established by Mason Earle in 2010, is said to have shifted.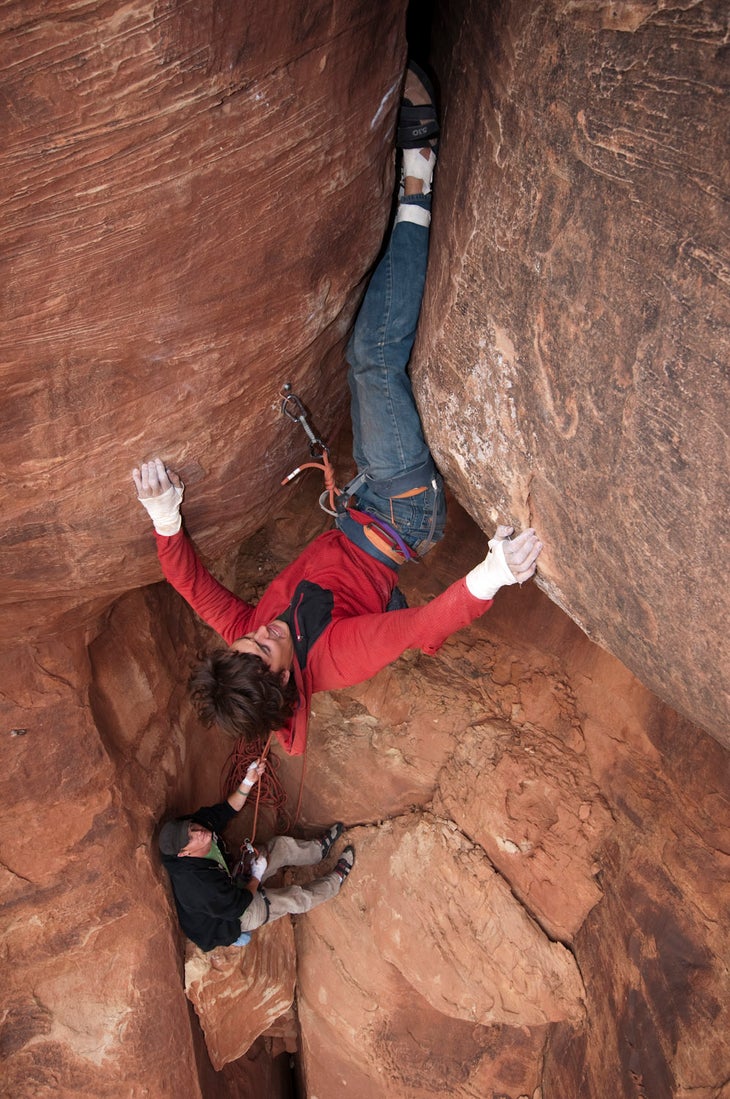 One of the buttresses forming the offwidth fissure, where hand stacks allowed a lip sequence through a roof out of a cave, has widened to an offset 10 inches.
"Things happen," Mason Earle says when contacted by phone. "I had the experience I did. And, no, I am not going back out there. That sounds like about as much fun as a belly full of bad berries. Besides, I'm a big guy."
"Chimney?" Pamela Shanti Pack, 5'2," posted on Instagram. "I am so in."
She reportedly worked the new route for two days, with a move known as "foot-over-the-head-offwidth invert to a chicken wing to an orthopedic surgeon's office."
In the UK, the adept brute squad known as the Wide Boyz, Tom Randall and Pete Whittaker, were held at bay by the pandemic lockdown.
Pack, contacted by phone, would neither confirm nor deny her desire to climb the reconfigured route. She said only, "Offwidths are beautiful."
As of April 1 she headed out to the Utah Canyonlands for an extended campaign, taking full camping regalia, including a generator, boxes of coffee and cream, and her pups Moby Dick and Ahab, intending to squat for an undetermined length of time. A banner on her Chrysler as she left town read, "Take a walk on the wide side." A friend who would only give her name as Lucille said, "She'll stay out there a century if that's what it takes." Lucille denied that such a campaign becomes a vendetta, insisting that it demonstrates admirable blind faith.
When Randy Leavitt, long-ago inventor of the stacked-body-parts technique known as Leavittation in order to climb Paisano Overhang at Suicide Rock in Idyllwild, California, was asked if he might want to try the new prize, he showed not a crack of fear, saying, "Sure. It's a matter of wide pride."
Asked whether John Long, who with his mighty mitts and two pairs of gloves climbed Paisano Overhang first, in 1973, might join in on this new black crack, Leavitt said only that he had invited him along on the mission, but, "Little John left."