Editor's Notes: 50 Years and Counting… (Plus Spring 2020 Issue Preview)
Heading out the door? Read this article on the new Outside+ app available now on iOS devices for members! Download the app.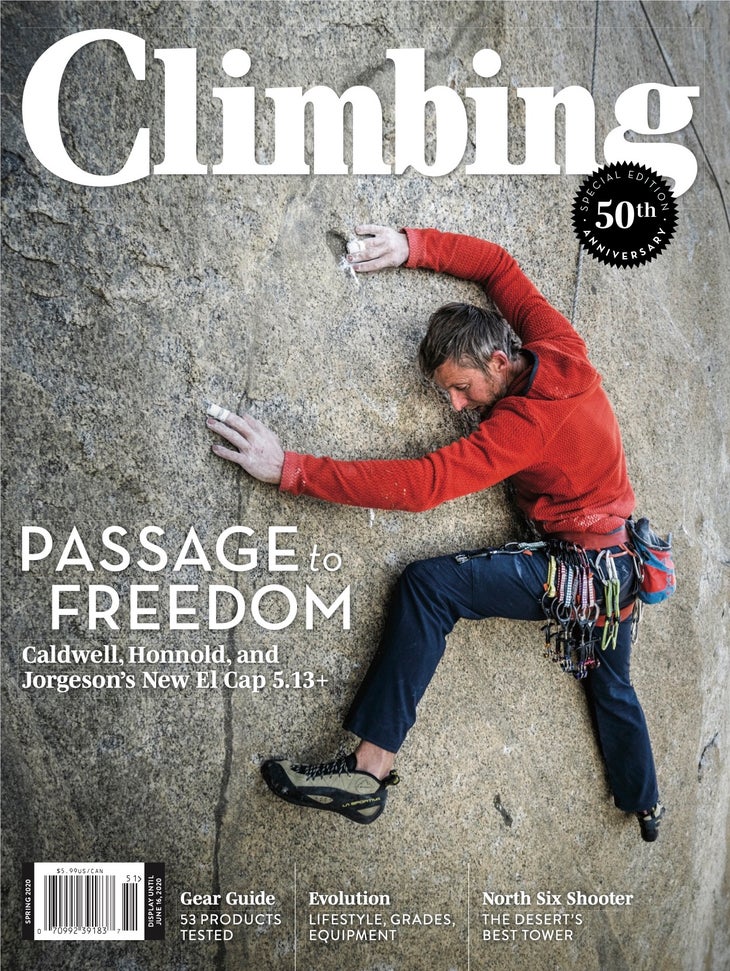 Issue No. 1 of Climbing (May 1970) was an unassuming, black-and-white, staple-bound 25 pages directed "to the interests of rockclimbers and mountaineers." Climbing has since become one of the biggest, most-recognized brands in the vertical world, with an enduring print title, a juggernaut of a website and social media presence, and even an online-education division. And, as of this year, we're 50 years old—and 372 issues in!
I've been reading the title ever since I first touched rock. In 1988, on my walk home from Highland High, I detoured to the Wilderness Center outdoor shop in Albuquerque, New Mexico, where I spent my lunch money on my very first copy of Climbing, No. 106. I devoured it in one evening, from the new-route lists in Basecamp, to the features on far-flung places like Buoux, France, and Alaska's Mount Deborah, to profiles of super-climbers like Patrick Edlinger. As my passion grew, my friend Jessica Gladstone gave me a box of old Climbings, back to issue No. 1. I pored through the archives, seeing how both magazine and sport had evolved. (For more, from the perspectives of improvements in gear, climbing's transition from fringe sport to mainstream, and difficulty, see Talk of the Crag) Before the Web, magazines, along with guidebooks and journals, were the sole gatekeepers of news and information—and Climbing, as the first magazine to take on that mantle in the States, was principal.
Become a Summit Member to read the latest issue today
Summit members can get Climbing Magazine both in print and online and get access to other exclusive content, and for the month of April, 25-percent of proceeds from new Climbing.com Summit memberships will go toward supporting climbing freelancers during the COVID-19 pandemic. Learn more and join here.
For years, Climbing's Basecamp and then Hot Flashes departments were the best outlets for info about new and/or cutting-edge routes. Then, in the mid-1990s, much of that content shifted online, and soon print journalism, with its delay between production and newsstand, lagged behind the news cycle. In the early 2000s, blogs appeared, democratizing reporting, letting both contributors to the magazines and those who hadn't found their way into print have a voice and engage in new, riskier approaches to storytelling. Then came Facebook … and YouTube … and Instagram—now anyone could create content, and it's become the default that top pros and "influencers" first release news and footage through their own or sponsors' channels, if they even contact the mags at all.
Today, the loudest, flashiest voices attract the most attention. We've become accustomed to instantaneous content, the noise-to-signal ratio is so skewed that it can be impossible to discern where to focus, and the magazines are merely one way to get your information. So, what is Climbing's role in this new media landscape?
Bonus Content: In honor of Climbing Magazine's 50th anniversary, we're offering a PDF of our full inaugural issue from 1970 for download. Read it here.
Well, when I feel overwhelmed in my job (which is often), I return to that first Editorial: "CLIMBING will be more than a literary outlet for those who are inclined to write; it will be actively involved in the sport, seeking out the most important and interesting material and passing it on to the readers." I love the latter half of this sentence, with its emphasis on participation (we are all diehard climbers here) and focus on "the most important and interesting material"—which, to me, is evergreen, and is how I see Climbing thriving for another half-century.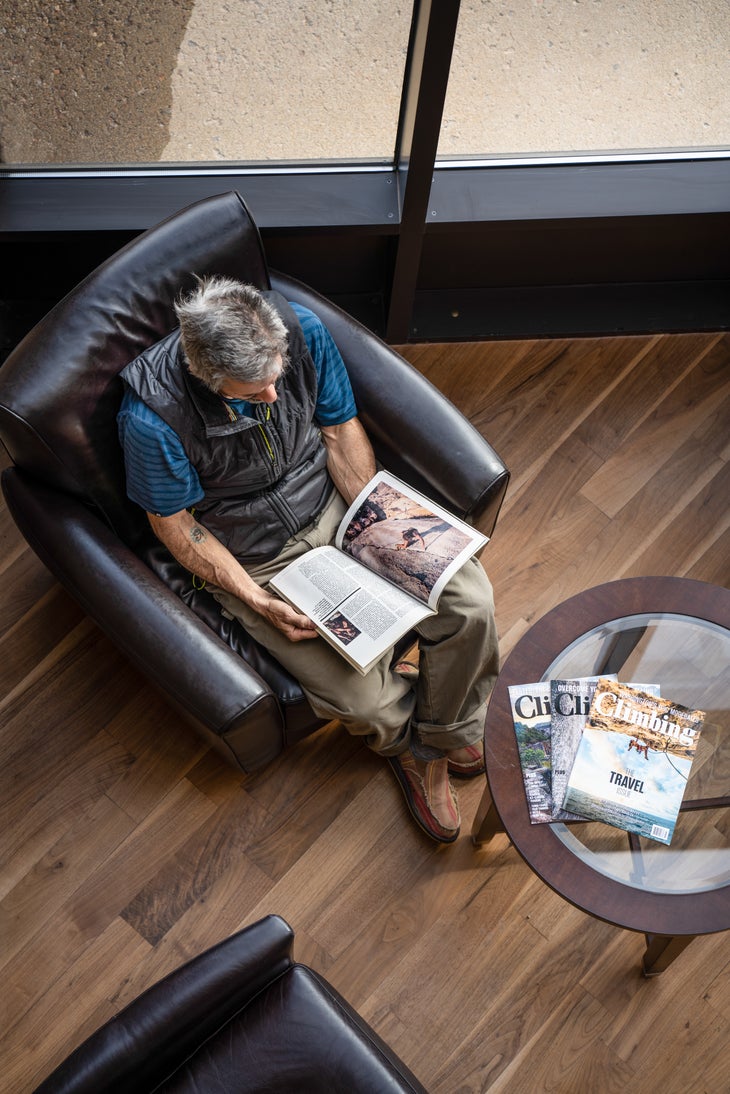 This magazine has always been about storytelling—that "most important and interesting material." As an editor, I've always felt it was my job to present fresh, unexpected stories to readers. Take this issue, which features our annual Gear Guide in an exciting new "kit" format; an exclusive photo essay detailing Tommy Caldwell, Alex Honnold, and Kevin Jorgeson's new 5.13+ El Cap big wall; an in-depth story on eating disorders, which have long been the third rail of climbing journalism; and a feature on the vibrant climbing culture of Bali. These, to me, are all intelligent, thought-provoking pieces—the kinds of stories I'd want to read. We have many more such stories under way for 2020, and we're also excited about moving to a quarterly format (plus an annual) that lets us focus on longer-format journalism and bigger, better photos.
I'm certain that I won't be sitting in the editor's chair 50 years from now. But I certainly hope that someone else will be—and that they will still proudly be carrying on a tradition that began in Aspen, Colorado, a brief half-century ago. 
—Matt Samet, Editor
Get Climbing Magazine
In this issue… 
Features 
Gear Guide
Tested: 53 new must-haves in our Sport, Bouldering, Alpine, Gym & Training, Multi-Pitch & Trad, and Basecamp kits. Plus, our Editors' Choice awards.    
Passage to Freedom 
Inside Tommy Caldwell, Alex Honnold, and Kevin Jorgeson's new El Cap VI 5.13d.     
Weighing In 
Eating disorders, dangerous dieting, and bad body images run rampant in the climbing community— how do we stop it?     
Island of the Gods
Bali is known for its vibrant culture and epic surf breaks—but there's also a thriving climbing scene.
Departments
Chosspile
Caption Contest

Quick Clips

Re-gram
Faces
Kolin Powick: How this guitar-obsessed "5.9-with-a-pack mountain guy" is working with the team at Black Diamond to drive refinement and innovation in their climbing gear. 
Talk of the Crag
50 Years in Gear

From Fringe Activity to Sport 

Are We Climbing Harder?
The Place
Sand Rock, Alabama: With Easy Access Comes Great Responsibility
Topo
Indian Creek's Lightning Bolt Cracks
Training
Shout, Shout, Let it all Out: Harness Your Bestial Power Scream for Ultimate Sending
Rock Art
Colin Howell: Igniting Passion and Art
Subscribe to Climbing: Print | Climbing.com Summit Membership