Bad Style On El Cap Is The Norm. It's Time To Change That.
Tactics such as fixed lines left in place, pre-stashing gear, jugger support (a partner jumaring to belay), and rappel rehearsal against traffic flow are often not acknowledged in social posts and news reports.
"Traxion on!" I yelled down to Amity. It was 4 a.m., with a quiet and muggy stillness as twilight neared. I had just finished a 115-foot pitch, yet still had a double rack and 10 draws on my harness. I kept climbing, now using the Micro Traxion between Amity and me as an inline belay. We were over a third of the way up El Cap in effectively three pitches.
In addition to our triple rack and 14 draws, we were weighed down by two liters of water on each of our harnesses, plus a backpack holding approach shoes and large cams. We were attempting to climb Freerider as a low-impact partnered ascent with no supplies stashed along the way, nor having rappelled in for rehearsal.
Freerider has been called the "Astroman of the new millennium," yet many prospective ascentionists automatically begin with rappel rehearsal of the crux pitches, and they pre-stash heavy gear along the route. This is especially true for in-a-day free ascents, where elaborate prep techniques have evolved. The problem is, the techniques show little concern for other climbers on the same route. As we, the broader climbing population, transition to an era of frequent free ascents by capable climbers, it's time to update our style terminology to help break this cycle.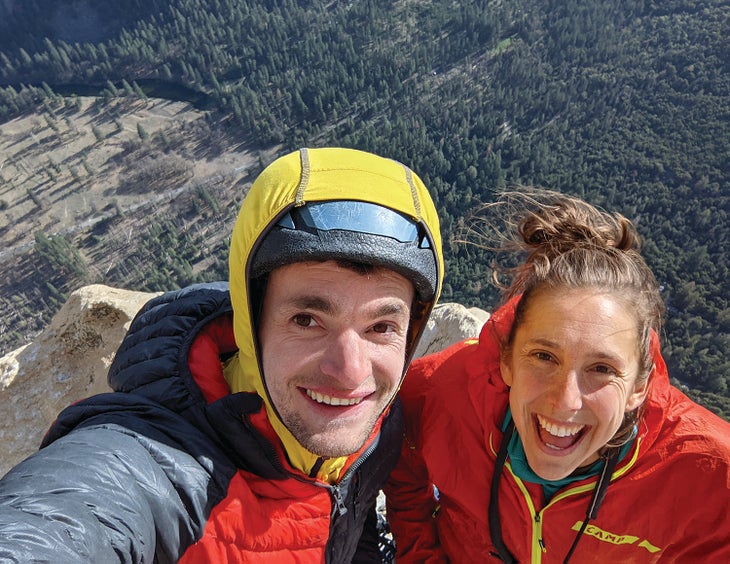 Amity and I had our first moments of doubt as we climbed the exhausting Monster Offwidth 1,500 feet up. I led off nervously, knowing that any slip could force me to reclimb it. We both knew that overall we had to climb intuitively and send on the fly. Any pitch requiring repeat attempts would add both time and mileage to the day, compounding the difficulty of hard pitches later on. I reached the belay gasping, as did Amity, who said, "Wow, that took maximal effort not to slide out. It's hard to imagine cranking out a V7 boulder"—the crux difficulties on pitch 20—"in a few hundred feet." The added weight on our harnesses was certainly burning extra energy.
During our planning phase, most of our peers had asked why we would even bother with a method that makes it harder to send. In the preceding months I had been thinking more and more about my personal wall-climbing style theory, while grappling with whether I could even do what I believed in. I had never tested my ideal against the harsh realities of a 3,000-foot cliff.
A clear issue in our current big-wall free-climbing "point system" is that it applies a black-and-white "send" or "no send" to one individual's pitch-by-pitch redpointing—ignoring subjective style choices along the way and almost pretending as if the climber was heroically alone throughout. Tactics such as fixed lines left in place, pre-stashing gear, jugger support (a partner jumaring to belay), and rappel rehearsal against traffic flow are often not acknowledged in social posts and news reports.
As of 2022, 5.13 is pedestrian, and we have too many wall climbers for these individualistic methods not to affect others. Freerider (30 pitches, 5.13a) during peak season has begun to look like the summit ridge of Everest, with a continual line of bright-nylon-clad climbers. Big-wall climbs are a finite resource, and almost all of them in the Valley see traffic these days. (Magic Mushroom, Dihedral Wall, The Prophet, and The Dawn Wall are the few exceptions—most others see regular free attempts or aid ascents.) As a way to address the growing issue, I propose an LNT (Leave No Trace) type ethos, which we can call AMP (Affect Minimal Parties), for aspiring to and reporting on big-wall style.
AMP: Affect Minimal Parties
The overall intent of this potential system is to consider and ideally reduce the number of parties you overlap with, or whose experience you affect. A ground-up ascent with no stashing can be nearly unnoticeable to others on the route, all traveling the same direction.
I think the trail-running FKT (Fastest Known Time) system provides a quality model for discussing ascent methods within an AMP framework. FKTs are often categorized in news reports as: Fully Supported, Self-Supported, and Unsupported. They are understood to be very different challenges even if completed on the same course.
In applying these designations to free climbing big walls, I propose these definitions. All support styles are valid, though they deserve distinct words to relay the difference in challenge.
Fully Supported An ascent focused on one individual's success, where anything goes—as long as the leader does the free climbing. Within this category, you have endless opportunities to reduce overall ascent effort by rappelling in, stashing, headpointing, leaving fixed lines in place, or having dedicated haulers, dedicated juggers, Honnold simuling behind you, etc. An athletic test, but the high-impact tactics can become abstracted from the standard climbers' experience.
Self-Supported A partnered ascent of equal contribution (or a solo ascent), where pre-stashing may be used. All the labor for the ascent is done by the climbers themselves, but the effort may spread across a period of time before the ascent.
Unsupported A partnered ascent of equal contribution (or solo ascent) with all supplies carried en route by the climbers. No pre-stashing or dumping gear. This has historically been the standard mode of multipitch climbing.
I find unsupported ascents especially interesting because they test the holistic skills of a multipitch climber, including: planning, commitment, system management, team dynamics, and quick execution. They also hold true to the AMP principle of a self-contained ascent moving with the direction of traffic.
In-a-day free ascents are a particularly good place to apply the AMP ethos, as many of these headline-grabbing ascents affect a wide swath of climbers. Without the expectation of clarification on behind-the-scenes antics, more and more elaborate tactics have naturally arisen to help ensure success. For example, fixed lines left in place to rehearse the Salathé Headwall become, intentionally or not, bail-out lines for other parties nearing the summit on multiday wall ascents. The climbers may be exhausted and nearing their limits, and the presence of hanging ropes that could be jugged out changes the feeling of commitment on the final push in what may be the wildest position in North American climbing.
I've long thought a single-day, stashless, partnered free ascent of El Cap—two partners walking up to the wall with a rope, cams, food, and water, and then free climbing to the top in a single push—to be the gold standard. In my initial research, I was discouraged to find only a few elite partnerships that had pulled it off: Tommy Caldwell and Alex Honnold; a few other Valley regulars, such as Niels Tietze and Mayan Smith-Gobat; and a Belgian duo named Sébastien Berthe and Siebe Vanhee. I shared my aspiration toward an ascent of this style in a blog post, but had no real leads on a partner for this unpopular method.
Fortunately, my friend Amity Warme read that post. I knew she was in the new cohort of wall climbers who had the strength and technical skill to pull off an unsupported free ascent of El Cap. We exchanged enthusiastic texts mid-winter and penciled in an April Freerider attempt on our calendars. We had both sent the Freerider over ground-up multiday ascents in past years. Amity and I waffled a bit on the exact plan, as it would certainly be more difficult than taking turns giving full support for each other on separate ascents, but overcoming difficulties is what makes climbing interesting.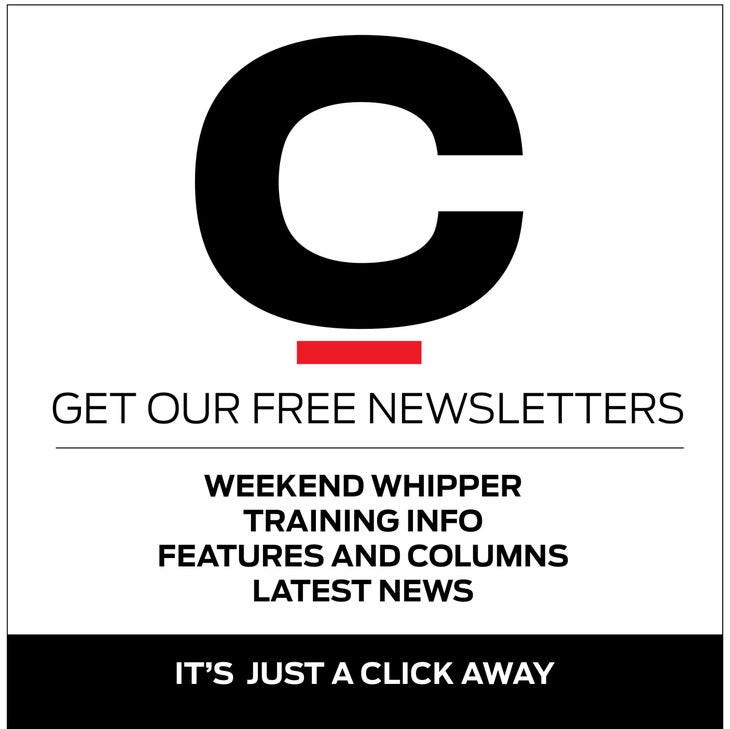 At midnight on April 10, we started up Freerider. Using a large rack and modern simul-climbing tactics with inline Micro Traxions, we simuled a cumulative 22 of the 30 pitches. We hauled key pitches where the weight or bulk mattered. For the pitch 20 boulder-problem crux and pitches 23 to 27, from the Enduro Corner to the Scotty Burk Offwidth, we reverted to regular multipitch climbing by swapping leads and hauling our supplies on the tag line or the tail of the lead line.
We followed a detailed plan with minimal hiccups. There were a few falls along the way: Both of us fell on the boulder pitch, and Amity slipped on the move off Heart Ledges and the weird alcove roof on the final real pitch, but we repeated and redpointed those pitches. We had to dig deep and push through intense fatigue. By the last steep pitches, my forearms allowed 12 seconds in a given position before locking solid with cramps. We executed under pressure and crested the summit having done the route together in 18 hours and 16 minutes. Sitting in a daze on the summit, I could only think, What a surreal day.
Freerider is the easiest route on the wall, and has, of course, been free soloed, by Alex Honnold. Yet there are still not many examples of unsupported free-in-a-day ascents (even Honnold's solo was, ironically, highly supported). With the ever-increasing popularity of El Cap free climbing, I feel it is important to share and designate minimal-trace ascents.
Our ascent was a logistical puzzle that required modern multipitch techniques and many hours of planning to solve. We used a combination of simul-climbing with inline Traxion belays, pull-cord resupplies, fix and following, FiFi release hauling, lead-line hauling, tag-line hauling, and more both to move fast enough and manage the weight. I strive for solving obstacles with systems rather than applying added risks—these relatively new techniques change how much you are required to run it out for rationing gear, allowing simultaneous movement without the previous "no falls allowed" mindset. In hopes of promoting future unsupported partner ascents, I've shared all the methods we used to pull this off on my personal blog, www.brentbarghahn.com.
As an engineer who formerly designed climbing gear at a major outdoor company, Brent Barghahn brings a technical perspective to all his ascents.