Emily Harrington Free Climbs El Cap's Golden Gate in a Day
Heading out the door? Read this article on the new Outside+ app available now on iOS devices for members! Download the app.
On Nov 4, just after 11 p.m., Emily Harrington freed Golden Gate, a grade VI 5.13 route on the southwest face of El Capitan, in 21 hours 13 minutes.
Alexander and Thomas Huber made the first free ascent of the 36-pitch route in 2000. Golden Gate follows the first half of Freerider, tackling 8 pitches of slab on the Freeblast variation and then continuing up through the Hollow Flake and into the difficult Monster Offwidth. From El Cap Spire, the line involves a hard pitch moving down and right across the wall. The Downclimb (5.13-) is one of the four crux pitches. The route then traverses into an immaculate expanse of golden granite and a stack of three hard pitches. The Move (5.13-) features a short, albeit difficult V6/7 boulder problem. The Golden Desert (5.13-) takes thin laybacks to the routes finishing crux, The A5 Traverse (5.13-) a dizzying and powerful traverse across crimps and slopers. From there a few hundred feet of easier, albeit dangerous, 5.11 climbing on hollow flakes remains.
Harrington first freed Golden Gate over six days in 2015 and then began considering an in-a-day ascent. "It's been a solid two-year project but was always in my head after doing [Golden Gate] the first time," said Harrington.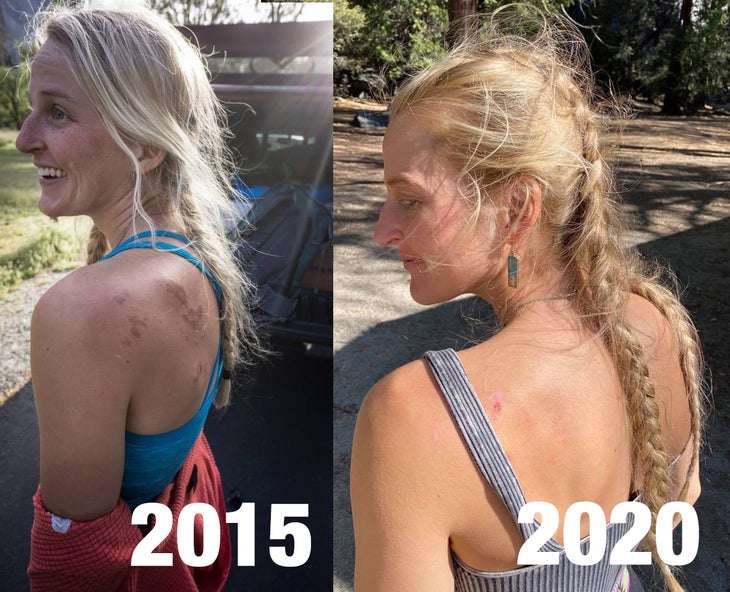 In the fall of 2019, she climbed to the final section of the A5 Traverse but despite her will, her arms failed her. She attempted the route again a week later but took a dangerous 45-foot fall at the beginning of the Freeblast. The accident left her shaken but undeterred and she returned to Yosemite this fall to work on it more.
Harrington started her ascent on nov 4 at 1 a.m., leading every pitch as Alex Honnold followed behind her. She employed a unique shoe method for the Monster Offwidth, wearing Honnold's TC Pros over her TC Pros. This Russian nesting doll style footwear allowed her to heel-toe cam up the notoriously difficult offwidth. She fell once on the Downclimb but redpointed the pitch her next try. She then climbed cleanly through The Move pitch and onto the Tower of the People, where Alex Honnold jumared out and her fiancé Adrian Ballinger rappelled in to take over the belay. She faced hot conditions on The Golden Desert, falling once at the start and again at the finish.
"I had one of those magic days though—despite some setbacks with whipping in the sun on Golden Desert," said Harrington. "Adrian was like 'You can do it just try one more time,' and I had one of those tries where you kinda want to let go but something inside won't let you and then entire way you're like, Oh no, I'm still holding on. What does it mean? Then you arrive at the anchor and you're like OMG, it's going to be a long night."
She redpointed the Golden Desert pitch on her third try. She then sent the A5 pitch her first try. "I've never been more tired or scared leading the final 5.11 pitches out, said Harrington. "Fully at my limit physically and mentally—just like it's meant to be!"
She finished the route at 10:30 p.m., completing a free ascent of the route in a day.
"Honestly it started out as a dream I never really thought I could achieve. But putting in the effort felt worthy and interesting at this stage in my climbing. After years of toiling (and almost dying last year) I realized that maybe I actually was capable." Harrington estimates that she invested a few dozen days into the route, making it a serious project in the last two years. "But free climbing El Cap in a day is such a game of errors and margins. Nothing is ever perfect up there so you have to just keep pushing through until you manage it."
Harrington is the first woman to free Golden Gate in a day, the fourth woman to free climb El Capitan in a day, and the fourth person to free Golden Gate in a Day.
Lynn Hill freed the Nose (VI 5.14a) in a day in 1994. Steph Davis and Mayan Smith Gobat climbed the Freerider (VI 5.13a) in 2004 and in 2011 respectively. Alex Honnold, Tommy Caldwell, and Brad Gobright all climbed Golden Gate in a day in the past decade. There have been approximately 25 people who have free climbed El Capitan in a day, most often by Freerider (VI 5.13a). The ascent solidifies Harrington's status as a world-class big wall free climber.