Ethan Pringle – Pro Blog 3
Heading out the door? Read this article on the new Outside+ app available now on iOS devices for members! Download the app.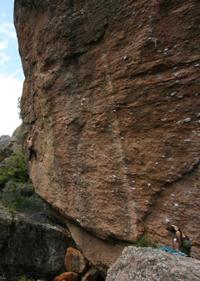 January 8, 2007
Ah yes, back to my life on the rocks. The day before yesterday was my first full day of outside sport climbing in over three weeks. It's a good thing, too, because I was beginning to lose motivation after taking such a long break from real climbing. But after Saturday, I'm psyched again.
Audrey, Karl, Natasha, and I went to Pinnacles for the day and for those of you who have never been there or seen pictures, it's a little like climbing big piles, or pinnacles of petrified mud. Imagine maple canyon, but the formations aren't caves, it's not nearly as steep or sandy, and the cobles aren't nearly as big. The cobles that break don't leave nice huecos, they just break in half leaving sharp little chicken heads, but the rock is surprisingly strong and the routes surprisingly fun.
Going back to the Pinnacles was a bit nostalgic for me since it was the first place I ever sport climbed outside. We climbed on the most popular wall, the Monolith, which has a handful of classics including P.O.D. (Post Orgasmic Depression) and Foreplay, which we warmed up on. Another 5.10+ warm up, Hawaiian Noises, that I led sans stick-clip, had the first bolt about 35 feet up, and by the time you clip the second your about three-fourths up the route.
Unfortunately, a few rusty bolts at Pinnacles have been known to snap off under about five pounds of pressure (as the first bolt of Hawaiian Noises did before it was replaced), some sketchy-to-protect cracks could use bolts, and rap-bolting could be allowed to make some routes safer, and make new routes. These conditions might be the result of regulars' preference to keep Pinnacles' reputation as a "traditional" area instead of the sport crag that it actually is. Oh well … it keeps down the crowds — wait, no it doesn't.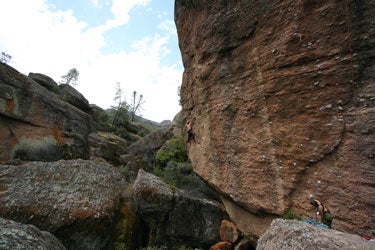 January 19, 2007
So here we are, John Dickey and I driving home from Bishop for the third time this Season. Since my day trip to Pinnacles, I have mostly been climbing in the gym and trying to get out surfing as much as I can, even though it's been really crappy conditions. I went to the Valley for a day of bouldering with John. I ended up climbing a couple climbs I had already done but also got on one new thing called Park Life (put up by Tim Clifford) that has not had a second ascent. The boulder is located on — not near, literally on — the Lower Yosemite falls trail and the problem overhangs a paved part of the trail so when you fall, you fall right on a paved path. I didn't send it, but definitely got some funny looks and comments from the groups of tourists that would pass by every other minute. "That's a mighty large backpack you got on there … " and "Dang, howdya hang on that wall, Spiderman?" John managed to get a picture of me on the problem with some tourists watching in the background. Sweet.
I got a message from Chris Sharma saying he was in Bishop and would be psyched if I made it out to Bishop to hang and climb, So Natasha "Badass" Barnes, Mark "The Big Meal" Heal, Gabbi "Gun Show" Masse, and I, "The Pile Driver," piled into the Liberty and were off to the east side. The afternoon we arrived in Bishop was frigid, even in the sun. But every day after that was perfect … not a cloud in the sky. Mammoth had record low snow levels maybe due to global warming (excuse me, "climate change"?) However sad that may be, it was pretty hard to deny how awesome the weather was for rock grappling.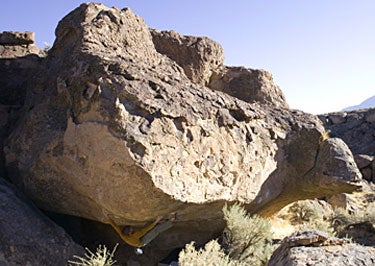 I met up with Chris at the Happies and we worked on the Goldfish Trombone, a really powerful and pretty long roof problem that I had dismissed as impossible choss on previous trips, but after hearing of Daniel Woods' recent success and seeing some impressive pics of DW on it, I was interested to try it. At first Chris and I were getting totally spanked by the crux move and were almost ready to give up, but after the discovery of a janky but efficient toe-hook we were both able to stick the move without our feet cutting. Chris was trying another exit, which had not yet been done, that we dubbed the Golden Boner. After realizing that he could actually do the normal exit that he had originally thought blank, he started giving it back-to-back redpoint attempts without even taking his shoes off. He kept getting higher and higher, and eventually sent, at which point he declared the problem "a good training route" — good for him since he was "out of shape." I vowed to come back to the problem after a rest day when I would be more "out of shape."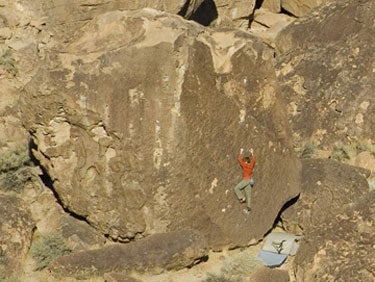 I came back after a rest day with fresh tips and an optimistic attitude. It was quite a bit warmer than the previous day I had tried it, but I thought I had enough time to do it before it got too hot. On my fourth try of the day, I fought all the way through the lower crux and got all the way to the very last move before my right hand busted off the crimp and fell. It was definitely a heartbreak, but it made the send — which came on my next try — all that much better. It was good, because the temps were nearing their high point and I was completely out of energy.
The next day I was resting, but hiked up to the Bardini boulders anyway with Chris, Lisa Rands, Josh Lowell, Peter Mortimer and others to carry a pad up there, spot, and just hang out in a beautiful place. Lisa did really well on the magnificent highball This Side of Paradise, but understandably backed off the last big, committing move because of numb digits and a slightly insecure feeling. Chris also did really well on my project, the magnificent highball on the other side of the boulder that Kevin did the first ascent of not two weeks ago, and figured out a really good looking sequence for the crux. The next day we were back up there and after trying my old sequence one last time, I tried the sequence Chris and Wills figured out. After getting a high point trying it the new way, I new it would go. On my very next try I stuck the crux move for the very first time, climbed the remaining 20 feet, and, yelling and screaming, topped out.
It was such a good feeling to finally connect the move and stick the pinch that I had tried so many times before without even coming close. I thought about jumping down from some good holds at about the 20-foot mark, but as soon as I started to do the next move I thought about how there were only a few more moves left and committed myself to going for it. I was doing the final tedious slab moves pretty smoothly, but my fingers were numb, so I couldn't really feel if I had the crimps in the right spots and I was hyperventilating. I could hear the nervousness in Chris' voice saying "C'mon Ethan," but tried not to let it get to me. After I topped out and regained composure, John confessed to me that he almost fell off his ladder he was taking pictures from because he was so scared. I was so psyched to get to the top and also that it was documented. Soon after, Chris stuck the crux and climbed up to the good holds at the 20-foot mark, thought about topping out for about two seconds then jumped down. Who can blame him? I repeated This Side of Paradise just for fun and was spent. Then it was off to Whiskey Creek for a happy hour celebration. All in all, it was a very fun and productive trip, but I still have to do The Swarm, so I'm sure I'll be back soon.
—Ethan Pringle