Ethan Pringle – Pro Blog 5
Heading out the door? Read this article on the new Outside+ app available now on iOS devices for members! Download the app.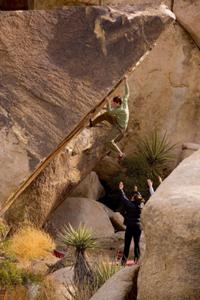 2/13/07
Another hallmark holiday is here. All of these commercial, consumer holidays usually just make me want to puke. Greeting card companies — according to the movie Fight Club — invented Valentine's Day.
This weekend our good friends Cary and Damo flew Natasha and I down to southern California to climb in Joshua Tree. After filming us and other climbers, including Chris Lindner in J-Tree last year, they realized they needed more footage and interviews to fill in the blanks.
They also needed me to get back on Iron Resolution. It was my third time climbing this amazing boulder, and the most amount of tries it took me to repeat it. The first time I sent it (and the first time I repeated it), I did it first try of the day. But, this time, it took me several tries to do, and I was getting pretty frustrated, thinking I wasn't going to be able to do it again.
For those of you who have never heard of or seen this climb the story goes like this: This boulder (in the Barker Dam area that held two Tony Yinaro offwidths on either side) fell over after a prolonged rainstorm, like, four years ago and revealed an unbelievable wall that had been flush against another rock. (You can actually see a couple bolts on the underside of the boulder.) The angles on the wall are almost perfectly flat, which makes it really unique. I can easily say it's the most incredible, beautiful and fun to climb problems (apart from a couple in the Buttermilks) I have ever done … three times, now.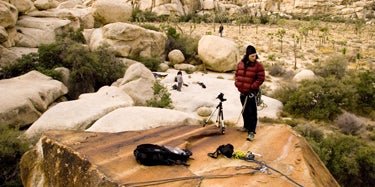 After the Barker Dam, we met up with some friends from San Diego and headed out to Geology Tour Road so Buck Branson could hop on The Peanut, a climb I established the year before. Natasha repeated the classic highball Slashface. The only new problems I climbed were a few I hoped on right before we left to go to the airport on Sunday. They were located near the Barker Dam, in a cave-roof thingy that is nestled up in the side of a cliff, with a beautiful view, called Alister's Cave. There is a cool V7-ish traverse called Sex Magician and a couple cool but slightly chossy roof problems whose features reminded me a lot of Hueco, called Diary of a Dope Fiend (V9) and Perpetual Darkness (V10). I only had an hour to climb there so there wasn't much resting involved.
Both nights we ate at the famous café/ restaurant, Crossroads. It's a must after every long day at the Tree, at least the days you don't camp there. There was even some time to pick up a couple "To Go" orders on the way to the airport.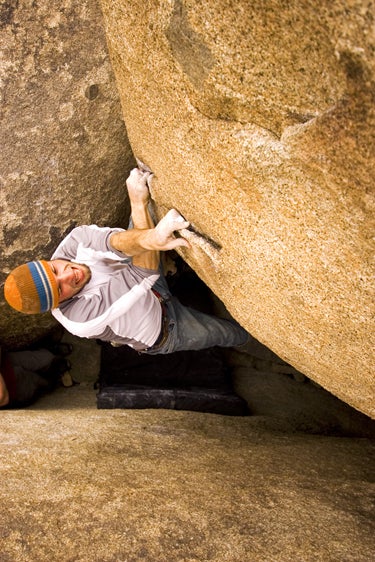 2/20/07
Well, another USA Climbing/ABS Nationals has come and gone. As our Southwest airlines flight (that felt more like a five-hour ride on greyhound) taxied to the gate in Baltimore, I observed the passing lumps and patches of ice on the runway and decided to check the weather more carefully when coming to a place like this in early February. It was zero degrees at night, with a slight wind.
Sometimes I have too many thoughts swirling around in my head to write this. Should I use this blog for good or evil? I don't know. I was thinking about how funny (but also depressing) it was to watch a really old VHS copy of the 1988 International Invitational at Snowbird, that my friend Tom "Bitter" Helvie popped in his video player, a few weeks ago in Bishop. It was the first major sport-climbing competition held in the US, was broadcasted live on NBC, and announced by a really famous african american announcer that I even recognized — can't remember his name now. In that comp, the Frenchies came over and showed us Americans what sport-climbing technique really was on the 80-foot, vertical (except a small roof and slab … and I mean slab, and headwall at the top) wall that was built on the side of the hotel. That was comp climbing's "15 minutes." I wish that movie were on YouTube. Hint, hint, nudge, nudge, Tom.
I remember watching Sharma win the bouldering X-Games in San Francisco, under the Bay bridge. It was one of the most awesome things I had ever seen, but ESPN didn't use a single frame of footage. I remember when all the mag's would reserve at least a few pages of every issue to comp climbing in the United States and a few to the international scene, and even the regional and local comp results were posted. I remember Sport Climbing Magazine …
Photo by Damon Corso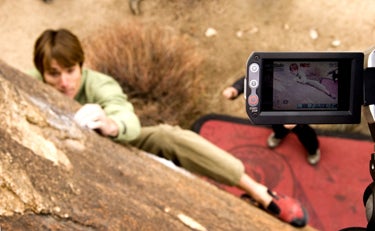 Anyway, I think the highlight of the trip to Baltimore, besides freezing my ass off walking to and from our hotel and the comp, was finding out that the hotel we were staying at was hosting a foosball tournament, which probably wasn't the nationals, and had a $250,000 cash purse. I'm really not the bitter cynic that I seem. It was actually really fun to see and hang out with some friends I only get to see in this kind of setting, even if a few of them set the finals routes a little too easy. They work hard and I still love them.
Things are looking up, dammit. Things will change, climbing will grow and become sort of mainstream, probably even in my lifetime. El Cap will be the Bonsai Pipeline of rock climbing.
On a happier note, I'm so freakin' psyched to be heading to Hueco tomorrow, and then on to Arkansas bouldering! If I can see as many badass boulders as many times as I have watched the Ozarks dose, the trip will be worth it. It's a chance for me to grip some real rock, and lay of the plastic for a little while (that $hit's dangerous).
—Ethan Pringle