Ethan Pringle – Pro Blog 7
Heading out the door? Read this article on the new Outside+ app available now on iOS devices for members! Download the app.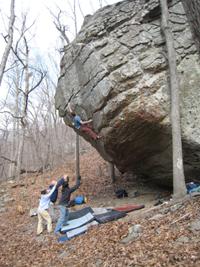 Sup Everyone! Long time, no blog.
I know, I know, I've been slacking. But I'm back! Finally back home, that is. Coming back home after almost two months on the road felt like it normally does, like I never left.
Memories from the last two months are blurred together into one long day which begins with an oatmeal, peanut butter, maple syrup, and banana concoction, and it ends with an extra large bowl of Basmati rice (that came from a 20lb bag purchased at Costco for less than $10) mixed with an assortment of veggies. After that, it's reading in the tent, or in the car if it's really cold. Everything in between mostly consisted of farting, too many gay jokes (kept to a minimum in Arkansas) and wrestling pebbles until our fingertips screamed for us to stop.
After Hueco, we visited many great bouldering destinations — a week in the Arkansas Ozarks, a few days in the Front Range, a week in Joe's Valley, and a couple days in Little Cottonwood Canyon to top it off.
On the way to Arkansas from Hueco we spent the night at a Wal-Mart that was located outside of Dallas. I had spent many a night in Wal-Mart parking lots on a previous cross-country road trips, but that was when we had a pop-top euro van that we never had to leave the comfortable confines of. It was a pretty restless night on the crash pads, and we awoke to guys cutting the lawn mere feet from our heads.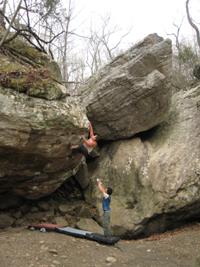 Our first two days climbing in Arkansas were blessed with perfect conditions — clear skies, cold with a slight northerly breeze. I was on a mission to check out all the climbs that were featured in the Sharma in the Ozarks Dose. But before that, I had to check out Arkansas' hardest established sport route, "The Prophet" rated 5.14a (probably by someone other than Chris), which was a five-minute hike from where we were camped. I sent the route on my 3rd attempt and decided it was probably closer to 13+, but it was still a fun route. The next day we took a day trip out to a trad/sport/bouldering area called Sam's Throne. My mission was to climb on the "King Lion," a boulder I had been dreaming of climbing on since I first saw it in Dosage 3. I had little expectations of how it was going to go because it just looked so hard in the video, and even after a few attempts, it felt like something that would take me days to redpoint. All it took was a little fingering out though, and after about an hour, I found a way to do the seemingly impossible iron-cross move keeping my feet on and a few tries later, sent the rig. It turned out to be one of the coolest boulder problems I have ever done, so I was very thankful we didn't wait to go to it, because it got super hot and humid on our next climbing day.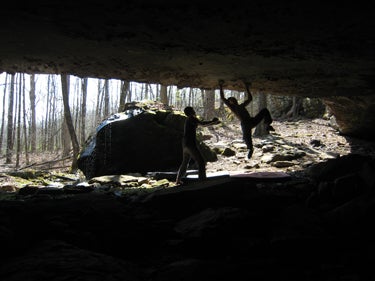 Next it was off to Boulder for a few days before going to meet Natasha in Joe's Valley for her spring break. Again, we scored splitter weather for the first few days before it crapped out on us and started snowing. We did manage to get a couple good days in though. Our first day out was at the classic area, Flagstaff Mountain, where there are many old school test peices. I did a really cool, slightly scary V8ish problem called Hollow's Way. The next day, after waiting until 1 p.m. for Daniel Woods to get out of school, we made the 2-hour drive (2 hours because Daniel was engrossed in conversation with his g-friend, Lara, the entire time instead of paying attention to where we were going, and we kept getting lost) out to Poudre Canyon for a short session. Warming up, I felt like I probably wouldn't be able to climb anything above V6 and had a terrible ache in my forearms from my last climbing day in Arkansas, so when I got on the test piece, Circadian Rhythm, it pretty much felt impossible. But like a lot of climbs that feel impossible at first, I was able to figure out beta that worked for me, this time that beta involved doing one big move to skip the first three, and ended up sending the climb in about an hour. So the day turned out to be one of my best of the trip, even thought it started out as one of the worst.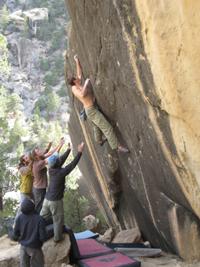 After the snow started to fall by the foot in Colorado, it was off to Joe's Valley. Joe's has really become a major bouldering destination over the last couple of years, although I'm not sure I would agree that there are 10 (or, was it five?) reasons that it is better that Hueco. Anyway, it was cool to hang out there for a week, relax in the desert sun, spend time with Natasha, who I hadn't seen in a month, and just climb on boulders that were new to me. It was cool to do Black Lung just because the rock and the holds on it are so unique — even if I did use the beta that made it heaps easier than the way it was originally done.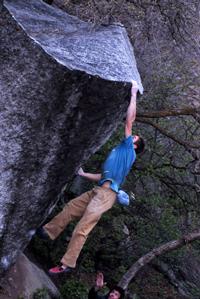 My last two climbing days of the road trip were spent hanging out in Salt Lake City and climbing in Little Cottonwood Canyon, which was really cool because I had only climbed on granite that one day in the Poudre, and because I had never really climbed in LCC before. Those turned out to be two of the best days of the trip.
All in all, it was a wonderful and productive trip. I made lots of new friends and got to see some old friends that I hadn't seen in a while. And most importantly, it was a learning experience. The headache of responsibility has come flooding back now that I am home again. The escape of the climbing trip washes away, and I am once again faced with reality. To-do lists are written, and errands are ran, and again I am stuck walking the dog while my parents are out riding a hundred miles on their bikes (I hope I am as active as they are when I'm half their age!) and back to climbing in the gym — what a drag. I just have to keep in mind how minor my responsibilities are compared to most people. At least I'm not stuck behind a desk staring at a computer screen for hours on end… There will be more rocks to climb, more trips to be planned, and more good time to share with friends soon enough. I think Squamish might be next. OK, I must go do my taxes!
Hopefully I will be able to get out to the beach this week if these ballistic onshore winds die down for long enough. Till the next installment, peace, and don't forget to stop and smell the roses.