Fallen Soloist: "I'm remorseful for what happened"
On April 11, 2021, 31-year-old climber Josh Ourada fell approximately 150 to 200 feet while free soloing Nutcracker, on the Manure Pile Buttress, Yosemite. Climbing magazine caught up with Ourada in a phone call to find out more details about the accident and to learn how his recovery is going.
Heading out the door? Read this article on the new Outside+ app available now on iOS devices for members! Download the app.
Q&A with Josh Ourada
For how long have you been climbing? What kind of climbing do you do the most?
I've been climbing for 10 years, I spent probably like seven or eight of that strictly bouldering. In between those times I've always soloed stuff, just whenever my mind felt right.
The past two years I focused more on rope climbing and trad climbing specifically, with an emphasis on single pitch climbs and working my way toward El Cap.
Me and my friend did Lurking Fear in a day—our first time up El Cap—two days before my fall. That was the intro to wall season for us. We aided a lot of it. At the end of the day you just want to get up however you can.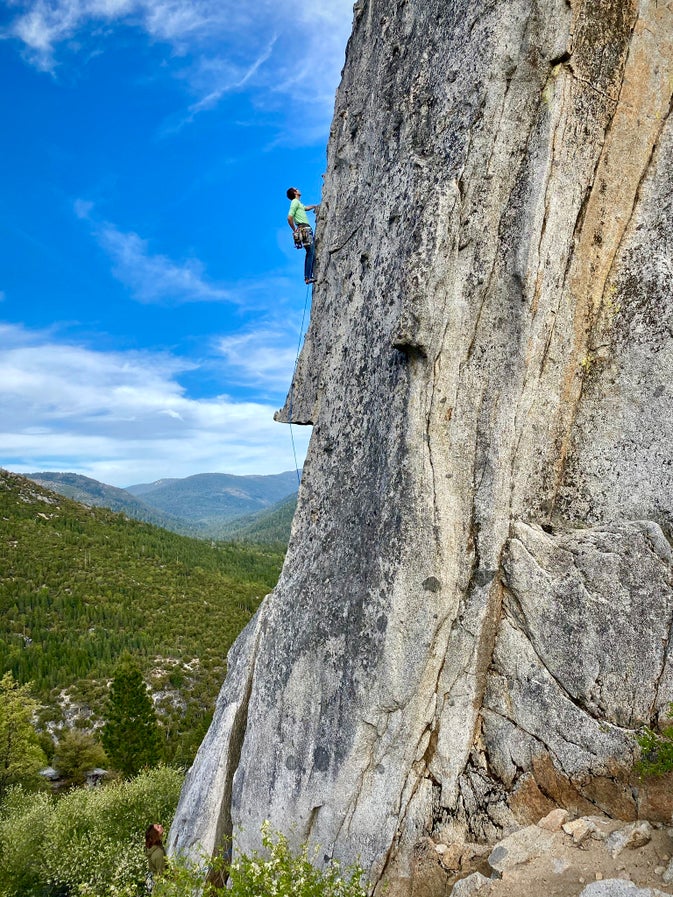 How are you doing in your recovery, physically?
Physically, let's see…. I mean, they say I'm doing better than the average patient. But walking is still an unknown. At the moment I'm paralyzed from my ankles down. No feeling, no movement. And it's still unknown if that will ever change. I just started doing some rehab today. They said it looked better than they expected, but it's going to be just a lot of rehab and PT and then hopefully I can figure out how to move my feet again one day.
But for what happened, I came away pretty good, all things considered.
How about mentally and emotionally? 
That's kind of day by day. Some days it's better. The first days when I got in a wheel chair were great, moving around again. But then today, for example, I was pretty down: reality begins to set down. Realizing what the future and longterm is going to be, and thinking of how my life has changed and what I'll be able to do… it's hard.
What do you remember about the fall?
So let's see. I was climbing Nutcracker. I think I was like halfway up the fourth pitch. There's this little cruxy bulge section with some hand jams. I've done it before, and I've soloed it before. I'm pretty sure what happened is that I had a foot or a hand slip or both. So then I started falling. If I remember right, my back was against the wall, and I was trying to scrape my heels in to slow down. It's less than vertical. I was using my palms to try to slow me down, too. I was just trying to grab or do anything I could to slow down. I ended up with a bunch of road rash.
The place I was falling, there was a party underneath me. I don't know if I did this consciously or subconsciously, but I think—or at least hope I was thinking—that I was trying to find a place that would keep everyone else out of it.
So then I fell onto this ledge at the top of the second—start of the third—pitch. There are some boulders on it that I think I landed on? I'm not sure. When I landed someone jumped out of the way. That was the person who sat there and held me the whole time.
I don't remember exactly what happened after I fell. That guy held me and made sure I wasn't moving my body too much. I'm not sure if he called 911 or other parties on other routes called 911. At one point I gave him my phone and had him text some of my other friends that were in the Valley to let them know what was going on it.
Then search and rescue showed up. They got me in one of the litters and they were debating whether or not to just lower me on ropes or get me out with a helicopter. I'm not sure how they decided, but they ended up using the helicopter to haul me out.
From there they helicoptered me out to El Cap Meadow and then transferred me to another helicopter and that's when I ended up in the hospital.
For how long have you been a free soloist? What was your experience with the route beforehand?
I'd done Nutcracker without a rope before. And I'd climbed it with a rope a lot, too. It wasn't something I went into with the mindset like, I might fall. You go in with the confidence that you know exactly what to do, and you execute. I've backed off solos before because I don't feel comfortable, or don't feel like I mentally have it that day. The day I fell definitely felt like it was within my abilities and I felt confident doing it.
What would you say to those who call your actions irresponsible? 
That's  a great question; that's been on my mind all day. I'm going to start off by saying that the person I almost fell on and the person who helped me through the whole rescue—the first thing I said to him is, "I'm sorry that I put you into this situation." From the get-go, I'm remorseful for what happened and that other people were involved. Generally I don't like soloing while other people are around.
Was it irresponsible? To an extent yes. I think I said this in a Mountain Project post, but whenever I solo I always ask people if I can pass them. If they say no, I hang out or stop climbing. I don't want to put them or myself in an uncomfortable spot. 
Up until this accident, I haven't thought too much about it. But in my opinion, if someone lets you pass… It's not something we really think about, but if you let a soloist past, you are accepting a certain amount of risk, the same as if you let a roped party pass and they knock rocks down. If I just blasted by without asking anyone, that wouldn't have been okay. I asked everyone and they all said okay. I almost didn't solo anything that day because there were so many climbers—and obviously now, hindsight being 20/20, I wish I hadn't.
Soloing is irresponsible regardless—there's no excuse. I feel like I try to minimize the irresponsibility. And I feel really bad that I put anyone in that situation that shouldn't have had to be there.
Basically the main thing I want to say is: I never intended to put anyone in harm's way.
What has been the reaction from family and friends?
Everyone has been supportive. Everyone is just glad I'm alive because I probably shouldn't be. I don't know if the topic of me soloing will come up from friends and family for a bit because, you know, I'm not even out of the hospital yet.
I'm not sure my family knew I soloed. Friends knew I soloed stuff and did big stuff in the mountains by myself, but I think they assumed generally that I'm pretty calculated about what I do; that I don't do it for attention and that I only do it for me and only if I'm comfortable on the terrain.
You plan on climbing again it sounds like, right?
I would like to do some form of climbing. I have a friend who is an aid climber who told me paraplegic climbers have done big walls in some form or another. Even if I'm just jugging I would like to do that. But since my injury is only ankle down right now, I hope I'll be able to figure out how to do some sort of aid-style climbing, if not free climbing.
Soloing will be out of the books for good.