Big News On El Cap: First New Route in Years, and a Fast Free Golden Gate Ascent
Adams and Wickstrom establish 1,100 feet of new terrain; Warme and Karow go ground up on all-team-free ascent.
Heading out the door? Read this article on the new Outside+ app available now on iOS devices for members! Download the app.
Taking advantage of cool, clear conditions in Yosemite in May, two teams made major ascents on El Capitan. Kristoffer Wickstrom and Brandon Adams established the Neptune (VI 5.10 A4) on the Southeast Face, where they followed discontinuous beak seams and crisscrossed nearby lines on 1,100 feet of new terrain. Meanwhile, Amity Warme and Tyler Karow—without previewing—swapped leads up the difficult free climb Golden Gate (VI 5.13a) on Southwest Face over five and a half days.
Between May 17 and 28, the former Yosemite climbing ranger Adams and his friend Wickstrom, an aerospace consultant, added the demanding aid climb Neptune. The line follows the thinnest of cracks located climber's left of Space, with micro-beak seams that at one point, near the Pacific Ocean Wall, ascend a massive roof. The new route intersects Tempest, Pacific Ocean Wall, Dawn Direct, and Every Man for Himself.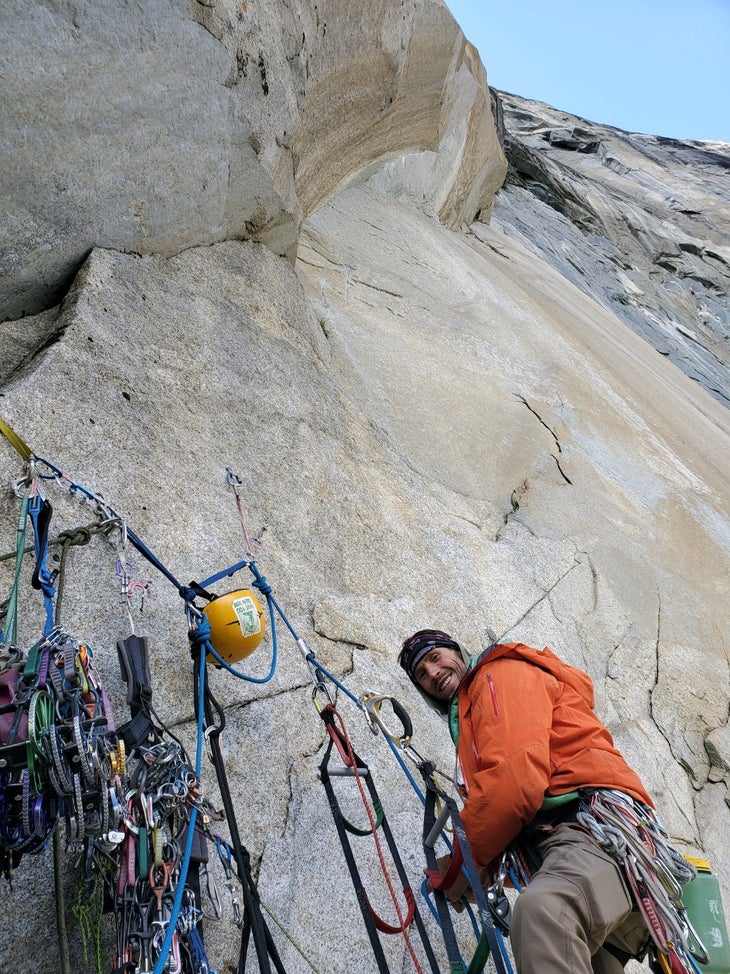 "I think it's the coolest part of the wall," Adams says. "You get on the [micro beak] headwall on the second pitch and follow that to the top. It just goes on forever. It pieces together independent climbing with some of the best pitches on the neighboring routes. I'm psyched for someone to repeat it."
According to the American Alpine Journal (or AAJ), before Neptune, the most recent first ascent on El Cap was in 2019 by Steve Schneider, his wife Heather Baer, and various partners with Bellagio (VI the 5.9+ R A4), located near Mirage and Lurking Fear. If you include all the variations—some as short as a single pitch—El Capitan has some 100 routes.
Neptune marks Wickstrom and Adams's second El Cap first ascent. In 2018 they authored the 5.10 A4 Ephemeron, which parallels the Nose via endless beaks. Though it's seen two attempts, the line has not been repeated in its entirety due to the slow, complex nature of the terrain with the risk of a long fall.
Though rated the same, Neptune is more challenging than Ephemeron, the two believe. To ascend the cracks on Neptune, they relied on long stretches of Wickstrom's handmade "Bleaks" —pitons that are miniature versions of the smallest beak on the market, and which he made in quarter, half, and three-quarter sizes. To get through aid boulder problems, Wickstrom and Adams would string a series together, bounce test them until failure, then reset the nest and try again. They repeated this step three to four times before getting the tricky aid placements to stick in the shallow depressions. Sometimes whole pitches would consist of beaks, with only a single cam in the entire span. Building these beak-tip nests, sometimes in features that they couldn't see until they were right on them, allowed the team to drill fewer holes on Neptune than others have on neighboring lines.
Adams has climbed El Capitan 54 times via 33 different routes; and while Wickstrom hasn't kept an exact record of his ascents, he's climbed it once or twice a year since 2006.
Adams says of the route, "We were chasing good scenes and golden rock."
---
In the other newsworthy ascent, over May 24 and 29 and climbing from the ground without pre-inspection or pre-stashing of haul bags, Warme and Karow freed the 36-pitch 5.13a Golden Gate. They didn't know which key placements had to go where, and they had to figure everything out on the fly.
"It really does increase the challenge," Warme says. "Going into the 5.13 'Golden Desert' pitch, I took the whole rack with me."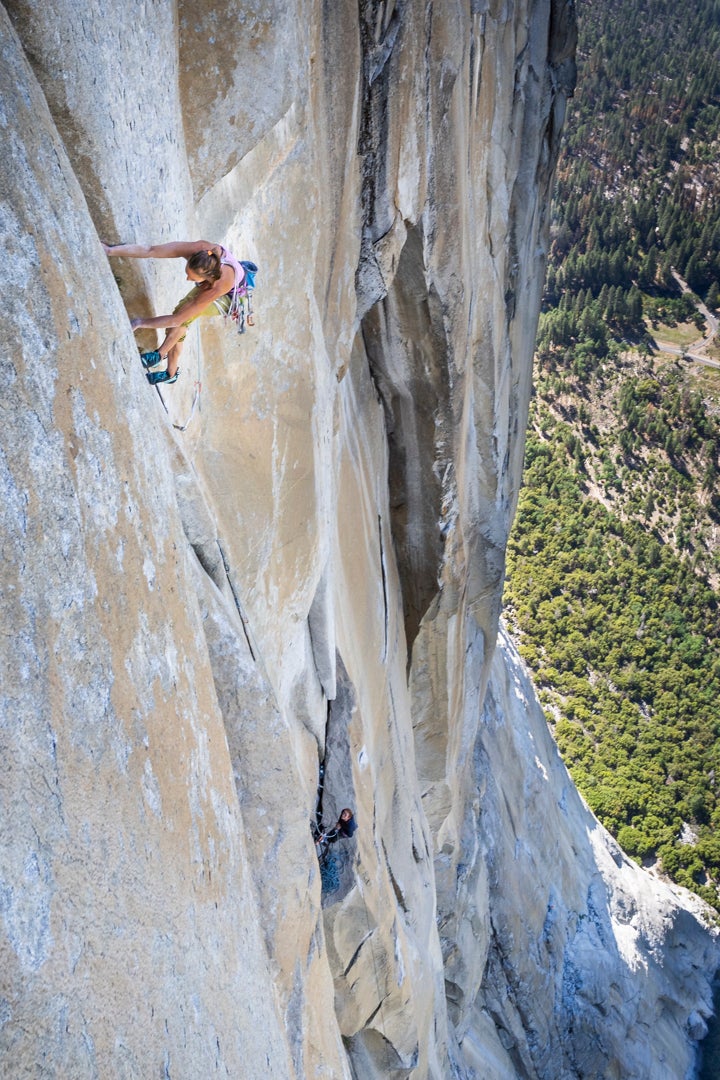 Warme is the fourth female to climb the route. Hazel Findlay (UK), Emily Harrington, and Bronwyn Hodgins (CAN) freed the iconic line established by the Huber brothers (Alex and Thomas) in 2000.
Both led the crux pitches.
"This was a team effort with each of us bringing a different skill set to the table but doing an equal share of the work," Karow says. "I came with the wall and logistical knowledge. She brought the hard free-climbing knowledge."
The climb was Warme's second free ascent—both done this season—of El Cap, and Karow's first. The two met three days before setting off, having hatched the plan over texts.
This season before Golden Gate, Warme did Freerider on El Cap, all the long 5.13s on Fifi Buttress, the 5.12b Crucifix on Higher Cathedral Rock, and the 5.11c Freestone at Upper Yosemite Falls. She's a sponsored climber and a full-time student earning her Master's Degree in Sports Nutrition at the University of Colorado Springs.
"It was super inspiring for me to watch her try so hard, which was part of the motivation that enabled me to send," Karow says.
Golden Gate marks Karow's first free ascent of El Cap, his 10th overall, and sixth this season. His climbs include setting the speed record on the 2,900-foot, 5.9 A3+ Sunkist on El Cap, and doing both the Nose on El Cap and Northwest Face on Half Dome in 16 hours. He also did the seldom-repeated 5.11+ R Autobahn on Half Dome. Additionally, on El Cap, he ticked The Shield in fewer than 12 hours and the Salathé Wall in 11. Karow is a civil engineer who quit his job two years ago to climb full-time. He shares many of his ascents on his YouTube page.
Both climbers live in their vans, with Karow basing out of the Bay Area, and Warme from Loveland, Colorado.
"I knew she was a strong partner and had good endurance," Karow says. "I asked her to do it, and two days later we were on the wall. It goes from thin desperate slab to heinous offwidths, and contains some of the best crack pitches I've ever climbed."
Before Golden Gate, Karow had only done three pitches of 5.13 (all sport), whereas Warme had climbed close to 75 routes of that grade. 'I've spent a lot of time honing my onsight skills in sport and trad," Warme says.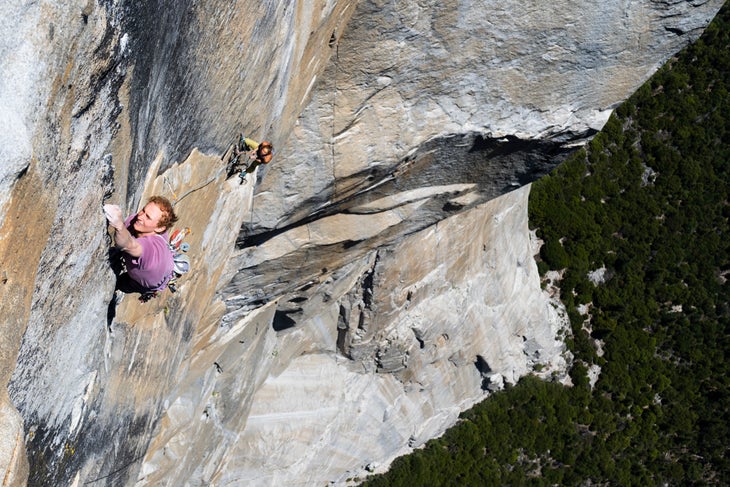 Leading and hauling 150 pounds of gear up a 3,000-foot cliff is the hurdle that prevents many big-wall teams from success.
"A lot of people think that just because they can free climb 5.13, they can free El Cap, but I think that having your big wall systems dialed is far more vital for success," Karow says. "The complicated hauling and shenanigans and the traversing pitches made the logistics quite complicated. But we crushed it on that front. We packed supplies for eight days and did it in five and a half."
After Golden Gate, Warme headed back to Colorado to climb in RMNP with her husband, Connor. Karow is heading up to Alaska to climb in the Ruth Gorge.
See this film on the Golden Gate ascent:
Sending Golden Gate on El Cap Ground Up (5.13a, Grade VI)