Interview: Flying Kites—Bringing the Outdoors to Kenyan Kids in Need
Heading out the door? Read this article on the new Outside+ app available now on iOS devices for members! Download the app.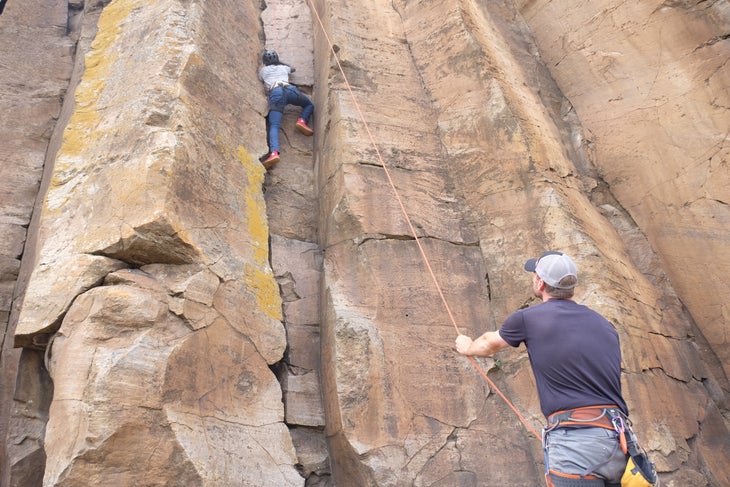 Imagine being 24 years old, a few years out of college, and you've legally adopted six little kids in Kenya. That's where Leila de Bruyne found herself in 2007. After spending summers volunteering in the slums of Nairobi, de Bruyne was disillusioned by the "rows of bunk beds and bowls of rice" model of raising orphaned children that was prevalent in the country. She decided to do something about it, so she adopted a half-dozen children and rented a farmhouse in the mountains. Two years later, she was the legal guardian of 26 kids, and the children's home, Flying Kites, was born.
That same year, de Bruyne met Mike Chambers, a 23-Year-old who was living in his parents' Boston basement in between climbing and surfing trips. Flying Kites was struggling to raise money due to a flailing U.S. economy, but Chambers had found some fundraising success running surf volunteer trips in Nicaragua. The two decided to put their heads together, living on an office floor in New York City for six months while they created Flying Kites Adventure Challenges, a program that operates fundraising trips to places like Kilimanjaro, Mt. Kenya, Everest Base Camp, and Machu Picchu. The money brought in from the clientele would go to help fund the Flying Kites orphanage. More than 10 years later, the program has raised a few million dollars for the organization and gotten them through the monetarily challenging start-up stage of a nonprofit.
Flying Kites has since grown into much more than a children's home. There's now a primary school, teacher training institute, and mentorship center. The campus is located on 10 acres of farmland at the base of the Aberdare Mountain Range, 99 miles of forested peaks that include Mount Kenya. At 17,057 feet, Mount Kenya is the second highest summit in Africa after Kilimanjaro. With Chambers's background as a climber, it was only natural that Flying Kites incorporate an outdoor program, where the kids get out to climb and enjoy the dramatic topography they call home. As Flying Kites just started a fundraising effort to get the kids some modern hiking, climbing, and camping equipment, we sat down with Chambers to see what role climbing plays in the kids' lives.
How would you describe Flying Kites?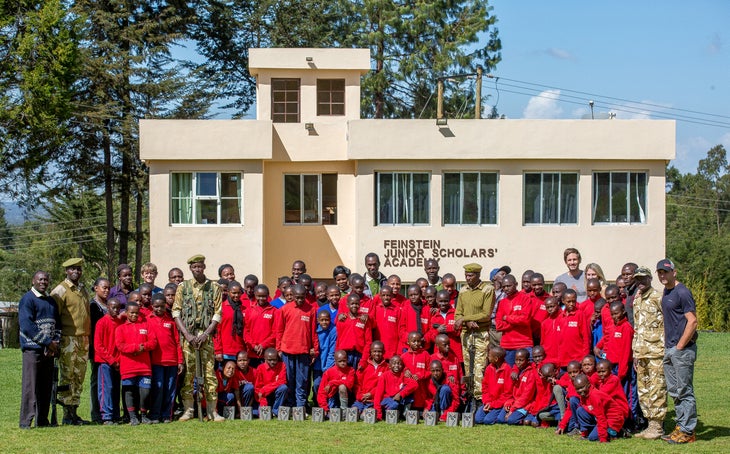 Flying Kites Leadership Academy is a primary school, teacher training institute, and youth mentorship center for more than 300 orphaned and critically poor children in rural Kenya. All of the students range between 4 and 21 years old. Many of them have experienced significant trauma as a result of their circumstances. When describing the approach to our work, we usually tell people that we are providing the kids we serve with a childhood that they would want for their own children. This means access to high-quality education, nutritious meals, a safe and caring home environment, and opportunities that allow them to push their boundaries and explore who they are as individuals.
This is where the FK Outdoor Program comes into play: Our kids absolutely love outdoor adventure, including hiking, climbing, camping, and running. We formed the program in partnership with Kenya Wildlife Service and the Kenya Scouts Association, and it focuses on developing skills and knowledge in three key areas: outdoor adventure skills (climbing, camping, navigation, survival, backpacking, etc.), environmental and wildlife conservation, and leadership and advocacy skills.
We're about an hour and a half north of the capital of Nairobi, and the Aberdare Range is one of Kenya's most extraordinary national parks, home to a diverse population of wildlife, like elephant, leopard, buffalo, and rhino, and peaks as high as 13,000 feet. However, poaching and illegal logging in the region has had devastating effects on wildlife populations, local climate, and economy. Efforts to combat these issues have been largely ineffective, often times focusing on solutions that are responsive rather than preventative. We believe that education is the most fundamental tool in the long-term fight against poaching and illegal logging, and the FK Outdoor Program plays a critical role in arming our students with the knowledge and tools they need to be strong environmental stewards.
What role does climbing play in the FK program?
Climbing is still a relatively new sport for our kids, but they are absolutely hooked on it! It's incredible to see how much joy it brings them—and they're damn good! Watching a 10-year-old with limited climbing experience send a 5.11a wearing pink Converse sneakers and a bicycle helmet really makes you think, "Have we truly seen the potential in the sport of climbing?" After all, climbing is only accessible to a small percentage of the world's population.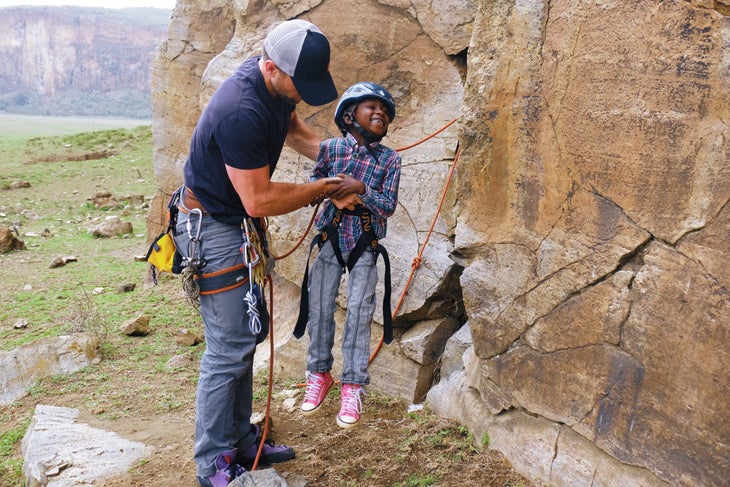 The nearest crag, Hells Gate National Park, is about an hour and a half away from our campus. We're only able to get the kids down there about once a month, which is why we're eager to build a climbing wall on campus. If we can build the wall, it will enable us to start developing the program and building a community around the sport. Who knows, maybe the next Alex Honnold or Sasha DiGiulian is sitting in a dusty village in East Africa, waiting to be given an opportunity to fulfill their destiny. Or maybe, for one kid, just having access to the sport will alleviate a small amount of suffering. Both of those thoughts excite me.
Tell me a little bit about your background with climbing.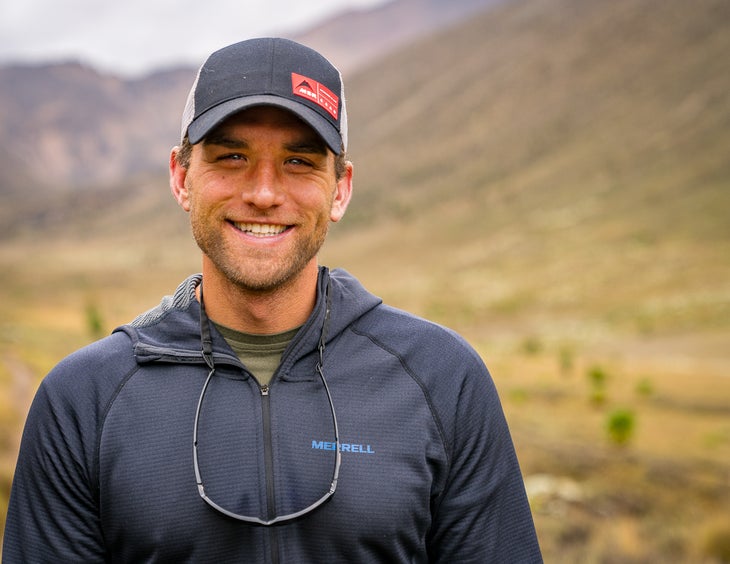 The mountains have been a part of my life for as long as I can remember. My parents met in the mid-1980s, ski-bumming in Jackson, Wyoming. They raised my sisters and I with a real adventurous spirit. Growing up in the Northeast, we spent every possible weekend in the mountains or on the ocean. As a young teenager, I struggled with depression, and the outdoors quickly became a place of solace for me. It was then that I was first introduced to rock climbing and mountaineering, and I never really looked back. I went to high school in the White Mountains and then to college north of the Adirondacks, and did my best to take full advantage of the great climbing and adventure the Northeast has to offer.
After graduating from college in 2009, I was chomping at the bit to travel. Since then I'm fortunate to have climbed all over the world, with 16 high-altitude expeditions, including two on Everest. In 2014, I organized and led the first Kenyan Everest expedition, which tragically ended with the avalanche that took the lives of 16 Sherpas. The experience really shook me, and I haven't been back to the Himalaya since…though I'm planning to return this fall.
As a climber, I'd say I'm not really "great" at any one discipline but have really tried to be "good" at many different disciplines. I really value all-around mountain competency; skill on rock and ice, big mountain endurance, and radical self-reliance. I'm still learning more and more every day, and I find immense joy in sharing my passion for climbing with others.
How is climbing different from the other sports the FK kids participate in?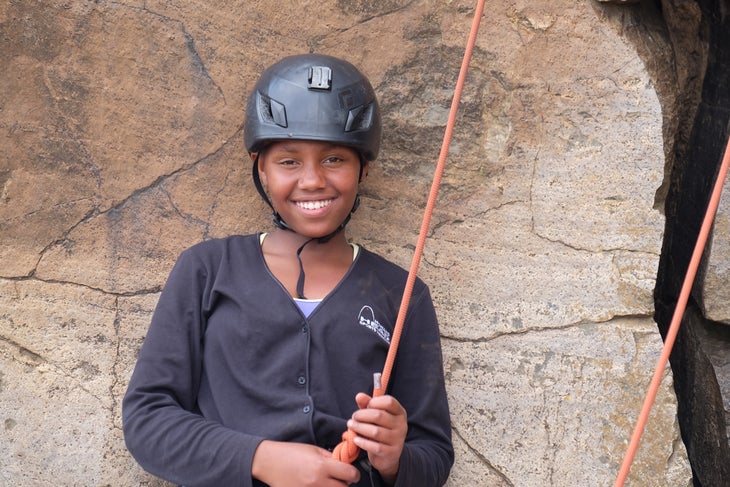 The kids at Flying Kites also play soccer, volleyball, basketball, and run cross-country. But climbing is different for two reasons;
It's such a unique activity in the context of Kenya. Whenever someone sees our kids climbing, they are absolutely shocked. This sense of uniqueness is something the kids really enjoy, it's as though it gives them an identity beyond the crappy one life provided for them.
Given that climbing is more of an individual sport, it gives kids the opportunity to really develop a sense of confidence. In team sports, it's easy to hide in the numbers and never really push yourself, but in climbing, it's just you and the rock. Watching kids break barriers is probably one of the most rewarding experiences in life.
How have you seen climbing affect the kids?
Orphaned and critically poor children are forced to grow up a lot faster than those born under better circumstance, and they often times feel unvalued by the world. For kids who've experienced this trauma, climbing can be an incredibly therapeutic and rewarding experience. The structure alone helps keep at-risk children focused and out of trouble, and it really helps them develop a sense of confidence.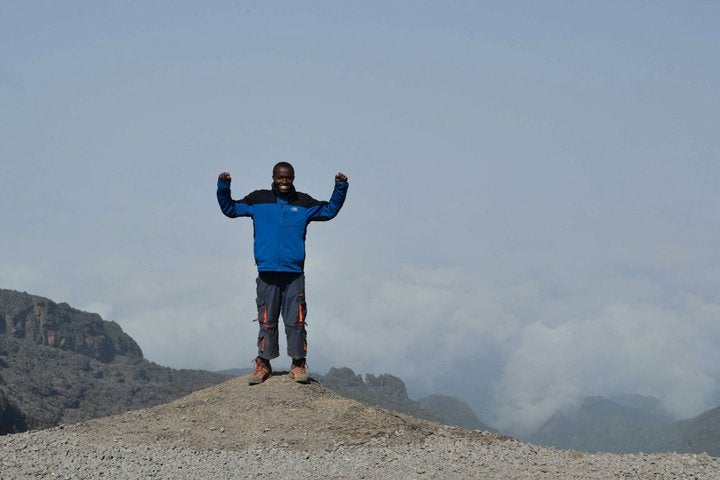 We have this one boy, Kama (name changed). His story is pretty incredible. From a young age he was homeless on the streets of Nairobi. At 14, he heard about Flying Kites from a friend, and spent weeks collecting rubber for a cobbler so he could afford the $2 internet cafe fee. When he finally earned the money, he looked up Flying kites on Facebook and sent us a heart-wrenching message. Soon after, we admitted him into Flying Kites. Kama had experienced a significant amount of trauma, and as a result suffered from mental illness. At Flying Kites, he was introduced to climbing and outdoors and he instantly fell in love. In 2012, we were able to help him realize his dream of climbing Kilimanjaro. He really struggled on summit night, but it was an incredibly powerful experience taking the final steps to the top with him—from the slums of Nairobi to the roof of Africa.
What is climbing in Kenya like?
Some of my favorite climbing in the world is in Kenya, not necessarily because it's the best but because it always serves up a real adventure. If you're a pure sport climber, it's probably not for you. There are probably less than six sport routes in the entire country. But if you like the idea of splitter cracks with zebra and giraffe grazing in the fields below, or world-class alpine routes at 5,000 meters, then you might want to consider a trip. There are a bunch of new areas being explored each year, some better than others, but the spirit of adventure is still very much alive in Kenya and that's becoming more and more rare.
How can climbers in the U.S. help the kids in Kenya?
In conjunction with the fundraising campaign equipment we're accepting new and gently used gear donation for the kids. Here is a list of our needs with the shipping address. We're just super grateful to anyone willing to help us with this initiative, and we'd love to extend an invitation to the climbing community to come to Kenya, meet our kids first hand, and experience the power of this program.