Freddie Wilkinson – Pro Blog 6
Heading out the door? Read this article on the new Outside+ app available now on iOS devices for members! Download the app.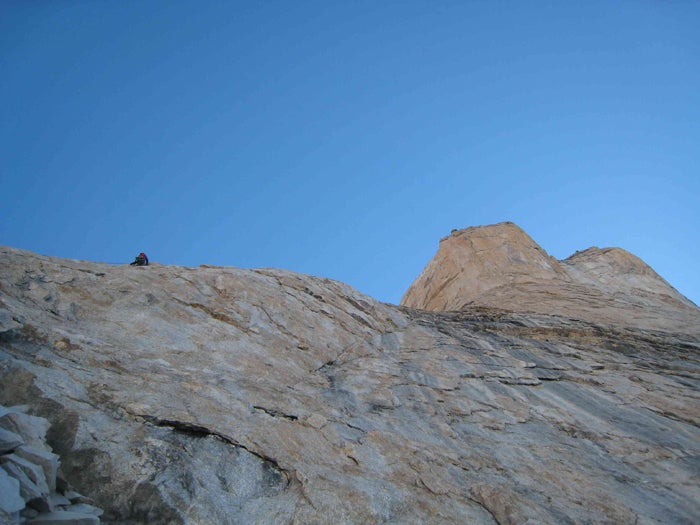 The slacker checks in….Online editors note: Sorry Freddie, no one believes you're a slacker!
As with so many facets of alpine climbing, our decision to try Mahindra came down to a question of logistics. Our gear was already stashed up on the Dali Glacier, and I'd be damned if I were going to hike up there, retrieve the kit, and go around to another glacier. Mahindra it would be. SEE Four Big Free Routes in India
The triple-headed mountain holds prime real estate, sitting at the head of the glacier. The face was steep and sustained, bisected by a single ledge system at two-thirds height. It appeared to be composed of high quality granite, but it didn't offer the kind of splitter crack systems that you might find in other alpine rock venues, like Patagonia or the Bugaboos. This would be a more subtle affair.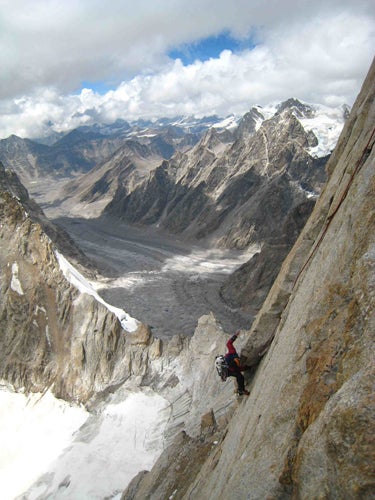 Quite frankly, I thought that in attempting Mahindra we might be biting of a bit more than we could chew. The only established route on the face was a mixed gully done by Czech hardman Dodo Kopland. Further right, an Italian team had attempted a slender corner in the middle of the wall, retreating from about half way up the face. The system began two hundred feet up the wall and then blanked out a couple of pitches higher — but it looked to be the best option for a speedy ascent of the wall. Still, I was doubtful that the line would go without a bit of time-consuming aid trickery.
I confess, however, that the real source of my doubts was a lack of confidence in my own fitness. 2007 hadn't exactly been a banner year for me as far as the rock climbing goes. Back home in New Hampshire, my girlfriend Janet and I were in the middle of building a cabin on a parcel of land I had recently bought. Between guiding and carpentry (I am a 5.2 carpenter – and I'm not being modest here), there hadn't been much time to train. As a matter of fact, my only outing the previous month before I left for India was a single dawn-patrol to the crumbling bulwark of Cannon Cliff.
Dave, however, was psyched. As we rested at base camp after climbing Peak 5960, his eyebrows began to twitch uncontrollably. Unable to exert any self-restraint, the Monster would disappear into the boulder fields each afternoon and ravage the granitic blocks. I knew I had to get him on something bigger before he blew his head gasket.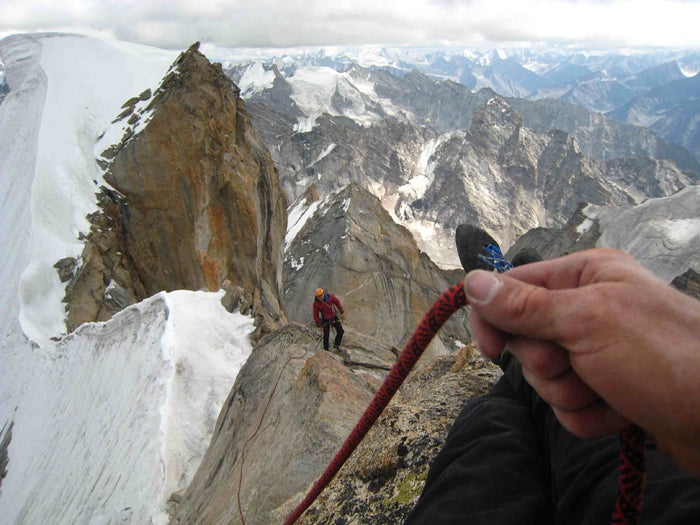 We returned to high camp and decided to take a day to recon the face, to scope the line at close range and fix our two ropes in preparation for a one-day ascent. Hoofing it up glacier in the early dawn hours, the hike from our bivy took longer then expected; the face itself seemed only steeper and blanker up close. Dave kicked steps past the 'schrund and cleared out a ledge at the start of the wall below an intimidating series of overlaps. I happily offered the Monster the lead.
Dave jig-sawed his way up the first eighty feet of the pitch before stopping below the highest and largest overlap. He shimmied right on a steep slab, trying to avoid the feature, but was stopped cold by blank rock and forced to reverse the sequence to a marginal stance.
"How's the gear up there? Maybe you can pull on a piece to get around that roof?" I queried hopefully.
"Mmmm…. I don't think that would be a good idea…" Dave replied pensively. Just when it looked like the party was be over, he muttered a terse "watch me", and made a blind reach above the overlap, jacked a foot up, and committed to the unknown terrain above. It was one of those leads where you're a little spooked just seconding on top rope. From the belay, I sketched my way past a considerable run out — albeit on easier terrain — to reach the base of the Italian corner. We fixed our two lines and returned to our bivy, happy to have made a dent in the mountain.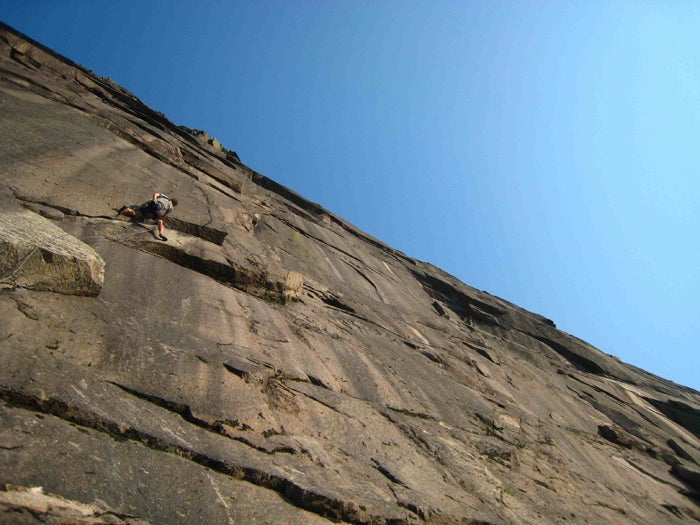 We simul-climbed right across the ledge for 150 meters, looking for the best weakness in the discontinuous face above. There were several possibilities, though neither was a sure bet.
I changed my mind back and forth about what crack system to try before finally settling on the right hand option and setting off into the unknown. Of course, the crack bottomed out just as the wall steepened. I wavered and feebly bitched to Dave about the insecure climbing and what lousy shape I was in. Deep down inside, I knew I was just going to have to suck it up and get on with it.
The beauty of this kind of off-vertical terrain is that you don't have to be at peak fitness to climb it. The game is more about careful, crafty footwork and a being in a grounded mental state then it is about possessing a finely tuned sport climbing physique. And it just so happens that this is exactly the kind of rock we have in New Hampshire. I closed my eyes and tried to recall all the times I've seen some grey-haired old timer with a beer gut sketch his way up a dicey route back home. I'm a fervent believe that New England adventure climbing is the perfect training for alpinism. Take VMC Direct Direct on Cannon. It's a route I've done a bunch of times: classic, tricky 5.10 (maybe even a touch harder) with less than ideal gear and some devious route finding.
In three pitches I probably covered more horizontal distance as I did vertical gain, traversing back and forth to connect short flakes. Given the sparse gear, I climbed in a state of constant, gnawing fear, which frequently bubbled over into full-blown shit fits. Veteran that he is, Dave calmly listened to the four letter epithets I strung together as I inched higher.
But the climbing was good and as soon as I finished my final lead, the whole experience didn't seem that bad. The sun was out, the rock was warm and featured, and we were positioned just one pitch below Mahindra's summit ridge with an inviting corner to lead us on. Dave took over for this last glory pitch, and we were soon high-fiving on top.
As we laughed and snapped a few photos, I realized that Mahindra, for all its Himalayan grandeur, bore more than a passing resemblance to what I have right under my nose in New Hampshire. We lingered on top for a few minutes before beginning the long journey home.