Frenchwoman Nolwen Berthier Sends 5.15a. She Practiced the Crux Wearing a Diving Weight
Last week, Nolwen Berthier joined a short list of women to have sent 5.15. In doing so, she skipped a grade.
Heading out the door? Read this article on the new Outside+ app available now on iOS devices for members! Download the app.
French climber Nolwen Berthier has sent Supercrackinette (5.15a), in Saint Léger du Ventoux, France, joining a short list of women to have sent 5.15a or harder. The 28-year-old skipped a grade to manage it.
With La Ligne Claire, also in Saint Léger du Ventoux, Berthier sent her first 5.14c in 2020. 
Later that year, she put down La Flute en Chantier, also 5.14c, in the Verdon Gorge. She worked Supercrackinette throughout 2021, switching between trying the route for short periods of time and then training. She sent the line early last week.
Supercrackinette was established by Quentin Chastagnier and first ascended by Alex Megos in 2016. Adam Ondra famously flashed the route in 2018, completing the world's first flash of the grade. Julia Chanourdie made the first female ascent of the route in 2020. The route is relatively short, only about 30 moves total.
This article is free. Please support us with a membership and you'll receive Climbing in print, plus our annual special edition of Ascent and unlimited online access to thousands of ad-free stories.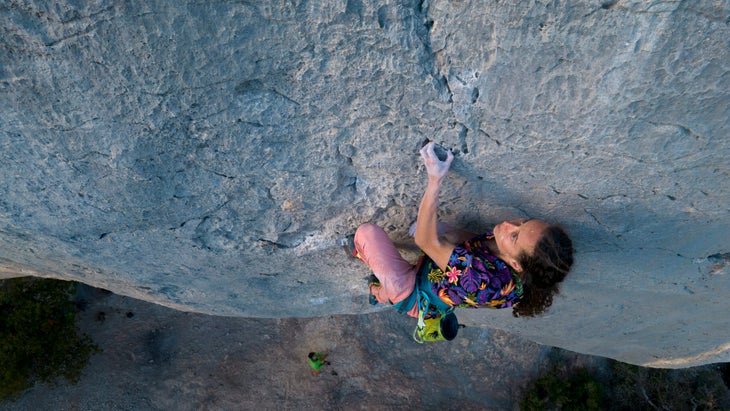 Berthier started climbing at age 12, when her dad, a schoolteacher, introduced her to the sport. Within a few years she was on the French national team. She competed for 10 years on the IFSC World Cup circuit, placing as high as 14th in Lead in 2018, before retiring in 2019 to pursue outdoor climbing. Berthier also works as an environmental engineer for Thecamp. 
"I love competing and rock climbing, but I also work, and I knew that I couldn't do all three things at the same time," she says. "I really wanted to do everything well … I had to choose, and with the COVID crisis, competition climbing was not very interesting for me." 
After sending La Ligne Claire, she decided to try a 5.14d. "You have two routes in Saint Léger du Ventoux that are 9a [or harder]—one that is 9a/9a+, and then Supercrakinette," she says. She was going to try the easier of the two, but Sébastien Berthe was trying Supercrackinette at the time, and he convinced her it would suit her style. Taking his word, she got to work.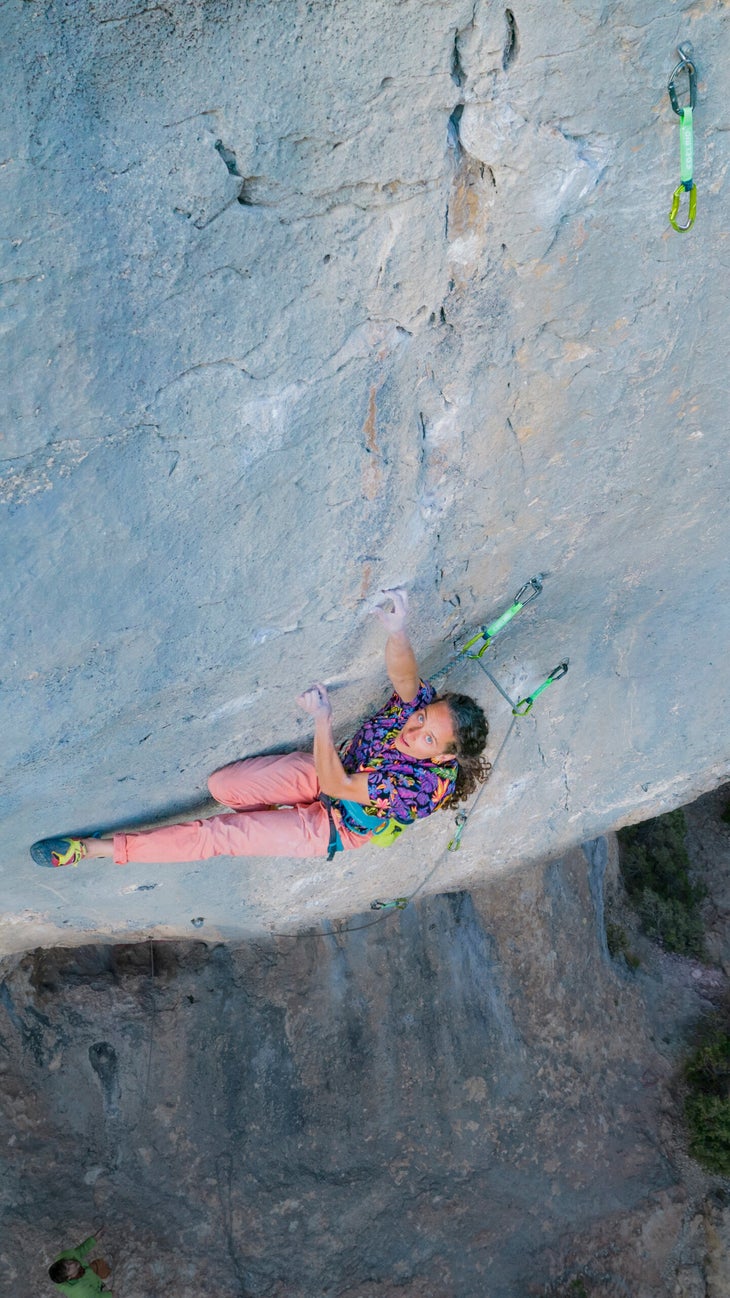 Berthier was able to do all of the moves last year. "I did a lot of strength training [and bouldering], because that was my weakness for this route," she says. "And I choose not to try the route too much, just to keep up motivation." 
"There are two cruxes in the route, but not in the same style," she says. "The first one is based on strength. You have to go into a one finger pocket, which is really far. And at the top, you have some crimps, and it's more dynamic. … It's a short route. You need a lot of endurance because you don't have any rest before the first crux."
While working the route, she focused on making bigger and bigger links prior to the first crux. She also tried adding weight while climbing on the route. 
"I tried the first crux with three kilos (6.6 pounds). I used a scuba diving weight belt," she says. In the end, she credits that tactic, at least partially, for her success.
Is 5.15b next? we asked.
Says Berthier, "Maybe. Honestly, why not? We will see."