Heading out the door? Read this article on the new Outside+ app available now on iOS devices for members! Download the app.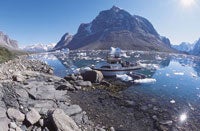 "This was my front-yard view from camp," says Libecki, who stayed just 100 feet above the rocky beach.
A Solo Adventure to East Greenland
Urine flows down my thighs, soaking my synthetic underwear and sleeping bag. My mind slowly sinks into the quicksand of delirium. I can do nothing to stop it. There is no other explanation: She must be from hell. Relentless snow threatens to bury my sanctuary shell. Her serpent-like voice rises above the howling wind. "What is your mother's name?" she asks, her obsidian eyes turning blood red. She has appeared next to me in my stagnant shelter 2000 feet up a wall in East Greenland. I never knew her, let alone talked to her. She was just a girl I saw over the years, from elementary school to high school. I'd never thought of her, then or since. So how did she get here? I've been climbing solo for the last 20 days and have been alone in this remote arctic fjord for a month. Am I asleep, lost in a confusing dream? Impossible — my damp sleeping bag, cold feet, and torn hands are physical reminders that I am awake. I'm halfway down the wall, descending after having made the first ascent of this massive tower, and for the last three days a raging snowstorm has attacked, confining me to my fragile nylon shelter. I'm in too much misery to be dreaming. Nonetheless, this stranger sits next to me, staring. Fear paralyzes me; tears well up in my eyes. What is happening? I teeter on the abyss of hysteria. Why does this demon-child want to know my mother's name? Good God, what is my mother's name? How can I forget my own mother's name? I try to breathe while sanity melts away like snowflakes on skin. She smiles, revealing small, rat-like teeth, then laughs. "Your mother's name is Charlotte." There is no doubt this girl is here for my soul. Outside, snow and wind continue their onslaught. The wrath of the storm is so powerful that my refuge is almost completely buried. The nylon walls close in like exhaling lungs releasing their last gasping breath. Despite the bone-chilling cold, beads of sweat trickle down my face and neck. The archfiend girl spews her witch-voice again. "What is my name?" she asks. "If you cannot remember, you will die tonight. Mike, tell me my name and you will live to see your unborn child." I can see the letters of her name in my mind but can't read them, can't say them; my tongue will not form the syllables. I can't hear the snowstorm anymore. Deafening silence. The snow has completely buried me. "What is her name?!" I scream, my hands ripping hair from my scalp. No answer. The grip of lunacy tightens. The demon-girl vanishes. My shelter collapses. The acute reality of smothering to death settles in with cold certainty. I cannot think of her name. For my life I cannot remember her name.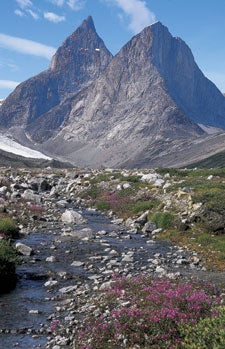 A pair of virgin peaks Libecki spotted during his initial explorations.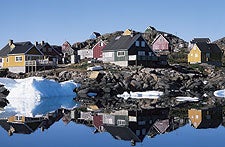 "There's a really clean, clear feeling about the area," says Libecki of Tasiilaq, home to 2500.
April. Her name is April. And now she is gone. I have slept 10 of the last 72 hours on this ledge — just long enough for nightmares and hallucinations to haunt my semi-lucid state. The ceiling of the tent licks my face and clings to my damp sleeping bag, which sags from the weight of the snow. For three days I've been soaked, lying in darkness, miserable and claustrophobic, fighting the rising tide of panic. Snow and ice continue to crash onto my tent from the wall above. I peel the nylon fly from my face, unzip the door, and claw my way through the snow — mounded high as my chest — to dig myself out once again. April. Her name is April: the month my child will be born, eight months from now. When I received the package postmarked Greenland at the end of September 2001, I knew what it contained. My friend Hans Christian had sent me these rare Danish military photos of the island's east coast, taken from an airplane at 30,000 feet. When I was in Greenland the year before on a solo trip to climb the Fox Incisor, I inquired about finding such photos. Following the obsession/addiction I've fostered for the last eight years, I wanted to find spectacular, never-before-seen granite walls and towers to climb. Greenland is governed by Denmark, and Hans Christian is a surgeon serving much of the Danish military in eastern Greenland, so the photos turned out to be rather easy to acquire.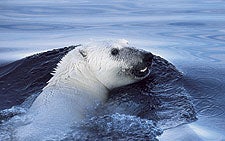 Libecki's closest encounter with a polar bear, roughly 40 miles from his camp at the end of the fjord.
At a hobby shop near my home, just outside Salt Lake City, I found the perfect five-inch-diameter magnifying glass to start my research. With photos covering my furniture-less living room floor, I hunched over like Sherlock Holmes hot on the trail of a criminal. I focussed on every detail, searching for clues that would lead me to virgin granite towers. Several eye-straining hours later I pinpointed four small areas on the photos, each about the size of a dime. These areas were 250 miles apart from one another, spread out along Greenland's desolate eastern coast. The miniscule, jagged-edged shadows around the saw-toothed snowy peaks in the photos suggested families of steep, massive granite walls. Further research revealed that these areas were very remote, probably untrodden except by the local Greenlandic Inuit people and early Viking and Danish explorers. Several months later I dragged seven 69.5-pound haul bags (an overweight fee is added for bags over 70 pounds) into the Salt Lake airport. I had decided to go alone on this grand expedition. Removing the crutch of a partner would add freedom and absolute challenge to the mysterious-expedition equation. Relying completely on my own abilities while answering to uncertain mental and physical demands — as I'd done before in Greenland, Baffin Island, and China — has created an appreciation for the gift of life that I've found addictive. I tucked my pillow under the back of my head, pulled up my little blue airplane blanket, opened my new Stephen King book, and sipped tomato juice with lemon. The airplane rose off the tarmac at sunset, heading east toward Greenland. Two bad-weather days in Reykjavik, Iceland, shut down the airport, but not my enthusiasm. I called home to check in with my fiancée, Natalie. To my surprise, she gave me some very intense news: She was late — we were potentially expecting a child. She had a doctor's appointment the next day. Overwhelmed with emotion, I told Natalie I loved her and would call when I arrived in Greenland. I could not stop smiling after I hung up the phone, totally absorbed in the fact that our first child might be growing at that very moment. Yet I had to stay focussed on what was in front of me: a solo expedition into the unknown. The wind and rain stopped long enough in Iceland for my plane to continue its journey to Kulusuk, Greenland. From there a helicopter quickly shipped me 50 miles to Tasiilaq, the town nearest my final destination. Located just south of the Arctic Circle and populated by Greenlandic Inuit, Greenlandic Huskies, and a handful of Danes, Tasiilaq is a cluster of storybook houses of bright red, blue, green, and yellow scattered among gray, rocky hills. In the distance, ivory icebergs glow against a sky-blue ocean.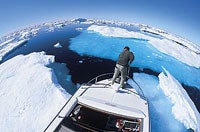 The vast majority of the approach journey involved pushing through an endless maze of ice.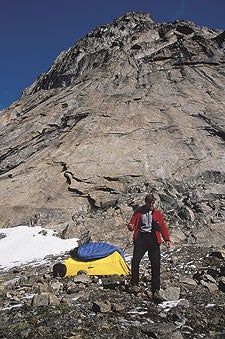 The large, sloping ledge 1000 feet up, with the headwall towering above.
My objective in Tasiilaq was to find someone with an Arctic-worthy fishing boat who could ferry me across the perilous ice-laden seas to the granite towers. After talking with several of the locals, my hopes were crushed. They said it was simply too dangerous: A random current from the north had brought impassible sheets of sea ice and massive coastal icebergs. The possibility that my dream expedition could be over so quickly was devastating. On other expeditions, there had been times when the venture seemed destined to end before it even started. In Madagascar, our eight haul bags had disappeared along with our trusty driver en route to the grand walls of Tsaranoro; in China, landslides destroyed roads; in Baffin Island, while climbing the Fin, loose death-blocks demanded retreat. I never lost my patience or optimism then, and everything had worked out better than predicted. I knew a solution would present itself. Later that day, I got through to Natalie on the phone. Fatherhood was definitely in my future. I was absolutely thrilled with this new reality. Since Iceland, the more I thought about the possibility of parenthood, the more excited I became. Natalie and I had been together for five years, and for as long as I can remember we had talked about having a baby. There was an even stronger urgency for me to be home with her now; we both felt it. I wanted to hold her, cry in each other's arms, and celebrate our future child. I promised to come home as soon as possible. I hung up the phone with a new enthusiasm for this expedition, for this life. I needed to focus on the journey ahead, then get home safe. Four days passed. Fatherhood filled my thoughts. The rest of my time was taken over by more tests of patience and optimism. I still couldn't find anyone to attempt the ocean crossing. Reality hit as I walked to the small market in Tasiilaq on my fifth day in Greenland. I bought a six-pack of Carlsberg beer and some fish jerky, and walked down to the rocky beach. I watched the massive, electric-white sea ice and icebergs drift by slowly. After my third beer, I accepted the fact that the universe wanted me to go home, and resolved myself to defeat. As I finished the last of the tasty Pilsners, the universe changed its mind. My Danish friend Joachim, Hans Christian's nephew, who happened to be visiting the area, walked over with one of the local Greenlandic Inuits. The local man, along with another experienced friend, decided that the excursion I was requesting might be possible with careful navigation. Another friend of Hans Christian's, John, would provide the boat — for a steep price, of course. He made it clear, however, that it would be at my own risk. We started out to sea at 3 a.m. The Greenlandic Inuit spoke little English, so we communicated through laughter and smiles. As the 24-hour sun circled over the jagged basalt peaks, we disappeared into a maze of bright, white sea ice. The ocean looked to be completely frozen over. The ice, with neon turquoise glowing through the cracks, was at times so thick that we had to literally push our way through with the boat's prow, moving at the pace of a slow walk. The endless maze of sea ice and giant icebergs often turned us around, pushing us miles in the wrong direction and hinting at the uncertainty of reaching our destination. We saw many different kinds of seals sun-tanning on sheets of ice, huge whales bursting out of the water to breathe, and breathtakingly beautiful polar bears dog-paddling through the frigid mazes.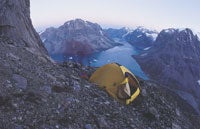 The ledge in calmer times: "I anchored my tent to at least 10 different points to keep it from blowing away.
The tenacious crew didn't give up, and after 100 hours without stopping, we were only a few hours away from our destination. It was nearing the end of summer, the 24-hour light giving way to hints of darkness for an hour each day. There was still enough light for the fishermen to work rotating shifts, one driving the boat while the other slept. I had dozed maybe 12 of the 100 hours since we left Tasiilaq. I stayed up the rest of the time, wired on the most amazing views of my life, taking advantage of photography and videography opportunities I could only have imagined in my dreams. After 250 miles of travel on the open ocean, we turned west and headed deep into a winding fjord, about three miles wide in most spots, never before seen by a climber's eye. As we went deeper into the fjord, the walls rose higher and higher — some perhaps 5000 feet tall. Ominous ice caps peered down from atop the giant granite formations, and magnificent waterfalls crashed to the ground from thousands of feet above. It was easy to decide where to be dropped off. Several of the most beautiful granite monoliths I have ever seen stood at the end of the fjord, all offering a variety of mountaineering delicacies. Giant granite slabs skirted massive headwalls, some ending at summits the size of a kitchen table. All I had to do now was select a tasty tower, and feast. Just a quarter-mile away, a river flowed out of the green valley that I would call home for the next month. Wild mushrooms, celery, and edible flowers grew in lush meadows. A pack of large geese flew by, forming the shape of an arrowhead in the sky. Several arctic fox spied through the bushes. Once my bags were ashore, the fishermen finished cleaning the fresh seal they'd shot, then walked to the nearby river to fish for salmon. In this part of Greenland, the native people still rely on hunting as a major source of food. I had felt torn watching them hunt the seal, whale, and especially polar bear on the boat ride. Just before they left, one of them pointed to the seals that lounged nearby on the broken sea ice and mimicked an attacking polar bear. He was warning me that where there are seals, there are polar bears. My only defense would be to use my rifle, shotgun, or bear spray, or to get on one of the granite towers as quickly as possible. If a bear came while I slept on the ground, I would be a very easy, very tasty meal. Absolute, utter aloneness. Solo. Silence. Frightened, but excited, I sobbed like a small child separated from his parents in an amusement park. I was feeling the awesome presence of being alive. I remembered the day, many months ago, when I'd hunched over the aerial photographs of this exact area. Now I stood in front of the walls I'd fantasized about. All the planning, researching, fund raising, training, and lost sleep had proven its worth. I threw my arms in the air and howled. I thought about my growing baby, as I did all day, every day. I laughed as I thought about the sweetness of life and how fortunate I was. I slept for the next 18 hours.
Libecki dug his way toward the cliff through head-deep snow and re-anchored his tent , just after this photo was taken.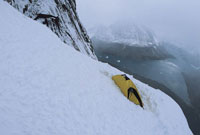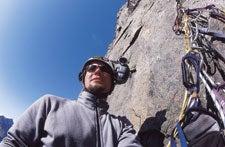 Just two pitches below the summit ridge and 1000 feet up the headwall, Libecki (with helmet cam) recuperates at a belay.
I spent several days hiking over 40 miles to reconnoiter the area. Serpentine glaciers, neon-blue pools, flowers and plants from every color of the rainbow, and huge granite mountains surrounded me. Finally, I decided to attempt a route on a prominent ice-capped tower less than two miles from my basecamp. With a nod toward the rumors of early Viking exploration in the area, I named it the Viking's Shield. From one angle, the tower reminded me of a proud Viking god defending his keep with a massive shield of granite. It took five days to shuttle my loads to the base. As I ferried loads, I eyed a couple of prominent crack systems that seemed to offer a passage to the summit. The route looked very uncertain and spicy — it was hard to tell if I was seeing watermarks, dykes, cracks, or all three together. One nice feature of the line, however, was a huge snowy ledge just over halfway up — a convenient high camp and source of water. One of the uncertainties of this type of first ascent is hydration, and how to bring sufficient quantities of water up the climb. Once I had all my supplies at the base, with enough food and fuel for 20-plus days of climbing, the usual enthusiasm sparked the engine of my soul. I shifted into first gear, locked the hubs, and started the ascent. Thoughts of my future child hung on the rear-view mirror. After a few hundred feet of easy scrambling up the toe of the apron, I roped up and start belaying. The first few pitches were miserable. It rained on and off all day, every day, enough to keep my gear, clothes, and skin damp. Even though I expected this kind of weather, I had only one extra set of clothes. A burning, itchy rash developed in my crotch and lasted five very uncomfortable days. Random first-aid-kit supplies proved their worth once again. The next day, after fixing lines up 1000 low-angle feet of various-sized cracks, wet dihedrals, and slabs, I set up a camp on a rock ledge. I shuttled food, fuel, and gear in four haulbags on my back while jugging the lines, then pulled up my ropes to end the painstaking day. Another session of capsule-style climbing awaited. I carried my lead rope, stacked my tag line in a rope bucket at the anchor, estimated the rack as I looked above, and climbed, cleaning out cracks and hoping for the best. Splitters? Rotten madness? Hanging death-blocks with no explanation of how they were still there? Ah, the variables of mystery — the most important ingredient of any grand adventure.
Libecki, replete with horse head, celebrating the Year of the Horse atop the Viking's Shield.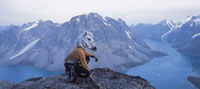 The higher I got on the wall, the steeper and more demanding the climbing became. The next 800-foot section of rock was damp, semi-protectable, and desperate. Up to this point I had been able to free climb up to 5.10, but had to step into my aiders when wet snow turned the wall into a Slip-n-Slide. I shuttled my haulbags to the huge halfway ledge I'd scoped from the ground. A large patch of old snow and ice dripped a convenient, but very slow, faucet. To my delight, there had been very little loose rock on the route so far, and I'd only had to place a couple of anchor bolts. Then, the weather cleared. A spell of perfect blue skies, crisp, chilly breezes, and 24-hour daylight offered arduous 18-hour days of climbing, fixing, shuttling loads, immaculate photography and videography, as well as time to dry out from the previous week's soaking. Baby-wipe showers became as refreshing as a hot shower back home. The halfway ledge was also a turning point. From here to the top of the tower, a steep headwall loomed above. I felt safer with the steeper wall — if I had taken a big fall on the climbing below, I would have bounced off the lower-angled granite. The first two pitches off the snow-packed ledge were 190-footers of sweet face and crack melodies with small crux sections of desperation, both in terms of difficulty and protection. The longest pitch took over six hours to lead. The most memorable pitch on the headwall was rotten and runout. I desperately hammered Birdbeaks into crunchy flakes, going into sewing-machine mode from whipper-fear a few times. It's moments of intensity like this that make me feel as though I'm in a fantasy of modern-day dragon slaying — kill or be killed — with the reward of rescuing the sweet maiden in the deep, dark dungeon, or in this case, on the summit. The 1500-foot headwall ended at an icy rock ridge that led to the summit, several hundred feet away. When I reached the snowy apex of the Viking's Shield, gray clouds moved in and heavy spindrift tormented me. I sat on a rock plateau on the summit ridge, took photos, and celebrated. Every year I like to add a little flavor to my summits, when I'm fortunate enough to reach them. Besides the traditional naked summit photos, I also celebrate the Chinese astrological symbols as a theme. It was the Year of the Horse, so I put on my horse mask, transformed into a half-horse, half-human beast, and stared into the distant, open ocean of the North Atlantic, 40 miles away. My thoughts turned to fatherhood. Nothing could take me from the idea that eight months from now we would have a child. Now that I stood on the summit, I was halfway to my goal — I needed to get down. When I returned home, I would have made the true summit.
As I started my descent, gray, hazy clouds darkened the evening and spindrift stung my eyes, which already burned from dehydration. I could have fallen asleep right then and there, completely exposed, shaking in the frozen wind that chilled my sweat-soaked clothes. By the time I returned to my high camp, I'd been on the move for 30 hours straight. Little did I know that 12 hours later an unforeseen variable would reveal itself. In the Arctic region, near the ocean, storms can attack at any time. A sweet bluebird day with sun warming your face and a pleasant breeze can produce a storm-from-hell in no time. Such storms are high on my list of ingredients for a grand adventure. What sweeter reality is there than being alone in a remote wilderness on a monster granite tower, while a sinister storm leaves you facing the grim possibility of freezing to death? Yeah, right. Almost four feet of snow fell in 72 hours. My hands felt like they were made of steel that had been rusting in the rain for a year. I was over the discomfort and anxious to get down, my body saturated with cold. I had to dig my tent out of the snow every few hours. The storm lasted for over three days, and the little sleep I had consisted of hallucinations and nightmares that included the horrific visit from April. Her manifestation had blurred reality — I couldn't discern what was actually happening and what was a momentary lapse of reason. Finally, thankfully, the storm abated. As I ended my last rappel and took off my soaked harness, I felt like I'd completed another training session that would only lead to future tests. I had lost only seven pounds and ran out of food for a single day, and my last bit of fuel ran out while I was heating water for breakfast the day I returned to the ground. I named the 4200-foot route Giving Birth to Reason (VI 5.10 A3+), for reasons both obvious and secret. Without question, it was the most mentally challenging climb of my life. The fishermen arrived right on schedule, just six hours after I had shuttled my last load back into basecamp. They were the brother and cousin to the men who had brought me here over a month ago. They spoke no English. I spoke no Inuit. We all smiled, shook hands, and loaded my gear into the boat. On our journey back to Tasiilaq we camped on the shore — the 24-hour light had decreased to about 20 hours. The cusp of autumn was upon us. We hunted duck and seal for our meals. During the two-day boat ride we laughed, gestured, and looked into each other's eyes for perfect communication without words. On my last night in Tasiilaq I watched the Northern Lights dance under the stars with such glory that I felt I was in another dream. I thought of our child who would be born in April. With dawn I would be on my way home to yet another grand adventure.Mike Libecki and Natalie Taylor had a beautiful baby girl, Lilliana, as this article was being written in April. Libecki would like to thank the Mugs Stump Award and the American Alpine Club's Lyman/Spitzer Grant for help in making this climb possible. This was his third expedition to Greenland.
Story and Photos by Mike Libecki