Heading out the door? Read this article on the new Outside+ app available now on iOS devices for members! Download the app.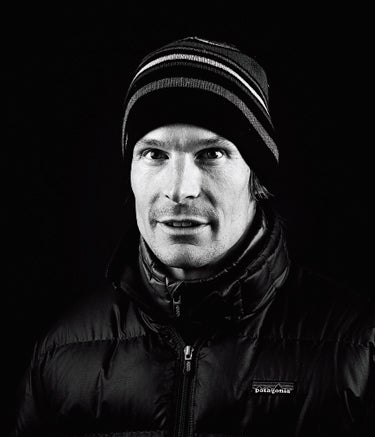 Do unto the high alpine as you'd do unto yourself
Sports have rules. But climbing — with its roots in rebellion and anarchy — has ethics, an agreed-upon code outlining which aids are allowed. It's the first ascentionist's right to set the bar, one later generations strive to surpass. Regression is frowned upon.
Ethics are intractably tied to risk. We all manage climbing's inherent risks differently. Most commonly, by how we climb: from the free solo, to a well-bolted clip-up, to the helicopter lift to the summit, and everything in between. I was an eager 18- year-old when I was introduced to alpine climbing, in Slovenia. It was 1988, and I was on a yearlong student exchange, finding the climbing more compelling than biology lectures delivered in Slovene. In Slovenia, as elsewhere, ethics existed on a sliding scale. Partners berated me for pulling on a fixed piton at the Croatian limestone crag Paklenica, but encouraged me to hoist on pins for greater speed when alpine climbing in the Julian and Kamnik alps. In those mountains, we also packed out all our trash, down to hard-candy wrappers. But when I joined a Slovene Nanga Parbat expedition a year later, these same climbers scattered food wrappers and left three camps and thousands of feet of fixed rope. Having been an Eagle Scout, I was appalled.
Yes, I'd jumared every inch of that rope, but I'd expected to carry it down. When our leader announced the expedition's end, another climber and I went up to bring down as much of Camp 1 as we could. The others stood by as we teetered into basecamp with towering packs. The next day, my teammates dumped most of our loads onto a bonfire, the equipment too worn to justify the cost of schlepping it home. As often happens, it came down to money.
Fast-forward to May 2009: I was acclimating on Makalu's normal route, at Camp 3 at 7,200 meters, and watched sadly as two Sherpas, dispatched by their expedition leader, attempted to clean up three tents, 10 mattresses, four sleeping bags, a few stoves, a mishmash of food, and dozens of stove canisters. In the end, they collected only a halfdozen oxygen bottles — the most valuable booty — and tossed a couple shovelfuls of snow over the rest. Nothing had changed.
None of us, and certainly not me, has all the answers: all environmentalists are hypocrites. I'm going to hell for my jet fuel, flying overseas several times a year. I've personally planted around 20,000 Douglas firs and ponderosa pines in Oregon's forestland — my self-inflicted green-tax. I like to eat meat, so last year I raised and slaughtered two steers on the three acres behind my house. The steers, nicknamed Jim and Jim, yielded enough meat to feed my family, my sister's family, and my parents for a year.
My hypocrisy: I drive to the crag. I heat my home. I burn gas to make tea. Everything I do affects the environment, but I accept that now and I'll ask myself: Is it enough to resolve to minimize my impact? Is it enough to climb Makalu without leaving anything myself? Not knowing what's "enough" makes it difficult to answer these questions. Yet not to act, not to try to choose the most ethical path, feels wrong.
Leaving fixed ropes, abandoning camps, trashing the mountain is wrong. Unethical. But who's responsible? Here's how it happens: the season's first expedition fixes lines, stocks camps, makes their summit attempt/s, and then leaves. Other, later expeditions continue to use these same fixed lines and sometimes the tents. At the season's close, it's all too easy to deny responsibility: "I didn't bring that rope/tent/fuel canister up here!" is the refrain, with an all-too-common dispatch of an insufficient few porters to clean up. Is it time for Nepal and Pakistan to return to permitting only one expedition per route per season? That would certainly solve the accountability problem. Liaison Officers need to get stricter, too.
On my favorite mountain in North America, Denali, there are permanent fixed ropes on the West Buttress, the standard route, attempted by approximately 1,000 climbers a year. The permitted guide services, with occasional help from National Park Service (NPS) rangers and volunteers, maintain these ropes. I've helped, too. I first guided the West Butt in 1992 and have guided 13 successful expeditions on Denali, including two by the Complete West Rib, where we fixed (and removed) our ropes.
I object that camps, ropes, stoves, and fuel are left as trash on every single popular Himalayan peak.
On the West Buttress, I've seen the NPS helicopter in replacement ropes to the 14,200' camp. As I understand the law, the fixed ropes on the West Buttress headwall from 14,200 to 15,600 feet violate the wilderness fixed-anchor ban. I challenge the NPS to enforce its own rules: clean up Denali — remove the ropes! The NPS in Yosemite has often dispatched climbing rangers to remove fixed lines. Why should Denali be any different?
Once those are gone, you solve all the problems associated with 1,000-plus climbers a year, something that regulations and permits have only partially resolved. From my hundreds of days on the peak, I'd say scant few Denali aspirants have the technical skills to navigate the headwall's 800 feet of 50-degree ice without fixed ropes. I've guided many expeditions on the West Buttress, and ascended and descended those lines in every case. The fixed lines are demanded by the high client-guide ratio, as enforced by the NPS. (The NPS requires a minimum of three people per rope — even if two are guides — for safety on the highly crevassed Kahiltna Glacier.) I spent eight years training to achieve IFMGA mountain-guide certification; I don't like the NPS telling me how to conduct my profession. I'd say a 2:1 or 3:1 client-guide ratio, not the 4:1 I usually see, better fits Denali's seriousness. A well-trained rope team can quickly extract a climber from a crevasse, and as a guide, I make sure my guests are fluent in crevasse rescue.
I can hear it already: I'm an elitist. However, I don't believe I'm being elitist here — it's the mountain that's steep and icy. We should start climbing mountains and stop climbing ropes. I'll continue to object that, as a matter of practice, camps, fixed ropes, stove fuel, and climbing gear are left as trash on the normal route up every single popular Himalayan peak. Stop and think about that: we should be ashamed. We need to start stepping up to these challenges on their own terms: it's in our collective best interest. We should take home every candy wrapper. Imagine if we treated our home areas like we treat high mountains. Imagine if every time someone led a route at Rifle, they fixed the rope and rapped off, leaving it there. What would Mount Hood look like if fixed lines were strewn from the Hogback to the summit?
Know this: I want nothing to do with simplistic, intolerant rules about how to climb, just as I object to similarly prescriptive rules about how to live. I can't help but resent an official weighing the trash I carry off Denali. I'm still an anarchist at heart, and I feel good knowing that I brought everything off the mountain — that the weighing of my trash proves nothing I didn't already know. Yet I admire the nobility intrinsic to living a good life, to executing a fine climb. I stand by my claim that when an expedition leaves a mountain festooned with junk, its members ignore the legitimate interest of others to enjoy an unspoiled peak. Sure, a diversity of styles is good, but there are limits. Fix your rope to Everest's summit. Siege your mountain. Siege Rifle, too — I don't care. But take your equipment with you. Leave the mountains and icefalls and crags as you found them. Try to leave them better. I'll try, too. In the end, if we treat our environment with respect, we'll demonstrate that we respect ourselves.
Steve House tops off his pickup with biodiesel and recently published his first book, Beyond the Mountain, printed on 90 percent post-consumer, FSC-certified recycled paper. But he still drives a big truck and reads, a lot! He's looking for better options.