Heading out the door? Read this article on the new Outside+ app available now on iOS devices for members! Download the app.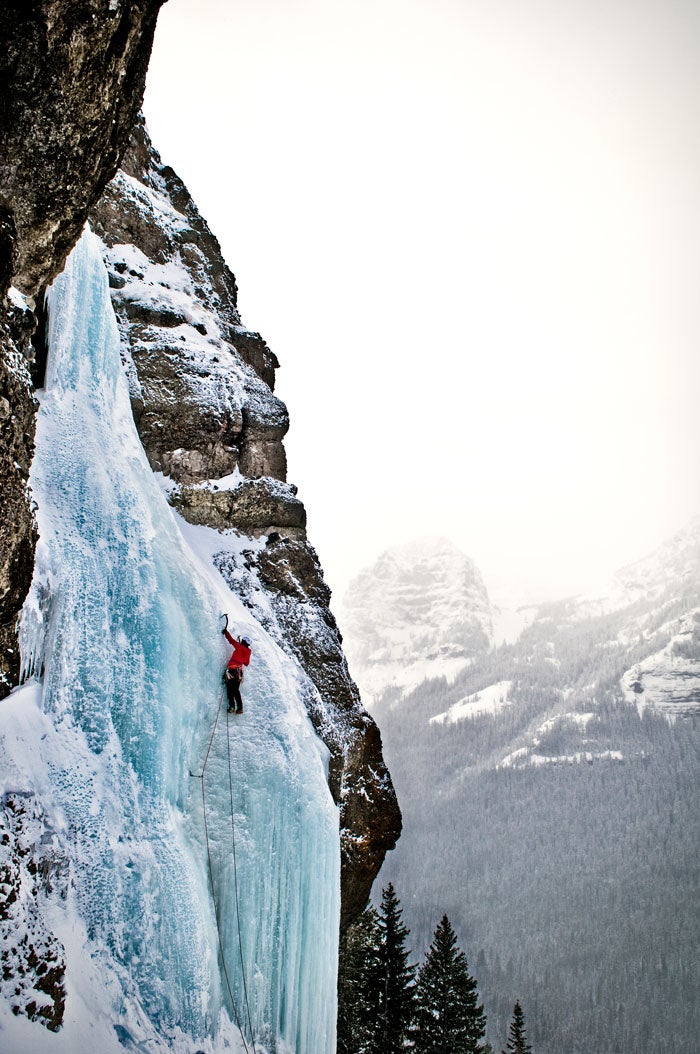 As early as Halloween, smoky white smears and yellow stains drape across Hyalite Canyon's tiered bands of cobbles and welded ash like laundry hung out to dry. By Thanksgiving, the relentless seeps that nurture the canyon's old-growth forests coalesce around vertical blue drippings that metamorphose into connected pillars seemingly overnight. By December, the conditions are always full on in Hyalite.
For 40 years, this canyon near Bozeman, Montana, has been the backyard winter playground for accomplished climbers such as Pat Callis, Jack Tackle, Alex Lowe, and Doug Chabot, earning a reputation that has motivated more than a few climbers to move to town. "If it's good enough for Alex, it's good enough for me," was heard frequently in the 1990s, when roughly 80 of Hyalite's 225 ice and mixed routes were established, including the iconic Lowe routes The Matriarch and Winter Dance. But unless you were one of the few to own a snowmobile, the entire ice season back then was usually over by Christmas, or whenever the road became impassable because of drifted snow. That all changed in December 2007, when the Forest Service and Gallatin County started plowing the 13.5-mile road, thanks to climbers lobbying for improved access. Since then, Hyalite has blossomed as an ice destination from an early-season race against blizzards to a five-month extravaganza, with easy access to the most reliable and concentrated natural ice arena in America.
Almost 160 of Hyalite's routes are found in the Main Canyon, mostly within two miles of the Grotto Falls parking lot, with routes at every grade and level of seriousness. The big terrain of the East Fork and Flanders drainages offers some of the best and most Canadian-esque routes in Hyalite, but requires a few miles of skiing approach after January 1, when the spur road is gated.
Even after 40 years of exploration, the three drainages that make up Hyalite are valleys of mystery and adventure. Hidden by trees and tucked into unexpected corners of bad rock, the ice and mixed lines don't offer themselves freely. Piton craft remains a required skill for those who venture onto the cobbles.
Fortunately, Hyalite has something for everyone. You can spend all day on toprope, be on dawn patrol for a handful of pitches before work, ski for miles for some uncertain gem, or enchain multiple routes all the way to the ridgeline. The more you do, the more you discover. For those who embrace the unique volcanic rock and blind approaches through the forest, and open their minds to all Hyalite provides, the well never goes dry.
The following areas each hold a variety of climbs and experiences. If motivated and fit, you can combine several of these areas in a single day—if you don't get lost, that is.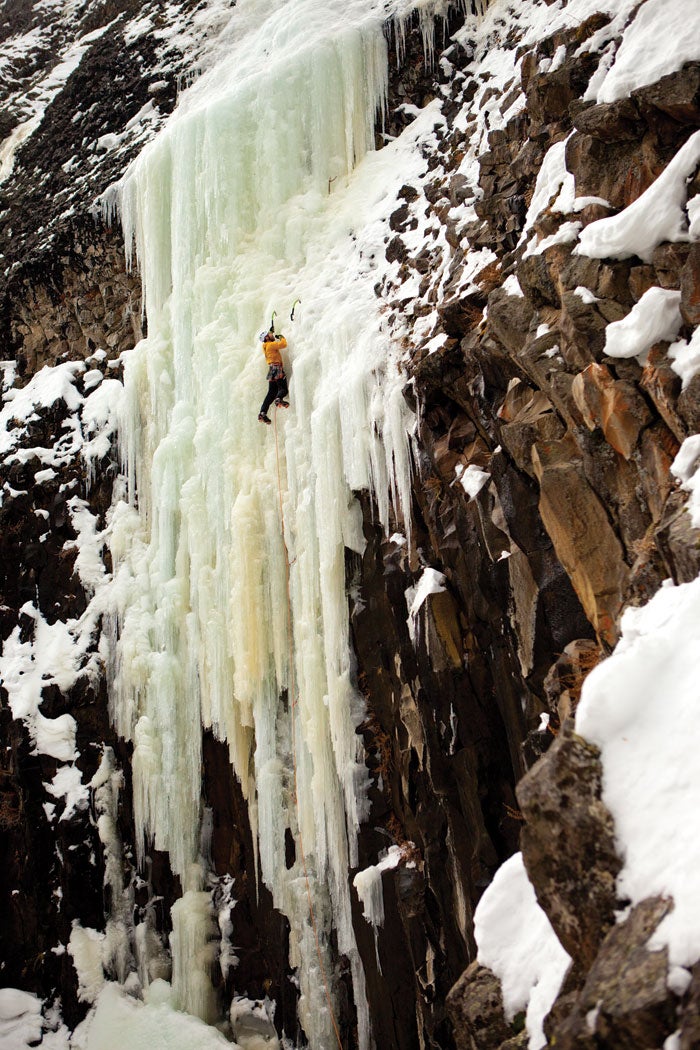 The Originals Home to Hyalite's original ice ascents from the early 1970s, these are the areas that started it all. Once requiring an all-day ski approach, the Genesis and Mummy Cooler areas are now within minutes of the car and have expanded to include many additional moderate flows and a number of modern mixed climbs. And no trip to Hyalite is complete without a trek to Cleopatra's Needle.
CLEO'S AREATwin Falls (WI3) sits at over 8,000 feet, gets zero sun, and is the first route to form every year, despite being a high-volume falls. Its neighbor, Cleopatra's Needle (WI5), has variations that range from WI4 to WI6, and is the classiest route in Hyalite. Between Twin and Cleo's, The Shuffle (WI4) and The Shimmy (WI6) form on occasion and are not to be missed.
GENESIS AREA The classroom atmosphere here is unmistakable, but the short approach, toprope access, and diversity and quality of the climbing are undeniable. Numerous nearby WI2 to M6 routes make it worthy of anyone's time. Head to the next band above and don't miss Genesis II (WI3), Through Four More (WI4), Home Field Advantage (M7 WI5), Bourbon Tan (M8+ WI3), The Whiskey Sweats (M5 WI4), Hangover (WI3), or Upper Greensleeves (WI3).
MUMMY COOLER AREA Start with the uber-classics The Scepter (WI5) and Mummy Cooler II (WI3), and then move right to Crypt Orchid (WI2), The Matrix (WI4), Pika's Perch (WI3), and Feeding the Cat (WI4).
CLIMBS BELOW WINTER DANCEAnother half mile upstream from Mummy Cooler and long overshadowed by the obvious, dangling icicle that is Winter Dance (M8+ WI7), these moderates lining the cliff band are hidden by trees and hard to spot from the trail. It is common to do all these routes in a day.
Tick List Over Easy (WI3) Curtains (WI4) Slot Corner (WI4) Land of the Lost (WI4) Dialectric Breakdown (WI5)
Flanders and the East Fork A spur road found a mile and half before the main area leads to the East Canyon and a side cirque known simply as Flanders. If the road doesn't drift over, you can drive to within 30 minutes of these routes through the month of December. After January 1, the Forest Service gates the road, adding between half a mile and two miles of skiing on good trails. These might be the best single-pitch routes from WI3 to WI4 in the entire canyon.
Tick List Champagne Slot (WI3 R) Palisade Falls (WI3–4) Champagne Sherbet (WI4) Slight of Hand (WI4)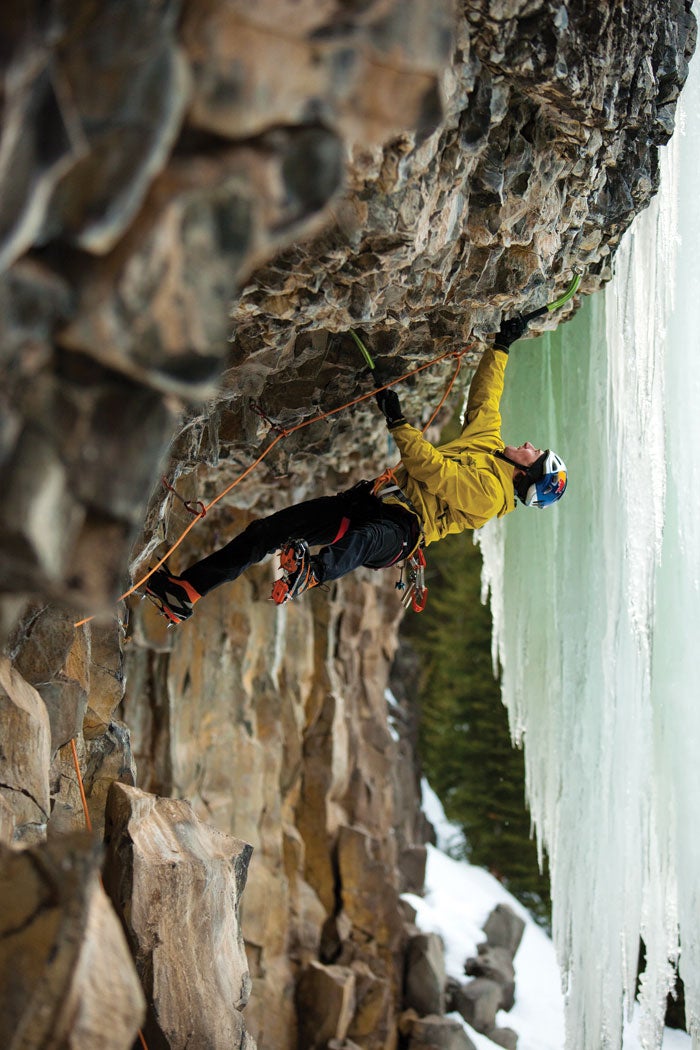 Unnamed Wall Looming over the parking lot to the west, the Unnamed Wall is one of the area's great mixed and ice venues. Home to three dozen established routes across a mile of cliff, there is something for everyone. Here are two very divergent tick lists consisting of routes that form every year.
The Moderates The Fat One (WI3) The Thrill is Gone (M4 WI3) Jeff's Left and Right (WI3–4) Elevator Shaft (WI4) The Good-looking One (WI5)
The Dry-ToolsBulldog World (M7 WI5) Roman Candle (M9) The Roman (M10+) Northwest Passage (M11) Inglorious Basterds (M13 WI6)
Enchainments One of Hyalite climbers' great realizations of the last decade has been figuring out how to move from route to route without dropping all the way to the trail in the valley floor. Here are a few classic enchainments, each offering a day of climbing to rival anything.
Tick List Climb The Dribbles (WI4) or the neighboring Silken Falls (WI3) or Silken Slot (WI3). Then traverse the upper ledge all the way to Responsible Family Men (WI5). If it's formed, don't forget the spectacular Upper Avalanche Gulch (WI5). Or combine Zack Attack (5.9 WI5) with The Upper Mummies–Mummy Cooler III (M5) and Mummy Cooler IV (WI6) to tick some of the best trad mixed climbing in all of Hyalite.
The Beta
GETTING THERE: Fly to Bozeman International Airport and start drilling ice screws within 90 minutes. A rental car is recommended. If driving, Bozeman is six hours from Salt Lake City, 10 hours from Denver, and six hours from Spokane, Washington.
SEASON: Thanksgiving (sometimes as early as mid-October) to the end of March (when they close the road). Current conditions and spray can be found at montanaice.com.
LODGING: Many hotels are available (bozemancvb.com), but the Bozeman Western Heritage Inn caters best to climbers. The Window Rock Cabin, situated a mile from the ice, is available for rustic living in the woods. Online reservations must be made three days ahead of arrival, and can be made up to six months in advance at recreation.gov or 1-877-444-6777. There are no "offi cial" winter camping spots, but as long as you lay low and stay away from the main parking lots, you can usually get by for as long as you can endure.
GUIDEBOOK:Winter Dance (2004) by Joe Josephson covers Hyalite, the Beartooths, and South Fork in Cody, Wyoming (a four-hour drive); montanaice.com. A comprehensive, updated Hyalite-specific guide featuring more than 220 routes will be available in December 2011.
GUIDES: Montana Alpine Guides: (406) 586-8430, montanaalpineguides.com
ICE FESTIVAL: Kick off the ice season with the 15th annual Bozeman Ice Climbing Festival (December 7–11, 2011). Proceeds go toward a road-plowing fund. bozemanicefest.com
ACCESS: Our ability to access the most reliable ice in America depends on a unique collaborative agreement between Gallatin National Forest and Gallatin County. In an era of shrinking budgets, plowing the road into Hyalite becomes more dependent on private fund-raising. Friends of Hyalite is a recent 501(c)3 non-profit organized for fundraising. Visit hyalite.org to learn how you can contribute.
REST DAYS: Bozeman has more diverse Nordic skiing terrain than just about anywhere. Excellent randonée skiing can be had in the bowls above the ice. Bridger Bowl is the locals' choice for lift-assisted cold smoke shredding, while Big Sky Resort offers the "biggest skiing in America." Nearby hot springs, college girls and dudes, a vibrant bar and coffee shop scene—what more can you ask for?