Feeling Worthless? You Could Have Imposter Syndrome.
Wondering if you're a "real" climber yet? Feel like a fraud? That your best is never enough. You're not alone.
Heading out the door? Read this article on the new Outside+ app available now on iOS devices for members! Download the app.
In September 2019, Molly Mitchell clipped the chains of China Doll (5.14a R) outside Boulder, Colorado, becoming one of the few people—and one of a handful of women—to send 5.14 trad. With that clip, she secured her spot in the upper echelons of climbing for good.
But within a few days, her elation over topping the route had faded.
"I felt like it must not be as hard as people said it was because I was able to do it," she says. "I started questioning everything about it. Like, if I was able to be confident, could it have really been so hard? Your mind can really spiral."
Watch Heather Weidner send China Doll in 2016
Talking to her, I could almost see the ticker tape of dialogue. It's streamed out of my own head so many times.
I'm not good enough. I just got lucky. I only made it because someone else helped me. If I did it, it must not be that hard. People are going to find out. People are going to say I'm pretending to be something I'm not. I don't deserve to be here. I'm not a real climber. I'm a fraud.
 Any of that sound familiar?
According to Dr. Doug Jowdy, a sport psychologist who's worked with everyone from youth climbing prodigies to household-name Olympians, those putdowns are markers of a mental-health phenomenon called "imposter syndrome,"an unshakable sense that you don't deserve success despite evidence to the contrary.
"Imposter syndrome is very common, very pervasive," Jowdy says. It's most common among high achievers. It's also prevalent in individual sports like cycling, running, swimming, and—you guessed it—climbing.
A Vicious Cycle 
Mitchell, a professional climber with a track record of hard trad ascents, worked hard to tick China Doll. And consensus—by pros and amateurs—confirms the rating at 5.14a, a grade most people spend their lives telling themselves they'd be honored to notch at all, let alone on gear. Mitchell's doubts had nothing to do with her abilities, or with the rating. Instead, she says, she realized she was conflating achievement with self-worth—something she's struggled with since grade school.
"It's a vicious cycle," she says. "You do something, and then you start to doubt yourself and you basically think another achievement is the only way to validate your worth."
That cycle, Jowdy says, "is absolutely comparable to addiction. It's identical—chemically, psychologically, and socially." Climbing can provide a high, just like a drug. "We see this with climbers who are injured and have a hard time resting. Or a climber who feels guilty if they don't train," says Jowdy.
"Achievement is a drug. It's a dopamine hit. There is a neurochemical rush. You get high off doing well, and you need more and more," Jowdy says.
Where the Road Ends
Climbers often joke about being "addicted to climbing," a single-mindedness that is often seen as an asset, a hallmark of the truly passionate, a revered symbol of martyrdom for a higher pursuit.
But Jowdy says that's all a fallacy: There's no lasting fulfillment in setting a new record, ticking a new grade, or winning a competition medal. Psychologically, it's a dead end. The excitement will fade. And if you don't set a new record or tick a grade harder, the resulting depression can be severe.
Over the years, Jowdy has seen imposter syndrome manifest in climbers as young as 10, crushed under the demands of elite youth teams. He's also seen adult climbers grow suicidal with self-loathing when they weren't able to meet their own high standards or send a certain route.
Athletic accomplishment takes enormous sacrifice, Jowdy says. And the hard truth is that it's nearly always unhealthy. Addictions, even the celebrated kind, leave lasting scars.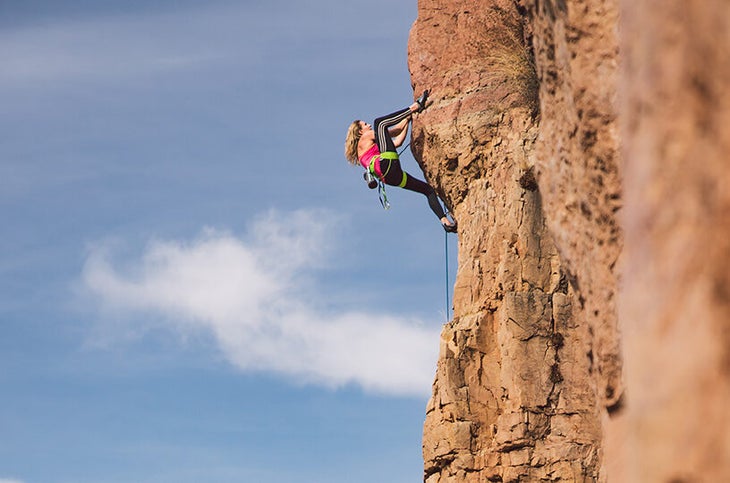 Those Most at Risk
In the workplace, imposter syndrome disproportionately affects women and people of color. There's no research on how that plays out in the climbing population, but Jowdy says hyper-critical communities with high standards can be breeding grounds for imposter syndrome.
Growing up as a young climber, I recall seeing risk-takers, cutting-edge alpinists, and dirtbags revered. To be a climber, I grew up believing you had to give it your all, constantly chase grades, risk everything. If you weren't, maybe you didn't belong.
"There's a lot of elitism in climbing," says Brittany Leavitt, the CEO of Brown Girls Climb, a company that facilitates climbing mentorship and education for underrepresented communities. "I know in my community, women and nonbinary folks and folks of color experience [imposter syndrome] a lot." Even Leavitt, after over a decade of climbing and years of managing a nationwide climbing organization, admits that there are days when she still struggles to call herself a climber.
After all, she says, it's hard to remind yourself that you belong when you live in a world that tells wants to tell you that you don't—whether it's through off-hand comments at the gym, double-takes at the front desk, or instances of flat-out racism.
Mitchell adds that women's achievements are often downplayed—she's seen men brush off her own cutting-edge sends as "not that hard," or "no big deal," despite their historic nature. In that kind of environment, it's natural for women, Black and Indigenous, and People of the Global majority, or non-binary individuals to downplay their achievements as a defense mechanism—and feel like they have to do twice as much to claim credit.
Beating the Comparison Game
I first met Mitchell in 2019 while she was working China Doll. I was at the same crag, sussing out moves on the route next door—a burly, arching arete called Archangel (5.12c). It was the hardest thing I'd ever tried.
A few weeks ago, I finally clipped the chains on Archangel, my hardest send to date. For a few seconds, I felt the briefest, brightest flash of victory. But by the time my feet touched the ground again, the high was all but gone. Next to China Doll, 5.12c felt paltry.
I'd always looked up to Mitchell, and thought that if I could climb as hard as her, maybe I'd stop feeling like a fraud. It wasn't until I talked to her for this story that I finally started to understand: The grade doesn't matter. No climb can fill all the holes in your psyche. No send can make you complete.
5 Steps to Beat Imposter Syndrome
Overcoming imposter syndrome is no easy task, especially when you've been at it so long that it's become muscle memory. But it's possible, says Jowdy. Here are his tips.
Recognize the symptoms. You're too hard on yourself. You're overly demanding. Your best is never good enough. You're only as good as your last performance. You're uncomfortable with compliments. You never feel like you belong or good enough, and if you have success, you feel like it's a mistake or that you got lucky.
Commit to taking action. "You have to have the humility and courage to do something about it," Jowdy says. Some athletes fear that if they let go of their addiction to achievement, they'll lose the thing that drives them. But the reality, he says, is that a healthier relationship with your mind is the biggest asset you can have.
Ask yourself why you climb. "If you're not pro, climbing isn't your livelihood, the only reason you should be spending valuable time and resources doing a sport is to develop and grow as a person," Jowdy says. If you're looking for prestige and status, that's both unrealistic and unfair, especially if you have a family, a full-time job, or other priorities, he adds. Be clear about your intentions and motives, and don't let achievement addiction get in the way of your life.
Redefine success. "If your definition of victory or success is to do a 5.10b, and that if you don't do that the first time, it's a failure—then you are violating every principle of sports psychology," Jowdy says. "If anything, your definition of success should be staying in the moment. One breath at a time. One hold at a time. One minute at a time." Plus, if you make focus and learning your markers for success, he adds, your climbing will only improve.
Find a support system. "Finally, the most important thing is to have a group of people," Jowdy says. After all, imposter syndrome thrives on isolation and comparison, and it won't go away on its own. It helps to have people who are committed to keep you from sliding back into negative self-talk and achievement-chasing. "Find a group of people you can talk to about this," says Jowdy. "You can't do this alone and you don't have to."