Interview: Access Fund's Brady Robinson on Trump's Bears Ears Reduction
President Trump announced a massive reduction to both Bears Ears and Grand Staircase-Escalante National Monuments in Utah. We spoke to Access Fund Executive Director Brady Robinson about the implications.
Heading out the door? Read this article on the new Outside+ app available now on iOS devices for members! Download the app.
Update: The Access Fund has announced that it will sue to protect Bears Ears National Monument. Donate to the campaign here.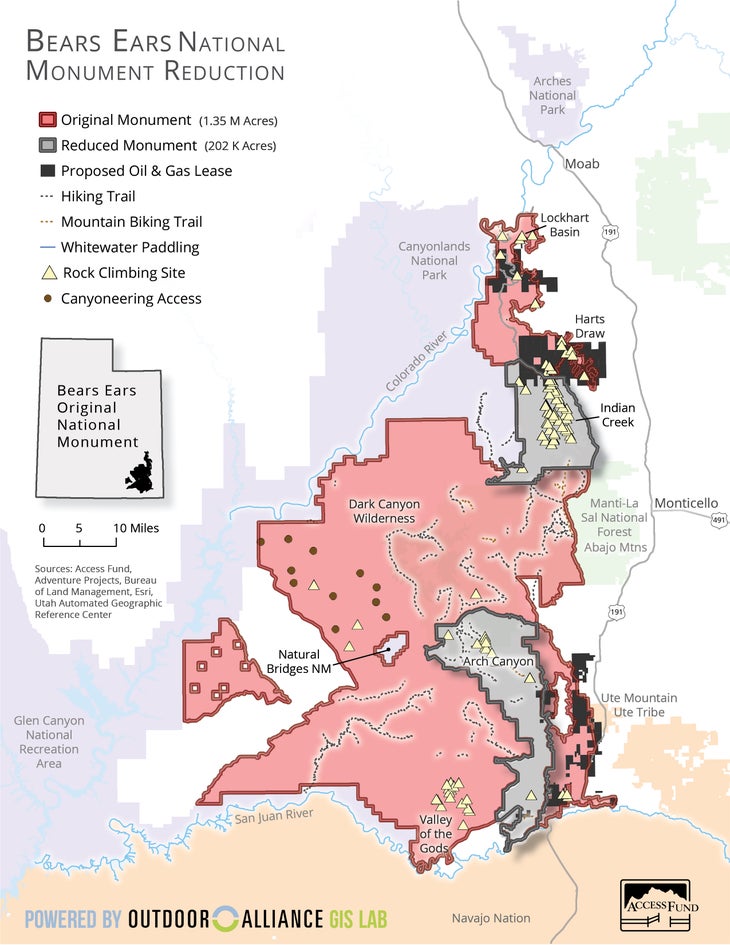 On Monday, December 4, 2017, Donald Trump announced his plan to dismantle and dramatically reduce Bears Ears and Grand Staircase-Escalante National Monuments in Utah. The unprecedented rollback of federally protected land will shrink Bears Ears National Monument from more than 1.3 million-acres to 201,876 acres, and Grand Staircase-Escalante National Monument will be reduced from nearly 1.9 million acres to 1,003,863 acres.
The announcement follows a review conducted by Interior Secretary Ryan Zinke of 27 monuments established by former presidents over more than two decades. According to a memo leaked this fall, Zinke recommended reducing four large monuments: Bears Ears, Grand Staircase-Escalante, Gold Butte in Nevada, and Cascade Siskiyou in Oregon. He also proposed more access for people and industry and other changes at six additional monuments.
We spoke to Brady Robinson, Executive Director of the Access Fund, to discuss the plan's implications for climbers and the future of American land conservation.
What climbing areas are effected by Trump's proposed reductions?
About 40% of the climbing areas within Bears Ears National Monument would lose their national monument status. This includes Valley of the Gods, Harts Draw, Lockhart Basin and a portion of the climbing at Indian Creek, like The Cliffs of Insanity, The Wall, and other crags. But in fact, 100% of the climbing areas would be negatively affected by the proposed reductions because rock climbing will lose its acknowledged status as a valued and appropriate activity—Trump's presidential proclamation does not acknowledge "rock climbing", whereas the original proclamation did. Without this acknowledgement, the future climbing management for the entire region is uncertain and climbers will not have a secure footing during decision making processes that affect climbing resources, including Indian Creek. In addition, all of Indian Creek could be impacted by proposed oil and gas leases that abut the climbing area.
Does the Trump administration have the legal authority to make these reductions?
We firmly believe that the president does not have the authority to shrink national monuments. This is a core issue related to the Antiquities Act, a piece of legislation over a hundred years old. The act was created to allow the president to move quickly to protect important antiquities. In our view, if Congress or a specific state believes that they don't like a monument, the solution should be passing a bill into law. Congress absolutely has the authority to do whatever they want with this monument, and that should be the right way to go. 
What will the ensuing legal battle look like?
There will be a number of lawsuits. [Ed. The Navajo Nation, Native American Rights Fund, and Patagonia, are already preparing to sue the President to reverse the decision.] At the Access Fund, we will fight this, and we are prepared to take legal action. The courts have already shown their willingness to reverse or prevent the administration from doing certain things, so there's no reason to believe they won't do it again this time. The courts should rule that the president has no authority to do this.
What is concerning about these protected areas losing their monument status?
It appears that the fragmented new monument, composed of two small units (Shash Jáa National Monument and Indian Creek National Monument), was explicitly drawn to allow for oil and gas development. We do not deny the importance of oil and gas exploration in this country, the pursuit of energy independence is necessary. But we also believe that the climbing experience, as we've come to know it, at Indian Creek could be drastically changed and altered for the worse if development is allowed to take place at these monuments. Let's not forget to mention the sacred sites and exceptional archaeological and paleontological objects that will also lose protection.
We need natural resources—how do we develop them without impacting these important places?  
There's always a trade-off. There's places to do it, and there's places not to do it. In our view, and the view of many others, this is not the best place for oil and gas development. If some future generation runs out of places to drill in a few hundred years, then fine. But in our view, we see greater value in preserving the land for all future generations. We also see the Bear Ears recreation opportunities as an economic driver that would far outlast the short term gains of oil and gas development.
Would it be possible for climbers or other user groups to purchase some of this land to prevent it from being developed?
Not really. There's some smaller, private inholdings within the boundaries of Bears Ears, but they're not actually considered national monument land. There is the possibility of purchasing some state lands, but not enough to be significant. 
What should climbers do to ensure the preservation of these special places?
I think anybody can and should let their representatives know that you're not happy with this. Letter writing doesn't change things over night, but elected officials need to understand that there is a political price to pay, and that national monuments and parks are incredibly popular.
Are there any other areas under review that face a similar threat?
There is an organized assault on our public land system and there are several other areas at risk. The administration's rhetoric does not always line up with their actions. I think that the battle of today is over these national monuments, but the greater war revolves around what it ultimately means for land to be public. Nearly 60% of our climbing areas are on federal public lands. What we see is, under the auspices of reducing regulations, that stakeholders are being cut out of the process. Groups that have traditionally had an opportunity to weigh in, like the Access fund, are getting cut out, and that should be deeply troubling.
End of interview.
In light of Monday's news, many influential organizations have announced their commitments to help: The North Face has donated $100,000 to help build Bears Ears "Visit with Respect" Education Center, a Kickstarter campaign initiated by Friends of Cedar Mesa. The Navajo Nation, Native American Rights Fund (representing the Hopi Tribe, Pueblo of Zuni, and Ute Mountain Ute Tribe), and the Ute Indian Tribe have filed a lawsuit to defend Bears Ears National Monument. Patagonia also plans to file a lawsuit.
To learn more about threatened climbing areas and what it takes to preserve these natural resources, visit accessfund.org. For a complete list of your local representatives, see house.gov/representatives.
Related: