Interview: Adam Ondra Completes World's First 5.15a/9a+ Flash
Czech superstar makes history again.
Heading out the door? Read this article on the new Outside+ app available now on iOS devices for members! Download the app.
On Saturday, February 10, Adam Ondra—once again—made history, this time at the limestone cliffs of Saint Léger du Ventoux in the French Southern Alps, when he became the first person to flash 5.15a (9a+).
The 25 year old from Brno, Czech Republic, visited Saint Léger in the Provence-Alpes-Côte d'Azur with his eyes set on flashing the 20-meter Supercrackinette, bolted by Quentin Chastagnier. Alex Megos made the FA in October 2016.
We caught up with Ondra over the phone on February 12 to find out more about his legendary ascent.
How was your day?
Adam Ondra: Rest day. Nice sunny day. Little bit of walk. Can't wait to climb tomorrow.
Do you have any additional projects at Saint Léger?
Even though people have been climbing here for more than 20 years, it's underestimated as far as hard climbing. Beside this route, there is a lot to be done. There are a lot of projects that are waiting for a first ascent. Hopefully I will free some tomorrow.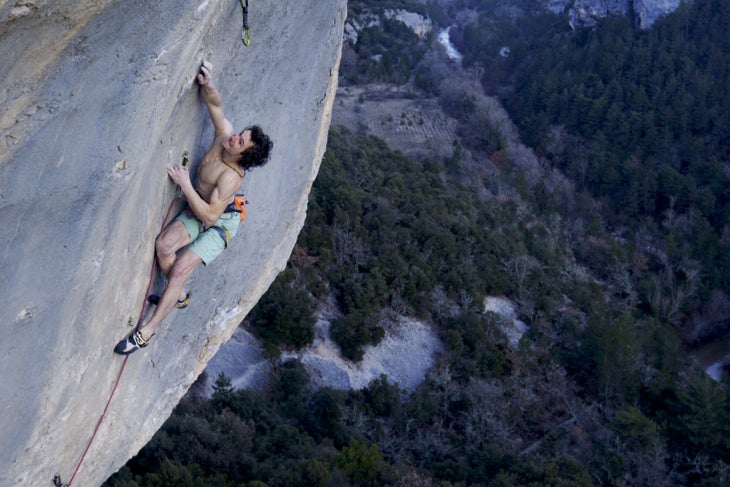 We understand flashing a 5.15a has been on your radar for sometime. Why this route, why now?
When I came here, this was the only route that was dry; the rest of the crag was wet. I knew straight away I wanted to do this route. So for the last two weeks I was doing some of the projects that were a bit wet, some with a "9a+?" in the guidebook and I couldn't do them and my doubts were growing.
It's hard to to find the perfect 9a+ [to flash] that I have not done yet, and to find a climber who would tell you all the beta perfectly. Quentin gave me the beta.
I definitely wanted to know about everything—every handhold and foothold. I had to know what was better, what was worse, where the rests were.
Then I visualized a lot. In my head, I cut it down into different sections. Here climb fast, here slow down. In the end, I figured there would be two moves where I could fall.
The route is extremely power endurance. It's extremely resistant. It's very hard to chalk up and clip. I knew it was important to get the right rhythm of the route, to climb really fast when necessary and to get just enough rest where it was slightly easier.
The visualization and beta almost worked. There were two pockets—at move 20—where Quentin could dig his fingers in deeper but my fingers were too fat. That's where I thought I could rest. On the contrary to what I thought, it was shallow in the pockets.
My beta was 27 hard moves, then eight easier moves at the top. I think most climbers would do 30 [hard moves].
Where was your mind during the climb?
I was just completely focused and completely in the zone. It was like someone was doing the moves for me. But once at the end of the route, I was trying to make everything perfect.
But I can't always climb like that; it has to flow naturally. I think it's much more difficult if you go for a flash because [when] you're onsighting you rely on your intuition. But with the flash, you make your own decisions based on the beta you get, which is sometimes against your intuition.
How did you feel at the anchors?
My reaction at the anchor was pure happiness, not silence at all. Lots of joy and screaming. But at the same time, there was not much power screams while was climbing. I was only screaming at move 20.
Can you imagine climbing something harder than Silence, like 5.16a?
[That] is so ridiculously hard, I can't imagine that now. I might be able to someday, but first I have to be a much better climber. For this year, my goal was to flash 9a+, but besides that, I want to feel that I make some progression. I would like to climb more hard routes faster and have a lot of fun.
The film on Silence is premiering soon. Can you tell us more?
It will premiere in Arco, Italy, on February 23. [The event] will be livestreamed so everyone can see it. [Then] it will also be available online.
We understand that Supercrackinette was also filmed. When can we see it?
That was filmed for the Reel Rock Tour 2018. The premiere is in November or December.