Interview: Adrian Ballinger on His Lightning-Fast Ascents of Cho Oyu and Everest
Heading out the door? Read this article on the new Outside+ app available now on iOS devices for members! Download the app.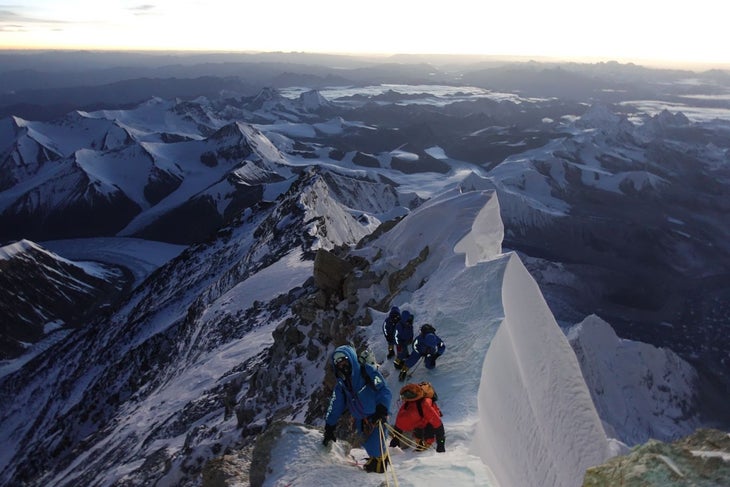 On May 20, Adrian Ballinger, owner and head guide of Alpenglow Expeditions, reached the summit of Mount Everest along with nine other members of his team—one other guide, five Sherpas, and three clients. This year has been a good season on the mountain, with a long late-May summit weather window that permitted daily ascents for a week and a half straight. What's notable about Ballinger's climb is that his team summited two 8,000-meter peaks, Everest and Cho Oyu, during a Himalayan trip that lasted only 23 days.
Ballinger, 42, has pioneered the use of hypoxic tents for high-altitude mountain guiding, pre-acclimating himself, his company's guides, and his clients before embarking on abbreviated expeditions to the Himalaya and other mountain ranges around the world. In recent years he has successfully cut the duration of an Everest trip in half. This year he took a select group of clients—North Face Athlete Jim Morrison, former guide Neil Beidleman (of Into Thin Air fame), and Walmart chairman of the board Greg Penner—to try an even faster Everest ascent while throwing in the 8,188-meter Cho Oyu as well. He dubbed the climbs Lightning Ascents, and he sees them as a breakthrough in high-altitude mountain guiding.
I caught up with Ballinger only two days after summiting Everest at his home in Squaw Valley, California, where he lives with his girlfriend, the professional climber Emily Harrington. The following conversation has been edited for brevity and clarity.
Well first off, congratulations. I gather you just got back.
Yeah, I got back just a few hours ago. We summited on the 20th and turned around as quickly as we could, leaving base camp on the 21st and then flying back.
Let's talk about the Lightning Ascent project. What were the goals and why were you doing it?
For the past few years, I and Alpenglow started looking for ways to utilize new technology, better weather forecasting, athletic clients, and really good logistics to shorten all of our trips—everything from Aconcagua to Everest. We call them Rapid Ascent trips, and so at this point we've now been running a 35-day Everest trip since 2013. We've been really successful with that and had a lot of fun. As I've been learning what works and what doesn't work within Rapid Ascent, I started becoming interested in whether we could go even faster on 8,000-meter peaks.
So in 2016, Emily and I decided to do Cho Oyu, the sixth tallest peak in the world, in less than two weeks door to door, USA to USA. And it worked. The next step was to see if we could do a really fast trip with clients instead of just professional athletes. This spring was the opportunity to do that. I had three clients with me, all really, really excellent athletes, and I've been climbing with all of them for at least six years. Our original idea was to try to climb Everest in two weeks, but then as a team we decided to see if we could do two 8,000-meter peaks in around three weeks. And so the goal was to climb Cho Oyu and Everest, and we ended up doing them in 23 days. We had a 100-percent success rate—three clients, me and another guide, Esteban Mena, along with five Sherpas. We summited Cho Oyu on day nine of the trip, and then we summited Everest on day 21.
What's the reason you want to do these climbs so quickly?
There are a couple of reasons: The biggest one is that for 20 years I've been full-time high-altitude guiding. So for seven or eight months a year, I've been living in a yellow tent all around the world on big peaks. I'm looking to spend less time away and more time at home with my business, my girlfriend, and with my friends and community.
The second thing is that I don't think high-altitude mountaineering has significantly changed in decades. We climb these mountains, whether it's Aconcagua or Denali or Everest, exactly the same way since the 1950s. Yet so much around us has changed—the technology and weather forecasting. We can be much, much more accurate now so we no longer get stuck in storms up high and lose lots of resources. We also now have hypoxic tents that allow us to pre-acclimatize at home up to 6,000 meters before going on a trip. And logistics are getting better and better, which allows us to cut time out of the trip.
Finally, I think the athleticism of climbers is changing. If you look at professional athletes, we're trying to go faster and faster and in the mountains, and my goal was to do that with clients.
Is it less expensive for clients to do it this way?
Actually quite a bit more expensive. The reason for that is, on Everest for example, we needed a full team to build infrastructure on the mountain for us when we arrived. So you're actually running double sets of logistics, one set with the group—whether you're acclimatizing at home or traveling across the Tibetan Plateau or being on Cho Oyu—while at the same time there are logistics being set up on Everest itself.
Can you describe your methods for these fast ascents?
First and foremost is pre-acclimatizing at home. Our goal is to fully acclimatize people to 18,000 feet, which is about the height of most Himalayan base camps. The system we use is basically a tent from a company called Hypoxico that goes over your bed and then a generator that sucks out oxygen and replaces it with nitrogen, which is inert for humans. It mimics higher altitudes. And so over a period of eight weeks, before climbers leave home, they sleep in these tents for at least eight hours a night. That forces the body to make adaptations, just like on a normal trip where you would spend two or three weeks trekking to your base camp and building red blood cells and acclimatizing. We do that at home instead.
The second part is working with people's training. They need to not only acclimatize but be physically in better shape than the average Everest client. Once we're in the country, they need to be able to put in day after day without lots of rest time. On the traditional trips that are 65 or 70 days long, probably 50- or 60-percent of that time is just resting in basecamp. That's a big chunk of what we're trying to chip away.
And, third, we use a Swiss meteorology company called Mesotech to really dial in our weather forecasts and make sure we're on the mountain at the right time.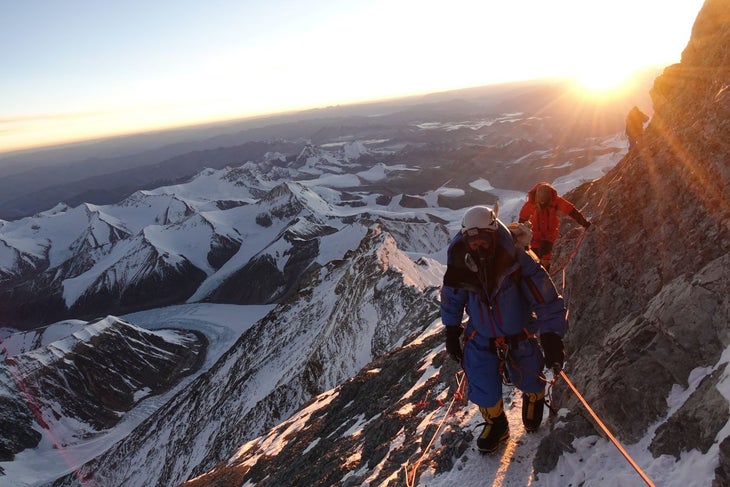 What were these tents originally devised for?
For sea-level athletes to legally increase their hematocrit [the ratio of the volume of red cells to the volume of whole blood] levels to perform better in whatever their sport might be. Hundreds and hundreds of athletes use these tents every year. They were devised for normal athletics—like the Miami Heat use these tents during the off season. Then people started using them for high-altitude endurance races, like the Leadville 100, with really good success, and then climbers started playing around with them. The first time I heard about it was in 2011. So in 2012, I started utilizing the tents for high-altitude climbing. Now loads of climbers—everyone from Kilian Jornet to me—are using them for our personal high-altitude projects as well as now for guiding.
Have you and your company taken it to a new level?
Yes, absolutely, I'd say we're the first guiding company to exclusively do trips in this form. We don't run any normal-length Everest trips anymore. We don't run any normal-length Aconcagua trips, Cho Oyu trips—any of the big mountains. We believe people are safer and more successful with pre-acclimatization than without. Shorter trips means less illness and less time for things to go wrong. So, over the past five years, we've seen a higher success rate. We've gone all in, and that's unusual for a guiding company. I think we're the first ones to do so.
And we're absolutely the first company to be trying these Lightning Ascents where we're going really, really fast.
How much do these tents cost and do the clients buy them or rent them?
We include the tent cost within the trip cost. They can be rented for somewhere in the vicinity of $200 to $250 a week. We do an eight-week rental, and it's included in the cost of the trip. If you were to buy the setup, I think you would spend somewhere between six and ten thousand dollars, depending on the options you choose.
So, given how often you're going to altitude, do you yourself still need to spend eight weeks in the tent leading up to a trip?
I do, yep. I sure do. At this point, because I run Everest each spring and then Cho Oyu each fall and then at least one Aconcagua trip each winter, I spend eight weeks before Everest, eight weeks before Cho Oyu, and then at least four weeks before Aconcagua. At this point I'm sleeping in the tent four to five months of my year.
What does Emily think of that?
[Laughs] She gets pretty sick of it. Because for her sport—high-end technical rock climbing, where strength and power are the focus instead of endurance—the tent is really bad in terms of muscle building and recovery. So it definitely doesn't work for both of us. I use a version of the tent called a head tent that only goes over my pillow. My head and neck go through almost a gasket into it, so that way I can share a bed without both people having to be at altitude. It's not ideal [laughs], but I think it's better than being away all that time.
[Emily] has obviously climbed her share of 8,000-meter peaks as well, and used the hypoxic tents to shorten that time. So she understands, even though it's a pain in the ass sometimes.
What about your Sherpas? Do they acclimate the traditional way, and then they're waiting for you when you get there?
That's exactly right. All of my Sherpas live in a town called Phortse in the Khumbu Valley, so they already live at about 13,500 feet. Our expectation is that they spend quite a bit of time training before they come and meet us on whatever trip we're on. So they've been spending time up to 18,000 feet in everyday life.
And we do still give people that option. Every now and then we get a client who has used the tent before and really hates it, or doesn't sleep well in it, or thinks there's an issue around the purity of it. So we always give people the option that if they want to go on a two- to three-week trek before the expedition, we'll organize that for them, and then they can go ahead and meet us. So all the tent does is sort of mimic a two- to three-week trek.
We'll get back to the purity issue, but you mentioned that it's safer to do these trips this way. Can you expand on that?
There are two reasons: The most sickness I've seen on trips—the things that used to send people home the most—were different gastrointestinal or upper respiratory bugs while people were acclimatizing on the trek. And that's because your body is fighting so hard to acclimatize that it doesn't have a lot of energy left over for the immune system to battle off all these normal bacterial infections that are in these developing countries. So by pre-acclimatizing, people on these trips are actually quite a bit stronger in those initial phases.
And the second reason is that, since we're spending fewer days on the mountain and people are more acclimatized and moving faster, they're spending fewer hours in dangerous areas on the mountain. When you figure in random danger, whether it's avalanches, rock fall, crevasse falls, all these different things that happen on the mountain, if you can reduce the amount of time and the number of trips people are covering that terrain, you reduce the likelihood of those random accidents. The more time you spend in mountainous terrain, the more likelihood there is of a mistake.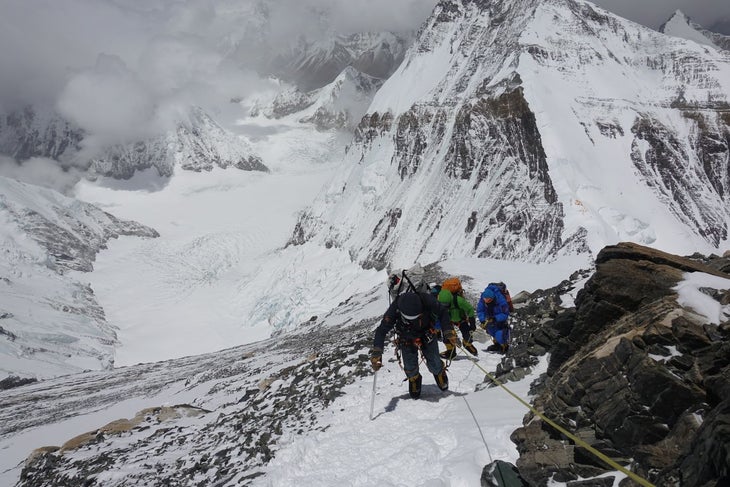 So your clients don't have to go up and down a bunch, from base camp to camp one or camp two.
That's right. So typically on Everest our clients do just one acclimatization rotation to 7,000 meters once they get there. Then their second rotation is making the summit push.
So you said you can acclimate to 6,000 meters at home—
The tent can acclimate to 6,000 meters. We've found that to be quite painful on clients, and it starts to affect their training because they're not recovering that well. So we now cut off our tent training at around 18,000 feet, or 5,600 meters.
So, in order to go so fast, did you fly into your basecamp for Cho Oyu?
No. On the Tibetan side there are no helicopters. You can't fly into basecamps yet. Our group flew to the closest city called Shigatse, and then there was a seven-hour drive to base camp.
You then summited only nine days after leaving the U.S.
Yep. So we got to basecamp, and the very next day moved up to advanced basecamp, which was at 19,000 feet. We spent three nights there and cached camp one during that time. Then we went for a summit push—up to camp one, camp two, skipped camp three, and went all the way to the summit and back down.
The most fun thing about Cho Oyu this year was there were only about five other teams on the mountain. When we got there, no one had been above camp one. So our team not only did this super fast climb, but we also did all of the rope fixing above camp one all the way to the summit.
Was nine days a record for an 8,000-meter peak?
That's a good question. We haven't yet tried to find out if it was a record. I'm guessing it was pretty darn close if it wasn't the fastest, but I hate to claim that stuff without knowing for sure.
So on to Everest. You climbed from the Tibetan side?
That's right. From Cho Oyu, we drove back down to Shigatse, spent two nights recovering in the city, and then drove up to the north side of Everest.
How did the climb on Everest go? I understand there was some kind of snafu on your first summit attempt.
Yeah, for sure. So Everest season on the north side was a really good season overall. The weather was very good and very predictable—a really easy, obvious summit window, which was nice. And on the north side of Everest this year there were only about a hundred and sixty-five foreign climbers—not too many people. So we didn't have to worry about crowding, the weather was great, and we felt strong. We spent just two days at basecamp, then moved up to advanced basecamp, spent two days there, then went for our summit push.
My company, Alpenglow, also had a normal Rapid Ascent team doing a 30-day trip, and we all decided to go on the same day. So we moved up the mountain together and went for our final summit push, and, yeah, the snafu you mentioned was a major issue with the oxygen regulators. The regulators are the valves on top of the bottles that reduce the pressure down from the super-high pressure in the bottles to a pressure that can actually be breathed through the mask. We work with a company called Summit Oxygen, I've been using their regulators for six years; they have a great reputation—probably 70 percent of teams on the mountain now use those Summit regulators.
Unfortunately—we don't yet know the cause—it seems like we got, for lack of a better word, a bad batch of regulators. Thirteen of our thirty-one regulators failed on summit day after going above 8,500 meters. Neither our Sherpas nor our clients were acclimatized to climb without oxygen, so when the regulators blew, it pretty rapidly became a real emergency situation. We ended up pulling our entire team off the mountain. We had six spare regulators—we always carry spares because things get broken when we're up there—but I've never seen anything like this, so we went through our six spares. Then our strongest Sherpas had to give their masks and regulators to clients and descend with another Sherpa who was on oxygen. The two would buddy-breathe back and forth. We ended up getting everybody off the mountain with no injuries or fatalities. But it was probably the most dangerous situation I've seen on Everest in my 11 seasons there.
Did you get new regulators for the successful summit push?
We got everyone down the mountain and back to advanced base camp. At that point we made a decision that the main Alpenglow team, the thirty-day Rapid Ascent team, had essentially just climbed an 8,600-meter mountain—higher than K2—and they just didn't have the resources—the physical energy, the emotional energy—to make another attempt in the weather window, which was only a few more days. So the main team made a decision to be finished for the season.
But my small Lightning team are just really fantastic athletes, and they decided they wanted to try again if we could figure out logistics to make that possible. We ended up borrowing another company's regulators, a different system of regulators made by a German company that hadn't had any failures. Then we borrowed oxygen from other teams who had also had regulator issues and who had to come down, leaving oxygen on the mountain. We didn't want to have to restock all three camps, so we decided to just use camp two, skipping camp one and camp three. The team went to camp two, spent a few hours resting, and then all the way to the summit and back down.
Let's get back to the purity question. Is there something lost in the experience of climbing an 8,000-meter peak when you do it so quickly?
It is definitely different. The key thing is people are still taking every single step on the mountain; we're not using helicopters to skip sections on the mountain or anything like that. So they don't miss any of the climb, but it is a different experience, certainly. When you do a traditional Everest trip, you're there for 65 days, you spend a lot of time just hanging out with your teammates. And there is something to be said for that experience, the bonding and getting away from day-to-day life for a really long time. So I think there's still something special about that style of climbing.
But there are different ways to climb mountains for different people. More and more, I like to try and do fast and light ascents of things. Even here in the Sierra, when I go do big peaks or big rock routes, I don't want to bivy at the base. I want to climb it car-to-car in a day. It's faster, you're doing more, it's harder—it's just a style I like. But that's not to say it's for everyone.
Perhaps this is a moot question regarding this trip, since you guys were using oxygen, but let's talk about when you did Everest without oxygen. Reinhold Messner, the first guy to climb Everest without oxygen, said he was going to climb it by fair means or not at all. Do you think using a tent is fair means? Do you think Reinhold Messner would have thought using a hypoxic tent is fair means?
I won't guess what Reinhold would think, but the tents have been determined to be fair means in Olympic sports, in endurance running, in professional cycling, and in all major team sports in the United States—baseball, basketball, everything—and so, absolutely, I think the tents are fair means.
With that said, you bring up a great point, which is oxygen. I think everyone who climbs Everest should have a little asterisk after their name leading to a footnote saying what they used. Did they use drugs like dexamethasone? Did they use oxygen? Did they use Sherpa support? Did they use fixed lines? Because all of those things change the experience so much. But I think we all climb the mountain for ourselves. No one else really cares, in the grand scheme of things, exactly how you climbed Everest.
But the tents I absolutely believe are fair means. For example when Cory Richards and I climbed Everest without supplemental oxygen—he did it in 2016 and I did it in 2017—we used the tents prior to doing that. And for me last year, even without supplemental oxygen, I shortened my trip to only forty-two days. That's far, far shorter than people thought it takes to climb without oxygen, and the tents helped to make that possible.
So do you think you could have done it without the tent?
For sure. I would have just had to take an extra three weeks.
But the tent seems like a more scientific method than the way most people do it, trekking in and then going up and hanging out at camp one or whatever—
I don't know if it's more scientific. I mean, the traditional method definitely works—it builds red blood cells, it acclimatizes you. But it takes weeks more time and there's always potential pitfalls of illness like we talked about earlier. So I just prefer to do those initial stages of the trip in a tent at home.
But you can't necessarily follow the same acclimation schedule on a trip that you can at home. At home you can dial in exactly what altitude you want to be at each night and for how long.
That's definitely true. And I think you can train a lot better at home while doing that acclimatization. Whereas once your trekking in Nepal, your training is kind of out the window—you're getting weaker the whole time you're there. You're acclimatizing, but your strength is going away. By doing this at home, I think you can balance those two things more.
What's the cost of one of these trips?
Our normal 30-day Rapid Ascent trip is $85k, and a normal Lightning Ascent private trip would be $135k per person.
Why would the Lightning Ascent be so much more expensive?
Because it's run on a private basis and so the ratio of client to guide is either one to one or in this case it was one-and-a-half to one. The Lightning Ascent is still so new and we really feel like it's on the edge of what's possible, so we only run on the one-to-one basis, and with more Sherpas supporting the team.
How does that compare to the cost of a traditional Everest trip these days?
The western guiding companies who are sending AMGA- and IFMGA-certified guides are all more than $65k now. Most of the good companies are $70-80k. But over the past five years, there's also been a huge increase in budget operators that offer trips to Everest for as little as $25k.
So your Rapid-Ascent is not actually that much more than a typical high-end trip.
No, at $85k we're now competitive with the other European and American companies.
Where can you take this in the future? What's the next step?
That's the big question. I'm very interested in seeing if it's possible to climb Everest in a week—staying at home in your hypoxic tent until we get a great summit weather forecast, having infrastructure on the mountain already, with Sherpas and mountain guides there, and leaving home and going in a single push without additional acclimatization on the mountain itself.
Do you have any definite plans to attempt that?
I don't. I just think it's a logical extension of what we're doing. At this point, we already have privates signed up for 2019 to try two-week Lightning Ascents of Everest, along with multiple deposits down for our 30-day Rapid Ascent. I think those two programs will become quite established. Then, from that, I'd love to see if it's possible in a week.