Taylor McNeill Enters the V16 Club with the FA of Moonlight Sonata
McNeill logged more than 45 days over three-and-a-half years on the problem before linking the six-move crux and taking it to the top.
Photo: George Bruce Wilson, Three Peaks Films
Heading out the door? Read this article on the new Outside+ app available now on iOS devices for members! Download the app.
On October 3, 2021, Taylor McNeill put down his long-term project, Moonlight Sonata, a stunning compression problem in the Right Fork of Joes Valley, for which he proposes V16.
No stranger to hard boulders, McNeill, now 30, began climbing in North Carolina in 2009 and has spent the last 12 years quietly building one of America's strongest tick lists, with sends of The Big Island in Fontainebleau, Squoze in Red Rock, and Southern Drawl in Chattanooga—all V15. For the last three-and-a-half years, he's been living in Salt Lake City and trying Moonlight Sonata whenever it's in season.
Climbing caught up with McNeill by email.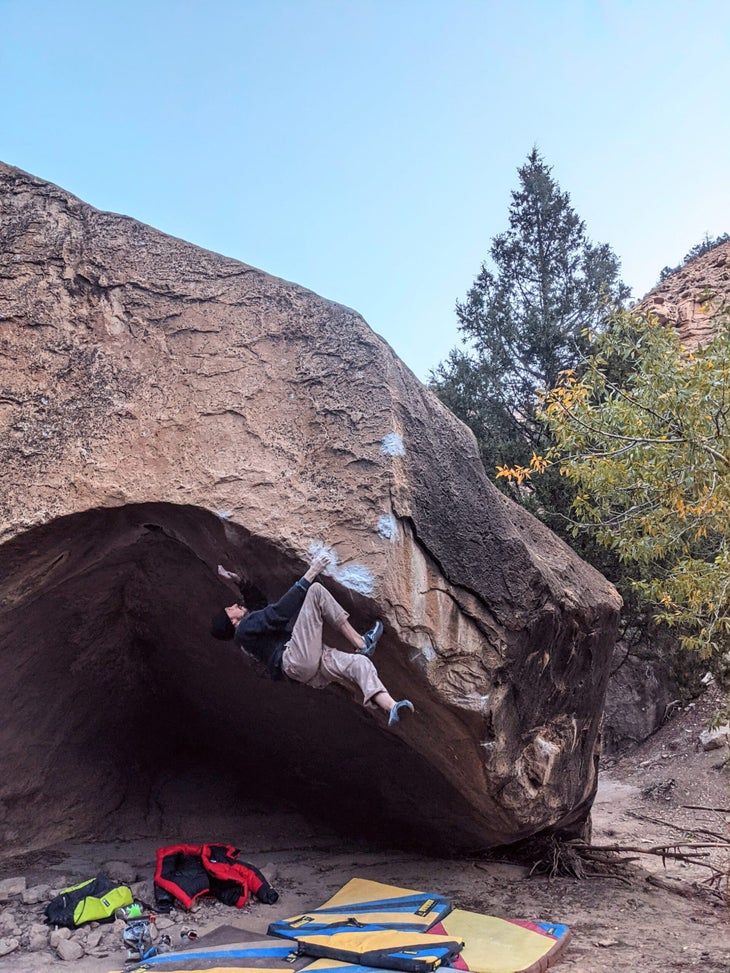 How did you find Moonlight Sonata? And when did you first start trying it?
Justin Wood, a Salt Lake local, showed me the project in March 2018. We ran over and looked at it with just a chalk bag. I felt some holds and I was immediately psyched. It's a stunning feature with wide compression moves—the stuff of dreams for me. When I'm searching for projects, this is exactly the type of climb I'm looking for. I went back to the car, grabbed pads, and went straight to work.
What's the climb like? How does it break down?
Moonlight Sonata is six really hard compression moves all back-to-back, followed by an insecure V8 that leads you to the lip. The first two moves and foot sequence are in the V13 range. The following four moves feel to be V14 and are some of the hardest individual moves I've ever done. It builds on itself, so if you stick any hold wrong it makes the next move feel much harder. Every difficult move is dynamic; there's not a single one of the hard moves that you can do slowly; so it makes it extremely difficult to grab the holds in the right positions. My favorite move is the 4th move, which is a wild campus to a half pad slippery crimp. The wall is so steep, and the feet are so bad, that trying to jump to the hold causes you to swing out so far that you can't control the swing. If you cut feet intentionally and create a specific motion with your body you can minimize the swing and campus the move.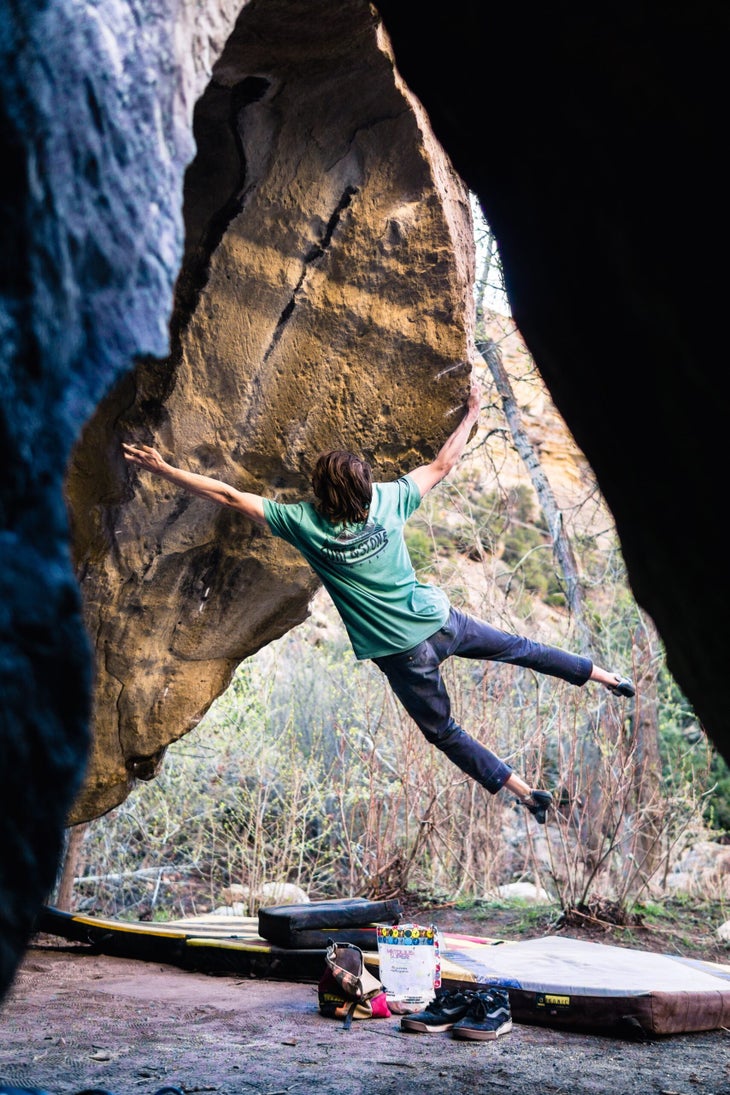 Can you walk me through your process on the climb? What did it feel like at first? When did it begin feeling possible?
My first session, in the spring of 2018, I tried it alone for three or four hours and only managed to do the top, which is about V8. I came close to sticking a couple of the hard moves and had a general idea of how they would go, but I was nowhere close to having a workable sequence. I came back a few weeks later with Jimmy Webb, and we were able to do several of the moves in isolation but were missing a lot of pieces to the puzzle and weren't able to make any promising links. I left it alone for the rest of that season. I returned in the fall of 2018 and put in two more sessions. Nothing felt different than the following season; I was stumped. In the spring of 2019, I returned stronger and more determined. On my 6th session I did all of the moves. At that point, I knew it was possible and the obsession began. After three more days, on my 9th session, I climbed it in two pieces. At the time I felt so close to a send and was extremely frustrated that I couldn't make it past the 3rd move.
Looking back on that season, I was nowhere close to sending. At that time though, I 100% believed I could do it, I felt agonizingly close, and that feeling is what stoked the fire that kept me going back for the next five seasons. My process for the following seasons would be to show up, relearn the moves, do the upper link, and then start trying it from the ground. It would usually take me three to four sessions each season to make the upper link again. I would get closer and closer to a send, but then the season would always end right as I was feeling closer than ever. I'd repeat this process over and over until it finally happened.
What's the mental process like for you when investing so much time in a single boulder?
I spent somewhere between 45 and 50 days on it over three-and-a-half years. The mental process is absolutely exhausting. It's a constant battle within yourself. Sometimes you have a bad session, and you have to remind yourself of the big picture. I would lie in bed every night, even in the off-season, and visualize the send. I would imagine that feeling of standing on top and that kept me going. Once I get a glimmer of hope and feel that something is possible, I accept that challenge. There's something that clicks in my brain and it's not even a conscious choice. All I know is that I have to keep going, I have to do this thing, and I'm willing to do anything to make it happen. There are definitely days when doubt creeps in and you ask yourself, Why am I doing all of this? Maybe I should go climb something else and just try to have some fun, but in those moments I would always remember the end goal. I would think about standing on top and conquering this battle within myself. It stopped being about rock climbing and became something that I had to prove to myself. I wanted to prove that no matter what it was, how long it took, how many setbacks I faced, that if I set my mind to something and believed in it above all else, I could achieve anything.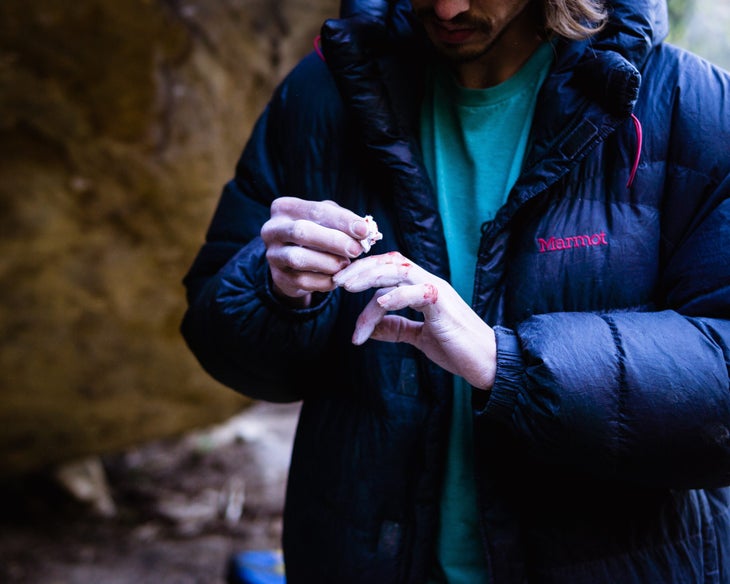 I heard that last year you gave up drinking and stuck to a diet to give yourself better chances on the climb. Did you do that—or any other specific preparation—this year? You were coming off a shoulder injury, right? 
In the spring of 2020 I started a training plan and nutrition plan to better my chances. I did cut out alcohol entirely, but it's worth saying that I'm not much of a drinker to begin with; at the most I'll have one or two drinks a week, usually less. I had my closest attempt yet that season, falling off the last hard move. I believed the training helped quite a bit, but the nutrition was hard for me. I felt more gains from working out, and I just like to eat whatever I want. This past spring and summer I trained ferociously. I probably trained more in that five-month span than I have during my entire 12 years of climbing combined. I gained almost 10 pounds of muscle and feel the strongest I've ever been. I had a pretty bad shoulder injury, a partially torn labrum, and took almost the entire month of July off from climbing. I began ramping back up later in the summer and while my shoulder is not 100% yet, there are only certain moves that bother it now. Fortunately, none of the moves on Moonlight Sonata bothered my still-healing shoulder.
Can you walk me through the send day? Where there any hints that this day was "the day"?
I woke up at 6:00 a.m. after sleeping in my minivan in a dirt pullout at Joe's Valley. My partner, Sera, made coffee while I lay in bed. She's the best. We drove a few minutes down the road and I started warming up in the dark. It was the first day, maybe ever, that I didn't feel the pressure of "could today be the day?" I was relaxed, calm, focused, but also just content being where I was. It was a crowded weekend in Joe's Valley, but as far as I could tell no one else was awake, I saw no other cars or people that morning; it was peaceful.
I finished warming up, drove down the road to the project. I did the upper crux a couple times to finish my warmup then sat down and rested. I gave one attempt from the bottom and matched my highpoint, sticking the campus move with relative ease, but then sliding off the left-hand crimp before I could get my feet back on. I wasn't frustrated, angry, or disappointed. I rested for 15-20 minutes, put my shoes back on and climbed perfectly. I pulled the lip, screamed, and then had a moment up top to myself where I was just quiet. I don't remember hearing anything or anyone. Then it all hit me, and I completely lost my shit screaming. I came down the back and was greeted by Sera with a bottle of whiskey. She told me she knew I was going to do it.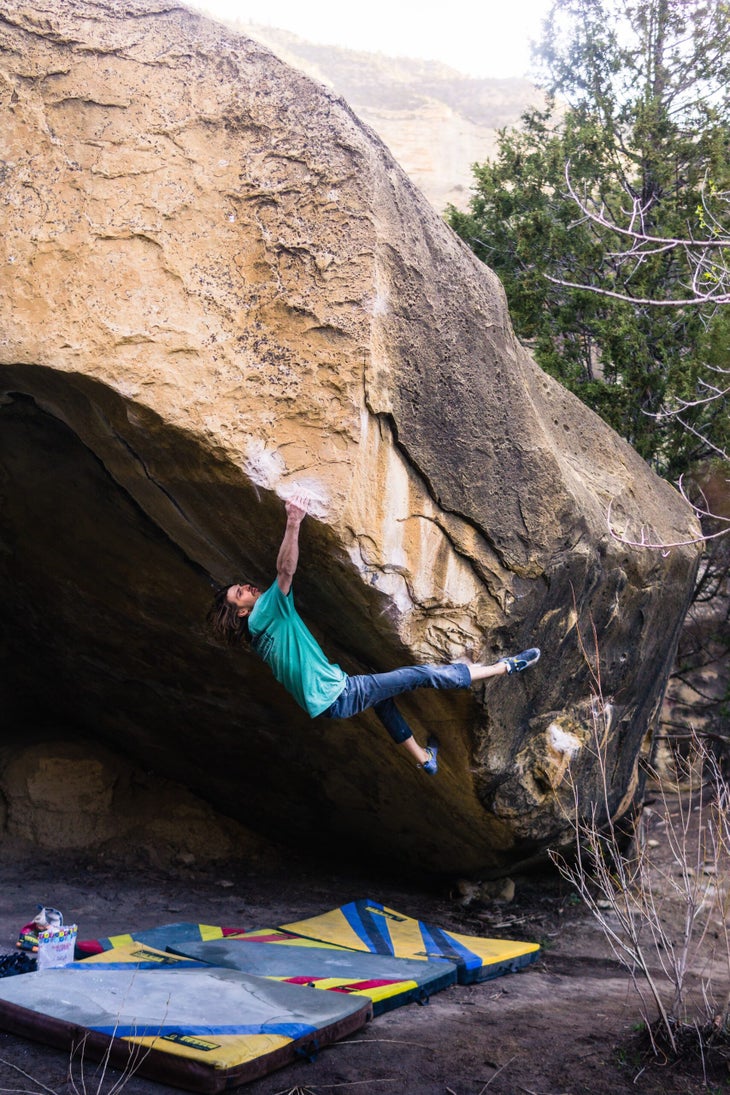 I love but utterly disbelieve the #tallnotstrong on your Instagram. How tall are you, and how do you think the advantages and disadvantages of height have shaped your climbing experiences?
Hah! Well, the #tallnotstrong started as a joke. When I started progressing quickly at climbing people would often tell me I only could do things because I was tall and could reach things easier. So that was kind of my way at clapping back at these people. I'm six foot three inches tall. You can't change your height, so it's just something you have to learn to work with. Complaining about it won't help and trying to bring someone else down for what they've been given won't help you be any better yourself. I've learned to utilize my size whenever possible. Sure, I have a hard time with bunchier moves, but this is the only body I have, so I'm just going to have to find a way to make it work. This mentality has allowed me to create my own style of climbing designed specifically for my body.
What's next?
Sleepwalker! I booked two months in Vegas for January and February, and I'm stoked to dump as many sessions into Sleepwalker as it takes. I tried it a few days last year and did all of the moves, so it feels very possible.
I suppose it's worth mentioning that there's also a sit start to Moonlight Sonata, and I did all the moves. I'm a bit mentally exhausted, but I'll be trying that until I leave Utah at the beginning of November.
Anything else we're missing? Shoutouts?
I'm barely sure where to start. A huge thanks to my sponsor Mad Rock, who has supported me going to try this project from the very beginning and believed in my vision to do this thing when it was just a pipe dream. A huge thanks to Sera, my partner, for the constant encouragement, and having deep conversations with me about working on my mental state to be in the best mindset to climb this project. Bruce [ ], with Three Peaks films, who spent about 30 days out there filming and documenting the process. All of my friends who encouraged me to keep at it when it seemed like a far-fetched dream. Every single person who's sent me a DM to wish me luck or share that I've given them inspiration on their own project, I see you all and you kept me going.