Interview with Jack Osbourne
Heading out the door? Read this article on the new Outside+ app available now on iOS devices for members! Download the app.
Osbourne posing for a photo atop El Cap Spire halfway up the Salathe Wall.Photo by Mike Weeks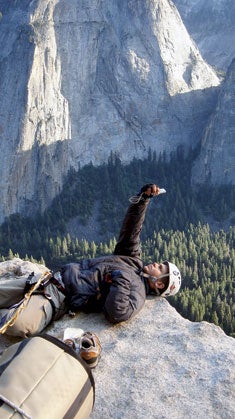 When you're the son of a death-metal rock star, you're more likely to be found partying instead of hand jamming up the Salathe Wall. However, Jack Osbourne, son of Ozzy Osbourne, picked up climbing as part of a full-scale detox program, and ever since he gripped his first holds he hasn't let go. Osbourne disciplined himself to a strict training regimen for six months in order to climb El Cap. During this training he lost 70 pounds and filmed a new reality TV show, "Jack Osbourne Adrenaline Junkie." At the end of his fitness program, Osbourne took on El Cap and climbed the Salathe Wall, leading six pitches. Shortly after making Wheat Thin, the Central Pillar of Frenzy, Outer Limits and Nutcracker checkmarks on the Valley tic list, Osbourne chatted with Climbing Magazine .
You live part-time in California and part-time in England, yet, your first climb was in Slovenia; how did that happen? Two of my climbing partners, Mike Weeks and Bean Sopwith (I did Salathe with them), were working on a TV show I randomly did on a whim, called "Extreme Celebrity Detox." The show was about climbing and mediation in the mountains. I went for the climbing because I thought I would try it out. The first R-rated film I was allowed to see, at age six, was Cliffhanger. I always had this weird fascination with climbing. I tried it out and loved it.
Mike and I became good friends on the show and I went out to Croatia where he was filming a deep-water-soloing movie called Depth Charge. I had no idea what I was getting into. I went out there with Chris Sharma, Leo Houlding, Steve McClure, just amazing climbers, and I was 215 pounds deep-water soloing with Chris Sharma. Now, now I realize how surreal that is. Back then I didn't know who Chris Sharma was. I like to surround myself with people who climb hard because it inspires me, and I think, 'I want to climb like that.'
Can you describe the moment when you knew you were sold on climbing? In Slovenia, we did three climbs and after the first one I thought "this is amazing" and I wanted to do another one. I don't know, I seemed to get on with it well. I wasn't scared of the height and I didn't feel unsafe at any point. I just went with it.
After immersing yourself in the sport for over a year, what keeps you on the wall now? The rush is the first and foremost thing I love. There is nothing like just gearing up and going for it. You don't know what you are getting into and you're having it. That keeps me coming back every time. When you climb all worries in the world disappear. You are so present and focused on what you are doing, and flow smoothly, and being as efficient as you can, and I love that. I've got a really noisy head and it just quiets thing down for me.
As a climber, in what ways has your interest grown? I'll tell you what, when I was on Salathe after day three I thought, 'you know what, being up here makes you want to train harder. I trained solidly for the past six months to do it, but I'm going to train harder, come back and free more pitches.'
Osbourne scoots though a wide section of the Salathe Wall.Photo by Mike Weeks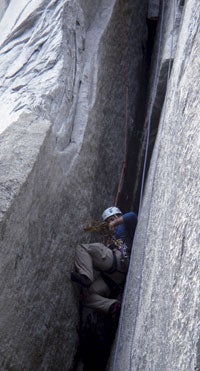 It's this weird addiction, the better you get the smaller the holds you pull on, and [then] you get over roofs you never thought you could get over. I always want to up the ante and see how far I can push myself. I've never experienced anything like that. I surfed on and off since I was 13, and there is that awesome two-minute rush when you ride a wave, but it's two minutes too short. The thing with climbing is you get to spend five days on a wall.
Have there been moments when your passion for climbing waned? There was a bit of an epic night in the Valley when we did East Buttress. We were in two teams of three and the first team went up about an hour before us. It was about 95 degrees that day and we had about a liter of water for each of us–we were doing it light and fast. It was absolutely epic; I collapsed at one point because I was so dehydrated as we walked down the Yosemite Falls trail. The whole time I was like "Fuck this, I didn't get into climbing to die." But I woke up the next morning and I was happy because I knew I had been pushed to the limit of my physical endurance. Situations like that raise your bar on what you can deal with. Now I'm like, 'that was piss compared to an epic on El Cap.'
Do you find climbing applies to other aspects of your life? It's strange, I have something that inspires me and for the longest time I didn't. If I have a shit day, and I'm feeling down or thinking everything sucks in my life, it doesn't because I always have climbing and no one can take that away from me. It just brightens my day knowing that I can go out or train in the gym. It's my escape and knowing that I have that makes it so much easier.
Now I heard you were on a four-day-on, one-day-off training schedule before the Valley. Where do you usually climb?Mainly outdoors, everyone I climb with is pretty much from England, and I don't really know many American climbers. When I'm in the U.S., I usually go to the gym with a buddy of mine who is kind of a climber.
You have been dabbling into ice climbing too, on the Mer de Glace in Chamonix.Sounds like your visit was adventurous. I had tonsillitis, but I didn't want to puss out on the team. We were going to do a 10-pitch Grade 4, but weather conditions got really bad. So we did single-pitch ice climbs in Chamonix. It was something that I wasn't so into because it seemed a bit repetitive, but I'm going to try it again, and get in form for a good winter season.
What have you taken from your experiences in the Valley and what do you hope to do with climbing in the future? I've climbed everything, but Granite kicked the shit out of me. Yosemite totally demoralized me. When you are used to climbing faces and someone puts a crack in front of you, it's like, 'What is this thing?' You have to bump yourself down two grades. I can lead 5.10b sport and I couldn't lead more than 5.9 trad. I want to go back to Salathe next year, and I want to free more of it. My goal for the end of the year is to be consistently leading 5.10b trad.
Have you taken your mom or dad out climbing? No, they are petrified of climbing.
For more on this story see Climbing Magazine No. 245, page 36.
Osbourne's (right) new ideal of a party.Photo by Mike Weeks