Is Watching Alex Honnold Solo in VR as Uncomfortable as it Sounds?
And what does virtual reality technology mean for the future of climbing film?
---
Join Climbing
Create a personalized feed and bookmark your favorites.
Join Climbing
Create a personalized feed and bookmark your favorites.
Join for free
Watching Alex Honnold free solo scares the hell out of me. It's not so much that I'm afraid he's going to plunge to his death before my eyes (though I sort of am); it's that, watching him climb, I can't help but transpose myself into his position.
When I first watched Free Solo in a Brooklyn theater, I was keenly aware that Honnold had already survived his ascent. But as a climber of two decades, I also kept imagining myself trying to do what Honnold was doing—and this, since I have an overactive imagination, quickly forced me to confront simulations of my own very imminent death.
(For verily it is said that if Steve Potter ever accidentally finds himself without a rope halfway up the Enduro Corner, he will have no choice but to make every mistake that we're all afraid Honnold will make. He will tense up. His fingers will become waterfalls. His shoes will become ice skates. He will quiver. And he will sob. And he will…)
Needless to say, when I learned that I was being sent a Meta Quest VR headset (on loan) so that I could review Jonathan Griffith's new virtual reality film about Honnold free soloing in the Alps, I had a decent sense of what was about to happen to me.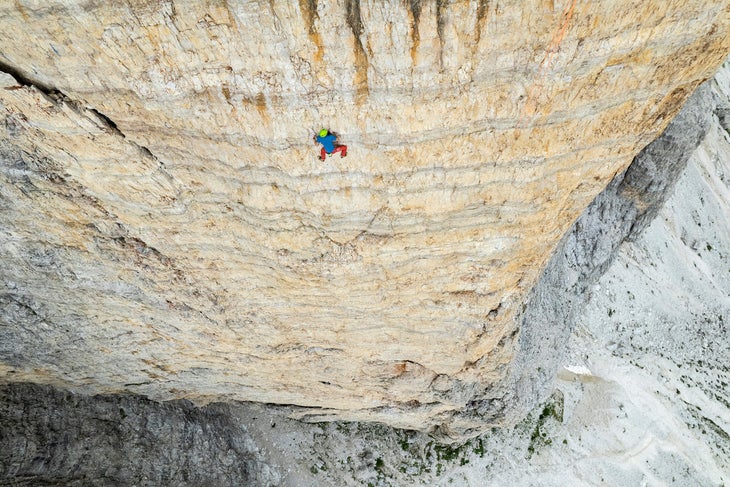 What the film is about
The Soloist, VR, is a two-episode series available on the Oculus TV platform (available only on Meta Quest headsets), and it has a relatively straightforward plot. After a brief tour of Alex and Sanni's life in Las Vegas, episode one follows Honnold to Europe where he meets up with Swiss alpinist Nicolas Hojak. Their plan is to climb some alpine routes around Chamonix, but the weather's too heinous, so they head to the Italian Dolomites. Here, Honnold decides to solo Gelbe Mauer (5.12a, 11 pitches—sometimes also referred to as Muro Giallo or the Yellow Wall) on Cima Piccola—a steep and sustained route composed of the suspect-looking rock for which the Dolomites is famous. After a practice lap, in which Honnold tests the sequences and ticks the more solid holds, and a rest day, he goes ropeless, and the viewer (hanging in space a few feet away) watches as Honnold crawls carefully up the wall.
In episode two, Honnold and Hojak return to Chamonix, and Honnold free solos most of the historic American Direct (5.11b, 1,050 meters) on the Aiguille du Dru in Chamonix, which was first ascended by Royal Robbins and Gary Hemming in 1962. (Toward the top, after the famous corner crux, the route wraps around onto the Dru's wet, loose, and technically easy north face—an experience that Honnold opts to forgo.) Then the film pivots, moving away from the tense solitude of Honnold's free solos, and instead features Hojak and Honnold making a team ascent of Mont Maudit's Kuffner Arete, a ridgeline on the Mont Blanc massif. Here we get to watch Honnold wear crampons and twirl an ice axe and do some "extreme walking" (as he jokingly calls it) up an icy mountain. After the anxiety-inducing earlier climbs, Mont Maudit is something of a relief: a cinematic tour of the high alps, with some acted-out camaraderie thrown in.
But what's it like to watch all this in VR?
Until two weeks ago, I'd only worn a Meta Quest headset once. The experience lasted about two minutes and consisted of me crashing my WWII fighter plane (not on purpose) into the side of a mountain. So when my loaner arrived, I didn't really know what watching a movie—much less a movie about soloing—might actually feel like. Part of me even expected The Soloist VR to be some sort of first-person simulation like the WWII game was—maybe a high-quality version of helmet-cam footage.
That's not it at all.
In VR, as in traditional film, you're generally viewing the action from a third-person vantage: You're watching Alex and Sanni chat in their kitchen, and the only difference between traditional film and VR is that you feel like you're in the room too. That means that if you don't want to watch them while they talk, you can turn around (I watched in a swivel chair) and look out the window or at the white SodaStream on the side counter. 
In other words, in VR you're more or less embedded in the setting and allowed to watch (or not watch) the action according to your preferences. In this sense, the word "immersive" really does (as the Oculus ad copy suggests) seem to best describe the VR experience.
But what does it mean to be "immersive" in a film? I'd argue that it's not the same as being "engrossing." To be engrossed is to focus your attention on an interesting scene or story. To be immersed is to find yourself inside that scene or story, regardless of how engrossed you are in the content. Under this definition, Jimmy Chin's Free Solo was engrossing but not immersive; Free Solo feeds you a series of overlapping and interlocking stories and, because humans are narratively cued, we are drawn into those stories and compelled to give our attention to the highly curated moments of which the film is composed. The Soloist VR is not engrossing in that same narrative way—and its weakest moments are when it tries to be. Instead, it rests its faith in its immersive technology, trusting that the viewer will find their Oculus-enabled proximity to the action and control over the viewing experience novel and interesting and compelling in its own right.
How VR works and what that means
A VR camera is (and forgive me for the poor description) a sphere composed of multiple cameras—the exact number depends on the specific camera used—that look outwards with overlapping ranges of focus. Various algorithms (that I'm not well-educated enough to pretend to understand) then overlay the footage captured by each of these cameras. Then, thanks to magic, it all gets populated into a headset that, when you put on, enables you to feel like you're standing where the camera was located. But the camera—which is essentially many cameras—is very heavy (Griffith's weighed roughly 15 pounds). And it produces massive amounts of data. And these two facts have very real implications for the types of stories that filmmakers like Griffith can tell in VR.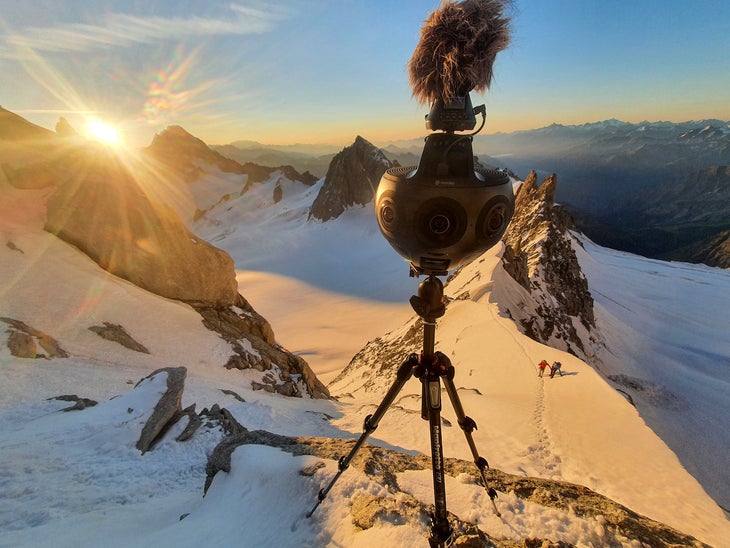 One classic way of shooting a documentary film is to "roll on everything," as Honnold put it in our interview: The filmmaker has cameras everywhere and runs those cameras constantly—so constantly, in fact, that the subjects half forget that the cameras are present, which allows the filmmakers to capture properly candid moments that, during the editing phase, are chopped up and arranged into a story. But in VR "rolling on everything" is not an option. Each shot expends too much memory, and the camera is so heavy (and hard to use) that you can't just carry it around and surreptitiously turn it on to capture candid moments on the go. Instead, with VR, you need to reverse the process; you start with what you want the film to look like, then reverse engineer it: putting the actors (for that's what they become) into pre-formulated scenes whose outcomes are arranged by the requirements of the film.
A second limitation of VR from a story-making perspective is a consequence of the technology's primary strength: The fact that the viewer is embedded within each scene. If Honnold is in a room, you're in it too. If he's 600 feet up American Direct, you're hanging in space beside him. But whenever the scene or perspective changes, you—the viewer—are physically relocated, teleported into a new space. And this can be disorienting. It often takes a few moments to get your bearings, and those moments handicap your ability to give your attention to the story. So the filmmaker has to find new ways to craftily condense a lot of information in one long, continuous shot.
(You can learn more about how the film was made by watching Red Bull's three-part series Making the Soloist VR.)
How does this affect storytelling?
In my interview with Honnold, he said that, in his opinion, Free Solo was one of the most realistic climbing films ever made—a triumph of verité filmmaking. I agree with that. And I believe that Free Solo achieves this "realistic" feel in part because it acknowledges its artificial nature: It is not just a movie about Honnold's solo of Freerider; it's a movie about making a movie about Alex Honnold's free solo of Freerider.
This fact gives the filmmakers—Elizabeth Chai Vasarhelyi and Jimmy Chin—license to wholly capitalize on film's capacity for artifice without that artifice feeling so artificial that it reduces our attachment to the story. When we watch the much-hyped scene in which Alex Honnold tackles the boulder problem, we aren't getting the inarguably true "uncut footy" with which boulderers prove their ascents on Instagram. Instead, we see Honnold's face as he breathes. We see closeups of the holds he grabs, the feet he stands on, the audience members grimacing in the meadow below. Each break in the action slows the action, enhancing drama even as we depart from the real-time speed with which Honnold climbs. In other words, our attention is guided through a highly curated collage of images and backstory designed to give us a particular sort of experience. But one of the paradoxes of this careful curation is that each deft cut, each vivid closeup, also reminds us that we're watching an edited film about a historical event that did not culminate in Honnold's death… and this reduces our ability to feel quite as terrified as we would be if we were watching it live.
This is why the footage of Mikey Schaefer agonizing in El Cap meadow is such an important and powerful (and genius) part of the film. For Schaefer, Honnold hasn't succeeded yet. For him, it's happening right now. By breaking the fourth wall and showing us a camera operator (who's in the process of shooting some of the footage that we're watching) having exactly the sort of visceral, present-tense reaction to the action that our privileged hindsight doesn't allow us to have, Free Solo gets around the uncut footy problem. When we see just how fucking scary it was for Schaefer to be part of this project, we're reminded that even if the event is historical and our experience of it highly crafted, it nonetheless happened, which allows us to further tap our emotions into that present-tense moment. We don't just transpose ourselves into Alex Honnold's place and time, we transpose ourselves into Mikey Shaefer's fear.
That's not how things work in The Soloist VR.
The Soloist VR rejects the self-consciousness of Free Solo, instead throwing all its weight behind its technology and employing narrative techniques intended to amplify the in-the-room (or on-the-wall) intimacy of the medium. Griffith does this by eschewing standard-issue documentary narrative devices like music, voiceover, multiple cuts within scenes, and excerpted interviews, and instead—because he can't just roll on everything and edit it into form later—conducts something of a non-fiction play. In effect, he embarks on a kind of technologically empowered return to the pre Verité Film experience in which we, as viewers, are once again made (or allowed) to imitate a fly on the wall watching reality play out in before your eyes.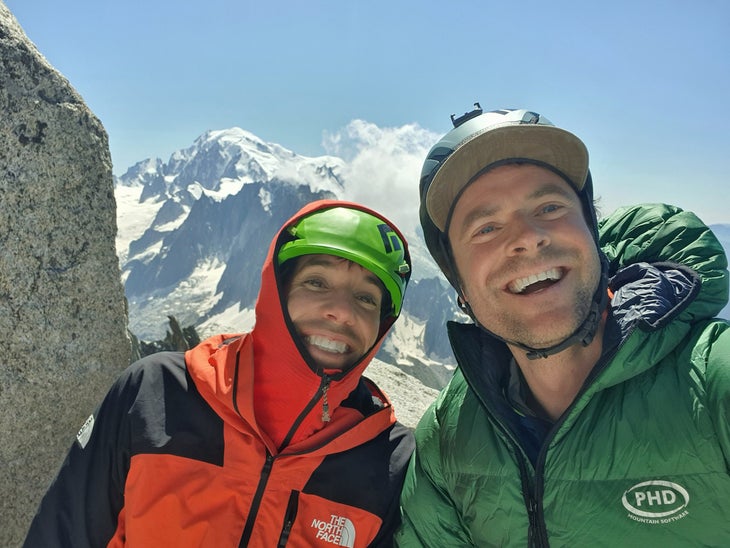 This approach works quite well in the long, uncut climbing scenes. When Honnold's in the Dolomites, for instance, you watch him climb for something like ten uninterrupted minutes. There's no music to steer your mood, no voiceover to give you context, just the wind and the distant birds and the eerie scuffing of shoe rubber on limestone. The only non-native sound—by which I mean, the only sound that you would be unable to hear if you were actually hanging in space halfway up the Yellow Wall—is Honnold's heartbeat, which the filmmakers injected into key moments of the climb and which is so subtly incorporated that, on my first viewing, I never consciously noticed it.
In other words, Griffith succeeds in making a successfully vivid—almost claustrophobically vivid—climbing film. There were times, during my first viewing, when I (transposing myself into places I didn't want to transpose myself) chose to take a break, spin around in my chair, and gaze out at the magnificent scenery. Because in VR, as an embedded viewer, (and so long as Honnold is climbing, rather than acting) it's simply much easier to forget (a) that what's happening is not  in the present tense, and (b) that this historical event took place, in large part, precisely so that it could be filmed and passed along in the guise of a present-tense experience to viewers like you. 
In this sense, what Griffith has accomplished is something close to a masterpiece. He trusts his technology to provide an immersive experience and he crafts his story to take maximum advantage of that immersivity.
But Griffith's approach runs into challenges in the human scenes—the ones that precede and contextualize most of the climbing—where his task of somehow providing an engrossing story to accompany the climbing finds itself in anxious conflict with the technology's requirement for single-take scenes and Griffith's aesthetic decision to do without interviews and voiceover.
How can Griffith deliver the information while keeping the viewer "immersed"? His answer, as implied above, is to imitate fiction—to stage loosely scripted scenes that can parcel out the information that the viewer needs to know. But because none of the characters are professional actors, it sometimes feels a bit artificial.
Early in Episode 1, for instance, you find yourself standing in Alex and Sanni's large, bright kitchen while Sanni cooks eggs in an Always Pan and asks Alex (who's buttering the toast) what his plan is for the day. Alex replies that he's going to go through some mail and then talk to a journalist. Then the scene breaks and we're in the living room watching Honnold (as promised) going through the mail. After a moment (as promised) the journalist arrives. Their conversation lays out Honnold's plans for the next few weeks: He's going to Europe to do some solos in the Chamonix area. The scene ends and in the next scene (lo!) we're in Chamonix. The same journalist calls and asks Honnold for an update. Honnold introduces her (and us) to Nicolas Hojak and then says that the weather's been pretty gnarly so he's going to the Dolomites to solo something big…. Any guess where the next scene starts?
There's a phrase bandied around in fiction-writing circles for this kind of thing: expository dialogue. The term describes communication between characters that, rather than feeling organic to the scene, feels solely designed to present the reader with information that the author wants them to know. It's considered a hallmark of poor writing because when we, as readers, recognize information that feels like it doesn't belong in that moment in the story, we're reminded of the artificiality of writing as a structure. (In a sense, it's the literal opposite of what the Mikey Shaefer scenes in Free Solo accomplishes: That scene shows you the artifice of the film as a way of reminding you that, artifice or not, Honnold's solo really happened.) This same contractual failing between artist and art recipient also describes poor acting: The actor gives a performance that, for any number of reasons, yanks the viewer out of enthrallment and reminds them that they're watching a performance in the first place.
The Soloist VR is chock full of expository dialogue and artificial scenes that were obviously constructed for the sole purpose of giving information to the viewer. And part of me—the writer part—was a little frustrated. I longed for the candid moments that are the bread and butter of traditional documentary cinema, and I questioned Griffith's decision to conduct these scenes like plays rather than just brusquely handing the storytelling with voiceover (as he did in his previous VR film: Everest VR). It just felt strange—almost eerie—to so realistically inhabit a scene that was so obviously artificial without the filmmaker somehow acknowledging (as they do in Free Solo) the artificiality of that structure.
Yet another part of me was properly enchanted by these same scenes—expository or not. Maybe this is because I'm such a noob to VR, but for me the scripted dialogue did not erase the sense of absolute proximity I had to the action. Unconvincing dialogue or not, you're still right there, in Sanni and Alex's kitchen. And when Honnold is reading his mail, his ability to convince you that he's actually reading the mail rather than just pretending to read it for the sake of the story may be in doubt, but because you're able to steer your attention to whatever you want to steer it to, it's not the sole metric by which you're convincing yourself of the veracity of your experience.
Personally, I had no doubt that Honnold was not actually doing his mail—the mail is just a conceit—but I was also inside Alex Honnold's fricking house, which was inarguably real and true and interesting in an uncomfortably voyeuristic way.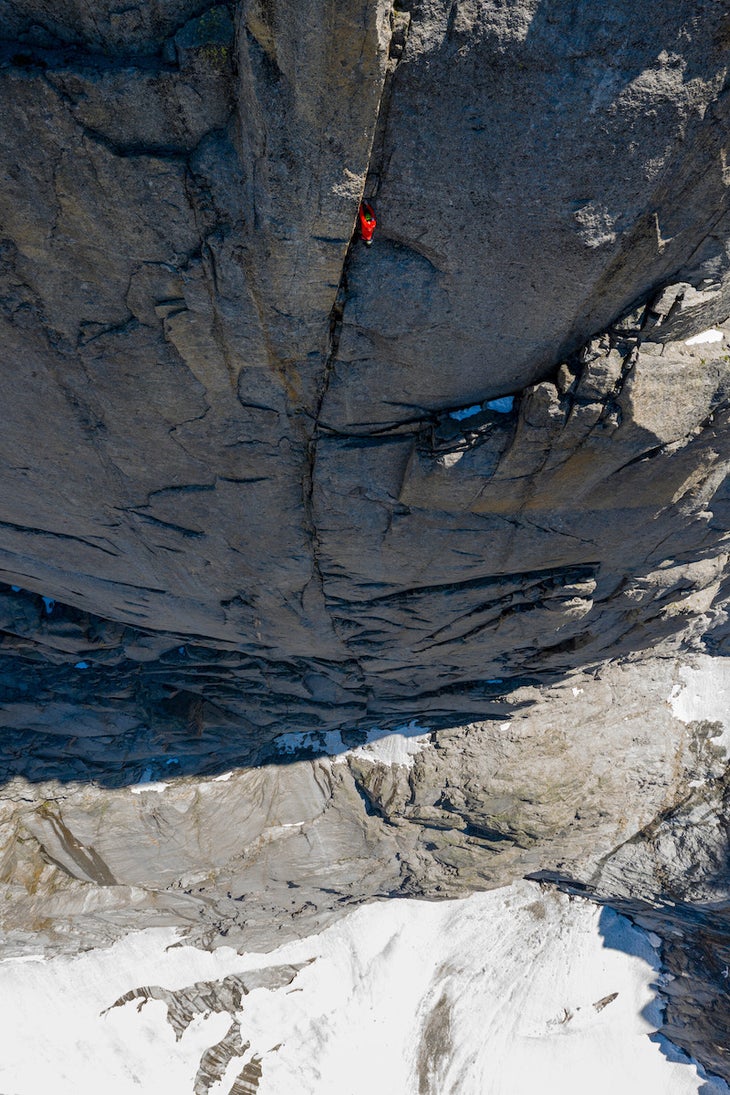 So does the film succeed?
Yes and no. It's far more successful as a film about climbing than as a film about having an adventure with Alex Honnold—but as a film about climbing, it's an absolutely amazing experience.
When I was hanging in space about six feet away from Honnold, watching him try not to yard too hard off a friable-looking crimp 300 feet above the arid Nevada talus, I was as convinced about the truth of Honnold's free solo as I was when looking at Mikey Schafer's terror in El Cap meadow. He's there on the wall, doing hard awkward moves, and you're right there next to him. There are no other humans in sight. There are no ropes hiding just off screen because there is no "just off screen" in VR. There's just no faking it. The action might have occurred in the past tense, but your present-tense experience of it is visceral enough that it's easy to forget that fact.
Indeed, if you're anything like me, you may proceed to experience certain symptoms of panic. Audible breathing. Tingly fingers. Visions of waterfalls and ice skates. And in order to avoid further panic you might (as I so frequently did) opt to spin around and gaze out at the Nevada desert, hearing Honnold's heartbeat, hearing Honnold breathe, but comforted by the sight of the birds flitting around in the desert scrub, the trees swaying in the breeze.
Seriously. If you can get a headset, The Soloist VR is worth a watch. I guess that when something's immersive enough, it becomes engrossing.