Jacinda (JC) Hunter: The Full Interview
Heading out the door? Read this article on the new Outside+ app available now on iOS devices for members! Download the app.
JC Hunter on "holiday" working the V11 Barbwire Beard, RMNP, Colorado.Photo by Caroline Treadway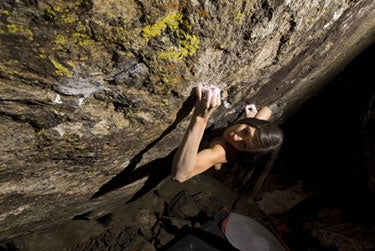 Dwindling daylight obscures the mini-crimps on Barbwire Beard, a V11 traverse established by Adam Osterhoff in 2003 that snakes out of a dark cave in Upper Chaos Canyon, Rocky Mountain National Park (RMNP). It's a hot, humid, breezeless Saturday – three days climbing out of four for Jacinda (JC) Hunter. Hunter battles the tiny edges. Her nails crunch on the far left crux crimp as she reels it in with her thumb and fights the urge to laugh while Isaac Caldiero cracks dirty jokes. Each try, her determination builds.
At 29, Hunter, of Spanish Fork, Utah, has just snagged her first vacation in nine years. Juggling four kids, a husband, a nursing career, and housing V10s within a year of an eight-year climbing hiatus, she's come back with a vengeance. In her twisted version of spare time, it's up at 7 a.m. and in bed by 1 a.m. four days in a row. There's no rest, no recovery, no skin re-growth; Hunter must make the most of her vacation. With a passionate drive, an easy sense of humor, and disarming humility, JC is pushing the frontier of women's bouldering. This year she's already nailed Resident Evil and Fingerhut, two V10s at her home crag, Joe's Valley, and Copperhead (V10), at Little Cottonwood Canyon, among others. Barbwire Beard has yet to see a female ascent, but not for long.
JC Hunter on "holiday" working the V11 Barbwire Beard, RMNP, Colorado.Photo by Caroline Treadway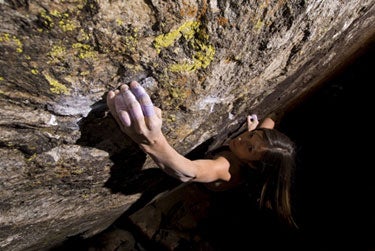 How long have you been climbing?I started when I was 18.5 and had my first child at almost 20. I climbed for a year and then stopped until a year ago when I started in the gym again.
What's your hardest send?Resident Evil, in Joes Valley, was the most difficult V10 for me so far.
Home Crag?I boulder mostly in Joe's Valley, and climb routes in American Fork Canyon. I can't wait to check out Ibex this winter.
What is your preferred style of climbing?I love bouldering and sport climbing about the same, but bouldering is a little more ADD friendly, and I love the powerful gymnastic movement involved.
How did you start climbing?A close friend introduced me to the sport after I graduated high school.
What's your favorite climbing area and why? Joes Valley: its close, great rock, and plenty to do.
Least favorite crag?Little Cottonwood Canyon, only because I have the most difficult time climbing on that type of granite. I hope to climb there more often though and improve a little.
Current and long term climbing goals?Eight years ago my goals were to (1) send Fingerhut in Joes Valley, (2) get in Climbing Magazine, (3) send Blow of Death in American Fork Canyon. I am two out of three now, so this fall I will be roping up in between bouldering projects. That way when I die I will be complete. Long term I just want to push my limits and have fun.
Female climbers are constantly raising the bar and continue to challenge the notion that men are stronger than women. In your opinion, what is the biggest obstacle for women when it comes to climbing?Well I think that men are stronger than women. That doesn't mean that some women aren't stronger than some men, or even a lot of men; but the significant physiological differences in our bodies are obvious. I think when a woman comes along and sends a boulder problem, or a route that has been up for a decade or two, and it is the first female ascent, then it's a historical moment. It shows the evolution of climbing for the female population and is inspiring to myself and many other female climbers I'm sure. It shows that women are continually pushing the limits of the sport. I don't see anything wrong with defining women's accomplishments separate from the men's. I can see why some might feel that grouping men and women in the same category is like telling women that we are just as good, and can be just as good as men. I think that is mostly true, but that still doesn't mean we should all jumble ourselves together as if there is no difference in our make-up.
How often do you get to climb?I try to climb 3 times a week sometimes four. I'm psyched if I get to climb once or twice a week outside. Three times a week is amazing. I try to train 2 or 3 times a week on top of that. We have our home gym and we just got a pair of rings.
Why do you climb?I was close to taking Prozac before I started climbing again. J/K. Climbing is like a religion for me. I love being outside, I love exercising, and I love sharing it with my kids.
Do your kids climb with you?We have taken them to the crag with us a lot. They were with me for a lot of my hardest sends. Sometimes it can be distracting, and so it is nice to get out and have a break now and then. My boys are 9 and 7, and are really getting excited about the sport. I was very flattered when I heard from a friend that Kaden, my oldest was bragging about me in the gym. I am glad they think their mom is "cool". We have a great group of climber friends that are also happy to have the company.
What do you do when you're not climbing?I am a registered nurse and I work for a home health agency in Salt Lake City. When I am not climbing or working I spend time with my family so they are not totally neglected. Plus I try not to waste time with things like television. I am strongly against it.
What motivates you to climb hard and how do you push yourself mentally in order to succeed?My background in running trained me to never give up, and push myself to the point of collapse. One thing that I love about climbing is that anyone can feel the same exhilaration of a redpoint no matter what the grade is. I am always wondering how far I could push my self; I guess it's just something inside.
What does success mean to you?I think it is different for everyone. It comes down to personal fulfillment. My personal fulfillment involves my family's growth and development, climbing as part of my physical health, and hopefully doing something good for the world.
Do you have any climbing mentors or heroes?The examples of women like Angie Payne and Lisa Rands certainly inspire me to push my limits. I have also been personally inspired by my friendship with Jeff Pedersen, who was instrumental in developing many of Utah's great climbing areas. His ability to critique and teach has been invaluable. Jeff's confidence and support have also been important factors in my climbing. But my biggest hero would have to be my husband, who is always there for me and always supportive.
What is your best climbing moment?Sending Resident Evil in Joes this year was my most favorite moment. I had been falling off the last move for three days, and was completely frustrated. On the day I sent the problem I got up at 5:00 am and drove two hours to Joes in a rainstorm with only 2.5 hours to climb before I had to head back home so my husband could be to work. I figured out my own beta throwing to the starfish off of two small crimps (one on the left face, and one on the lip). It was a huge dynamic move for me where my feet cut, and a most memorable finish. I managed to stick it that day right before I had to leave, and just before the snow storm hit. I could not have been happier.
Worst climbing moment?My husband tore his pectoralis muscle completely when we were dating, and I had to make a sling and carry all of our crap back to the car. I was really worried about him. It was a pretty bad injury and he now has a permanent loss of muscle that attaches from his armpit to his pec. (You would think I would know what it was called, but I don't)
What is the most important thing in life to you?Easy, my kids!
Comps or real rock?Real rock by a long shot. They are two different sports all together. I suck at onsighting in comps; it's a weakness I need to work on. I like the excitement and adrenaline of comps though, so I plan on getting better at them.
Water or beer?Neither, screwdrivers for me.
Favorite food?Chocolate Dagoba bars.
Any sponsors?I wish.
If I gave you two million dollars right now, what would you do with it?Well I would want to pay off debt and head out on the road to climb. I think that I would feel a little guilty so I would have to spend a good amount of the money on charity.
Favorite Book?Mohandas K. Gandhi autobiography
What's in your iPod?Old-school Rage Against the Machine, Tool, Korn, Jack Johnson, and my favorite song, "Gravity," by John Mayer.
How do you define a good climber?Someone that has excelled in a variety of climbing styles, and can be versatile in their climbing technique.
Where are you headed next?I would like to get back to RMNP and I have my sights set on Bishop later in the winter. Right now I will be climbing mostly in Price and Joes Valley. All we wanna do is get a travel trailer, home school our kids and go on the road for a year or so. And we can because we're both nurses and we can pretty much work anywhere.