Jesse Grupper, 2021 National Lead Champion, Flashes Livin' Astro, 5.14c
Jesse Grupper warmed up for Lead Nationals by flashing a Dave Graham classic
Heading out the door? Read this article on the new Outside+ app available now on iOS devices for members! Download the app.
On Sunday, November 7, 2021, exactly one week before winning his second consecutive Lead National Championship, Jesse Grupper flashed Livin' Astro, a 5.14c in Rumney, New Hampshire, originally established by Dave Graham in 1999. (Send footage below.)
1. The Dream
Flashing Livin' Astro was a longtime dream for Grupper, who began frequenting Rumney as an undergraduate at Tufts University, in Boston. He spent years admiring the route from the ground before giving it a go. "It's this beautiful arete," he says, "and I was always inspired and impressed by people trying it."
Early in his college career, he climbed its neighbor, China Beach, 5.14b, and then dove into another neighbor, Jaws II, a notoriously powerful 5.15a that he sent in autumn 2018 after multiple seasons of effort. Grupper's process on Jaws II made him interested in the relationship between what seems impossible and what is impossible. When he first tried the climb, he couldn't do a lot of the moves, but he knew they were doable since other people had done the climb. Bolstered by this knowledge, he put in the time, made progress, and sent. But when he finished Jaws, he was "kind of curious about exploring something that I wasn't sure was possible for anyone—or at least something that no one had done yet."
As far as Grupper knew, the hardest flash in Rumney was 5.13d, so after Jaws II, he set the goal of flashing a 5.14 there. During his senior year, while simultaneously training for the upcoming World Cup season, he began working his way through Rumney's hardest climbs. "I had a ton of second-go sends," he said, "and a few where I got really close [to flashing], but eventually Livin' Astro was the last 5.14 left for me. So I was like, 'I've always wanted to do Livin' Astro. And I still have this parallel goal of flashing a Rumney 5.14. So why don't I merge them together?'"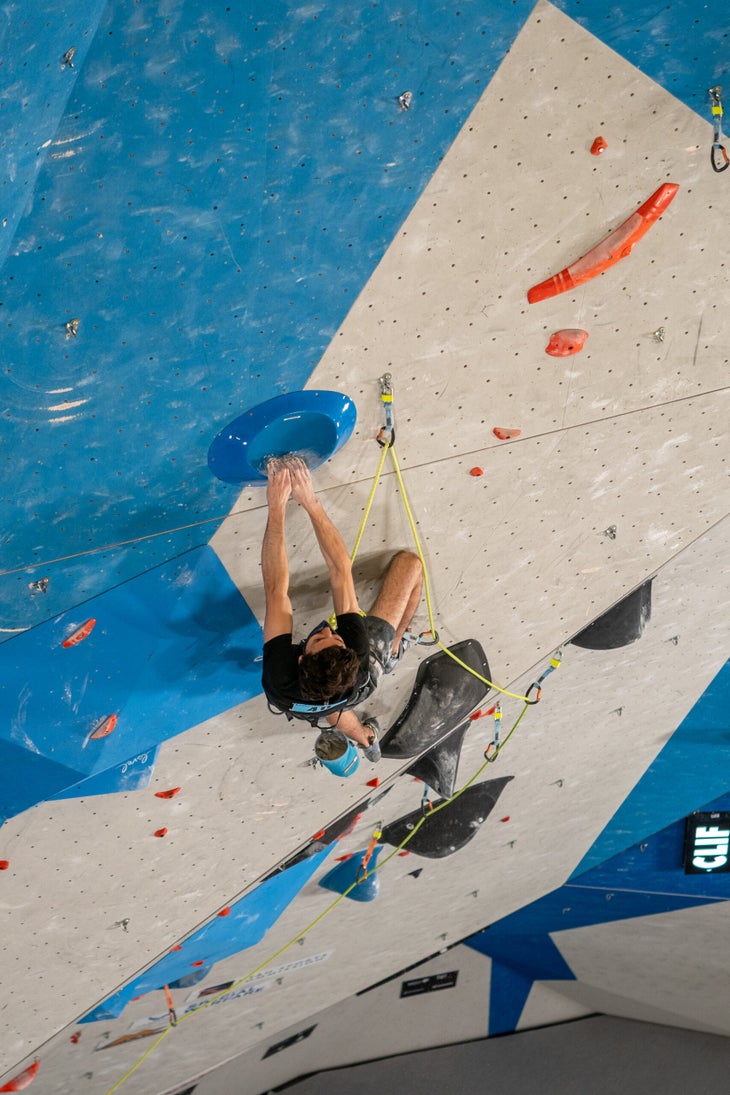 2. Enter Life
That dream, however, got put on hold. After graduating from Tufts in Spring 2019, Grupper competed on the World Cup Circuit—making finals twice in his first season. But in 2020, mid-pandemic, he decided to withdraw from the full-time climbing life, moving back to Boston and getting a job at a biodesign lab at Harvard where he now builds assistive technologies—think mechanical exoskeletons—that help stroke victims regain mobility over time.
"Traveling full-time for climbing was super fun, and a real privilege," he said, "but I did miss getting to create stuff that would benefit humanity. That's a constant struggle with climbing for me—how much good is it doing for others versus just for myself—which I know is something a lot of other climbers experience too. So I wanted to see how mechanical engineering would feel for a change."
Back in Boston, working full-time while also serving on the board of directors for USA Climbing (he sits on both the Diversity, Equity, and Inclusion Task Force and the Athlete Advisory Committee), Grupper worked hard to juggle his schedule with his climbing.
"I'm still trying to figure it out for sure," he admitted. "I would be lying if I said there weren't days when I go to the gym and feel kind of destroyed from the workday. But I find that, even if it's a crappy session, just showing the commitment to yourself and to the sport makes you better in the long run. I think continuous dedication is more important than any single day."
He adds that it's important to be forgiving to yourself. "Self-compassion is something that climbers in general often struggle with," he said. "We don't look out for ourselves—or each other—as much as I wish we did. I think it's important to be okay with not feeling well on any given day and to acknowledge the fact that a gym session might not make you feel better."
Once again, Grupper began working on hard flashes; but now he had Livin' Astro specifically in mind. He practiced flashing, both in the gym and outside, trying to progress in a variety of different styles. On a short trip to Rifle this past summer—not an easy crag for first-try climbing—he flashed a Living in Fear (5.13d) and Simply Redlined (5.14a). In October, in Vermont, he flashed Prince Fatty, a 5.14b at Lone Rock Point.
"It was a progression," he said. "And it helped me build confidence over time, helped me understand the process. Eventually Livin Astro began to feel a bit more doable."
 His sends also removed some of the pressure from the final goal. Even if he didn't send Livin' Astro, he said, he could be proud of those other accomplishments. "The intermittent goals help make the whole process feel worthwhile regardless of the end result."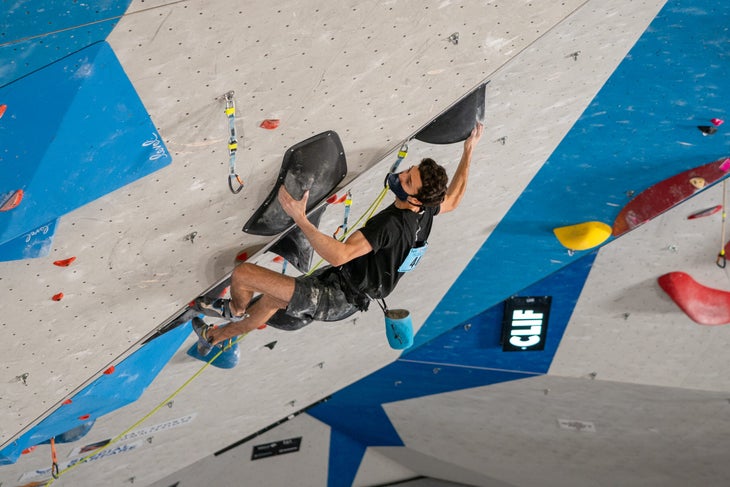 3. Now or Never
On Sunday, November 7, Grupper arrived at Rumney two hours later than usual. "It was one of the most gorgeous days that I've seen in Rumney," he said. "The leaves are starting to drop off, but there's still this beautiful canopy of colors."
Knowing that Livin Astro would be best left until evening, he changed his routine and warmed up at the Parking Lot Wall—a sector that's decidedly not part of his usual circuit—where he belayed his partner on her project. Once she'd accomplished her goals for the day, Grupper says, he was free to focus a bit more on his own climbing.
"Then I was like, 'I guess it's now or never.' The sun was setting as I stepped onto the wall."
Mentally, he says, one of the most important things about flashing is knowing that failure on the route doesn't mean you weren't strong enough to succeed. "You need to know that you're prepared and that you gave yourself a chance, but you have to let go of the hubris and ego," he said. Pulling on the wall, he was comfortable with failing. "I knew I would be disappointed if failure was the result. But I was ready to give it hell trying."
He was further helped, he said, by the oddness of Livin' Astro's opening sequence. "You're climbing up this weird corner, you're crack climbing and toe jamming. It's almost funny. I was like, 'How funky is this? How is this one of the hardest sport climbs in Rumney?' I guess like that kind of eased my mind."
After 15 or 20 feet of crack climbing, the route veers onto the striking black arete, which is where the hard moves start.  But after years of imagining how they'd feel, Grupper was pleasantly surprised by how good the holds were. "I was actually able to rest a little on some of the smaller crimps before the first crux," he said.
(Resting, it should be noted, is one of  Grupper's many talents: As Sean Bailey, who was commentating during the Lead National Championship finals, put it: "Jesse has this ability to rest on almost anything and he taps into that often.")
Livin' Astro's first crux is an intensely powerful traverse with bad feet, and getting through it was "a big confidence booster" for Grupper. He then spent nearly eight minutes at the rest, with one very weird boulder problem between him and the chains.  
The top didn't go exactly according to plan. "It was definitely scary," he said. "It's probably the hardest single move on the route. You grab this sidepull for your left hand and this undercling for your right, then you work your right foot up, but the tickmark that people normally use was too high for me, so I was quickly trying to find a new foot. And then you go left hand to the next hold—a weird finger stack—which is really terrible—and throw to the arete."
Clipping the anchors, he admits being "pretty shocked."
"I think when you've trained for something for that long, wondering if it's possible, and then suddenly you've done it, you're like, Wow, what a crazy life, you know?"
"In the back of my head, there was a little piece of me that was always like, Yeah, that's not going to happen."